Abstract
The concept of bio-objectification describes how the 'raw materials' of living cells and tissues are subject to both technical manipulations and ontological transformations to produce novel 'bio-objects' such as cell lines and transgenic animals. Bio-objects are conceptually fluid, but also subject to literal circulation through biobanks and repositories. Making bio-objects mobile means producing them in such a way that they are capable of travelling across jurisdictions, institutional boundaries, and of moving between public and private sectors. This paper uses one particular bio-object—the human induced pluripotent stem cell (hiPSC), and a particular context, a European consortium dedicated to creating an open access repository of hiPSC—to explore what making mobilisable bio-objects entails. The bio-object not only has multiple strands of identity—legal, ethical, political, technical—but this identity is distributed across, and inscribed in, a variety of paper documents, digital records, as well as the biological material. Making bio-objects mobile means putting these heterogeneous components into circulation, which can entail travel through different infrastructures and at different speeds. Moreover, contemporary legal and ethical requirements for the use of human biomaterials require the formation of durable connections that tie bio-objects to places and persons of origin as a condition of mobility.
Access options
Buy single article
Instant access to the full article PDF.
US$ 39.95
Tax calculation will be finalised during checkout.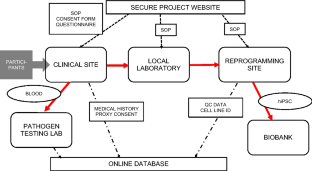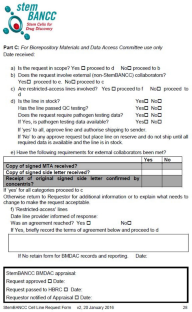 Notes
1.

Directive 2004/23/EC of the European Parliament and of the Council of 31 March 2004 on setting standards of quality and safety for the donation, procurement, testing, processing, preservation, storage and distribution of human tissues and cells.

2.

Research Ethics approval for this study was obtained from the Social Sciences and Humanities Inter-divisional Research.

Ethics Committee (IDREC) of the University of Oxford (Ref no SSD/CUREC1A/14–205).

3.

The associated information sheet also explained that the cells would not be transplanted into any person or used for reproductive purposes, although they could be used in animal experiments.

4.
References
Biagioli, M., and M. Buning. 2019. Technologies of the Law/Law as a Technology. History of Science 57 (1): 3–17.

Brown, N., and R. Williams. 2015. Cord Blood Banking—Bio Objects on the Borderlands Between Community and Immunity. Life Sciences, Society and Policy. https://doi.org/10.1186/s40504-015-0029-8.

Cambrioso, A., P. Bourett, P. Keating, and N. Nelson. 2017. Opening the Regulatory Black Box of Clinical Cancer Research: Transnational Expertise Networks and 'Disruptive' Technologies. Minerva 55: 161–185.

Edwards, P.N., M.S. Mayernik, A.L. Batcheller, G.C. Bowker, and C.L. Borgman. 2011. Science Friction: Data, Metadata and Collaboration. Social Studies of Science 41 (5): 667–690.

Eriksson, L., and A. Webster. 2015. Standardising Work as Recursive Process: Shaping the Embryonic Stem Cell Field. New Genetics and Society 34 (1): 72–88.

Goldman, M. 2013. New Frontiers for Collaborative Research. Science and Translational Medicine 5: 216ed22.

Harmon, S.H.E. 2018. Responsible Regulation in Action? Responsible Research and Innovation and the European Bank for Induced Pluripotent Stem Cells. Law, Innovation and Technology 10 (1): 15–39.

Hauskeller, C., and S. Weber. 2011. Framing Pluripotency: iPS Cells and the Shaping of Stem Cell Science. New Genetics and Society 30 (4): 415–431.

Hinterberger, A., and N. Porter. 2015. Genomic and Viral Sovereignty: Tethering the Materials of Global Biomedicine. Public Culture 27 (2): 361–386.

Holmberg, T., N. Schwennesen, and A. Webster. 2011. Bio-objects and the Bio-objectification Process. Croatian Medical Journal 52: 740–742.

Hoyer, K., A. Tupasela, and M.B. Rasmusen. 2017. Ethics policies and ethics work in cross national genetic research and data sharing: Flows, non-flows, and overflows. Science, Technology and Human Values 42 (3): 381–404.

Jha, A. 2011. Look, No Embryos! The Future of Ethical Stem Cells, The Guardian [online edition], 13th March 2011. Retrieved April 8, 2016 from https://www.theguardian.com/science/2011/mar/13/ips-reprogrammed-stem-cells.

Latour, B. 2004. We Have Never Been Modern. Cambridge, MA: Harvard University Press.

Lezaun, J. 2006. Creating a New Object of Government: Making Genetically Modified Organisms Traceable. Social Studies of Science 36 (4): 499–531.

Livingstone, D.N. 2003. Putting Science in Its Place: Geographies of Scientific Knowledge. Chicago: Chicago University Press.

Marelli, L. 2016. The Co-production of Scientific and Translational Induced Pluripotent Stem Reprogramming platforms. Governance Innovation in Cell Research. Unpublished PhD Thesis; European School of Molecular Medicine (SEMM), Italy.

Marelli, L., and G. Testa. 2017. Having a Structuring Effect on Europe: The Innovative Medicines Initiative and the Construction of the European Health Bioeconomy. In Bioeconomies: Life, Technology and Capital in the 21st Century, ed. V. Pavone and J. Goven, 73–10. Basingstoke: Palgrave Macmillan.

McKernan, R., and F.M. Watt. 2013. What is the Point of Large-Scale Collections of Human Induced Pluripotent Stem Cells? Nature Biotechnology 31 (10): 875–877.

Meskus, M. 2018. Craft in Biomedical Research: The iPS Cell Technology and the Future of Stem Cell Science. Basingstoke: Palgrave Macmillan.

Metzler, I. 2012. On Why States Still Matter: In Vitro Fertilization Embryos Between Laboratories and State Authorities in Italy. In Bio-Objects: Life in the 21st Century, ed. N.S. Vermeulen, S. Tamminen, and A. Webster, 151–170. London: Ashgate.

Milne, R. 2016. In Search of Lost Time: Age and the Promise of Induced Pluripotent Stem Cell Models of the Brain. New Genetics and Society 35 (4): 393–408.

Mol, A. 1999. Ontological Politics: A Word and Some Questions. The Sociological Review 47: 74–89.

Morrison, M., C. Klein, N. Clemann, D.A. Collier, J. Hardy, B. Heiβerer, M.Z. Cader, M. Graf, and J. Kaye. 2015. StemBANCC: Governing Research Access to Material and Data in a Large Stem Cell Research Consortium. Stem Cell Reviews & Reports 11: 681–687.

Morrison, M., L.B. Moraia, and J.C. Steele. 2016. Traceability in Stem Cell Research: From Participant Sample to Induced Pluripotent Stem Cell and Back. Regenerative Medicine 11 (1): 73–79.

Morrison, M. 2017a. Infrastructural Expectations: Exploring the Promise of International Large-Scale Pluripotent Stem Cell Banks. New Genetics and Society 36 (1): 66–83.

Morrison, M. 2017b. "A Good Collaboration is Based on Unique Contributions from Each Side": Assessing the Dynamics of Collaboration in Stem Cell Science. Life Sciences, Society and Policy 13: 7. https://doi.org/10.1186/s40504-017-0053-y.

Morrison, M. 2019. Making Cells Worthwhile: Calculations of Value in a European Consortium for Induced Pluripotent Stem Cells Banking. Science as Culture 28 (1): 46–69.

Nadim, T. 2016. Data Labours: How the Sequence Databases GenBank and EMBL-Bank Make Data. Science as Culture 25 (4): 496–519.

Rader, K. 2004. Making Mice: Standardizing Animals for American Biomedical Research, 1900–1955. Princeton, NJ: Princeton University Press.

Shapin, S. 1989. The Invisible Technician. American Scientist 77 (6): 554–563.

Sheller, M., and J. Urry. 2006. The New Mobilities Paradigm. Environment and Planning A 38: 207–226.

Star, S.L., and K. Ruhleder. 1996. Steps Toward an Ecology of Infrastructure: Design and Access for Large Information Spaces. Information Systems Research 7 (1): 111–134.

Stephens, N., and R. Dimond. 2015. Unexpected Tissue and the Biobank that Closed: An Exploration of Value and the Momentariness of bio-objectification Processes. Life Sciences, Society and Policy. https://doi.org/10.1186/s40504-015-0032-0.

Vermeulen, S.Tamminen, and A. Webster (eds.). 2012. Bio-Objects: Life in the 21st Century. London: Ashgate.

Vertesi, J. 2014. Seamful Spaces: Heterogeneous Infrastructures in Interaction. Science, Technology, & Human Values 39 (2): 264–284.

Waldby, C., and R. Mitchell. 2006. Tissue Economies: Blood, Organs and Cell Lines in Late Capitalism. Durham, DC: Duke University Press.

Webster, A. 2012. Introduction: Bio-objects: Exploring the Boundaries of Life. In Bio-Objects: Life in the 21st Century, ed. N.S. Vermeulen, S. Tamminen, and A. Webster, 1–12. London: Ashgate.
Acknowledgements
The initial research leading to these results has received funding from the Innovative Medicines Initiative Joint Undertaking under Grant Agreement No. 115439 (StemBANCC), resources of which are composed of financial contribution from the European Union's Seventh Framework Programme (FP7/2007-2013) and EFPIA companies in kind contribution. This publication reflects only the author's views and neither the IMI JU nor EFPIA nor the European Commission are liable for any use that may be made of the information contained therein. Further work on this publication was carried out with the support of the Economic and Social Research council grant "Biomodifying technologies and experimental space: organisational and regulatory implications for the translation and valuation of health research" (Grant No. ES/P002943/1). I would like to thank Andrew Webster and Luca Marelli for helpful discussions on earlier drafts of this manuscript, and the four anonymous peer reviewers for their constructive input.
Additional information
Publisher's Note
Springer Nature remains neutral with regard to jurisdictional claims in published maps and institutional affiliations.
About this article
Cite this article
Morrison, M. Making bio-objects mobile: behind the scenes of a translational stem cell banking consortium. BioSocieties (2020). https://doi.org/10.1057/s41292-020-00207-3
Keywords
Bio-objects

Mobility

Regulation

Stem cells