Abstract
In a case study of a Chinese crowdsourcing intermediary, we explore the impact of inter-organizational governance on trilateral trust-building. We show that formal control and relational governance mechanisms are essential for swift and knowledge-based trust in R&D crowdsourcing. The case also indicates that Chinese businesses continue to use guanxi (informal personal connections) as a relational and contingent mechanism to maintain affect-based trust, but guanxi is shown to inhibit the growth of Internet-based crowdsourcing for open innovation in China.
Access options
Buy single article
Instant access to the full article PDF.
USD 39.95
Price includes VAT (USA)
Tax calculation will be finalised during checkout.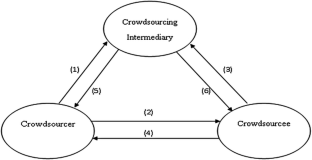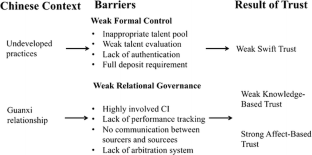 References
Andriole, S.J. 2010. Business impact of Web 2.0 technologies. Communications of the ACM 53 (12): 67–79.

Ba, S., and P.A. Pavlou. 2002. Evidence of the effect of trust-building technology in electronic markets: Price premiums and buyer behavior. MIS Quarterly 26 (3): 243–268.

Bachmann, R., and A.C. Inkpen. 2011. Understanding institutional-based trust-building processes in inter-organizational relationships. Organization Studies 32 (2): 281–301.

Benbasat, I., D. Gefen, and P.A. Pavlou. 2008. Special issue: Trust in online environments. Journal of Management Information Systems 24 (4): 5–11.

Bjørnskov, C. 2007. Determinants of generalized trust: A cross-country comparison. Public Choice 130 (1–2): 1–21.

Bourgeois, L.J., and K.M. Eisenhardt. 1988. Strategic decision processes in high-velocity environments: Four cases in the microcomputer industry. Management Science 34 (7): 816–835.

Brabham, D.C. 2008. Crowdsourcing as a model for problem-solving: An introduction and cases. Convergence 14 (1): 75–90.

Brown, S.L., and K.M. Eisenhardt. 1997. The art of continuous change: Linking complexity theory and time-paced evolution in relentlessly shifting organizations. Administrative Science Quarterly 42 (1): 1–34.

Byrum, J., and A. Bingham. 2016. Improving analytics capabilities through crowdsourcing. MIT Sloan Management Journal 57 (4): 43–48.

Cabiddu, F., M. Castriotta, M.C. Di Guardo, and P. Floreddu. 2013. Open innovation and crowdsourcing communities design: A cross-case analysis. In Designing organizational systems: Lecture notes in information systems and organisation 1, ed. R. Baskerville, et al., 143–155. Berlin: Springer.

Carlile, P.R. 2002. A pragmatic view of knowledge and boundaries: Boundary objects in new product development. Organization Science 13 (4): 442–455.

Chen, C.C., X.P. Chen, and S. Huang. 2013. Chinese Guanxi: An integrative review and new directions for future research. Management and Organization Review 9 (1): 167–207.

Chesbrough, H.W. 2003. Open innovation: The new imperative for creating and profiting from technology. Boston: Harvard Business Press.

Chesbrough, H.W. 2006. Open innovation: A new paradigm for understanding industrial innovation. In Open innovation: Researching a new paradigm, ed. H. Chesbrough, W. Vanhaverbeke, and J. West, 1–12. Oxford: Oxford University Press.

Chua, R.Y., M.W. Morris, and P. Ingram. 2009. Guanxi vs networking: Distinctive configurations of affect-and cognition-based trust in the networks of Chinese vs American managers. Journal of International Business Studies 40 (3): 490–508.

Das, T.K., and B.S. Teng. 1998. Between trust and control: Developing confidence in partner cooperation alliances. Academy of Management Review 23 (3): 491–512.

Davison, R.M., and C.X. Ou. 2008. Guanxi, knowledge and online intermediaries in China. Chinese Management Studies 2 (4): 281–302.

Doney, P.M., and J.P. Cannon. 1997. An examination of the nature of trust in buyer-seller relationships. Journal of Marketing 61 (2): 35–51.

Dong, L., and K.W. Glaister. 2007. The management of culture in Chinese international strategic alliances. Asian Business & Management 6 (4): 377–407.

Dyer, J.H., and H. Singh. 1998. The relational view: Cooperative strategy and sources of interorganizational competitive advantage. Academy of Management Review 23 (4): 660–679.

Economist Intelligence Unit. 2008. The role of trust in business collaboration: An Economist Intelligence Unit briefing paper sponsored by cisco systems. http://graphics.eiu.com/upload/cisco_trust.pdf. Accessed 10 April 2016.

Erickson, L. 2012. Hanging with the right crowd: Matching crowdsourcing need to crowd characteristics. Paper presented at the 18th Americas conference on information systems, August 9–11, Seattle, USA.

Feeser, H.R., and G.E. Willard. 1989. Founding strategy and performance: A comparison of high and low-growth high-tech firms. Journal of Business Venturing 4 (6): 429–442.

Frey, K., C. Lüthje, and S. Haag. 2011. Whom should firms attract to open-innovation platforms? The role of knowledge diversity and motivation. Long Range Planning 44 (5): 397–420.

Gambetta, D. 1988. Trust: Making and breaking cooperative relations. Cambridge: Blackwell.

Gassmann, O., and Z. Han. 2004. Motivations and barriers of foreign R&D activities in China. R&D Management 34 (4): 423–437.

Gefen, D., and D.W. Straub. 2004. Consumer trust in B2C e-commerce and the importance of social presence: Experiments in e-products and e-services. International Journal of Management Science 32 (6): 407–424.

Golden, B.R. 1997. Further remarks on retrospective accounts in organizational and strategic management research. Academy of Management Journal 40 (5): 1243–1252.

Goo, J., R. Kishore, H.R. Rao, and K. Nam. 2009. The role of service-level agreements in relatio¤ment of information-technology outsourcing: An empirical study. MIS Quarterly 33 (1): 119–145.

Guthrie, D. 1998. The declining significance of guanxi in China's economic transition. China Quarterly 154: 254–282.

Hamilton, D.L., and S.J. Sherman. 1996. Perceiving persons and groups. Psychological Review 103 (2): 336.

Hargadon, A., and R.I. Sutton. 1997. Technology-brokering and innovation in a product development firm. Administrative Science Quarterly 42 (42): 716–749.

Heiskanen, A. 1995. Reflecting over a practice: Framing issues for scholar understanding. Information Technology & People 8 (4): 3–18.

Heiskanen, A., and Newman, M. 1997. Bridging the gap between information systems research and practice: The reflective practitioner as a researcher. Paper presented at 18th international conference on information systems, 15–17 December, Atlanta, GA, USA.

Heiskanen, A., M. Newman, and M. Eklin. 2008. Control, trust, power, and the dynamics of information-system outsourcing relationships: A process study of contractual software development. Journal of Strategic Information Systems 17 (4): 268–286.

Hennart, J.-F. 2015. Leveraging Asian institutions to deepen theory: A transaction-cost perspective on relational governance. Asian Business & Management 14 (4): 257–282.

Hödl, M.K., and J.F. Puck. 2014. Asset specificity, IJV performance and the moderating effect of trust: Evidence from China. Asian Business & Management 13 (1): 65–88.

Howells, J. 2006. Intermediation and the role of intermediaries in innovation. Research Policy 35 (5): 715–728.

Huber, G.P., and D.J. Power. 1985. Retrospective reports of strategic-level managers: Guidelines for increasing their accuracy. Strategic Management Journal 6 (2): 171–180.

Huff, L., and L. Kelley. 2003. Levels of organizational trust in individualist versus collectivist societies: A seven-nation study. Organization Science 14 (1): 81–90.

Hutchings, K., and G. Murray. 2002. Australian expatriates' experiences in working behind the bamboo curtain: An examination of guanxi in post-communist China. Asian Business & Management 1 (3): 373–393.

Katsikeas, C.S., D. Skarmeas, and D.C. Bello. 2009. Developing successful trust-based international exchange relationships. Journal of International Business Studies 40 (1): 132–155.

Katzy, B., E. Turgut, T. Holzman, and K. Sailer. 2013. Innovation intermediaries: A process view on open innovation coordination. Technology Analysis & Strategic Management 25 (3): 295–309.

Kee, H.W., and R.E. Knox. 1970. Conceptual and methodological considerations in the study of trust and suspicion. Journal of Conflict Resolution 14 (3): 357–366.

Kramer, R.M. 1999. Trust and distrust in organizations: Emerging perspectives, enduring questions. Annual Review of Psychology 50 (1): 569–598.

Lacity, M.C., S.A. Khan, and L.P. Willcocks. 2009. A review of the IT outsourcing literature: Insights for practice. Journal of Strategic Information Systems 18 (3): 130–146.

Lavie, D., P.R. Haunschild, and P. Khanna. 2012. Organizational differences, relational mechanisms, and alliance performance. Strategic Management Journal 33 (13): 1453–1479.

Lee, Y., and S.T. Cavusgil. 2006. Enhancing alliance performance: The effects of contractual-based versus relational-based governance. Journal of Business Research 59 (8): 896–905.

Li, H., and K. Atuahene-Gima. 2001. Product innovation strategy and the performance of new technology ventures in China. Academy of Management Journal 44 (6): 1123–1134.

Luo, X. 2002. Trust production and privacy concerns on the Internet: A framework based on relationship marketing and social exchange theory. Industrial Marketing Management 31 (2): 111–118.

Macneil, I.R. 1980. The new social contract: An inquiry into modern contractual relations. New Haven: Yale University Press.

Majchrzak, A., and A. Malhotra. 2013. Towards an information systems perspective and research agenda on crowdsourcing for innovation. Journal of Strategic Information Systems 22 (4): 257–268.

Martinsons, M.G. 2008. Relationship-based e-commerce: Theory and evidence from China. Information Systems Journal 18 (4): 331–356.

McEvily, B., V. Perrone, and A. Zaheer. 2003. Trust as an organizing principle. Organization Science 14 (1): 91–103.

Miles, M.B., and A.M. Huberman. 1994. Qualitative data analysis: An expanded sourcebook. Thousand Oaks: Sage.

Miller, C.C., and W.H. Glick. 1997. Retrospective reports in organizational research: A re-examination of recent evidence. Academy of Management Journal 40 (1): 189–204.

Millington, A., M. Eberhardt, and B. Wilkinson. 2005. Gift-giving, guanxi and illicit payments in buyer-supplier relations in China: Analysing the experience of UK companies. Journal of Business Ethics 57 (3): 255–268.

Myers, M.D. 2013. Qualitative research in business and management. London: Sage.

Park, S.H., and Y. Luo. 2001. Guanxi and organizational dynamics: Organizational networking in Chinese firms. Strategic Management Journal 22 (5): 455–477.

Pavlou, P.A. 2002. Institution-based trust in interorganizational exchange relationships: The role of online B2B marketplaces on trust formation. Journal of Strategic Information Systems 11: 215–243.

Pavlou, P.A., and D. Gefen. 2004. Building effective online marketplaces with institution-based trust. Information Systems Research 15 (1): 37–59.

Pedersen, J., Kocsis, D., Tripathi, A., Tarrell, A., Weerakoon, A., et al. 2013. Paper presented at 46th Hawaii international conference on system sciences (HICSS), 7–10 January, Wailea, HI, USA.

Robert, L.P., A.R. Denis, and Y.-T.C. Hung. 2009. Individual swift trust and knowledge-based trust in face-to-face and virtual team members. Journal of Management Information Systems 26 (2): 241–279.

Sabherwal, R. 1999. The role of trust in outsourced IS development projects. Communications of the ACM 42 (2): 80–86.

Saldaña, J. 2015. The coding manual for qualitative researchers. Thousand Oaks: Sage.

Schön, D. 1983. The reflective practitioner: How professionals think in action. New York: Basic Books.

Shapiro, S.P. 1987. The social control of impersonal trust. American Journal of Sociology 93 (3): 623–658.

Sieg, J.H., M.W. Wallin, and G. Von Krogh. 2010. Managerial challenges in open innovation: A study of innovation intermediation in the chemical industry. R&D Management 40 (3): 281–291.

Stewart, K.J. 2003. Trust transfer on the world wide web. Organization Science 14 (1): 5–17.

Sun, K-q. 2006. Non-intermediary and re-intermediary in e-commerce. Journal of Yunnan University of Finance and Economics 22 (1): 50–53.

Svensson, G. 2004. Triadic trust in business networks: A conceptual model and empirical illustration. European Business Review 14 (2): 165–190.

Terwiesch, C., and Y. Xu. 2008. Innovation contests, open innovation, and multi-agent problem-solving. Management Science 54 (9): 1529–1543.

Tran, Y., J. Hsuan, and V. Mahnke. 2011. How do innovation intermediaries add value? Insight from new product development in fashion markets. R&D Management 41 (1): 80–91.

Ulset, S. 1996. R&D outsourcing and contractual governance: An empirical study of commercial R&D projects. Journal of Economic Behavior & Organization 30 (1): 63–82.

Verner, J.M., and L.M. Abdullah. 2012. Exploratory case-study research: Outsourced project failure. Information and Software Technology 54 (8): 866–886.

Verona, G., E. Prandelli, and M. Sawhney. 2006. Innovation and virtual environments: Towards virtual knowledge brokers. Organization Studies 27 (6): 765–788.

Vining, A. 1999. A conceptual framework for understanding the outsourcing decision. European Management Journal 17 (6): 645–654.

West, J., and M. Bogers. 2014. Leveraging external sources of innovation: A review of research on open innovation. Journal of Product Innovation Management 31 (4): 814–831.

Willamson, O. 1985. The economic institutions of capitalism. New York: Free Press.

Wong, M. 2007. Guanxi and its role in business. Chinese Management Studies 1 (4): 257–276.

Xin, K.K., and J.L. Pearce. 1996. Guanxi: Connections as substitutes for formal institutional support. Academy of Management Journal 39 (6): 1641–1658.

Yin, R.K. 2003. Applications of case study research. Thousand Oaks: Sage.

Zaheer, A., B. McEvily, and V. Perrone. 1998. Does trust matter? Exploring the effects of interorganizational and interpersonal trust on performance. Organization Science 9 (2): 141–159.

Zaheer, A., and N. Venkatraman. 1995. Relational governance as an interorganizational strategy: An empirical test of the role of trust in economic exchange. Strategic Management Journal 16 (5): 373–392.

Zhang, J., and H.T. Keh. 2010. Interorganizational exchanges in China: Organizational forms and governance mechanisms. Management and Organization Review 6 (1): 123–147.

Zhao, Y., and Q. Zhu. 2012. Evaluation on crowdsourcing research: Current status and future direction. Information Systems Frontiers 16 (3): 417–434.

Zogaj, S., U. Bretschneider, and J.M. Leimeister. 2014. Managing crowdsourced software testing: A case study based insight on the challenges of a crowdsourcing intermediary. Journal of Business Economics 84: 375–405.

Zucker, L.G. 1986. Production of trust: Institutional sources of economic structure, 1840–1920. Research in Organizational Behavior 8 (2): 53–111.
Acknowledgements
This work was supported by the National Natural Science Foundation of China (NSFC) Grants Nos. 71171131, 71471141, 71503108 and 91646205. It was also funded by the Chinese Scholarship Council. The authors would also like to acknowledge the valuable feedback from the editor and two anonymous reviewers.
Appendix
Appendix
Cs.com initially invited six companies to use crowdsourcing.
Employees were asked to respond to the following questionnaire, according to their work experience:
1.

Do you think your organization will crowdsource their R&D tasks to external clients, for example, through an Internet-based platform? If yes, list the reasons. If not, what resistances or concerns do you expect?

2.

How will the Chinese macro-environment positively and negatively influence trust regarding R&D crowdsourcing activities in China?

3.

What mechanisms will be effective for regulating vendor behaviours in Internet R&D crowdsourcing?

4.

What specific changes in the macro-environment are needed to improve the development of R&D crowdsourcing?
General manager of cs.com:
1.

What are the advantages and disadvantages of R&D crowdsourcing in China? What benefits or resistance will China's macro-environment bring to R&D crowdsourcing activities in China?

2.

What difficulties did you encounter when you looked for vendors to bid for the tasks on cs.com? Please list common concerns that vendors might have.

3.

When you looked for clients to place tasks on cs.com, what difficulties did you encounter? Please list common concerns that clients might have.

4.

How is R&D crowdsourcing unique to China in comparison with the popular crowdsourcing intermediaries in the United States or Europe?

5.

How does the macro-environment of Chinese society positively and negatively affect trust in R&D crowdsourcing processes?

6.

What arbitration role should cs.com play? Is it necessary?

7.

What will cs.com do to improve client/vendor trust? Will cs.com take concrete measures?

8.

How should China's macro-environment be changed specifically to improve the development of R&D crowdsourcing?
Artifact designer/director:
1.

When the development team designed the website, did they consider trust as a factor? What has the company done to improve trust?

2.

How was the website developed to increase user trust? How effective was it?

3.

Have users made any suggestions to cs.com since it launched?

4.

How should China's macro-environment be changed to improve the development of R&D crowdsourcing?
Manager of QC Corporation
1.

Compared with traditional outsourcing approaches, are you willing to use an online crowdsource approach to handle your R&D tasks? What do you think about Internet-based R&D crowdsourcing?

2.

Do you trust cs.com and the client? Do you think they will do a good job?

3.

Were you satisfied with the online crowdsourcee? Did cs.com recommend a sourcee?

4.

Did you encounter difficulties in completing the transaction? How did you solve the problem?

5.

How do you feel about your contract with cs.com? Did it cover all your concerns? Did it fail to cover any issues? How can problems be solved if they arise?
Rachel:
1.

Why were you motivated to take an online job?

2.

Did you trust cs.com and the tasks it advertised?

3.

Why did you fail to finish the transaction with the QC Corporation?

4.

What do you think about cs.com's design and website features? Are you satisfied with the payment and work mode?

5.

What aspects of cs.com should be improved to attract more users?
Jack:
1.

Why are you motivated to take online jobs?

2.

Do you trust cs.com and the tasks it advertises?

3.

What do you think about cs.com's design and website features? Are you satisfied with the payment and work mode?

4.

What aspects of cs.com should be improved to attract more users?
Note: Jack and Rachel were crowdsourcees in two phases, so their questionnaires differ.
About this article
Cite this article
Guo, W., Feng, J.B., McKenna, B. et al. Inter-organizational governance and trilateral trust building: a case study of crowdsourcing-based open innovation in China. Asian Bus Manage 16, 187–207 (2017). https://doi.org/10.1057/s41291-017-0019-1
Received:

Revised:

Accepted:

Published:

Issue Date:
Keywords
Guanxi

Chinese context

Crowdsourcing

Open innovation

R&D

Trust