Abstract
This article explores the meaning and materiality of contemporary zines. As do-it-yourself and profit-resistant publications seeing a sustained resurgence, zines are an interesting and valuable case within the cultural sociology of reading. Based on a thematic analysis of 73 zines collected from a 2019 zine fair, and qualitative interviews with 16 zine readers, in this article we consider the 'felt value' (Simmel 2005 [1916]) of zines. We explore how contemporary zines—via their content and form—intimately speak to both the weight and frivolity of life, how they intensively grapple with questions about relationships and ways of living, and what this means for how meaning is made material(ly) in the form. Conceptually, we bring together Thumala Olave's (2017, 2020) work on affect and reading with Alexander's (2008a, b) work on iconicity and immersion and Bennett's (2018a, b) work on the significance and diversification of DIY projects in contemporary cultural practice. We identify four iconic properties of the contemporary form: a DIY ethos and aesthetic, anti-mainstream positioning, an intimacy, and an intensity. These iconic properties offer insight into how reading zines is made meaningful through the iconicity and immersive materiality of the analogue zine form.
Access options
Buy single article
Instant access to the full article PDF.
US$ 39.95
Tax calculation will be finalised during checkout.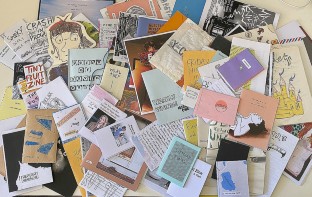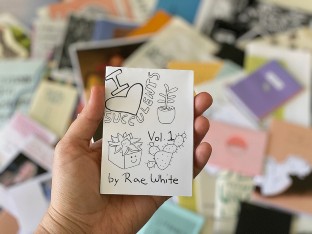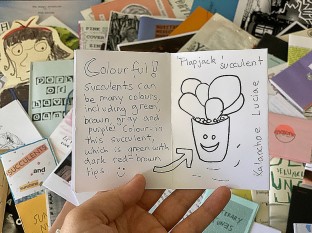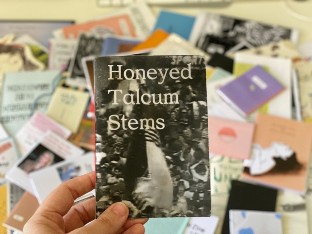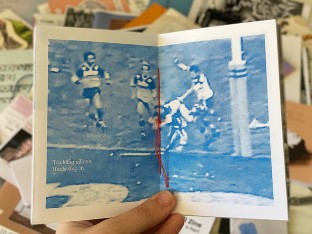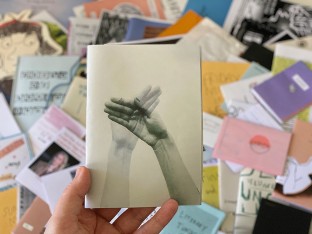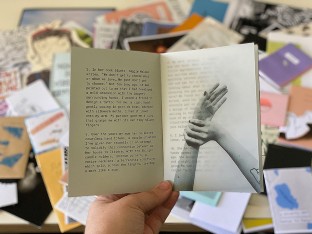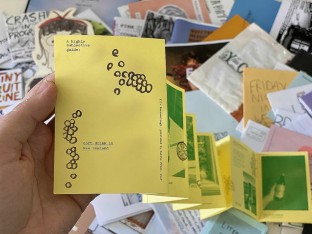 Notes
1.

2.

Contemporary norms of authorship mean oftentimes zines are published without attribution, under pseudonyms or pennames, or with an Instagram handle for a public art (i.e. not personal) social media page. Throughout, our authorial attribution is reflective of that printed in the zines. Permission has been gained from authors of the zines featured in Images 2, 3, 4, 5, 6, 7 and 8 for use in this article.
References
Ahmed, S. 2004. Affective Economies. Social Text 22 (2): 117–139.

Alexander, J.C. 2003. The Meanings of Social Life: A Cultural Sociology. New York: Oxford University Press.

Alexander, J.C. 2008a. Iconic Experience in Art and Life: Surface/Depth Beginning with Giacometti's Standing Woman. Theory, Culture & Society 25 (5): 1–19.

Alexander, J.C. 2008b. Iconic Consciousness: The Material Feeling of Meaning. Environment and Planning D: Society and Space 26 (5): 782–794.

Ang, I. 1985. Watching Dallas. London: Methuen.

Ang, I. 1989. Wanted Audiences: On the Politics of Empirical Audience Research. In Remote Control: Television, Audiences and Cultural Power, ed. E. Seiter, H. Borchers, G. Kruetzner, and E. Warth, 79–95. London: Routledge.

Beardsley, M. 1981. Aesthetics, Problems in the Philosophy of Criticism. Indianapolis: Hackett Publishing.

Beer, D. 2019. Georg Simmel's Concluding Thoughts: Worlds, Lives. Fragments: Springer.

Bennett, A. 2002. Researching Youth Culture and Popular Music: A Methodological Critique. British Journal of Sociology 53 (3): 451–466.

Bennett, A. 2018a. Youth, Music and DIY Careers. Cultural Sociology 12 (2): 133–139.

Bennett, A. 2018b. Conceptualising the Relationship Between Youth, Music and DIY Careers: A Critical Overview. Cultural Sociology 12 (2): 140–155.

Bennett, A., and P. Hodkinson (eds.). 2012. Ageing and Youth Cultures: Music, Style and Identity. Oxford: Berg.

Brouwer, D.C. 2005. Counterpublicity and Corporeality in HIV/AIDS Zines. Critical Studies in Media Communication 22 (5): 351–371.

Busse, K. 2009. In Focus: Fandom and Feminism: Gender and the Politics of Fan Production: Introduction. Cinema Studies 48 (4): 104–107.

Canclini, N.G. 2013. Precarious Creativity: Youth in a Post-Industrial Culture. Journal of Latin American Studies 22 (4): 341–352.

Chambers, I. 1985. Urban Rhythms: Pop Music and Popular Culture. London: Macmillan.

Chidgey, R. 2006. The Resisting Subject: Per-zines as Life Story Data. University of Sussex Journal of Contemporary History 10: 1–13.

Congdon, K.G., and D. Blandy. 2003. Zinesters in the Classroom: Using Zines to Teach About Postmodernism and the Communication of Ideas. Art Education 56 (3): 44–55.

DeNora, T. 2000. Music in Everyday Life. Cambridge: Cambridge University Press.

Dunn, K., and M.S. Farnsworth. 2012. We ARE the Revolution: Riot Grrrl Press, Girl Empowerment, and DIY Self-Publishing. Women's Studies 41 (2): 136–157.

Duncombe, S. 2014. Notes from Underground: Zines and the Politics of Alternative Culture. London: Verso.

Fetterley, J. 1978. The Resisting Reader: A Feminist Approach to American Fiction. Bloomington: Indiana University Press.

Fife, K. 2019. Not For You? Ethical Implications of Archiving Zines. Punk and Post-Punk 8 (2): 227–242.

Flinders, M.J. 1996. Queens and Teen Zines: Early Adolescent Females Reading Their Way Toward Adulthood. Anthropology and Education Quarterly 27 (1): 71–89.

Freedman, J. 2009. Grrrl Zines in the Library. Signs: Journal of Women in Culture and Society 35 (1): 52–59.

Frykman, J., and M.P. Frykman (eds.). 2016. Sensitive Objects: Affect and Material Culture. Sweden: Nordic Academic Press.

Guzzetti, B.J., and M. Gamboa. 2004. Zines for Social Justice: Adolescent Girls Writing on Their Own. Reading Research Quarterly 39 (4): 408–436.

Haenfler, R. 2018. The Entrepreneurial (Straight)Edge: How Participation in DIY Music Cultures Translates to Work and Careers. Cultural Sociology 12 (2): 174–193.

Haenfler, R. 2014. Punk Rock, Hardcore, and Globalisation. In The SAGE Handbook of Popular Music, ed. A. Bennett and S. Waksman, 278–296. London: SAGE.

Hebdige, D. 1979. Subculture: The Meaning of Style. London: Routledge.

Hodkinson, P. 2005. "Insider Research" in the Study of Youth Cultures. Journal of Youth Studies 8 (2): 131–149.

Jauss, H.R. 1982. Toward an Aesthetic of Reception. Brighton: Harvester.

Kieran, M. 2001. Value of Art. In The Routledge Companion to Aesthetics, ed. B. Gaut and D. Lopes, 289–298. Oxon: Routledge.

Lash, S. 2016. Reflexive Modernization: The Aesthetic Dimension. Theory, Culture and Society 10 (1):1–23.

Long, E. 2003. Book clubs: Women and the uses of reading in everyday life. Chicago: University of Chicago Press.

Lowndes, S. 2016. The DIY Movement in Art, Music and Publishing: Subjugated Knowledges. New York: Routledge.

Massumi, B. 1995. The Autonomy of Affect. Cultural Critique 31: 83–109.

NYWF. 2019. About NYWF, https://youngwritersfestival.org/about-nywf, Accessed 15 Nov 2019.

Piepmeier, A. 2008. Why Zines Matter: Materiality and the Creation of Embodied Community. American Periodicals 18 (2): 213–238.

Piepmeier, A. 2009. Girl Zines: Making Media, Doing Feminism. New York: New York University Press.

Poletti, A. 2008a. Auto/Assemblage: Reading the Zine. Biography 31 (1): 85–102.

Poletti, A. 2008b. Intimate Ephemera: Reading Young Lives in Australian Zine Culture. Melbourne: Melbourne University Press.

Price, L. 2019. What We Talk About When We Talk About Books. The History and Future of Reading. New York: Basic Books.

Radway, J. 2011. Zines, Half-Lives, and Afterlives: On the Temporalities of Social and Political Change. PMLA 126 (1): 140–150.

Rosenberg, J., and G. Garofalo. 1998. Riot grrrl: Revolutions from Within. Signs: Journal of Women in Culture and Society 23 (3): 809–884.

Roszak, T. 1969. The Making of a Counter Culture: Reflections on the Technocratic Society and its Youthful Opposition. London: Faber and Faber.

Schilt, K. 2004. Riot grrrl is…: Contestation Over Meaning in a Music Scene. In Music Scenes: Local, Translocal, and Virtual, ed. A. Bennet and R.A. Petersen, 115–130. Nashville: Vanderbilt University Press.

Simmel, G. 2005 [1916]. Rembrandt: An Essay in the Philosophy of Art. A. Scott and H. Staubmann (trans. and eds.). New York: Routledge.

Solaroli, M. 2015. Iconicity: A Category for Social and Cultural Theory. Sociologica 1: 1–52.

Stangler, D., and K. Maxwell. 2012. DIY Producer Society. Innovations 7 (3): 3–10.

Stoddart, R.A., and T. Kiser. 2013. Zines and the Library. Library Resources & Technical Services 48 (3): 191–198.

Teal, T. 2006. Scissors and Glue: Punk Fanzines and the Creation of a DIY Aesthetic. Journal of Design History 19 (1): 69–83.

Thoits, P.A. 1989. The Sociology of Emotions. Annual Review of Sociology 15 (1): 317–342.

Thumala Olave, M.A. 2018. Reading Matters: Towards a Cultural Sociology of Reading. American Journal of Cultural Sociology 6 (3): 417–454.

Thumala Olave, M.A. 2020. Book Love. A Cultural Sociological Interpretation of the Attachment to Books. Poetics. https://doi.org/10.1016/j.poetic.2020.101440.

Todd, M., and E. Watson. 2006. Whatcha Mean, What's a Zine?: The Art of Making Zines and Minicomics. Boston: Graphia.

Triggs, T. 2010. Fanzines: The DIY Revolution. San Francisco: Chronicle Books.
Acknowledgements
We thank our participants and the zine makers who generously gave their time, and shared their experiences and their work.
Additional information
Publisher's Note
Springer Nature remains neutral with regard to jurisdictional claims in published maps and institutional affiliations.
About this article
Cite this article
Watson, A., Bennett, A. The felt value of reading zines. Am J Cult Sociol 9, 115–149 (2021). https://doi.org/10.1057/s41290-020-00108-9
Keywords
Zine

Affect

Iconicity

DIY

Reading

Materiality