Abstract
Weather insurance is regarded as a powerful tool to protect small-scale farmers from the economic impacts of natural disasters. In cases in which insured farmers suffer a loss, insurance payouts mitigate the financial consequences that otherwise could have forced them to apply disruptive coping strategies. This paper analyses the effects of payouts of yield insurance in Colombia on small-scale tobacco farmers. Two questions are raised: were the payouts made consistently after shocks and how did the payouts affect the ex post coping strategies of the beneficiaries? The data indicate a significant overlap in household losses between insured farmers who did and those who did not receive payouts, even though the insurance indemnified the main risks of the main income sources. Exploring the overlap to match the farmers of the two groups, it is suggested that the beneficiaries were better equipped to protect their resources, including assets and savings, after shocks.
This is a preview of subscription content, log in to check access.
Access options
Buy single article
Instant access to the full article PDF.
US$ 39.95
Price includes VAT for USA
Subscribe to journal
Immediate online access to all issues from 2019. Subscription will auto renew annually.
US$ 153
This is the net price. Taxes to be calculated in checkout.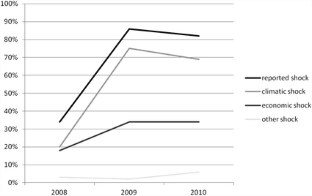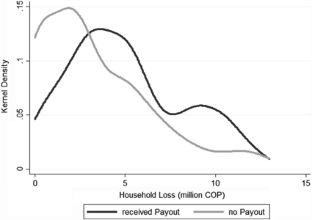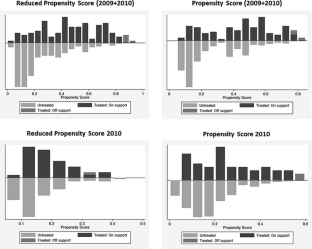 Notes
1.

2.

Rodriguez-Oreggia et al. (2013).

3.

Datt and Hoogeveen (2003).

4.

5.

6.

7.

8.

9.

10.

11.

Janzen and Carter (2013).

12.

Akotey and Adjasi (2014).

13.

Dietrich and Ibanez (2015).

14.

15.

16.

The numbers change for other departments, and the formula presented applies to tobacco farmers in Santander. In 2010, the production cost per hectare was estimated to be 6.7 million COP for burley tobacco in the research region.

17.

According to administrative data, about 28 per cent of the insured contracts in 2009 and 2010 were indemnified compared with 35 per cent in the sample. The results are robust to the use of sampling weights.

18.

The administrative data could only be merged if the survey respondent coincided with the tobacco contract holder.

19.

Note that the number of observations differs from the previously cited figures because of missing responses for some variables, reducing the observations of all the variables in the multivariate regressions.

20.

There were a total of 202 and 295 insured farmers in 2009 and 2010. Note that the observations in Table 1 use multivariate regressions, leading to a lower number of observations due to missing observations for some variables.

21.

Other strategies included taking children out of school and asking the public administration for help, but there were too few positive observations (3) to be considered in the analysis. Due to missing loss responses and an initial coding error in the survey, the number of observation is lower compared with Table 1. Households with missing coping strategy responses are not systematically different in terms of observable characteristics.

22.

23.

For the identification of the equations, shocks that were not covered by the insurance and dummies representing the tobacco company technicians who are responsible for forwarding claims to the insurance company are used.

24.

Caliendo and Kopeinig (2008).

25.

The results of the selection equation can be found in Table 7.

26.

27.

Note that the estimation is suitable for nearest neighbour matching without replacement, which led to slightly different coefficients compared with the results of the main estimations.
References
Akotey, J.O. and Adjasi, C. (2014) 'The impact of microinsurance on household asset accumulation in ghana: An asset index approach', The Geneva Papers on Risk and Insurance-Issues and Practice 39(2): 304–321.

Cai, J. (2013) The impact of insurance provision on households' production and financial decisions, MPRA Paper (46864), Munich Personal RePEc Archiv.

Caliendo, M. and Kopeinig, S. (2008) 'Some practical guidance for the implementation of propensity score matching', Journal of Economic Surveys 22(1): 31–72.

Carter, M.R., Little, P.D., Mogues, T. and Negatu, W. (2007) 'Poverty traps and natural disasters in Ethiopia and Honduras', World Development 35(5): 835–856.

Carter, M.R. and Maluccio, J.A. (2003) 'Social capital and coping with economic shocks: An analysis of stunting of South African children', World Development 31(7): 1147–1163.

Chiputwa, B., Spielman, D.J. and Qaim, M. (2015) 'Food standards, certification, and poverty among coffee farmers in Uganda', World Development 66: 400–412.

Clarke, D.J. and Grenham, D. (2013) 'Microinsurance and natural disasters: challenges and options', Environmental Science & Policy 27: S89–S98.

Datt, G. and Hoogeveen, H. (2003) 'El niño or el peso? Crisis, poverty and income distribution in the Philippines', World Development 31(7): 1103–1124.

Dercon, S., ed. (2004) Insurance Against Poverty, UK WIDER Studies in Development Economics, Oxford: Oxford University Press.

Dercon, S., Hoddinott, J. and Woldehanna, T. (2005) 'Shocks and consumption in 15 ethiopian villages, 1999-2004', Journal of African Economies 14: 559–585.

Dercon, S., Kirchberger, M., Gunning, J.W. and Platteau, J.P. (2008) Literature review on microinsurance, Microinsurance Paper No. 1, Geneva: International Labour Organization.

Dietrich, S. and Ibanez, M. (2015) Impact of weather insurance on small scale farmers: A natural experiment, Poverty, Equity and Growth Discussion Paper No. 165, Goettingen, Germany: Georg-August-Universität.

Eling, M., Pradhan, S. and Schmit, J.T. (2014) 'The determinants of microinsurance demand', The Geneva Papers on Risk and Insurance-Issues and Practice 39(2): 224–263.

IFPRI (1986) Crop Insurance for Agricultural Development: Issues and Experience, Baltimore and London: The Johns Hopkins University Press.

IPCC (2014) Climate Change 2013: The Physical Science Basis: Working Group I Contribution to the Fifth Assessment Report of the Intergovernmental Panel on Climate Change, Cambridge: Cambridge University Press.

Janzen, S.A. and Carter, M.R. (2013) After the drought: The impact of microinsurance on consumption smoothing and asset protection, NBER Working Paper No. 19702, Cambridge, MA: National Bureau of Economic Research.

Macours, K. (2013) 'Volatility, agricultural risk, and household poverty: Micro-evidence from randomized control trials', Agricultural Economics 44(s1): 79–84.

Rodriguez-Oreggia, E., De La Fuente, A., De La Torre, R. and Moreno, H.A. (2013) 'Natural disasters, human development and poverty at the municipal level in mexico', The Journal of Development Studies 49(3): 442–455.

Samson, J., Berteaux, D., McGill, B.J. and Humphries, M.M. (2011) 'Geographic disparities and moral hazards in the predicted impacts of climate change on human populations', Global Ecology and Biogeography 20(4): 532–544.

Skees, J., Hazell, P.B.R. and Miranda, M. (1999) New approaches to crop yield insurance in developing countries, EPTD Discussion Paper No. 55, Washington, DC: International Food Policy Research Institute.

Skoufias, E. (2003) 'Economic crises and natural disasters: Coping strategies and policy implications', World Development 31(7): 1087–1102.

World Bank (2013) World Development Report 2014: Risk and Opportunity—Managing Risk for Development, Oxford: Oxford University Press.
Acknowledgments
This article benefited greatly from suggestions by Marcela Ibanez and Stephan Klasen and comments received at the brown bag seminar of the chair for Social Policy and Education of the University of Stellenbosch, the Development Economics seminar of the University of Göttingen, the AEL conference in Munich (2013), and the 2nd International Microinsurance Workshop in Munich (2014).
About this article
Cite this article
Dietrich, S. Coping with Shocks: Impact of Insurance Payouts on Small-Scale Farmers. Geneva Pap Risk Insur Issues Pract 42, 348–369 (2017). https://doi.org/10.1057/s41288-016-0035-y
Received:

Accepted:

Published:

Issue Date:
Keywords
coping strategies

insurance

natural disasters

risk management

Colombia