Abstract
A limited but growing number of studies point to mixed effects of social protection on social cohesion. Relatively little is known about the role of social cohesion on access to and impact of social protection. Based on in-depth qualitative research in Burundi and Haiti, this paper explores the bi-directional relationship between social protection and social cohesion. The analysis focuses on horizontal forms of social cohesion within a particular set of comprehensive interventions that provide bundled packages of support to the poorest and most vulnerable. We find that programmes strengthened attributes of social cohesion, such as dignity and positive identity. They also hampered elements of cohesion such as sense of belonging and togetherness. Stronger cohesion, mediated through community trust and collaboration, fostered positive programme impacts. The paper concludes that social dynamics at community, family and individual levels should receive greater attention in design and implementation of social protection to avoid unintended consequences and maximise programme impact across social and other dimensions.
Résumé
Quelques études, dont le nombre est d'ailleurs en augmentation, font état des effets mitigés de la protection sociale sur la cohésion sociale. On sait relativement peu de choses sur le rôle que peut jouer la cohésion sociale sur l'accès à la protection sociale et sur son impact. Cet article est tiré d'une étude qualitative approfondie au Burundi et en Haïti. Il explore la relation bidirectionnelle entre la protection sociale et la cohésion sociale. L'analyse se concentre sur les formes horizontales de cohésion sociale au sein d'un ensemble d'interventions complètes qui fournissent des services groupés de soutien aux personnes les plus pauvres et les plus vulnérables. Nous constatons que les programmes ont renforcé certains aspects de la cohésion sociale, tels que la dignité et l'identité positive. Ils ont également entravé d'autres aspects de la cohésion, tels que le sentiment d'appartenance et de proximité. Une cohésion plus forte, reflétée par la confiance et la collaboration au sein des communautés, a favorisé l'impact positif du programme. L'article conclut que les dynamiques sociales aux niveaux communautaire, familial et individuel devraient faire l'objet d'une plus grande attention lors de la conception et de la mise en œuvre des programmes de protection sociale afin d'éviter des conséquences imprévues et de maximiser l'impact social du programme, entre autres.
Access options
Buy single article
Instant access to the full article PDF.
USD 39.95
Price excludes VAT (USA)
Tax calculation will be finalised during checkout.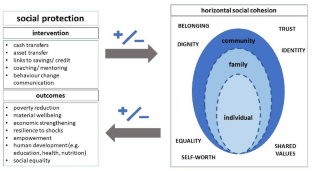 References
Adhikari, T., F. Thapa, S. Tamrakar, P. Magar, J. Hagen-Zanker, and B. Babajanian. 2014. How does social protection contribute to social inclusion in Nepal? Evidence from the Child Grant in the Karnali Region. London: Overseas Development Institute.

Ansell, N., L. van Blerk, E. Robson, F. Hajdu, E. Mwathunga, T. Hlabana, and R. Hemsteede. 2019. Social cash transfers, generational relations and youth poverty trajectories in rural Lesotho and Malawi. London: Brunel University.

Antonopoulos, R. 2013. Expanding social protection in developing countries: A gender perspective. Issue Working Paper No. 757. Annandale-on-Hudson, NY: Levy Economics Institute of Bard College.

Author 2019: Roelen, K. and S. Devereux. 2019. Money and the message: The role of training and coaching in graduation programming. Journal of Development Studies. 55(6): 1121–1139

Authors et al 2019: Roelen, K. Kim, S. K., Barnett, I. and D. Chanchani. 2019. Pathways to stronger futures in haiti: the role of graduation programming in promoting early childhood development. Brighton: Institute of Development Studies.

Babajanian, B. 2012. Social protection and its contribution to social cohesion and state building. Bonn: Deutsche Gesellschaft für Internationale Zusammenarbeit (GIZ).

Babajanian, B., J. Hagen-Zanker, and R. Holmes. 2014. How do social protection and labour programmes contribute to social inclusion? London: Overseas Development Institute.

Barca, V., S. Brook, J. Holland, M. Otulana, and P. Pozarny (2015) Qualitative research and analyses of the economic impacts of cash transfer programmes in Sub-Saharan Africa. Synthesis Report. FAO: Rome.

Bastien, R., and D'ans, A.-M. 1985. Le paysan haïtien et sa famille: vallée de Marbial, ACCT: Editions Karthala.

Beauvais, C., and J. Jenson. 2002. Social cohesion: Updating the state of the research, CPRN Discussion Paper F/22. Ottawa: Canadian Policy Research Networks.

Besada, H., Wheaton, W., O'Bright, B. and E. Tok (2014) Phase I study report: Social cohesion and community based protection mechanisms in Chad and Burundi. The North-South Institute.

Bukuluki, P., and C. Watson. 2012. Transforming Cash Transfers: Beneficiary and community perspectives on the Senior Citizen Grant (SCG) in Uganda. London: Overseas Development Institute.

Burchi, F., Leininger, J., Loewe, M. and D. Malerba (forthcoming) Social protection and social cohesion: A conceptual framework. European Journal of Development Research, under review.

Burchi, F. and F. Roscoli. 2021. Can integrated social protection programmes affect social cohesion? Mixed-methods evidence from Malawi. Discussion Paper 3. Bonn: German Development Institute.

Burchi, F., C. Strupat, and A. Schiller. 2020. Social protection and revenue collection: How they can jointly contribute to strengthening social cohesion. International Social Security Review 73 (3): 13–32.

Calo-Blanco, A., J. Kovářík, F. Mengel, and J.G. Romero. 2017. Natural disasters and indicators of social cohesion. PLoS ONE 12 (6): e017885.

Cieslik, K. 2016. Moral economy meets social enterprise community-based green energy project in rural Burundi. World Development 83: 12–26.

Chan, J., H.-P. To, and E. Chan. 2006. Reconsidering social cohesion: Developing a definition and analytical framework for empirical research. Social Indicators Research 75: 273–302.

Council of Europe. 2005. Concerted development of social cohesion indicators (Methodological guide). Strasbourg: Council of Europe Publishing.

de Milliano, M., C. Barrington, G. Angeles, and C. Gbedemah. 2021. Crowding-out or crowding-in? Effects of LEAP 1000 unconditional cash transfer program on household and community support among women in rural Ghana. World Development 143: 105–466.

Devereux, S., E. Masset, R. Sabates-Wheeler, M. Samson, A.-M. Rivas, and D. te Lintelo. 2017. The targeting effectiveness of social transfers. Journal of Development Effectiveness 9: 162–211.

Devereux, S., K. Roelen, R. Sabates, D. Stoelinga, and A. Dyevre. 2015. Final Evaluation Report. Concern's Graduation Model Programme in Burundi., Concern Worldwide, Dublin.

Devereux, S., K. Roelen, C. Béné, D. Chopra, J. Leavy, and A. McGregor. 2013. Evaluating Outside the Box: An Alternative Framework for Analysing Social Protection Programmes. IDS Working Paper 431. Brighton: Institute of Development Studies.

Devereux, S., and R. Sabates-Wheeler. 2004. Transformative social protection. IDS Working paper 232. Brighton: Institute of Development Studies.

Devereux, S., and R. Sabates-Wheeler. 2015. Graduating from social protection? Editorial Introduction. IDS Bulletin 46: 1–12.

Eggleston, K., S. Ang, and Z. Zhan. 2018. The impact of rural pensions in China labor migration. World Bank Economic Review 32 (1): 64–84.

Ellis, F. 2012. 'We are all poor here': Economic difference, social divisiveness and targeting cash transfers in Sub-Saharan Africa. The Journal of Development Studies 48: 201–214.

Fiedler, C. and C. Rohles (2021) Social cohesion after armed conflict. A literature review. Discussion Paper 7/2021. Bonn: DIE-GIZ.

Gleditsch, N. 1998. Armed conflict and the environment: A critique of the literature. Journal of Peace Research. 35: 381–400.

Holmes, R., and R. Slater (2007) Conditional Cash Transfers: What Implications for Equality and Social Cohesion? The experience of Oportunidades in Mexico. EUROsociAL Programme.

Hossain, N., Brook, S., Garbarino, S., Notosusanto, S., Noor, I., and F. Seda (2012) Qualitative assessment: The social impacts of cash transfer programmes in Indonesia. Jakarta: Tim Nasional Percepatan Penanggulangan Kemiskinan (TNP2K).

Huda, K., and A. Simanowitz. 2010. Chemin Levi Miyo - Final Evaluation (24 months). Port-au-Prince: Fonkoze.

Jones, N., and F. Samuels. 2015. The role of cash transfers in maximising schools' protective effects for children in extreme settings: An ecological approach. International Journal of Educational Development 41: 217–225.

Jones, N., and T. Shahrokh. 2013. Social protection pathways: shaping social justice outcomes for the most marginalised, now and post-2015. Background Note. London: ODI.

La, H.A., and Y. Xu. 2017. Remittances, social security, and the crowding-out effect: Evidence from Vietnam. Journal of Asian Economics 49: 42–59.

Lamaute-Brisson, N. (2010) Economie des soins aux enfants en Haïti: prestataires, ménages et parenté. Santiago: Commission Economique pour l'Amérique Latine et les Caraïbes (CEPALC), Nations Unies.

Liaga, E.A., and C. Wielenga. 2020. Social cohesion from the top-down or bottom-up? The cases of South Sudan and Burundi. Peace & Change 45: 389–425.

Luttrell, C., and C. Moser. 2004. Gender and social protection. London: ODI.

MacAuslan, I., and N. Riemenschneider. 2011. Richer but resented: What do cash transfers do to social relations? IDS Bulletin 42: 60–66.

Mkandawire, T. (2005) Targeting and universalism in poverty reduction (Social Policy and Development Programme paper, No. 23). Geneva, United Nations Research Institute for Social Development.

Molyneux, M., W.N. Jones, and F. Samuels. 2016. Can cash transfer programmes have 'transformative' effects? The Journal of Development Studies 52: 1087–1098.

Novy, A., D.C. Swiatek, and F. Moulaert. 2012. Social cohesion: A conceptual and political elucidation. Urban Studies. 49 (9): 1873–1889.

O'Brien, C., R. Holmes, Z. Scott, and V. Barca. 2018. Shock-responsive social protection systems toolkit—Appraising the use of social protection in addressing largescale shocks. Oxford: Oxford Policy Management.

Onyango-Ouma, W., and F. Samuels. 2012. Transforming cash transfers: Beneficiary and community perspectives on the cash transfer for orphans and vulnerable children programme in Kenya. London: ODI.

Pavanello, S., C. Watson, W. Onyango-Ouma, and P. Bukuluki. 2016. Effects of cash transfers on community interactions: Emerging evidence. The Journal of Development Studies 52: 1147–1161.

Plank, G., Marcus, R and N. Jones. 2018. Social protection and gender norm change. An annotated bibliography. London: Advancing Learning and Innovation on Gender Norms (ALIGN) programme and ODI.

Pouw, N.R., B. Rohregger, E. Schüring, K.A. Alatinga, B. Kinuthia, and K. Bender. 2020. Social protection in Ghana and Kenya through an inclusive development Lens. Complex effects and risks. World Development Perspectives 17: 100173.

Roelen, K., E. Delap, C. Jones, and H. Karki Chettri. 2017. Improving child wellbeing and care in Sub-Saharan Africa: The role of social protection. Children and Youth Services Review 73: 309–318.

Schiefer, D., and J. Van der Noll. 2017. The essentials of social cohesion: A literature review. Social Indicators Research 132 (2): 579–603.

Smucker, G. R. 1999. Chapter 7. Haiti: The society and its environment. In: Chapin Metz, H. (ed.) Area Handbook Series: Dominican Republic and Haiti: Country Studies. Third ed. Washington DC: Library of Congress, Federal Research Division.

Strupat, C., and F. Klohn. 2018. Crowding out of solidarity? Public health insurance versus informal transfer networks in Ghana. World Development 104: 212–221.

Sweet, S. 1998. The effect of a natural disaster on social cohesion: A longitudinal study. International Journal of Mass Emergencies and Disasters 16(3): 321–331.

Taylor, J. and Davis, A. 2018. Social Cohesion. In Callan (Ed.) The International Encyclopedia of Anthropology. Wiley Online Library.

UNDP. 2020. Human development report. New York: United National Development Program.

Vervisch, T., K. Titeca, K. Vlassenroot, and J. Braeckman. 2013. Social capital and post-conflict reconstruction in Burundi: The limits of community-based reconstruction. Development and Change 44: 147–174.

Voegele, J., Kabongo, V. and A. Tall. 2021. Building resilience in the land of 3,000 collines: Rooting out drivers of climate fragility in Burundi. World Bank Blogs. https://blogs.worldbank.org/africacan/building-resilience-land-3000-collines-rooting-out-drivers-climate-fragility-burundi

Wietler, K. 2007. The Impact of Social Cash Transfers on Informal Safety Nets in Kalomo District, Zambia. Berlin: Ministry of Community Development and Social Services (MCDSS) and German Technical Cooperation (GTZ).

White, H. 2017. Effective targeting of social programmes: An overview of issues. Journal of Development Effectiveness 9 (2): 145–161.

World Bank. 2018. Poverty & equity brief. Haiti. Washington, DC: World Bank.
Acknowledgements
This research was made possible with funding from Concern Worldwide (Burundi) and the British Academy, grant EC170207 (Haiti).
Additional information
Publisher's Note
Springer Nature remains neutral with regard to jurisdictional claims in published maps and institutional affiliations.
The original online version of this article was revised: Due to an unfortunate oversight during the correction process two references have been given erroneously.
About this article
Cite this article
Roelen, K., Leon-Himmelstine, C. & Kim, S.K. Chicken or Egg? A Bi-directional Analysis of Social Protection and Social Cohesion in Burundi and Haiti. Eur J Dev Res 34, 1216–1239 (2022). https://doi.org/10.1057/s41287-022-00524-2
Accepted:

Published:

Issue Date:

DOI: https://doi.org/10.1057/s41287-022-00524-2
Keywords