Abstract
Climate change has taken an increasingly important space in the development agenda. However, whether most countries can meet the challenge of mitigating climate change while simultaneously ensuring growth and poverty reduction remains debatable. This research contributes to the growing literature at the intersection of environment sustainability and economic/industrial development by identifying three dimensions of Green Industrial Policy (GIP), which rely on different approaches to mitigate climate change. Those three dimensions are (i) the consumption-centred dimension; (ii) the firm-level sustainability dimension, and (iii) the productionist innovation-driven dimension. This paper then applies this green industrial policy framework and examines the implications of pursuing different levels of GIP by drawing on a country case study (Ecuador). Two main findings arise from this study. First, a greener consumption is necessary but can hardly be achieved without industrial policies to stimulate green manufacturing and low-carbon innovation. Green industrial policy, therefore, has a central role to play in the structural transformation towards a low-carbon future. Second, a holistic and complementary approach is needed across the three dimensions of green industrial policy to ensure a coherent and developmental transition towards a low-carbon economy.
Résumé
Le changement climatique occupe une place de plus en plus importante dans le programme du développement international. Cependant, la plupart des pays peuvent-ils relever le défi de l'atténuation du changement climatique tout en assurant simultanément la croissance et la réduction de la pauvreté? Cela reste discutable. Cette étude contribue à la littérature croissante et se situe au croisement entre durabilité environnementale et du développement économique / industriel en identifiant trois dimensions de la politique industrielle écologique (PIE), qui reposent sur différentes approches pour atténuer le changement climatique. Ces trois dimensions sont: (i) la dimension centrée sur la consommation; (ii) la dimension de durabilité au niveau de l'entreprise, (iii) la dimension productiviste axée sur l'innovation. Cet article applique ensuite ce cadre de politique industrielle écologique et examine quelles sont les implications de la poursuite de différents niveaux de cette politique en s'appuyant sur l'étude de cas d'un pays (l'Équateur). Deux résultats principaux ressortent de cette étude. Premièrement, une consommation plus verte est nécessaire mais il est difficile d'atteindre ce but sans des politiques industrielles visant à stimuler la fabrication écologique et l'innovation à faible émission de carbone. La politique industrielle écologique a donc un rôle central à jouer dans la transformation structurelle vers un avenir sobre en carbone. Deuxièmement, il faut adopter une approche holistique et complémentaire dans les trois dimensions de la politique industrielle écologique pour assurer une transition cohérente et évolutive vers une économie sobre en carbone.
This is a preview of subscription content,
to check access.
Access this article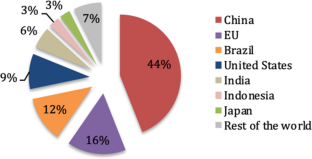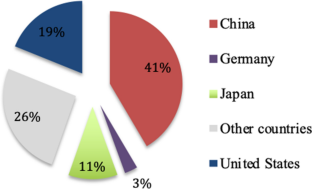 Notes
In order to achieve the international target of avoiding a more than 2C increase in global temperature, the world must achieve zero net emissions (IPCC 2015).

In other words, "global warming is the quintessential global pure public good because each country's release of GHGs augments the world's atmospheric stock in an additive fashion and each country's cutback results in a greater cost than benefit for that country unless assurances can be given that a sufficient number of action will act" (Sandler 1998, p. 225).

The Kaya identity bears the name of the Japanese energy economist Yoichi Kaya that introduced it in 1990. The identity states that GHG emissions can be expressed as the products of population, GDP per capita, energy use per GDP and carbon intensity (measured through emissions per unity of energy consumed).

According to the US Department of Energy (2015:1), the term industrial energy efficiency stands for "the energy efficiency derived from commercial technologies and measures to improve energy efficiency or to generate or transmit electric power and heat, including electric motor efficiency improvements, demand response, direct or indirect combined heat and power, and waste heat recovery".

CO2 intensity can be defined as the average emission rate of a given pollutant from a given source relative to the intensity of a specific activity (World Bank Glossary definition).

The production of electric batteries may be carbon intensive, but their diffusion and use enable to reduce CO2 emissions on the long term, as it provides an alternative to conventional vehicles (as long as clean energies constitute the main source of electricity generation for charging electric batteries). The reverse is also true. The so-called green technologies may involve low-carbon consumption, but their production processes may be so carbon intensive that it offsets the low-carbon benefits of their usage.

The Clean Energy Patent Growth Index (CEPGI) also shows that between 2002 and 2015, the top clean energy patenting companies (General Motors, Toyota, Honda, General Electric, Samsung, Ford, Hyundai and Nissan) have been concentrated in only a few industrialized economies. Indeed, referring to the US Clean Energy Patents (patents filed in the US), 46% of the patents filed in the US were granted to US applicants, 23% to Japanese, 8% to German, 7% to South Korean, and 3% to Taiwan.

Weitzman (2007) further argues that high carbon prices "would do more to unleash the decentralized power of capitalistic American inventive genius on the problem of researching, developing, and finally investing in economically efficient carbon-avoiding alternative technologies than all of the piecemeal command-and-control standards and patchwork subsidies making the rounds in Washington these days".

A REC is created for every megawatt hour of renewable electricity generated and delivered to the utility grid, and it generally includes the following: type of renewable resource, location of renewable resource, date stamp or vintage of generation, emissions profile of the generating resource, and unique identification number (Critchfield 2015). The concept refers to the fact that when the power provider fed the energy into the grid, he receives a REC that can be sold in the market as an energy commodity (see Holt and Bird, 2005).

Between 2007 and 2012, actual emissions subject to a carbon tax increased and continued to increase during the next five years while the tax rate was constant (Murray and Rivers, 2015; Haites et al., 2018).

Here, the principal-agent problem stems from the fact that those who are responsible for installing—or covering the costs of installing—energy efficient solutions (e.g. landlords or buildings) may not act in the interest of those who may benefit from energy efficiency solutions (e.g. tenants benefiting from lower energy bills, or society as a whole benefiting for lower CO2 emissions). This departure of the principal's interest from the agent's interest constitutes an "agency cost".

See Schröder et al. (2020) for an investigation of circular economy initiatives in Latin America.

Mealy and Teytelboym (2019:4) further show that "countries that currently export a significant number of green complex products are well placed to diversify into other green complex products in the futures".

Brazil and China and Brazil tend to be particularly competitive in industries with green innovation in contrast to most other developing nations (Fankhauser et al. 2019). China has indeed become the global leader in the production of photovoltaic, wind, and solar thermal heating technologies, while Brazil has become the second largest producer of liquid biofuels for transport (after starting the industry in the 1960s).

The information presented in this section was gathered through two interviews with ST employees in July 2017 and October 2019, and through detailed documents available in the company website https://sauletech.com/

Perovskite Solar Cells (PSCs) belong to the third generation of photovoltaic technologies, whose production is much cheaper when compared to conventional silicon photovoltaics. Three main characteristics sparked the interest over this technology: its potential to be low processing costs, the mechanical properties that enable to fabricate perovskite on cheaper and more flexible types of materials, and the peculiarities of its value chain which is shorter (Song, 2017; Anzolin and Righetto, 2017; EPKI, 2019).

Pegels and Altenburg (2020) also point out that the literature on green industrial development has been biased towards developed countries and has mostly ignored developing ones.

One line of argument emphasizes the fact that late industrializers, which may feature low levels energy access can benefit by directly leapfrogging towards renewable energies, while early industrializers have to bear the cost of retrofitting and reconversion of the electricity grid towards renewable energies (Batinge et al. 2017; The Economist, 2017).

Semieniuk and Mazzucato (2019) have indeed shown that public financing was central in national energy transitions, such as in Iceland (from fossil to geothermal energy), Norway (to hydroelectricity), France (from oil to nuclear), and the United States (from conventional to shale gas).

There are other examples of 1st level GIP (such as the mandatory control of efficient exhaustion pipes for vehicles) cannot be further analysed in this paper due to space constraints. Overall, those examples also show that consumer behaviour is not likely to change through regulations if the cost of transition remains too high for consumers.

One further interesting point is that the success of efficient cooking programmes relies on the availability of reliable power supply during cooking time (Banerjee et al. 2016; Martinez-Gomez et al. 2017). In that context, because the implementation of the NECP led to an anticipated increase in electricity demand, the government has invested over USD11 billion in a new hydroelectric power station, a new electric transmission grid, and distribution infrastructure (Martinez-Gomez et al. 2017). Those investments, further discussed in Sect. 4.1.2, reveal the need for complementarity across the different green policy dimensions.

While jobs in construction services of renewable energy plants are typically generated locally, their duration may be significantly lower than jobs in manufacturing, R&D, and innovation, which is why technological dependence may become an obstacle to unleashing the wider socioeconomic benefits of energy transition (IRENA, 2020).

CONELEC 001/13 established that 100% of non-qualified personnel and 50% of technical staff (not including administrative staff) during construction and operation of renewable energy projects must be Ecuadorian (IRENA 2015).

The IIGE was created in 2018 from the merger of two institutes (INIGEMM and INER) that were, respectively, created in 2009 and 2012.

This perspective became integral part of the agenda of international institutions such as the OECD, the World Bank and the United Nations Environment Program, with each of them publishing flagship reports on green growth (Hickel and Kallis 2019).

Even in the case of India, Behuria (2020) argues that the country's position as a late, late industrializer in the renewable energy sector, combined with prevailing domestic political economy pressures, have made it extremely difficult to promote the manufacturing of solar panels and cells.
References
Asociacion de Empresas Automotrices del Ecuador –AEDE. 2018. 'Automotive sector in figures' boletin No.27. http://www.aeade.net/wp-content/uploads/2018/12/boletin%2027%20ingles%20resumido.pdf.

Renewable Energy Sources Act. 2000. Berlin: The Federal Ministry for the Environment, Nature Conservation and Nuclear Safety. https://web.archive.org/web/20160921012408/http://www.bmub.bund.de/fileadmin/bmu-import/files/pdfs/allgemein/application/pdf/res-act.pdf.

Aiginger, K. 2015. Industrial Policy for a Sustainable Growth Path. In New Perspectives on Industrial Policy for a Modern Britain, ed. D. Bailey, K. Cowling, and P. Tomlinson, 365–394. Oxford: Oxford University Press.

Alexander, S. 2012. Planned economic contraction: the emerging case for degrowth. Environmental Politics 21 (3): 349–368.

Allwood, J., Azevedo, J., Clare, A., Cleaver, C., Cullen, J., Dunant, C., Fellin, T., et al. 2019. Absolute Zero. https://doi.org/https://doi.org/10.17863/CAM.46075.

Altenburg, T. 2011. 'Industrial Policy in Developing Countries', Discussion Paper. Bonn: Deutsches Institute für Entwicklungspolitik.

Amsden, A. 1989. Asia's Next Giant: South Korea and Late Industrialization. Oxford: Oxford University Press.

Amsden, A. 2012. Grass roots war on poverty. World Social and Economic Review. 1: 114.

Anadon, L.D., G. Chan, A.G. Harley, K. Matus, S. Moon, S.L. Murthy, and W.C. Clark. 2016. Making technological innovation work for sustainable development. Proceedings of the National Academy of Sciences 113 (35): 9682–9690.

Andreoni, A. 2016. Varieties if Industrial Policy. In Efficiency, Finance and Varieties of Industrial Policy, ed. J. Ocampo and J. Stiglitz. New York: Columbia University Press.

Andreoni, A., and G. Anzolin. 2019. "A revolution in the making? Challenges and opportunities of digital production technologies for developing countries", Background paper for UNIDO Industrial Development Report 2020. Vienna: UNIDO.

Andreoni, A., and H.J. Chang. 2017. Bringing production and employment back into development: Alice Amsden's legacy for a new developmentalist agenda. Cambridge Journal of Regions, Economy and Society 10: 1.

Andreoni, A., H.-J. Chang, and M. Labrunie. 2021. Natura non facit saltus: Challenges and opportunities for digital industrialisation across developing countries. European Journal of Development Research.

Ansolabehere, S., and D. Konisky. 2014. Cheap and Clean: How Americans Think about Energy in the Age of Global Warming. London: The MIT Press.

Anzolin G., and M. Righetto. 2018. Hybrid Perovskite Solar Cells redefine photovoltaics Value Chain. Paper presented at the 22nd Cambridge International Manufacturing Symposium. https://www.repository.cam.ac.uk/.

Arantegui, R., and A. Jäger-Waldau. 2018. Photovoltaics and wind status in the European Union after the Paris Agreement. Renewable and Sustainable Energy Reviews 81: 2460–2471.

ARCONEL. 2015. "Ecuador posee un 51,78% de energía renovable" [Ecuador has 51.78% of renewable energy]. https://www.regulacionelectrica.gob.ec/ecuador-posee-un-5155-de-energia-renovable/.

ARCONEL. 2017. Annual and Multiannual Statistics of the Ecuadorian Electricity Sector 2017. http://www.regulacionelectrica.gob.ec/wp-content/uploads/downloads/2018/07/Est_2017_borrador_publicado.pdf.

Atkin, E. 2018. "France's Yellow Vest Protesters Want to Fight Climate Change", The New Republic. Archived from the original on 11/12/2018. Retrieved 11 December 2018.

Bahn-Walkowiak, B., and H. Wilts. 2017. The institutional dimension of resource efficiency in a multi-level governance system—Implications for policy mix design. Energy Research & Social Science 33: 163–172.

Banerjee, M., R. Prasad, I.H. Rehman, and B. Gill. 2016. Induction stoves as an option for clean cooking in rural India. Energy Policy 88: 159–167.

Barbier, E.B. 2010. A Global Green New Deal: Rethinking the Economic Recovery. Cambridge: Cambridge University Press.

Barker, T. 1993. The Carbon Tax: Economic and Policy Issues. In The European Carbon Tax: An Economic Assessment. Fondazione Eni Enrico Mattei (FEEM) Series on Economics, Energy and Environment, ed. C. Carraro and D. Siniscalco. Dordrecht: Springer.

Barrett, S. 2009. The coming global climate-technology revolution. Journal of Economic Perspectives 23 (2): 53–75.

Batinge, Benjamin, Josephine Musango, and Alan Brent. 2017. Leapfrogging to renewable energy: The opportunity for unmet electricity markets. South African Journal of Industrial Engineering. https://doi.org/10.7166/28-4-1702.

Behuria, P. 2020. The politics of late late development in renewable energy sectors: Dependency and contradictory tensions in India's National Solar Mission. World Development 126: 104726.

Benedick, R.E. 2001. Striking a new deal on climate change. Issues in Science and Technology 18 (1): 71–76.

Boulding, W., and M. Christen. 2001. First-Mover Disadvantage, Harvard Business Review, Retrieved March 21, 2020 from https://hbr.org/2001/10/first-mover-disadvantage.

Bùchs, M., and M. Koch. 2019. Challenges for the degrowth transition: The debate about wellbeing. Futures 105: 155–165.

Calel, R., and A. Dechezleprêtre. 2013. Environmental Policy and Directed Technological Change: Evidence from the European carbon market. EUI Working Paper RSCAS 2013/09.

Cañadas-López, Á., D. Rade-Loor, M. Siegmund-Schultze, G. Moreira-Muñoz, J.J. Vargas-Hernández, and C. Wehenkel. 2019. Growth and yield models for balsa wood plantations in the coastal lowlands of Ecuador. Forests 10 (9): 733.

Cantore, N., and C. Cheng. 2018. International trade of environmental goods in gravity models. Journal of Environmental Management 223: 1047–1060.

Carrión, J.R., and R.N. Carvajal-Pérez. 2015. Intelligent algorithm for Evaluate the impact of the massive introduction of induction cookers. Energetic Engineering 36 (3): 313–321.

Castillo, M.A. and D. Serrano. 2018. 240 vehículos eléctricos circulan en Ecuador [240 electric vehicles are driven in Ecuador]. El Commercio. June 10. https://www.elcomercio.com/actualidad/vehiculoselectricos-ecuador-beneficios-incentivostributarios.html.

Chang, H.-J. 1993. The political economy of industrial policy in Korea. Cambridge Journal of Economics 17 (2): 131–157.

Chang, H.-J. 2019. Economics for People. Institute for New Economic Thinking Lectures Series.

Chang, H.-J., and A. Andreoni. 2017. Bringing production and employment back into development: Alice Amsden's legacy for a new developmentalist agenda. Cambridge Journal of Regions, Economy and Society 10 (1): 173–187.

Cimoli, M., G. Dosi, and J.E. Stiglitz, eds. 2009. Industrial Policy and Development: The Political Economy of Capabilities Accumulation. Oxford: Oxford University Press.

Conchado, A., L. Díaz Anadón, P., Linares Llamas, and Á. López-Peña Fernández. 2016. Benefits of investing in energy R&D and portfolio optimization: the case of Spain.

Couture, T., and Y. Gagnon. 2010. An analysis of feed-in tariff remuneration models: Implications for renewable energy investment. Energy Policy 38 (2): 955–965.

Critchfield, J. 2015. Understanding Renewable Energy Certificates (RECs) and the Green Power Procurement Process. US Environtmental Protection Agency. https://www.epa.gov/sites/production/files/2016-01/documents/webinar_20150415_critchfield.pdf.

Del Rio, P. 2014. On evaluating success in complex policy mixes: The case of renewable energy support schemes. Policy Sciences 47 (3): 267–287.

Dempsey, H. 2020. Wind power boom under threat as coronavirus hits supply chains. Financial Times. April 29. Accessible at https://www.ft.com/content/1205af7e-47dc-41fa-a9b4-ff6a03fe1cdc

Dervojeda K, M. Lengton, and A. Koonstra. 2017. "Perovskite Solar Cells. Report on promising KETs-based products nr. 3", KETs Observatory Phase II, European Commission. https://ec.europa.eu/growth/tools-databases/kets-tools/sites/default/files/documents/analytical_report_nr3_perovskite_solar_cells_final.pdf.

Dietsche, E. 2018. New Industrial Policy and the Extractive Industries. In Extractive Industries: The Management of Resources as a Driver of Sustainable Development, ed. T. Addison and A. Roe. Oxford: Oxford University Press.

Doblinger, C., K. Surana, and L.D. Anadon. 2019. Governments as partners: The role of alliances in US cleantech startup innovation. Research Policy 48 (6): 1458–1475.

Dosi, G. 1982. Technological paradigms and technological trajectories: A suggested interpretation of the determinants and directions of technical change. Research Policy 11 (3): 147–162.

El Universo. 2019. Cocinas de inducción, olvidadas y en remates [Induction cookers, forgotten]. Avril 22. https://www.eluniverso.com/noticias/2019/04/22/nota/7296557/cocinas-induccion-olvidadas-remates.

Elgouacem, A., H. Halland, E. Botta, and G. Singh. 2020. The Fiscal Implications of the Low-Carbon Transition. Paris: OECD.

EPKI. 2019. Perovskite-based photovoltaics: A unique chance for European PV-industry. White Paper from the European Perovskite Initiative.

Fankhauser S., R. Kotsch, and S. Srivastav. 2019. The prospects for low-carbon growth in emerging markets. In: T. Altenburg & A. Pegels (Eds.), Latecomer development in a 'greening' world. World Development Special Issue. 2020.

Filippini, M., T. Geissmann, V. Karplus, and D. Zhang. 2020. The productivity impacts of energy efficiency programs in developing countries: Evidence from iron and steel firms in China. China Economic Review 59: 101364.

Fontaine, G., J.L. Fuentes, and I. Narváez. 2019. Policy mixes against oil dependence: Resource nationalism, layering and contradictions in Ecuador's energy transition. Energy Research & Social Science 47: 56–68.

Fouquet, R. 2016. Path dependence in energy systems and economic development. Nature Energy 1 (8): 1–5.

Fouquet, R., ed. 2019. Handbook on Green Growth. Cheltenham: Edward Elgar Publishing.

Fouquet, R., and R. Hippe. 2019. The transition from a fossil-fuel economy to a knowledge economy. In Handbook on Green Growth, ed. R. Fouquet. Cheltenham: Edward Elgar Publishing.

Fraccascia, L., I. Giannoccaro, and V. Albino. 2018. Green product development: What does the country product space imply? Journal of Cleaner Production 170: 1076–1088.

Garrett-Peltier, H. 2017. Green versus brown: Comparing the employment impacts of energy efficiency, renewable energy, and fossil fuels using an input-output model. Economic Modelling 61: 439–447.

GK. 2019. 'El pico y placa, una solución incompleta' [Pico and Placa, an incomplete solution]. 23rd August. https://gk.city/2019/08/23/funciona-pico-y-placa-quito/.

Goldenberg S. 2013. Just 90 companies caused two thirds of man-made global warming emissions", The Guardian, November 20th. https://www.theguardian.com/environment/2013/nov/20/90-companies-man-made-global-warming-emissions-climate-change.

Gore, T. 2015. Extreme Carbon Inequality. Why the Paris climate deal must put the poorest, lowest emitting and most vulnerable people first, OXFAM. December 2. https://www.oxfam.org/en/research/extreme-carbon-inequality.

Grasso, M. 2004. Climate Change: the Global Public Good. Working Paper Series, No. 75-May 2004.

Grillitsch, M., and T. Hansen. 2019. Green industry development in different types of regions. European Planning Studies 27: 2163–2183.

Haites, E. 2018. Carbon taxes and greenhouse gas emissions trading systems: What have we learned? Climate Policy 18 (8): 955–966. https://doi.org/10.1080/14693062.2018.1492897.

Hallegatte, S., M. Fay, and A. Vogt-Schilb. 2013. Green Industrial Policy: When and How, World Bank Policy Research Working Paper No. 6677. Washington, DC: World Bank.

Haraguchi, N., C. Cheng, and E. Smeets. 2017. The importance of manufacturing in economic development: Has this changed? World Development 93: 293–315.

Hickel, J. 2020. Less is More: How Degrowth Will Save the World. London: Penguin Random House.

Hickel, J., and G. Kallis. 2019. Is green growth possible? New Political Economy 25: 1–18.

Hochstetler, K. 2021. Political Economies of Energy Transition: Wind and Solar Power in Brazil and South Africa. Cambridge: Cambridge University Press.

Hyperikon. 2018. Lighting Evolution and The Falling Costs of LED Light. June 6th. https://www.hyperikon.com/pages/blog/lighting-evolution-and-the-falling-costs-of-led-lights/.

IIGE. 2019. Plan Estratégico Institucional 2018–2021. Quito: instituto de Investigación Geológico y Energético. https://www.geoenergia.gob.ec/wp-content/uploads/2020/02/pei_IGE_2018_2021_diciembre_2019.pdf.

International Energy Agency - IEA. 2009. Global Gaps in Clean Energy Research, Development and Demonstration. Paris: IEA.

International Energy Agency-IEA. 2020. Data and Statistics. Accessible at https://www.iea.org/data-and-statistics.

IPCC (2015). Fifth Assessment Report. 2015. Geneva: Intergovernmental Panel on Climate Change. Available at: https://www.ipcc.ch/report/ar5/.

IRENA. 2015. Renewable Energy Policy Brief: Ecuador. Abu Dhabi: International Renewable Energy Agency.

IRENA. 2016. Renewable Energy Benefits: Measuring The Economics. Abu Dhabi: International Renewable Energy Agency.

IRENA. 2019. Data and Statistics. https://www.irena.org/Statistics.

Jaramillo, G. 2016. The political economy of industrial policy in Peru and Ecuador: 1980–2010 (Doctoral dissertation). Queen's University.

Johnstone, N., I. Hascic, and D. Popp. 2010. Renewable energy policies and technological innovation: evidence based on patent counts. Environmental and Resource Economics 45 (1): 133–155. https://doi.org/10.1007/s10640-009-9309-1.

Keane J., S. Page, A. Kergna A., and J. Kennan. 2009. Climate change and Developing Country Agriculture: An Overview of Expected Impacts, Adaptation and Mitigation Challenges and Funding Requirements, Issue Brief No. 2 International Centre for Trade and Sustainable Development.

Klein, N. 2015. This Changes Everything: Capitalism vs. the Climate. New York: Simon and Schuster.

Knight, K.W., J.B. Schor, and A.K. Jorgenson. 2017. Wealth inequality and carbon emissions in high-income countries. Social Currents 4 (5): 403–412.

Latouche, S. 2010. Degrowth. Journal of Cleaner Production 6 (18): 519–522.

Lebdioui, A. 2019. Chile's export diversification since 1960: A free market miracle or mirage? Development and Change 50 (6): 1624–1663.

Lebdioui, A. 2020. 'The case for a green recovery in post-covid Latin America'. LSE Latin America and Caribbean Blog (1 September). https://blogs.lse.ac.uk/latamcaribbean/2020/09/01/the-case-for-a-green-recovery-in-post-covid-latin-america/.

Lee, K. 2013. Schumpeterian Analysis of Economic Catch-Up, Knowledge, Path-Creation and the Middle-Income Trap. Cambridge: Cambridge University Press.

Lema, A., and K. Ruby. 2006. Towards a policy model for climate change mitigation: China's experience with wind power development and lessons for developing countries. Energy for Sustainable Development 10 (4): 5–13.

Lewney, R. 2020. The Economics of Getting to Net Zero. Presentation at St Catharine's Political Economy Seminar. March 11.

Lütkenhorst, W., T. Altenburg, A. Pegels, and G. Vidican. 2014. Green Industrial Policy: Managing Transformation under Uncertainty. DIE Discussion Paper. Bonn: Deutsches Institute für Entwicklungspolitik.

Mani, M., and D. Wheeler. 1998. In Search of Pollution Havens? Dirty Industry in the World Economy, 1960 to 1995. The Journal of Environment & Development 7 (3): 215–247.

Martínez-Gómez, J., G. Guerrón, and A.J. Riofrio. 2017. Analysis of the "Plan Fronteras" for clean cooking in Ecuador. International Journal of Energy Economics and Policy 7 (1): 135–145.

Mazzucato, M. 2013a. The Entrepreneurial State. London: Anthem.

Mazzucato, M. 2013b. Financing innovation: Creative destruction vs. destructive creation. Industrial and Corporate Change 22 (4): 851–867.

Mazzucato, M. 2016. From market fizing to market creating: A new framework for innovation policy. Industry and Innovation 23 (2): 140–156.

McKinsey, G.I. 2009. Pathways to a Low-Carbon Econom. Version 2 of the Global Greenhouse Gas Abatement Cost Curve. Stockholm: McKinsey & Company.

Mejía-Acosta, Andrés, and John Polga-Hecimovich. 2011. Coalition erosion and presidential instability in ecuador. Latin American Politics and Society 53: 87–111.

Mercure, J.F.A., F. Knobloch, H. Pollitt, R. Lewney, K. Rademakers, L. Eichler, and L. Paroussos. 2016. Policy-induced energy technological innovation and finance for low-carbon economic growth. Study on the macroeconomics of energy and climate policies. Brussels: European Comission.

Nachmany, M., S. Fankhauser, J. Davidová, N. Kingsmill, T. Landesman, H. Roppongi, P. Schleifer, J. Setzer, A. Sharman, C.S. Singleton, and J. Sundaresan. 2015. The 2015 global climate legislation study: a review of climate change legislation in 99 countries: Summary for policy-makers. London: London School of Economics.

Naudé, W. 2011. Climate change and industrial policy. Sustainability 3: 1003–1021.

Neira, D. 2016 Optimization of Power Generation and Energy Efficiency (OGE&EE). Presentation at the LAC Carbon Forum, 28–30 September, Panama City, Panama. https://unfccc.int/files/focus/mitigation/application/pdf/laccf-nama-ogeee-ecuador.pdf.

Nelson, R.R., and S.J. Winter. 1982. An Evolutionary Theory of Economic Change. Cambridge, MA: Harvard University Press.

Noailly J., and R. Smeets. 2012. Directing technical change from fossil fuel to renewable energy innovation: An Empirical application using firm-level patent data. FEEM Working Papers, Fondazione Eni Enrico Mattei, Nota di Lavoro 23.2013.

Nordhaus, W. 2007. The Challenge of Global Warming: Economic Models and Environmental Policy. New Haven: Yale University. http://www.econ.yale.edu/~nordhaus/homepage/OldWebFiles/DICEGAMS/dice_mss_072407_all.pdf.

OECD. 2015. Policy Guidance on Resource Efficiency. Paris: OECD.

OECD. 2019. Innovation and Business/Market Opportunities associated with Energy Transitions and a Cleaner Global Environment, https://www.oecd.org/g20/summits/osaka/OECD-G20-Paper-Innovation-and-Green-Transition.pdf.

Okereke, C., A. Coke, M. Geebreyesus, T. Ginbo, J.J. Wakeford, and Y. Mulugetta. 2019. Governing green industrialisation in Africa: Assessing key parameters for a sustainable socio-technical transition in the context of Ethiopia. World Development 115: 279–290.

Palage, K., R. Lundmark, and P. Söderholm. 2019. The innovation effects of renewable energy policies and their interaction: The case of solar photovoltaics. Environmental Economics and Policy Studies 21: 217–254.

European Parliament. 2017. Climate and energy policies in Poland, ENVI Briefing, European Parliament.

Pegels, A., and T. Altenburg. 2020. Latecomer development in a greening world Introduction to the special issue. World Development 135: 105084.

Perez, C. 2016. Capitalism, Technology and a Green Global Golden Age: The Role of History in Helping to Shape the Future. Beyond the Technoogical Revolution Working Paper Series WP 2016-1.

Perez, C., and L. Soete. 1988. Catching up in technology: Entry barriers and windows of opportunity. In Technical Change and Economic Theory, 458–479. London: Francis Pinter.

Pollin, R. 2015. Greening the Global Economy. Cambridge, MA: MIT Press.

Ponte, S. 2019. Green Capital, Brown Environments: Business, Power and Sustainability in a World of Global Value Chains. London: Zed Books.

Porter, M.E., and C. Van der Linde. 1995. Toward a new conception of the environment-competitiveness relationship. Journal of Economic Perspectives 9 (4): 97–118.

Rivera-González, L., D. Bolonio, L.F. Mazadiego, and R. Valencia-Chapi. 2019. Long-term electricity supply and demand forecast (2018–2040): A LEAP model application towards a sustainable power generation system in Ecuador. Sustainability 11: 19.

Rodrik, D. 2014. Green Industrial Policy. Oxford Review of Economic Policy 30 (3): 469–491.

Rogge, K.S., F. Kern, and M. Howlett. 2017. Conceptual and empirical advances in analysing policy mixes for energy transitions. Energy Research & Social Science 33: 1–10.

Rubin, A.J. and S. Sengupta. 2018. 'Yellow Vest' Protests Shake France. Here's the Lesson for Climate Change. The New York Times. December 6. https://www.nytimes.com/2018/12/06/world/europe/france-fuel-carbon-tax.html.

Schumpeter, J.A. 1942. Capitalism, Socialism, and Democracy. New York: Harper.

Semieniuk, G., and M. Mazzucato. 2019. Financing green growth. In Handbook on Green Growth, ed. R. Fouquet. Cheltenham: Edward Elgar Publishing.

Semieniuk and Yakovenko. 2020. Historical evolution of global inequality in carbon emissions and footprints versus redistributive scenarios. Journal of Cleaner Production. https://doi.org/10.1016/j.jclepro.2020.121420.

Shan, W., and J. Wang. 2019. The effect of environmental performance on employment: Evidence from China's manufacturing industries. International Journal of Environmental Research and Public Health 16: 2232–2250.

Smith, S. and N. Braathen 2015. Monetary carbon values in policy appraisal: An overview of current practice and key issues. In OECD Environment Working Papers,, vol. 92. Paris: OECD Publishing. https://doi.org/10.1787/5jrs8st3ngvh-en.

Song, Z., C. McElvany, A. Phillips, I. Celik, P. Krantz, S. Watthage, G. Liyanage, D. Apulb, and M. Heben. 2017. A technoeconomic analysis of perovskite solar module manufacturing with low-cost materials. Energy and Environmental Science 10: 1297–1305.

Sovacool, B.K., M. Martiskainen, A. Hook, and L. Baker. 2020. Beyond cost and carbon: The multidimensional co-benefits of low carbon transitions in Europe. Ecological Economics 169: 106529.

European Commission. 2008. Member States approve the phasing-out of incan-descent bulbs by 2012. Press release IP/08/1909. https://ec.europa.eu/commission/presscorner/detail/en/IP_08_1909.

Steinberger, J., and E. Hofferberth. 2019. Capitalism and climate breakdown: From analysis to rebellion, Seminar at the School of Oriental and African Studies, London. October 16.

Stern, N. 2006. Stern Review: The Economics of Climate Change, volume, 30. London: Her Majesty's Treasury.

Stern, N. 2019. Public economics as if time matters: Climate change and the dynamics of policy. Journal of Public Economics 162: 4–17.

Stern, N., and J. Rydge. 2012. The new energy-industrial revolution and international agreements on climate change. Economics of Energy and Environmental Policy 1 (1): 101–120.

Stiglitz, J. 2015. Overcoming the Copenhagen failure with flexible commitments. Economics of Energy and Environmental Policy. 4: 2.

Su, Y.S. 2013. Competing in global solar photovoltaic industry. The case of Taiwan. International Journal of Photoenergy 2013: 794367.

The Economist. 2017. Africa might leapfrog straight to cheap renewable electricity and minigrids, November 10. https://www.economist.com/special-report/2017/11/10/africa-might-leapfrog-straight-to-cheap-renewable-electricity-and-minigrids.

Tricoire, J.P. 2019. Here's why green manufacturing is crucial for a low-carbon future. The World Economic Forum. January 22. https://www.weforum.org/agenda/2019/01/here-s-why-green-manufacturing-is-crucial-for-a-low-carbon-future/.

UNCTAD. 2019. State of Commodity Dependence 2019. Geneva: United Nations Publications.

UNDP. 2015. Ecuador: Oil and Gas NAMA. https://www.undp.org/content/dam/LECB/docs/pubs-namas/undp-lecb-Ecuador-Oil-Gas-NAMA-201512.pdf.

UNFCCC. 2019. Efficient Cooking Program (ECP) – Ecuador. Accessible at https://unfccc.int/climate-action/momentum-for-change/activity-database/efficient-cooking-program-ecp.

United Nations. 2015. Paris Agreement. Paris: United Nations Framework Convention on Climate Change.

United Nations. 2019. The impact of rapid technological change on sustainable development. Report of the Secretary-General for the Commission on Science and Technology for Development, twenty-second session. Geneva: United Nations. https://unctad.org/meetings/en/SessionalDocuments/ecn162019d2_en.pdf.

United States Department of Energy. 2015. Barriers to Industrial Energy Efficiency, Report to Congress, https://www.energy.gov/sites/prod/files/2015/06/f23/EXEC-2014-005846_6%20Report_signed_v2.pdf.

Vera, J.F., J.M. Clairand, and C.Á. Bel. 2017. Public policies proposals for the deployment of electric vehicles in ecuador. In 2017 IEEE PES Innovative Smart Grid Technologies Conference-Latin America (ISGT Latin America). September, pp. 1–6.

Wade, R. 1988. State Intervention in 'Outward-looking' Development: Neoclassical Theory and Taiwanese Practice. In Developmental States in East Asia, ed. G. White. London: Palgrave Macmillan.

Weitzman, M. 2007. A review of the stern review on the economics of climate change. Journal of Economic Literature XLV: 703–724.

WIPO. 2017. Innovation is transforming the photovoltaic industry. World Intellectual Property Report

World Bank. 2012. Inclusive Green Growth: The Pathway to Sustainable Development. Washington DC: The World Bank Group.

Worrell, E., L. Bernstein, J. Roy, et al. 2009. Industrial energy efficiency and climate change mitigation. Energy Efficiency 2: 109. https://doi.org/10.1007/s12053-008-9032-8.

Wuttke, T. 2019. Reconciling de-growth and development economics. LSE Blogs. December 10. https://blogs.lse.ac.uk/internationaldevelopment/2019/12/10/reconciling-de-growth-and-development-economics/.

Yang, Z., S. Wu, and H.Y. Cheung. 2017. From income and housing wealth inequalities to emissions inequality: Carbon emissions of households in China. Journal of Housing and the Built Environment 32 (2): 231–252.

Zenghelis, D. 2016. Decarbonisation: Innovation and the economics of climate change. In Rethinking Capitalism, ed. M. Mazzucato and M. Jacobs. Oxford: Wiley Blackwell.

Zenghelis, D. 2018. The role of modelling and scenario development in long-term strategies, World Resource Institute, Expert Perspectives: https://www.wri.org/climate/expert-perspective/role-modelling-and-scenario-development-long-term-strategies.
Acknowledgements
The authors would like to thank Ha-Joon Chang, Kathy Hochstetler, Roger Fouquet, Jostein Hauge, James Putzel, Florian Schaeffler, Ben Radley, David Leal, Carlos López-Gómez, Andres Mejía-Acosta, Teddy Brett, and Jennifer Castaneda-Navarrete for their helpful comments on earlier drafts of this paper. We also thank the participants of the EAEPE annual conference and the UNCTAD 2019 workshop on the Global Green New Deal, for insightful discussions and comments. Special thanks also go to David Delgado for his valuable support during fieldwork in Ecuador and to David Forgacs from Saule Technologies. We are also grateful to all public officials, business executives, civil society members, and scholars for sharing their insights and time during fieldwork interviews. Any remaining errors are our sole responsibility. This research has been partly supported by a research award from the Mohammed Bin Rashid Initiative for Global Prosperity and the Institute for Manufacturing (University of Cambridge).
Ethics declarations
Conflict of interest
The authors state that there is no conflict of interest.
Additional information
Publisher's Note
Springer Nature remains neutral with regard to jurisdictional claims in published maps and institutional affiliations.
About this article
Cite this article
Anzolin, G., Lebdioui, A. Three Dimensions of Green Industrial Policy in the Context of Climate Change and Sustainable Development. Eur J Dev Res 33, 371–405 (2021). https://doi.org/10.1057/s41287-021-00365-5
Accepted:

Published:

Issue Date:

DOI: https://doi.org/10.1057/s41287-021-00365-5
Keywords