Abstract
Development in Africa is undergoing an infrastructure turn, no more so than in resurgent dam building. But how are new projects planned and constructed? Are we seeing the repetition of much maligned practices that underestimated economic, environmental and social costs, or have past critiques changed infrastructure building in the twenty-first century? Using the concept of the technician's realm that describes short-sighted and expert-centric twentieth century practices of dam building, this article analyses the incorporation of reformist ideas about knowledge production, mitigation and compensation. It uses a detailed case study of the Rusumo Dam, and examines the decision-making processes of the World Bank and a new dam-building organisation, Nelsap. Significantly, this case involved a marked design revision to reduce impact, but also top–down and depoliticising impact assessment and policymaking. It therefore demonstrates nuanced change in the infrastructure turn, the incorporation of reform and continued relevance of past critiques.
Résumé
Le développement en Afrique connaît actuellement un changement au niveau des infrastructures, et cela est particulièrement visible dans une activité qui connaît actuellement un renouveau : la construction de barrages. Mais comment les nouveaux projets sont-ils planifiés et construits? Assistons-nous à la répétition de pratiques fortement décriées qui sous-estiment les coûts économiques, environnementaux et sociaux, ou bien les critiques antérieures ont-elles changé les pratiques du secteur du bâtiment au 21ème siècle? Cet article utilise le concept de la sphère du technicien, qui décrit les pratiques du 20è siècle en construction de barrages, pratiques à courte vue et centrées sur les experts, pour analyser l'inclusion d'idées réformistes sur la production de connaissances, l'atténuation et la compensation. Il utilise une étude de cas détaillée du barrage de Rusumo et étudie les processus de prise de décision de la Banque mondiale et d'une nouvelle organisation de construction de barrages, Nelsap. Fait important, ce cas impliquait une modification considérable du design pour réduire l'impact, et il a également fallu dépolitiser l'analyse d'impact et de prise de décision. Ceci démontre ainsi un changement nuancé dans la tournure de l'infrastructure, la prise en compte de la réforme et le fait que les critiques antérieures continuent t'être pertinentes.
This is a preview of subscription content, log in to check access.
Access options
Buy single article
Instant access to the full article PDF.
US$ 39.95
Price includes VAT for USA
Subscribe to journal
Immediate online access to all issues from 2019. Subscription will auto renew annually.
US$ 122
This is the net price. Taxes to be calculated in checkout.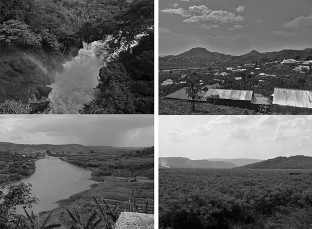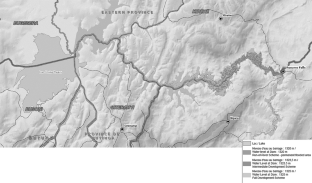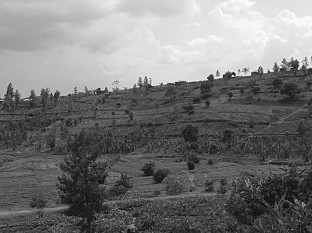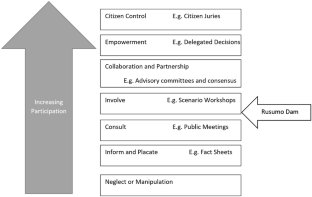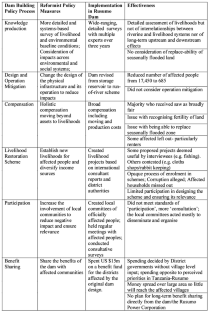 Notes
1.

Agriculture (1979), engineering-feasibility (1987–1992) and environmental impacts (1993).

2.

3.

4.

5.

On the Paraguay–Brasil and D.R. Congo–Rwanda borders, respectively.

6.

7.

8.

9.

Interviewee 5. Echoed by interviewees 1, 2.

10.

11.

12.

Paraphrased Interviewee 11.

13.

Paraphrased Interviewees 11, 15.

14.

15.

16.

Reflecting policies for increased East Africa Community electricity trade (e.g. EAC 2018 Sustainability Policy).

17.

According to interviewees 12,13,14.

18.

19.

20.

As Zambia's Kariba demonstrates (Scudder 2012).

21.

22.

23.

24.

25.

In contrast to interviewees 1,2,3,4, 5, 6,7 were 14Tz, 26Tz and 27Tz. Local interviewees appeared unaware of supposed financial support; This finding echoes other Bank projects like Nam Theun II (Goldman 2005).

26.

Initially calculated at 135, with revisions demonstrating 15,000 were in-fact affected (McCully 2001).

27.

28.

Interviewees 1,2,3,4, 5, 6, 7; 10Tz, 12Tz, 13Tz.

29.

Interviewees 1,2,3,4, 5, 6, 7; Artelia (2013a).

30.

31.

Paraphrased interviewee 14Tz.
References
Adams, W.M. 1992. Wasting the rain: Rivers, People and Planning in Africa. London: Earthscan.

Agbemabiese, L., and J. Byrne. 2005. Commodification of Ghana's Volta River: An Example of Ellul's Autonomy of Technique. Bulletin of Science, Technology & Society 25 (1): 17–25.

Arnstein, S.R. 1969. A Ladder Of Citizen Participation. Journal of the American Institute of Planners 35 (4): 216–224.

Artelia. 2013a. Rusumo Falls Hydroelectric Project-Dam and Powerplant Component: Environmental and Social Impact Assessment (ESIA): Volume 1: Main Report, No. E4144v1. Echirolles, France: Nile Basin Initiative (NBI)/Nile Equatorial Lakes Subsidiary Action Program (NELSAP).

Artelia. 2013b. Rusumo Falls Hydroelectric Project-Dam and Powerplant Component: Resettlement Action Plan (RAP): Volume 1: Main Report, No. EP1411v1. Echirolles, France: Nile Basin Initiative (NBI)/Nile Equatorial Lakes Subsidiary Action Program (NELSAP).

Baird, I.G., B.P. Shoemaker, and K. Manorom. 2015. The People and their River, the World Bank and Its Dam: Revisiting the Xe Bang Fai River in Laos: The People and Their River Revisited. Development and Change 46 (5): 1080–1105.

Byrne, J., and N. Toly. 2006. Energy as a Social Project: Recovering a Discourse. In Transforming Power: Energy, Environment, and Society in Conflict, ed. J. Byrne, N. Toly, and L. Glover. New Brunswick, NJ: Transaction.

Chen, Y., and D. Landry. 2018. Capturing the Rains: Comparing Chinese and World Bank Hydropower Projects in Cameroon and Pathways for South-South and North South Technology Transfer. Energy Policy 115: 561–571.

Dye, B. 2016. The Return of 'High Modernism'? Exploring the Changing Development Paradigm Through a Rwandan Case Study of Dam Construction. Journal of Eastern African Studies 10 (2): 303–324.

Ellul, J. 1964. The Technological Society: A Penetrating Analysis of Our Technical Civilization and of the Effect of an Increasingly Standardized Culture on the Future of Man. New York: Vintage books.

Ferguson, J. 1994. The Anti-politics Machine: 'Development', Depoliticization, and Bureaucratic Power in Lesotho. Minneapolis: University of Minnesota Press.

Francis, P. 2001. Participatory Development at the World Bank: The Primacy of Process. In Participation: The New Tyranny?, ed. B. Cooke and U. Kothari. New York: Zed Books.

Goldman, M. 2005. Imperial Nature: The World Bank and Struggles for Social Justice in the Age of Globalization. New Haven: Yale University Press.

Goodland, R. 2010. The World Commission on dams +10: Revisiting the Large Dam Controversy. Water Alternatives 3 (2): 384–398.

Harrison, G. 2001. Post-Conditionality Politics and Administrative Reform: Reflections on the Cases of Uganda and Tanzania. Development and Change 32 (4): 657–679.

Hart, G. 2001. Progress Reports Development Critiques in the 1990s: Culs De Sac and Promising Paths. Progress in Human Geography 25 (4): 649–658.

Hickey, S. and Mohan, G., editors. 2004. Participation, from Tyranny to Transformation? Exploring New Approaches to Participation in Development. London: Zed Books ; Distributed exclusively in the U.S. by Palgrave Macmillan.

Kaika, M. 2006. Dams as Symbols of Modernization: The Urbanization of Nature Between Geographical Imagination and Materiality. Annals of the Association of American Geographers 96 (2): 276–301.

Klingensmith, 2007. 'One Valley and a Thousand': Dams, Nationalism, and Development. New Delhi: Oxford University Press.

Lerner, D. 1958. Passing of Traditional Society: Modernizing the Middle East. London: Macmillan.

Leys, C. 1996. The Rise & Fall of Development Theory. Nairobi: Indiana University Press.

Li, T.M. 2007. The Will to Improve: Governmentality, Development, and the Practice of Politics. Durham: Duke University Press.

Mawdsley, E. 2018. The 'Southernisation' of Development? The 'Southernisation' of Development? Asia Pacific Viewpoint 59 (2): 173–185.

McCully, P. 2001. Silenced Rivers: The Ecology and Politics of Large Dams. London: Zed Books.

Miescher, S.F. 2014. 'No One Should Be Worse Off': The Akosombo Dam, Modernisation and the Experience of Resettlement in Ghana. In Modernization as Spectacle in Africa, ed. P.J. Bloom, S. Miescher, T. Manuh, and P.C. Hintzen. Bloomington: Indiana University Press.

Mohan, G. 2013. Beyond the Enclave: Towards a Critical Political Economy of China and Africa. Development and Change 44 (6): 1255–1272.

Molle, F., P. Mollinga, and P. Wester. 2009. Hydraulic Bureaucracies and the Hydraulic Mission: Flows of Water, Flows of Power. Water Alternatives 2 (3): 323–349.

Moore, D., J. Dore, and D. Gyawali. 2010. The World Commission on Dams +10: Revisiting the Large Dam Controversy. Water Alternatives 3 (2): 3–13.

Nugent, P. 2018. Africa's Re-enchantment with Big Infrastructure: White Elephants Dancing in Virtuous Circles? In Extractive Industries and Changing State Dynamics in Africa: Beyond the Resource Curse, 1st ed, ed. J. Schubert, U. Engel, and E.S. Macamo. New York: Routledge.

Rex, W., V. Foster, K. Lyon, J. Bucknall, and R. Liden. 2014. Supporting Hydropower: An Overview of the World Bank Group's Engagement. Washington DC: World Bank.

Rist, G. 2010. The History of Development: From Western Origins to Global Faith, 3rd ed. London: Zed Books.

Rostow, W.W. 1960. The Stages of Economic Growth: A Non-communist Manifesto, 3rd ed. New York: Cambridge University Press.

Scheumann, W., and O. Hensengerth. 2014. Dams and Norms: Current Practices and the State of the Debate. In Evolution of Dam Policies: Evidence from the Big Hydropower States, ed. W. Scheumann and O. Hensengerth. Berlin: Springer. https://doi.org/10.1007/978-3-642-23403-3_1.

Schumacher, E.F. 1993. Small is Beautiful: A Study of Economics as If People Mattered. London: Vintage Books.

Scott, J.C. 1998. Seeing Like a State: How Certain Schemes to Improve the Human Condition Have Failed. New Haven: Yale University Press.

Scudder, T. 2012. Resettlement Outcomes of Large Dams. In Impacts of Large Dams: A Global Assessment, ed. C. Tortajada, D. Altinbilek, and A.K. Biswas. Berlin: Springer. https://doi.org/10.1007/978-3-642-23571-9_3.

Shipley, R., and S. Utz. 2012. Making it Count: A Review of the Value and Techniques for Public Consultation. Journal of Planning Literature 27 (1): 22–42.

Singh, S. 2002. Taming the Waters: The Political Economy of Large Dams in India. New York: Oxford University Press.

Stiglitz, J.E. 2002. Globalization and Its Discontents. London: Penguin.

Usher, A.D. 1997. The Mechanism of 'Pervasive Appraisal Optimism'. In Dams as Aid: A Political Anatomy of Nordic Development Thinking, ed. A.D. Usher. London: Routledge.

Verhoeven, H. 2015. The Nexus as a Political Commodity: Agricultural Development, Water Policy and Elite Rivalry in Egypt. International Journal of Water Resources Development 31 (3): 360–374.

World Energy Council. 2015. World Energy Resources: Charting the Upsurge in Hydropower Development 2015. London: World Energy Council.

Zarfl, C., A.E. Lumsdon, J. Berlekamp, L. Tydecks, and K. Tockner. 2015. A Global Boom in Hydropower Dam Construction. Aquatic Sciences 77 (1): 161–170.
Acknowledgements
I acknowledge the support and important feedback of my supervisor Dr Ricardo Soares de Olivera. This paper has also been greatly improved from the comments of Dr Daniel Paget, Dr Ivan Cuesta Fernandez, Brita Bergland and Dr Julian Kirchherr. I also thank the reviewers whose constructive and in-depth comments greatly improved the article. The research was funded by the Economic and Social Science Research Council (Grant No. ES/J500112/1), through a 3+ Doctoral Scholarship. Interviews and invaluable research assistance were provided by Isack Asfao and Valens Rutazihana.
Ethics declarations
Conflict of interest
All authors declare that they have no conflict of interest.
Additional information
Publisher's Note
Springer Nature remains neutral with regard to jurisdictional claims in published maps and institutional affiliations.
Appendix: Interviews
Appendix: Interviews
Local Level Interviews Cited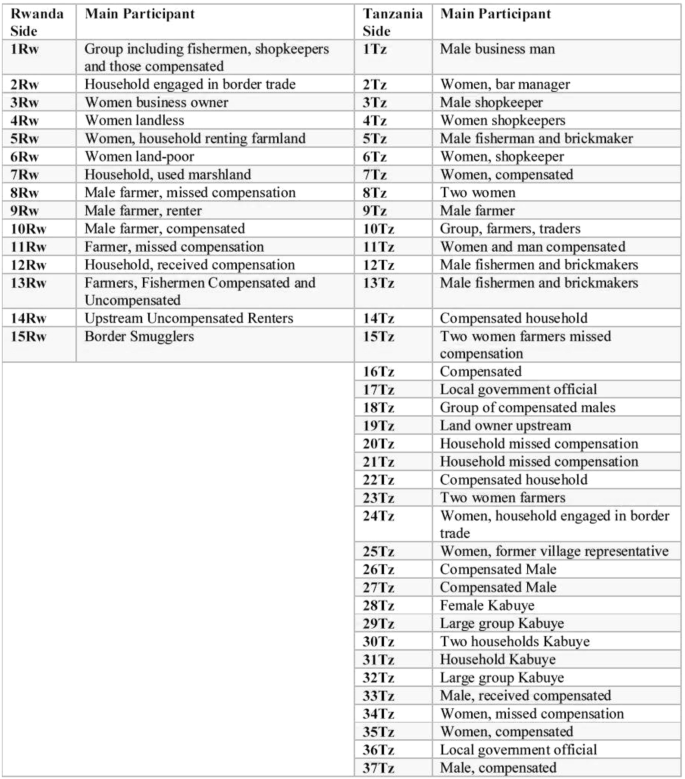 Quoted Rusumo Dam Planners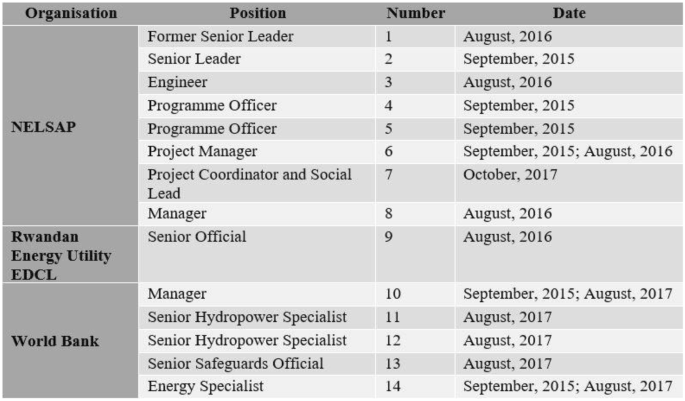 About this article
Cite this article
Dye, B.J. Continuity or Change in the Infrastructure Turn? Reform of the Technicians' Realm in a World Bank Dam. Eur J Dev Res 32, 627–651 (2020). https://doi.org/10.1057/s41287-019-00232-4
Keywords
Dam resurgence

World Bank

Reform

Development

Infrastructure

Impact assessment

Rusumo Falls Dam

Nelsap

Hydro power