Abstract
This study examines the effectiveness of an after-school tutoring programme that was implemented throughout Bangladesh. The exam results for three distinct classes (Bengali, English and Mathematics) were collected at three consecutive periods in the year 2015. The total sample of 1353 students can be separated into a treatment, i.e., the 900 students who were enrolled in the programme, and a control group, i.e. the 453 control students who were not enrolled in the programme. Using a difference-in-difference setup, the results show that the treatment group improved their grades over time significantly more than the control group. This difference is significant for all three classes and ranges from 2.3 percentage points in English to 3.4 percentage points in Mathematics. As a robustness check, student-fixed effects, which control for any time-invariant differences between individual students, were included and the results remain unchanged. Altogether, these results indicate that the after-school tutoring programme had a significantly positive effect on students' school performance.
Résumé
Cette étude examine l'efficacité d'un programme de tutorat après l'école mis en place sur tout le territoire du Bangladesh. Les résultats d'examens dans trois matières différentes (le bengali, l'anglais et les mathématiques) ont été recueillis sur trois périodes consécutives au cours de l'année 2015. L'échantillon total de 1353 étudiants se divise en deux groupes: un groupe intervention, constitué des 900 étudiants inscrits au programme; et un groupe témoin, constitué des 453 étudiants qui n'étaient pas inscrits au programme. En utilisant le modèle d'écart dans les différences, les résultats montrent que l'amélioration des notes au fil du temps dans le groupe intervention est significativement supérieure à celle des notes du groupe témoin. Cette différence est significative pour les trois matières et va de 2,3 points de pourcentage supplémentaires en anglais, à 3,4 points de pourcentage supplémentaires en mathématiques. En ce qui concerne la vérification de la robustesse, les effets fixes relatifs aux étudiants ont été inclus, qui permettent de contrôler les différences immuables entre étudiants, et les résultats restent inchangés. Globalement, ces résultats indiquent que le programme de tutorat après l'école a un effet positif significatif sur la performance scolaire des étudiants.
This is a preview of subscription content, log in to check access.
Access options
Buy single article
Instant access to the full article PDF.
US$ 39.95
Tax calculation will be finalised during checkout.
Subscribe to journal
Immediate online access to all issues from 2019. Subscription will auto renew annually.
US$ 122
Tax calculation will be finalised during checkout.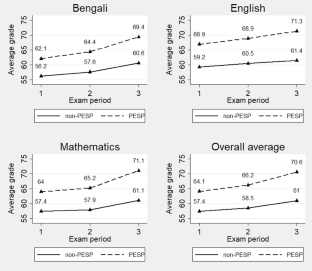 References
Ananga, E. 2011. Typologies of School Dropout: The Dimensions and Dynamics of Exclusion from Universal Basic Education in Ghana. International Journal of Educational Development 31 (4): 374–381.

Bertrand, M., E. Duflo, and S. Mullainathan. 2004. How Much Should We Trust Differences-in-Differences Estimates? The Quarterly Journal of Economics 119 (1): 249–275.

Blick, P., and D.E. Sahn. 2000. Schooling of Girls and Boys in a West African Country: The Effects of Parental Education, Income, and Household Structure. Economics of Education Review 19: 63–87.

Bray, M. 2006. Private Supplementary Tutoring: Comparative Perspectives on Patterns and Implications. Compare A Journal of Comparative and International Education 36 (4): 515–530.

Buchmann, C. 2002. Getting Ahead in Kenya: Social Capital, Shadow Education, and Achievement. In Schooling and Social Capital in Diverse Cultures, ed. B. Fuller and E. Hannum, 133–159. Amsterdam: JAI Press.

CREATE. 2011. Preventing Drop out in Bangladesh. CREATE Bangladesh Policy Brief 6 CREATE, University of Sussex, UK.

Dang, H.A. 2007. The Determinants and Impact of Private Tutoring Classes in Vietnam. Economics of Education Review 26 (6): 683–698.

Duryea, S. 2003. School Attendance, Child Labor and Local Labor Market Fluctuations in Urban Brazil. World Development 31 (7): 1165–1178.

Ersado, L. 2005. Child Labor and Schooling Decisions in Urban and Rural Areas: Comparative Evidence From Nepal, Peru, and Zimbabwe. World Development 33 (3): 455–480.

Fergany, N. 1994. Survey of Access to Primary Education and Acquisition of Basic Literacy Skills in Three Governorates in Egypt. Cairo: UNICEF.

Gegbe, B., A. Sundai, and V.K. Sheriff. 2015. Factors Contributing to Students' Poor Performance in Mathematics at West African Senior School Certification Examination (A case study: Kenema City, Eastern Province Sierra Leone). International Journal Of Engineering Research and General Science 3 (2): 1040–1055.

Glewwe, P.W., E.A. Hanushek, S.D. Humpage, and R. Ravina. 2011. School Resources and Educational Outcomes in Developing Countries: A Review of the Literature from 1990 to 2010. NBER Working Paper 17554. Retrieved from http://www.nber.org/papers/w17554.

Guill, K., and W. Bos. 2014. Effectiveness of Private Tutoring in Mathematics with Regard to Subjective and Objective Indicators of Academic Achievement: Evidence from a German Secondary School Sample. Journal for Educational Research Online 6 (1): 34–67.

Hadley, S. 2010. Seasonality and Access to Education: The Case of Primary Education in Sub-Saharan Africa. CREATE Pathways to Access, Research Monograph No. 31. Brighton: University of Sussex.

Hamid, M.O., R. Sussex, and A. Khan. 2009. Private Tutoring in English for Secondary School Students in Bangladesh. TESOL Quarterly 43 (2): 281–308.

Hof, S. 2014. Does Private Tutoring Work? The Effectiveness of Private Tutoring: A nonparametric Bounds Analysis. Education Economics 22: 347–366.

Jayachandran, S. 2014. Incentives to Teach Badly: After-School Tutoring in Developing Countries. Journal of Development Economics 108: 190–205.

Khan, A., and M. Samadder. 2010. Beyond Drop out: A Study on BRAC Primary School, Working Paper No. 16, Research and Evaluation Division, BRAC, Dhaka.

Kulpoo, D. 1998. The Quality of Education: Some Policy Suggestions Based on a Survey of Schools in Mauritius. SACMEQ Policy Research Report No. 1. Paris: UNESCO International Institute for Educational Planning.

Lee, J.T., Y.B. Kim, and C.H. Yoon. 2005. The Effects of Pre-class Tutoring on Student Achievement: Challenges and Implications for Public Education in Korea. KEDI Journal of Educational Policy 1 (1): 25–42.

MoPME. 2016. Ministry of Primary and Mass Education in Bangladesh. The Peoples of the Republic of Bangladesh.

Nath, S.R., M.N. Haq, U.S. Begum, A. Ullah, M.A. Sattar, and A.M.R. Chowdhury. 2008. The State of Secondary Education: Quality and Equity Challenges, Education Watch report, 2007. Bangladesh: CAMPE.

Paviot, L., N. Heinsohn, and J. Korkman. 2008. Extra Tuition in Southern and Eastern Africa: Coverage, Growth, and Linkages with Pupil Achievement. International Journal of Educational Development 28 (2): 149–160.

Shahidur, R., and S.R. Khandker. 2005. Microfinance and Poverty: Evidence Using Panel Data from Bangladesh. The World Bank Economic Review 19 (2): 263–286.

Rahman, M.T., and H.T.A. Khan. 2013. Effectiveness of the Microcredit Programme in Bangladesh. Local Economy 28 (1): 85–98.

Sabates, R., A. Hossain, and K. Lewin. 2013. School Drop Out in Bangladesh. Insights Using Panel Data. International Journal of Educational Development. 33 (3): 225–232.

Zhang, Y. 2013. Does Private Tutoring Improve Students' National College Entrance Exam Performance? A Case Study from Jinan, China. Economics of Education Review 32: 1–28.

Zhao, M., and P. Glewwe. 2010. What Determines Basic School Attainment in Developing Countries? Evidence from Rural China. Economics of Education Review 29 (3): 451–460.
Acknowledgements
The author appreciates the comments received from the seminar participants, especially Mr Shafiqual Choudhury (Founder and President of ASA), Mr M.A. Aziz (Senior Deputy President), and Mr Ariful Haque Choudhury (Director), in the ASA Head Office, Dhaka, Bangladesh. The authors are grateful to Mr Atanu Das, Research Officer, who was involved in the data collection and organised seminars in Bangladesh. The authors acknowledge the financial support received from ASA Bangladesh (Grant Reference: ASA/education/grant/2015/3). The authors would like to thank Professor Rodolphe Desbordes, SKEMA Business School in Paris for his valuable comments and suggestions. They would also like to express their gratitude to the reviewers for constructive comments and suggestions. The views, thoughts, opinions are expressed in the paper belong solely to the authors but not necessarily to the authors' employers.
Funding
This study was funded by ASA Bangladesh (Grant number ASA/education/grant/2015/3).
Ethics declarations
Conflict of interest
The first author has received research grants from ASA Bangladesh. The authors declare that they have no conflict of interest.
Additional information
Publisher's Note
Springer Nature remains neutral with regard to jurisdictional claims in published maps and institutional affiliations.
About this article
Cite this article
Rahman, M.T., Franssen, L. & Khan, H.T.A. The Impact of After-School Programme on Student Achievement: Empirical Evidence from the ASA Education Programme in Bangladesh. Eur J Dev Res 32, 612–626 (2020). https://doi.org/10.1057/s41287-019-00231-5
Keywords
After-school programme

Student achievement

ASA education

Bangladesh

Impact evaluation