Abstract
Violence against women is a violation of basic human rights and a global health problem. Although the literature is rich in studies on the determinants of violence against women, little attention has been given to the potential impact of income inequality on violence against women. The present paper aims to investigate the impact of the state income inequality on violence against women in India, a country where violence against women one of the highest in the world. We use data on a nationally representative sample of 69,704 women from the third National Family Health Survey for India, conducted in 2005–2006. We argue that income inequality increases the risk of experiencing violence by eroding social capital in the living community. To estimate the causal impact of economic inequality on violence against women and avoid endogeneity, we rely on an instrumental variable approach. As the first step, we use simple standard regression models and find that state income inequality increases intimate partner violence as well as violence by anyone other than her partner. When tackling the endogeneity issue, our findings suggest that income inequality increases the risk of violence by anyone other than the partner, but it did not increase the risk of spousal violence. The study's findings are robust to different regression techniques.
Résumé
La violence à l'encontre des femmes représente une violence à l'encontre des droits humains et constitue un problème d'envergure mondiale. Bien que de nombreuses études aient analysé les déterminants de la violence à l'encontre des femmes, peu de travaux ont analysé la corrélation entre les impacts des inégalités sociales sur la situation des femmes. Le présent papier essaie d'étudier les impacts des inégalités des revenus sur la situation des femmes en Inde ou le taux de violences à l'encontre des femmes est un des plus élevé au monde. Dans cette étude nous exploitons une base de données nationale représentative avec un échantillon de 69,704 femmes, troisième enquête 'National Family Health Survey for India' de 2005–2006. Nous expliquons l'évolution des risques de violences par la variation du niveau du capital social. Et, afin d'estimer l'effet causalité entre inégalité économique et violences envers les femmes et mettre en évidence ainsi l'endogénèite nous adoptons une approche de variable instrumentale. La première étape consiste à modéliser un model avec une régression standard simple et à en déduire que les inégalités des revenus accroissent les violences des partenaires mais aussi des non partenaires. Pour résoudre les problèmes d'endogéniète nos résultats suggèrent que les inégalités des revenus accroissent les risques de violence par les non partenaires mais cela n'augmente pas le risque de violence du partenaire. Cette étude est robuste par rapport aux différentes techniques de régressions.
Access options
Buy single article
Instant access to the full article PDF.
USD 39.95
Price includes VAT (USA)
Tax calculation will be finalised during checkout.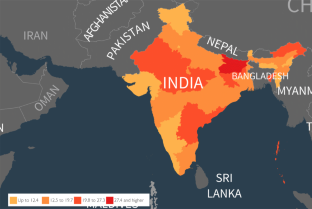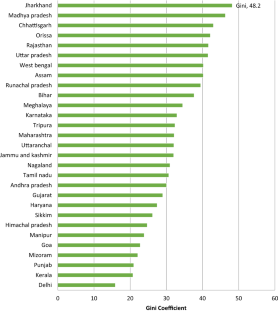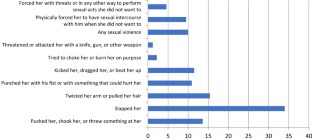 Notes
1.

NFHS-4 was not available when this paper being written. However, the prevalence of IPV remains as high as 28% and the concentration of wealth is also evident in NFHS-4. Therefore, the findings of the study remain important and relevant to policy makers.
References
Blau, J.R., and P.M. Blau. 1982. The cost of inequality: Metropolitan structure and violent crime. American Sociological Review 47: 114–129.

Browning, C.R. 2002. The span of collective efficacy: Extending social disorganization theory to partner violence. Journal of Marriage and Family 64: 833–850.

Bryan, M.L., and Jenkins, S.P. 2013. Regression analysis of country effects using multilevel data: A cautionary tale.

Caetano, R., S. Ramisetty-Mikler, and T.R. Harris. 2010. Neighborhood characteristics as predictors of male to female and female to male partner violence. Journal of Interpersonal Violence 25: 1986–2009.

Campbell, J., A.S. Jones, J. Dienemann, J. Kub, J. Schollenberger, P. O'Campo, A.C. Gielen, and C. Wynne. 2002. Intimate partner violence and physical health consequences. Archives of Internal Medicine 162: 1157–1163.

Coker, A.L., K.E. Davis, I. Arias, S. Desai, M. Sanderson, H.M. Brandt, and P.H. Smith. 2002. Physical and mental health effects of intimate partner violence for men and women. American Journal of Preventive Medicine 23: 260–268.

Coleman, J.S., and J.S. Coleman. 1994. Foundations of social theory. Cambridge: Harvard University Press.

Dekeseredy, W.S., S. Alvi, and E.A. Tomaszewski. 2003. Perceived collective efficacy and women's victimization in public housing. Criminal Justice 3: 5–27.

Demombynes, G., and B. Özler. 2005. Crime and local inequality in South Africa. Journal of Development Economics 76: 265–292.

Duvvury, N., A. Callan, P. Carney, and S. Raghavendra, S. 2013. Intimate partner violence: Economic costs and implications for growth and development. Women's Voice, Agency, & Participation Research Series.

Duvvury, N., A. Kes, S. Chakraborty, A. Milici, S. Ssewanyana, F. Mugisha, W. Nabiddo, M. Mannan, S. Raihan, and S. MAHMUD. 2009. Intimate partner violence: High costs to households and communities.

Ehrlich, I. 1973. Participation in illegitimate activities: A theoretical and empirical investigation. Journal of Political Economy 81: 521–565.

Enamorado, T., L.F. López-Calva, C. Rodríguez-Castelán, and H. Winkler. 2016. Income inequality and violent crime: Evidence from Mexico's drug war. Journal of Development Economics 120: 128–143.

Gold, R., B. Kennedy, F. Connell, and I. Kawachi. 2002. Teen births, income inequality, and social capital: Developing an understanding of the causal pathway. Health & Place 8: 77–83.

Golding, J.M. 1999. Intimate partner violence as a risk factor for mental disorders: A meta-analysis. Journal of Family Violence 14: 99–132.

International Institute for Population Sciences 2007. India National Family Health Survey (NFHS-3), 2005-06, International Institute for Population Sciences.

Kawachi, I., and B.P. Kennedy. 1997. Health and social cohesion: Why care about income inequality? British Medical Journal 314: 1037.

Kawachi, I., and B.P. Kennedy. 1999. Income inequality and health: Pathways and mechanisms. Health Services Research 34: 215.

Kawachi, I., B.P. Kennedy, and R.G. Wilkinson. 1999. Crime: Social disorganization and relative deprivation. Social Science and Medicine 48: 719–731.

Kelly, M. 2000. Inequality and crime. Review of Economics and Statistics 82: 530–539.

Kennedy, B.P., I. Kawachi, D. Prothrow-Stith, K. Lochner, and V. Gupta. 1998. Social capital, income inequality, and firearm violent crime. Social Science and Medicine 47: 7–17.

Kimuna, S.R., Y.K. Djamba, G. Ciciurkaite, and S. Cherukuri. 2013. Domestic violence in India: Insights from the 2005–2006 national family health survey. Journal of Interpersonal Violence 28: 773–807.

Kirst, M., L.P. Lazgare, Y.J. Zhang, and P. O'Campo. 2015. The effects of social capital and neighborhood characteristics on intimate partner violence: A consideration of social resources and risks. American Journal of Community Psychology 55: 314–325.

Kramer, A., D. Lorenzon, and G. Mueller. 2004. Prevalence of intimate partner violence and health implications for women using emergency departments and primary care clinics. Women's Health Issues 14: 19–29.

Leigh, A. 2006. Does equality lead to fraternity? Economics Letters 93: 121–125.

Lenze, J., and S. Klasen. 2017. Does women's labor force participation reduce domestic violence? Evidence from Jordan. Feminist Economics 23: 1–29.

Merton, R.K. 1938. Social structure and anomie. American Sociological Review 3: 672–682.

O'Campo, P., A.C. Gielen, R.R. Faden, X. Xue, N. Kass, and M.-C. Wang. 1995. Violence by male partners against women during the childbearing year: A contextual analysis. American Journal of Public Health 85: 1092–1097.

Putnam, R.D., R. Leonardi, and R.Y. Nanetti. 1994. Making democracy work: Civic traditions in modern. Italy: Princeton University Press.

Rico, E., B. Fenn, T. Abramsky, and C. Watts. 2011. Associations between maternal experiences of intimate partner violence and child nutrition and mortality: Findings from Demographic and Health Surveys in Egypt, Honduras, Kenya, Malawi and Rwanda. Journal of Epidemiology and Community Health 65: 360–367.

Rodriguez, M.A., H.M. Bauer, Y. Flores-Ortiz, and S. Szkupinski-Quiroga. 1998. Factors affecting patient-physician communication for abused Latina and Asian immigrant women. Journal of Family Practice 47: 309–312.

Rutstein, S.O., and K. Johnson. 2004. The DHS wealth index. Calverton: ORC Macro.

Sanz-Barbero, B., C. Vives-Cases, L. Otero-García, C. Muntaner, and J. Torrubiano-Domínguez. 2015. Intimate partner violence among women in Spain: The impact of regional-level male unemployment and income inequality. The European Journal of Public Health 25 (6): 1105–1111.

Sutherland, C., D. Bybee, and C. Sullivan. 1997. The long-term effects of battering on women's health. Women's Health (Hillsdale, NJ) 4: 41–70.

Wright, E.M., and M.L. Benson. 2011. Clarifying the effects of neighborhood context on violence "behind closed doors". Justice Quarterly 28: 775–798.
Acknowledgements
The authors would like to thank the two anonymous referees and the handling Editor of this journal for the invaluable comments that have substantially improved the manuscript. We would like to deeply thank Waleed Gharbi and Ichiro Kawachi for their invaluable suggestions and help.
Ethics declarations
Conflict of interest
The authors declare that they have no competing interest.
About this article
Cite this article
Shoukry Rashad, A., Fathy Sharaf, M. & Mansour, E.H. Does Income Inequality Increase Violence Against Women? An Instrumental Variable Approach. Eur J Dev Res 31, 779–808 (2019). https://doi.org/10.1057/s41287-018-0187-7
Keywords
Income inequality

Instrumental variable

Violence against women

India