Abstract
Contagious bovine pleuropneumonia (CBPP) is an endemic transboundary disease of cattle controlled by vaccination, with a vaccine characterized by low efficacy and safety. To contribute towards its eradication, social scientists have sought ways of improving the delivery and adoption of the vaccine, whereas vaccine scientists have attempted to develop safer and more efficacious vaccines. To understand the status of CBPP vaccine delivery and the effect of gender on vaccine adoption, qualitative and quantitative data were collected from vaccine delivery stakeholders, including men and women cattle owners from north-eastern Kenya. The results indicate that the main constraints to vaccine delivery include restricted distribution due to stringent government regulation and the need for a cold supply chain, which is exacerbated by poor transport infrastructure. On vaccine adoption, men and women accepted the vaccine, but men were willing to pay significantly higher prices than women because they were significantly wealthier.
Résumé
La péripneumonie contagieuse bovine (PCB) est une maladie transfrontalière endémique des bovins contrôlés par la vaccination, avec un vaccin caractérisé par une faible efficacité et une faible sécurité. Pour contribuer à son éradication, les chercheurs en sciences sociales ont cherché des moyens d'améliorer l'administration et l'adoption du vaccin, tandis que les scientifiques du vaccin ont tenté de développer des vaccins plus sûrs et plus efficaces. Pour comprendre le statut de l'administration du vaccin PCB et l'effet du genre sur l'adoption des vaccins, des données qualitatives et quantitatives ont été recueillies auprès des acteurs de la vaccination, notamment des hommes et des femmes propriétaires de bétail au nord-est du Kenya. Les résultats indiquent que les principales contraintes à l'administration des vaccins comprennent une distribution restreinte en raison de la réglementation gouvernementale rigoureuse et de la nécessité de la chaîne du froid, qui est exacerbée par une infrastructure de transport médiocre. En ce qui concerne l'adoption des vaccins, les hommes et les femmes ont accepté le vaccin, mais les hommes étaient disposés à payer des prix sensiblement plus élevés que les femmes parce qu'ils étaient sensiblement plus riches.
Access options
Buy single article
Instant access to the full article PDF.
USD 39.95
Price excludes VAT (USA)
Tax calculation will be finalised during checkout.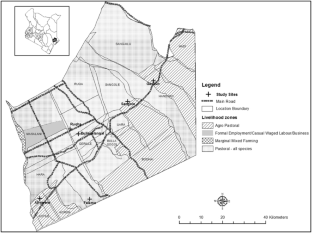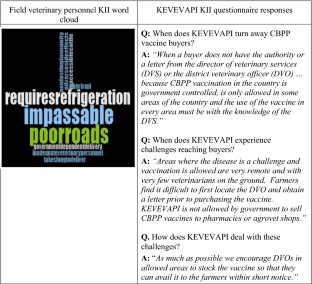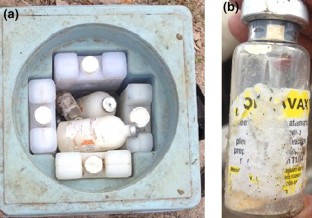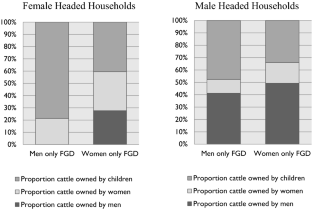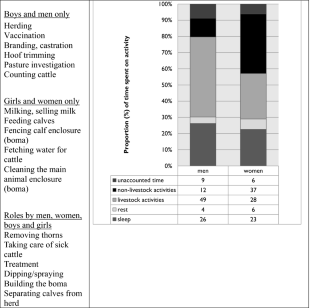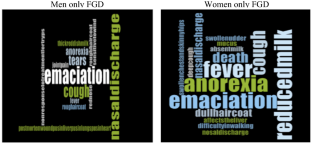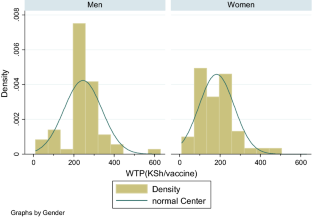 Notes
The US dollar was retailing at around Kenya shillings 87 at the time of the study (March 2014).

USD 1.5 = Ksh 130.5. 30% of 130.5 = 39.15. 130.5 + 39.15 = 169.65—rounded off to Sh 200 to cater for currency fluctuation and vaccine delivery costs from source to end user in the study location.

The Kenyan government provides free or subsidize cattle vaccination as a public good from time to time, especially during disease outbreaks.
References
Andersen, S., G. Harisson, M. Lau, and E. Rutstrom. 2006. Elicitation using multiple price list formats. Experimental Economics 9: 383–405.

Basu, A., N. Chau, and U. Grote. 2003. Eco-labelling and stages of development. Review of Development Economics 7: 228–247.

Bateman, I., H. Langford, and J. Rasbash. 2001. Willingness to pay question format effects in contingent valuation studies. In Valuing environmental preferences: Theory and practice of the contingent valuation method in the US, EU, and developing countries, ed. I. Bateman and K. Willis, 511–539. Oxford: Oxford University Press.

Behera, B., and A. Behera. 2013. Gender issues: The role of women in agriculture sector in India. International Journal of Marketing, Financial Services and Management Research 2: 134–145.

Boyle, K., R. Bishop, and M. Welsh. 1985. Starting point bias in contingent valuation bidding. Land Economics 6: 188–194.

Brooks, A., Cutts, F., Justice, J., and Walt, G. 1999. Policy study of factors influencing the adoption of new and underutilized vaccines in developing countries. Report commissioned by CVI and USAID. http://pdf.usaid.gov/pdf_docs/Pnack648.pdf. Accessed on 20 February 2014.

Brookshire, D., M. Thayer, W. Schulze, and R. d'Arge. 1982. Valuing public goods: A comparison of survey and hedonic approaches. American Economic Review 72: 165–177.

Carson, R., and W. Hanemann. 2005. Contingent valuation. In Handbook of environmental economics, vol. 2, ed. K. Maler and J. Vincent, 821–936. Amsterdam: Elsevier.

CIDP. 2014. Garissa County integrated development plan 2013–2017. http://www.humanitarianresponse.info/en/system/files/documents/files/GARISSA%20COUNTY%20GOVERNMENT%20CIDP.1.pdf. Accessed on 16 May 2015.

Deere, C. 2005. The feminization of agriculture? Economic restructuring in rural Latin America. Occasional paper No. 1. Geneva: United Nations Research Institute for Social Development (UNRISD).

Deere, C., G. Alvarado, and J. Twyman. 2012. Gender inequality in asset ownership in Latin America female owners vs household heads. Development and Change 43: 505–530.

Deere, C., and C. Doss. 2006. The gender asset gap: What do we know and why does it matter? Feminist Economics 12: 1–50.

Doss, C., C. Grown, and C. Deere. 2008. Gender and asset ownership: A guide to collecting individual-level data. Policy research working paper 4704. Washington, DC: World Bank.

Doss, C. 2001. Designing agricultural technology for African women farmers: Lessons from 25 years of experience. World Development 29: 2075–2092.

Food and Agriculture Organization (FAO). 2012. Invisible guardians: Women managing livestock diversity. No. 174, Rome, Italy, pp. 74.

GALVmed. 2010. Vaccines for the control of neglected animal diseases in Africa (VACNADA). http://www.fanrpan.org/documents/d01047/GALVmed_newsletter_November2010.pdf. Accessed on 14 May 2014.

Heffernan, C., and Misturelli, F. 2000. The delivery of veterinary services to the poor: Preliminary findings from Kenya. Veterinary Epidemiology and Economics Research Unit, Department of Agriculture, University of Reading RG6 6AT, London. https://assets.publishing.service.gov.uk/media/57a08d2aed915d3cfd001868/R7359a.pdf. Accessed on 8 July 2013.

Index Mundi. 2014. Kenya sex ratio. http://www.indexmundi.com/kenya/sex_ratio.html. Accessed on 16 May 2015.

Johnson, N., J. Njuki, E. Waithanji, M. Nhambeto, M. Rogers, and E. Kruger. 2013. The gendered impacts of agricultural asset transfer projects: Lessons from the Manica Smallholder Dairy Development Program. CAPRi Working Paper No. 115. Washington, DC: International Food Policy Research Institute.

Jothilakshmi, M., D. Thirunavukkarasu, and N. Sudeepkumar. 2014. Exit of youths and feminization of smallholder livestock production: A field study in India. Renewable Agriculture and Food Systems 29: 146–150.

Kairu-Wanyoike, S., S. Kaitibie, C. Heffernan, N. Taylor, G. Gitau, H. Kiara, and D. McKeever. 2014. Willingness to pay for Contagious Bovine Pleuropneumonia vaccination in Narok South District of Kenya. Preventive Veteterinary Medicine 115: 130–142.

Khan, F. 2011. Biotechnology fundamentals, 608. Boca Raton: CRC.

Mayoux, L., and R. Chambers. 2005. Reversing the paradigm: Quantification, participatory methods and pro poor impact assessment. International Development 17 (2): 271–298.

Mburu, S., J. Njuki, and J. Kariuki. 2013. Women's access to livestock information and financial services. In Women, livestock ownership and markets: Bridging the gender gap in eastern and southern Africa, ed. J. Njuki and P. Sanginga, 79–94. New York: Routledge.

Meinzen-Dick, R., A. Quisumbing, J. Behrman, P. Biermayr-Jenzano, V. Wilde, M. Noordeloos, C. Ragasa, and N. Beintema. 2011. Engendering agricultural research, development and extension. Research Monograph. Washington, DC: International Food Policy Research Institute (IFPRI).

Morrison, M., R. Blamey, and J. Bennett. 2000. Minimising payment vehicle bias in contingent valuation studies. Environmental and Resource Economics 16: 407–422.

Njuki, J., and S. Mburu. 2013. Gender and ownership of livestock assets. In Women, livestock ownership and markets: Bridging the gender gap in eastern and southern Africa, ed. J. Njuki and P. Sanginga, 21–38. New York: Routledge.

Oyston, P., and Robinson, K. 2012. The current challenges for vaccine development. Journal of Medical Microbiology 61: 889–894. http://www.microbiologyresearch.org/docserver/fulltext/jmm/61/7/889_jmm039180.pdf?expires=1484301536&id=id&accname=guest&checksum=A5C5A77EB5F6804382709A27A85E8531.

Quisumbing, A., S. Roy, J. Njuki, K. Tanvin, and E. Waithanji. 2013. Can dairy value chain projects change gender norms in rural Bangladesh? Impacts on assets, gender norms, and time use. Discussion Paper 01311. Washington, DC: International Food Policy Research Institute (IFPRI).

Rowe, R., R. d'Arge, and D. Brookshire. 1980. An experiment on the economic value of visibility. Journal of Environmental Economics and Management 7: 1–19.

Schelling, E., M. Bechir, M. Ahmed, K. Wyss, T. Randolph, and J. Zinsstag. 2007. Human and animal vaccination delivery to remote nomadic families, Chad. Emerging Infectious Diseases 13: 373–379.

Schelling, E., K. Wyss, M. Bechir, D. Moto, and J. Zinsstag. 2005. Synergy between public health and veterinary services to deliver human and animal health interventions in rural low income settings. British Medical Journal 331: 1264–1267.

Saghir, P., J. Njuki, E. Waithanji, J. Kariuki, and A. Sikira. 2012. Integrating improved goat breeds with new varieties of sweet potatoes and cassava in the agro-pastoral systems of Tanzania: A gendered analysis. ILRI Discussion Paper No. 21. Nairobi: ILRI.

Shen, J. 2012. Understanding the determinants of consumers' willingness to pay for eco-labelled products: An empirical analysis of the China environmental label. Journal of Service Science and Management 5: 87–94.

Thayer, M. 1981. Contingent valuation techniques for assessing environmental impacts: Further evidence. Journal of Environmental Economics and Management 8: 27–44.

Venkatachalam, L. 2004. The contingent valuation method: A review. Environmental Impact Assessment 24: 89–124.

Waithanji, E., S. Wanyoike, and M. Liani. 2015. The role of gender and other socioeconomic factors in the adoption of the Contagious Bovine Pleuropneumonia (CBPP) vaccine. ILRI Discussion Paper no 29. Nairobi: ILRI.

Wooldridge, J.M. 2013. Introductory econometrics: A modern approach, 5th edn. Mason, OH: South-Western, Cengage Learning.
Acknowledgements
Canadian International Food Security Research Fund (CIFSRF)—a program of the International Development Research Centre (IDRC); CGIAR research program on Policies, Institutions and Markets (PIM).
Additional information
Elizabeth Waithanji—Gender Consultant, P.O. Box 51834, Nairobi 00200, Kenya.
About this article
Cite this article
Waithanji, E., Mtimet, N. & Muindi, P. Contagious Bovine Pleuropneumonia Vaccine Delivery and Adoption by Women and Men in North-Eastern Kenya. Eur J Dev Res 31, 364–387 (2019). https://doi.org/10.1057/s41287-018-0157-0
Published:

Issue Date:

DOI: https://doi.org/10.1057/s41287-018-0157-0
Keywords
Cattle

Vaccine

Delivery

Adoption

Gender

Kenya

Gender Studies

Economics