Abstract
This article analyzes the role of frugal innovation in inclusive development through a gender lens. It explores frugal innovation processes as a potential means to empowerment and enhanced well-being of marginalized women. The presented analytical framework balances the need for evaluating whether frugal innovation delivers direct demonstrable value to the lives of marginalized women and where and when frugal innovation may tackle adverse institutions to unlock a more egalitarian flow of benefits and opportunities to individual women, households, and communities. The framework explains how frugal innovation can have a wide variety of positive, negative, and unintended outcomes across market and nonmarket domains. The key focus is on exploring when frugal innovations are more likely to reproduce or transform institutionalized gender-related constraints that structure how men and women can access resources and opportunities. New empirical research to substantiate the framework requires an interdisciplinary approach that combines qualitative and quantitative methods.
Cet article analyse le rôle des innovations frugales du point de vue du genre, dans le contexte du développement inclusif. L'article explore les processus d'innovation frugale comme un moyen qui offre un fort potentiel de donner plus de pouvoir aux femmes les plus marginalisées, et d'augmenter leur bien-être. Le cadre analytique présenté met sur la balance le besoin d'évaluer si les innovations frugales arrivent effectivement à livrer une valeur démontrable dans la vie des femmes marginalisées, ainsi que les conditions sous lesquelles ces mêmes innovations frugales challengent les institutions adverses à ces processus visant à débloquer un flux plus égalitaire de bénéfices et d'opportunités pour les femmes, les ménages, et les communautés. Le cadre de cette étude explique comment les innovations frugales peuvent avoir une variété de conséquences positives, négatives, et non intentionnelles, que ce soit dans les domaines du marché ou du non-marché. L'objectif principal de cette étude est de comprendre quand les innovations frugales sont plus susceptibles de reproduire ou de transformer les contraintes institutionnelles liées au genre, qui déterminent comment les hommes et les femmes peuvent avoir accès aux ressources et aux opportunités. Le nouveau cadre de recherche empirique utilisé dans cette étude nécessite d'une approche interdisciplinaire, qui combine des méthodologies qualitatives et quantitatives.
Access options
Buy single article
Instant access to the full article PDF.
US$ 39.95
Tax calculation will be finalised during checkout.
Subscribe to journal
Immediate online access to all issues from 2019. Subscription will auto renew annually.
US$ 79
Tax calculation will be finalised during checkout.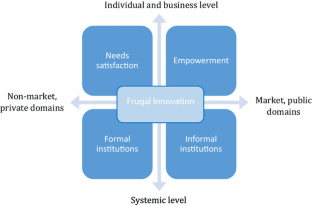 References
Addabbo, T., Lanzi, D. and Picchio, A. (2010) Gender budgets: A capability approach. Journal of Human Development and Capabilities 11(4): 479–501.

Agarwal, B. (1994) A Field of One's Own: Gender and Land rights in South Asia (Vol. 58). Cambridge: Cambridge University Press.

Agarwal, B. (1997) Bargaining and gender relations: Within and beyond the household. Feminist economics 3(1): 1–51.

Agarwal, N. and Brem, A. (2012) Frugal and reverse innovation-Literature overview and case study insights from a German MNC in India and China. In Engineering, Technology and Innovation (ICE), 2012 18th International ICE Conference on (pp. 1-11). IEEE.

Agnete Alsos, G., Ljunggren, E. and Hytti, U. (2013) Gender and innovation: State of the art and a research agenda. International Journal of Gender and Entrepreneurship, 5(3): 236–256.

Al-Dajani, H. and Marlow, S. (2013) Empowerment and entrepreneurship: a theoretical framework. International Journal of Entrepreneurial Behaviour & Research 19(5): 503–524.

Alsop, R. and Heinsohn, N. (2005) Measuring Empowerment in Practice: Structuring Analysis and Framing Indicators (Vol. 3510). Washington, DC: World Bank Publications.

Baughn, C.C., Chua, B.L. and Neupert, K.E. (2006) The normative context for women's participation in entrepreneruship: A multicountry study. Entrepreneurship Theory and Practice 30(5): 687–708.

Benería, L. (2007) Gender and the Social Construction of Markets. Feminist Economics of Trade. London and New York: Routledge, pp. 13–32.

Benería, L., Berik, G. and Floro, M. (2015) Gender, Development and Globalization: Economics as If All People Mattered. London: Routledge.

Bhatti, Y.A. (2012) What is frugal, what is innovation? Towards a theory of frugal innovation. https://papers.ssrn.com/sol3/papers2.cfm?abstract_id=2005910.

Bhatti, Y.A. and Ventresca, M. (2013) How can 'frugal innovation' be conceptualized? Said Business School Working Paper Series, Oxford, https://dx.doi.org/10.2139/ssrn.2203552.

Blake, M.K. and Hanson, S. (2005) Rethinking innovation: context and gender. Environment and Planning A 37(4): 681–701.

Branisa, B., Klasen, S. and Ziegler, M. (2013) Gender inequality in social institutions and gendered development outcomes. World Development 45: 252–268.

Brush, C.G., De Bruin, A. and Welter, F. (2009) A gender-aware framework for women's entrepreneurship. International Journal of Gender and Entrepreneurship 1(1): 8–24.

Diemont, B. (1995) Care, Gender and Justice. Oxford, UK: Clarendon Press.

Buvinic, M. and O'Donnell, M. (2017) Gender Matters in Economic Empowerment Interventions: A Research Review-Working Paper 456 (No. 456).

Chant, S. and Sweetman, C. (2012) Fixing women or fixing the world? 'Smart economics', efficiency approaches, and gender equality in development. Gender & Development 20(3): 517–529.

Chataway, J., Hanlin, R. and Kaplinsky, R. (2014) Inclusive innovation: an architecture for policy development. Innovation and Development 4(1): 33–54.

Cornwall, A. and Rivas, A.M. (2015) From 'gender equality and 'women's empowerment' to global justice: reclaiming a transformative agenda for gender and development. Third World Quarterly 36(2): 396–415.

Croppenstedt, A., Goldstein, M. and Rosas, N. (2013) Gender and agriculture: inefficiencies, segregation, and low productivity traps. The World Bank Research Observer 28(1): 79–109.

De Haan, A. (2016) Enhancing the productivity of women-owned enterprises: The evidence on what works, and a research agenda. Background paper for the UN high-level panel for women's economic empowerment, 2016. https://www.idrc.ca/sites/default/files/sp/Documents%20EN/report_-_enhancing_the_productivity_of_women-owned_enterprises.pdf.

Doss, C. (2011) The role of women in agriculture. Economic Development Analysis Division (ESA) Working Paper, 11. http://www.fao.org/docrep/013/am307e/am307e00.pdf.

Elam, A. and Terjesen, S. (2010) Gendered institutions and cross-national patterns of business creation for men and women. The European Journal of Development Research 22(3): 331–348.

Eyben, R. and Napier-Moore R. (2009) Choosing words with care? Shifting meanings of women's empowerment in international development. Third World Quarterly 30(2): 285–300.

Galvin, M. D. and Iannotti, L. (2015) Social enterprise and development: The KickStart model. VOLUNTAS: International Journal of Voluntary and Nonprofit Organizations 26(2): 421–441.

George, G., McGahan, A. M. and Prabhu, J. (2012) Innovation for inclusive growth: Towards a theoretical framework and a research agenda. Journal of Management Studies 49(4): 661–683.

Gupta, J., Pouw, N.R. and Ros-Tonen, M.A. (2015) Towards an elaborated theory of inclusive development. The European Journal of Development Research 27(4): 541–559.

Gupta, J. and Vegelin, C. (2016) Sustainable development goals and inclusive development. International environmental agreements: Politics, law and economics 16(3): 433–448.

Jackson, C. (1995) From conjugal contracts to environmental relations: Some thoughts on labour and technology. Institute of Development Studies Bulletin 26(I): 33–39.

Jackson, C. (1998) Women and poverty or gender and well-being? Journal of International Affairs 52(1): 67–81.

Kabeer, N. (2015) Gender, poverty, and inequality: A brief history of feminist contributions in the field of international development. Gender & Development 23(2): 189–205.

Kabeer, N. (2017) Economic pathways to women's empowerment and active citizenship: what does the evidence from Bangladesh tell us? The Journal of Development Studies 53(5): 649–663.

KickStart (2008) The Super MoneyMaker Pump: The 18-Months Impact Assessment Report.

Kingiri, A. (2010) Gender and Agricultural Innovation: Revisiting the Debate through an Innovation System Perspective. NR International.

Knorringa, P., Peša, I., Leliveld, A. and Van Beers, C. (2016) Frugal innovation and development: aides or adversaries? The European Journal of Development Research 28(2): 143–153.

Molyneux, M. (1985) Mobilization without emancipation? Women's interests, the state, and revolution in Nicaragua. Feminist Studies 11(2): 227–254.

Moser, C.O. (1989) Gender planning in the Third World: meeting practical and strategic gender needs. World Development 17(11): 1799–1825.

Narayan-Parker, D. (2002) Empowerment and Poverty Reduction: A Sourcebook. World Bank Publications.

Njuki, J., Kaaria, S., Chamunorwa, A. and Chiuri, W. (2011) Linking smallholder farmers to markets, gender and intra-household dynamics: Does the choice of commodity matter? The European Journal of Development Research 23(3): 426–443.

OECD (2015) Innovation Policies for Inclusive Growth, Paris: OECD Publishing. DOI: http://dx.doi.org/10.1787/9789264229488-en.

Okin, S.M. (1989) Justice, gender, and the family (Vol. 171). New York, NY: Basic Books.

Papaioannou, T. (2014) How inclusive can innovation and development be in the twenty-first century? Innovation and Development 4(2): 187–202.

Pandit, J. A., Sirotin, N., Tittle, R., Onjolo, E., Bukusi, E.A. and Cohen, C. R. (2010) Shamba Maisha: A pilot study assessing impacts of a micro-irrigation intervention on the health and economic wellbeing of HIV patients. BMC Public Health 10(1): 245.

Palmer-Jones, R. and Jackson, C. (1997) Work intensity, gender and sustainable development. Food Policy 22(1): 39–62.

Pansera, M. (2013) Frugality, grassroots and inclusiveness: new challenges for mainstream innovation theories. African Journal of Science, Technology, Innovation and Development 5(6): 469–478.

Pecis, L. (2016) Doing and undoing gender in innovation: Femininities and masculinities in innovation processes. Human Relations 69(11): 2117–2140.

Peša, I. (2014) Frugal Innovation in Africa: Technology, Entrepreneurship and Development in Innovation Processes. Working Paper Centre for Frugal Innovation in Africa, Leiden the Netherlands.

Quisumbing, A.R. and Pandolfelli, L., (2010) Promising approaches to address the needs of poor female farmers: Resources, constraints, and interventions. World Development 38(4): 581–592.

Radjou, N. and Prabhu, J., (2015) Frugal innovation: How to do more with less. The Economist.

Radjou, N., Prabhu, J. and Ahuja, S. (2012) Jugaad innovation: Think frugal, be flexible, generate breakthrough growth. New York, NY: Wiley.

Ragasa, C. (2012) Gender and institutional dimensions of agricultural technology adoption: A review of literature and synthesis of 35 case studies. In 2012 Conference (pp. 18–24). International Association of Agricultural Economists Foz do Iguacu, Brazil.

Rao, A. and Kelleher, D. (2005) Is there life after gender mainstreaming? Gender & Development 13(2): 57–69.

Robinson, F. (2006) Beyond labour rights: The ethics of care and women's work in the global economy. International Feminist Journal of Politics 8(3): 321–342.

Robeyns, I. (2003) Sen's capability approach and gender inequality: Selecting relevant capabilities. Feminist Economics 9(2–3): 61–92.

Scott, L., Dolan, C., Johnstone‐Louis, M., Sugden, K. and Wu, M. (2012) Enterprise and inequality: A study of Avon in South Africa. Entrepreneurship Theory and Practice 36(3): 543–568.

Sijali, I.V. and Mwago, M.G. (2011) MoneyMaker pumps: Creating wealth in sub-saharan africa. In: P. Chuhan-Pole and M. Angwafo (eds) Yes, Africa Can: Success Stories from a Dynamic Continent. World Bank Publications, p. 319.

Stamp, P. (1989) Technology, gender, and power in Africa (Vol. 63). Canada: IDRC.

Tallontire, A., Dolan, C., Smith, S. and Barrientos, S. (2005) Reaching the marginalised? Gender value chains and ethical trade in African horticulture. Development in Practice 15(3–4): 559–571.

Van Eerdewijk, A.H.J.M., Wong, F., Vaast, C., Newton, J., Tyszler, M. and Pennington, A. (2017) White Paper: A Conceptual Model on Women and Girls' Empowerment. Amsterdam: Royal Tropical Institute. http://hdl.handle.net/2066/169223.

Van Staveren, I. (2013) An exploratory cross‐country analysis of gendered institutions. Journal of International Development 25(1): 108–121.

Vossenberg, S. and Gomez, G. (2016) Market Innovation in Malawi: Rippling gendered institutions? The case of Malawi's Agricultural Commodity Exchange. Paper presented at conference of the Nordic African Institute, Gender and change: global challenges for Africa? Uppsala 23-24 September, http://nai.uu.se/nad-2016/panels/panel-24.

Zeschky, M., Widenmayer, B. and Gassmann, O. (2011) Frugal innovation in emerging markets. Research-Technology Management 54(4): 38–45.
Acknowledgements
I thank the editors of this special issue, Peter Knorringa, Andre Leliveld, and Natalia Lorenzoni for their enduring encouragements, patience, and support during the writing process of this article. I particularly would like to express gratitude to Andre Leliveld, whose feedback and edits greatly improved the article. I would also like to thank the two anonymous reviewers for their valuable comments and feedback on an earlier version of the manuscript.
About this article
Cite this article
Vossenberg, S. Frugal Innovation Through a Gender Lens: Towards an Analytical Framework. Eur J Dev Res 30, 34–48 (2018). https://doi.org/10.1057/s41287-017-0118-z
Keywords
frugal innovation

gender lens

inclusive development

impact evaluation