Abstract
The Sustainable Development Goals set by the United Nations recognize and promote inter- and intra-dependencies between the economic, social and ecological dimensions, emphasize the inclusion of local communities in the development processes and the need for sustainable consumption and production. To achieve these goals, interdisciplinary and collaborative efforts are needed. Frugal innovation emerges as a paradigm challenging traditional innovation pathways which may have the potential to bring together different stakeholders' efforts to achieve sustainable development goals. This systematic literature review analyzes current research linking the concepts of frugal innovation and sustainable development. The aim is to highlight approaches and conditions in which frugal innovations can drive sustainable development, especially in relation to different types of private sector actors. Based on the content analysis of current studies, we formulate shortcomings of existing research and develop a research agenda with the aim to bring the two research streams closer.
Les Objectifs de Développement Durable fixés par les Nations Unies reconnaissent et promeuvent les inter et intra dépendances entre les dimensions économiques, sociales et écologiques, soulignent l'inclusion des communautés locales dans les processus de développement et la nécessité d'une consommation et d'une production durables. Pour atteindre ces objectifs, des efforts interdisciplinaires et collaboratifs sont nécessaires. L'innovation frugale émerge comme un paradigme qui défie les voies d'innovation traditionnelles et qui peut avoir le potentiel de rassembler les efforts des différentes parties prenantes pour atteindre les objectifs de développement durable. Cette revue systématique de la littérature analyse les études actuelles qui relient les concepts d'innovation frugale et de développement durable. L'objectif est de mettre l'accent sur les approches et les conditions dans lesquelles les innovations frugales peuvent stimuler le développement durable, notamment en ce qui concerne les différents types d'acteurs du secteur privé. Sur la base de l'analyse du contenu des études actuelles, nous formulons des lacunes des études existantes et développons un programme de recherche dans le but de rapprocher les deux axes de recherche.
Access options
Buy single article
Instant access to the full article PDF.
US$ 39.95
Tax calculation will be finalised during checkout.
Subscribe to journal
Immediate online access to all issues from 2019. Subscription will auto renew annually.
US$ 79
Tax calculation will be finalised during checkout.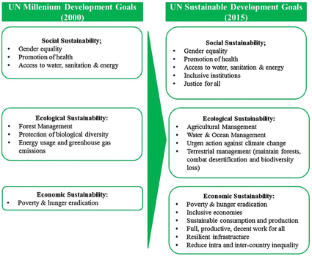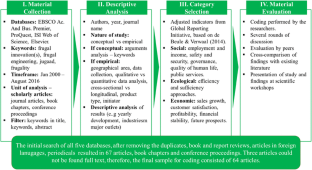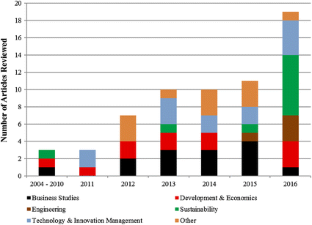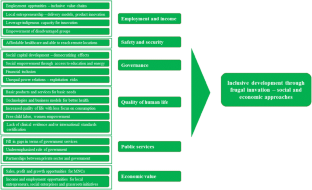 References
Alcott, B. (2008) The sufficiency strategy: Would rich-world frugality lower environmental impact?. Ecological Economics 64(4): 770–786.

Altmann, P. and Engberg, R. (2016) Frugal Innovation and Knowledge Transferability: Innovation for Emerging Markets Using Home-Based RandD Western firms aiming to develop products for emerging markets may face knowledge transfer barriers that favor a home-based approach to frugal innovation. Research-Technology Management 59(1): 48–55.

Annala, L., Sarin, A. and Green, J.L. (2016) Co-production of frugal innovation: Case of low cost reverse osmosis water filters in India. Journal of Cleaner Production (in press).

Banerjee, A.V. and Duflo, E. (2007) The economic lives of the poor. The Journal of Economic Perspectives 21(1): 141–167.

Bansal, P. (2003) From issues to actions: The importance of individual concerns and organizational values in responding to natural environmental issues. Organization Science 14: 510–527.

Basu, R.R., Banerjee, P.M. and Sweeny, E.G. (2013) Frugal innovation: core competencies to address global sustainability. Journal of Management for Global Sustainability 1(2): 63–82.

Battilana, J., Sengul, M., Pache, A.C. and Model, J. (2015) Harnessing productive tensions in hybrid organizations: The case of work integration social enterprises. Academy of Management Journal 58(6): 1658–1685.

Baud, I. (2016) Moving towards inclusive development? Recent views on inequalities, frugal innovations, urban geo-technologies, gender and hybrid governance. The European Journal of Development Research 28(2): 119–129.

Belkadi, F., Buergin, J., Gupta, R.K., Zhang, Y., Bernard, A., Lanza, G., Colledano, M. and Urgo, M. (2016) Co-definition of product structure and production network for frugal innovation perspectives: Towards a modular-based approach. Procedia CIRP 50: 589–594.

Berner, E., Gomez, G. and Knorringa, P. (2012) 'Helping a large number of people become a little less poor': The logic of survival entrepreneurs. The European Journal of Development Research 24(3): 382–396.

Bhatti, Y. (2012) What is Frugal, What is Innovation? Towards a Theory of Frugal Innovation. Said Business School, Working Paper, Oxford, UK.

Birtchnell, T. (2013) Pyramid or iceberg? Problematizing the fortune to be made from India's austerity. Marketing Theory 13(3): 389–392.

Bocken, N.M. P. and Short, S.W. (2016) Towards a sufficiency-driven business model: Experiences and opportunities. Environmental Innovation and Societal Transitions 18: 41–61.

Bocken, N.M. P., Short, S.W., Rana, P. and Evans, S. (2014) A literature and practice review to develop sustainable business model archetypes. Journal of Cleaner Production 65: 42–56.

Bond, P. (2006) Global governance campaigning and MDGs: From top-down to bottom-up anti-poverty work. Third World Quarterly 27(2): 339–354.

Brem, A. and Ivens, B.S. (2013) Do frugal and reverse innovation foster sustainability? Introduction of a conceptual framework. Journal of Technology Management for Growing Economies 4(2): 31–50.

Brem, A. and Wolfram, P. (2014) Research and development from the bottom up-introduction of terminologies for new product development in emerging markets. Journal of Innovation and Entrepreneurship 3(1): 1–22.

Brewerton P. and Millward L. (2001) Organizational Research Methods: A Guide for Students and Researchers. London: Sage.

Castro (2004) Sustainable development: Mainstream and critical perspectives. Organization and Environment 17(2): 195–225.

Cunha, E., Rego, A., Oliveira, P., Rosado, P. and Habib, N. (2014) Product innovation in resource‐poor environments: Three research streams. Journal of Product Innovation Management 31(2): 202–210.

De Beule, F. and Verwaal, E. (2014) Does the quality of institutions impact the profit motive to do good for the poor? A contingent resource-based view on inclusive strategies at the "base of the pyramid". In: Technology: Corporate and Social Dimensions; Annual Conference: Technology: Corporate and Social Dimensions, Bangalore, India, pp. 357–388.

Dovers, S.R. and Handmer, J.W. (1992) Uncertainty, sustainability and change. Global Environmental Change 2(4): 262–276.

Ehrenfeld, J.R. (2005) The roots of sustainability. MIT Sloan Management Review 46(2): 23–25.

European Commission (2003) What is an SME? Retrieved on April 20 at: http://ec.europa.eu/growth/smes/business-friendly-environment/sme-definition_de.

Fink, A. (2005) Conducting Research Literature Reviews: From the Internet to Paper (2nd ed.). Thousand Oaks, California: Sage Publications.

Friedman, M. (1962) Capitalism and Freedom. Chicago: The University of Chicago Press.

George, G., McGahan, A.M. and Prabhu, J. (2012) Innovation for inclusive growth: Towards a theoretical framework and a research agenda. Journal of Management Studies 49(4): 661–683.

George, G., Rao-Nicholson, R., Corbishley, C. and Bansal, R. (2015) Institutional entrepreneurship, governance, and poverty: Insights from emergency medical response services in India. Asia Pacific Journal of Management 32(1): 39–65.

Hart, S., Sharma, S. and Halme, M. (2016) Poverty, business strategy, and sustainable development. Organization & Environment 29(4): 401–415.

Howitt, P., Darzi, A., Yang, G.Z., Ashrafian, H., Atun, R., Barlow, J.,… and Cooke, G.S. (2012) Technologies for global health. The Lancet 380(9840): 507–535.

Jose, P.D. (2008) Rethinking the BOP: New models for the new millennium–academic perspective. IIMB Management Review 20(2): 198–202.

Kahle, H., Dubiel, A., Ernst, H. and Prabhu, J. (2013) The democratizing effects of frugal innovation: Implications for inclusive growth and state-building. Journal of Indian Business Research 5(4): 220–234.

Kaplinsky, R. (2011) Schumacher meets Schumpeter: Appropriate technology below the radar. Research Policy 40(2): 193–203.

Knorringa, P., Peša, I., Leliveld, A. and Van Beers, C. (2016) Frugal innovation and development: Aides or adversaries? The European Journal of Development Research 28(2): 143–153.

Lehner, A.C. and Gausemeier, J. (2016) A pattern-based approach to the development of frugal innovations. Technology Innovation Management Review 6(3): 13–21.

Levänen, J., Hossain, M., Lyytinen, T., Hyvärinen, A., Numminen, S. and Halme, M. (2015) Implications of frugal innovations on sustainable development: Evaluating water and energy innovations. Sustainability 8(1) (in press).

Lim, C., Han, S. and Ito, H. (2013) Capability building through innovation for unserved lower end mega markets. Technovation 33(12): 391–404.

London, T. (2007) A Base-Of-The-Pyramid Perspective on Poverty Alleviation. Working Paper of the William Davidson Institute at the University of Michigan and the United Nations Development Programme (UNDP).

London, T. and Hart, S.L. (2004) Reinventing strategies for emerging markets: beyond the transnational model. Journal of International Business Studies 35(5): 350–370.

Mair, J. and Marti, I. (2009) Entrepreneurship in and around institutional voids: A case study from Bangladesh. Journal of Business Venturing 24(5): 419–435.

Mayring P. (2003) Qualitative Inhaltanalyse – Grundlagen und Techniken. [Qualitative content analysis]. 8th ed. Weinheim, Germany: Beltz Verlag.

Meredith J. (1993) Theory building through conceptual methods. International Journal of Operations and Production Management 13(5): 3–11.

Mont, O.K. (2002) Clarifying the concept of product–service system. Journal of Cleaner Production 10(3): 237–245.

Nahi, T. (2016) Cocreation at the base of the pyramid: reviewing and organizing the diverse conceptualizations. Organization & Environment 29(4): 416–437.

Nocera, D.G. (2012) Can we progress from solipsistic science to frugal innovation? Daedalus 141(3): 45–52.

Ojha, K.A. (2014) MNCs in India: Focus on frugal innovation. Journal of Indian Business Research 6(1): 4–28.

Pansera, M. (2013) Frugality, grassroots and inclusiveness: new challenges for mainstream innovation theories. African Journal of Science, Technology, Innovation and Development 5(6): 469–478.

Pansera, M. and Owen, R. (2015) Framing resource-constrained innovation at the 'bottom of the pyramid': Insights from an ethnographic case study in rural Bangladesh. Technological Forecasting and Social Change 92: 300–311.

Pansera, M. and Sarkar, S. (2016) Crafting sustainable development solutions: Frugal innovations of grassroots entrepreneurs. Sustainability, 8(1) (in press).

Papaioannou, T. (2014) How inclusive can innovation and development be in the twenty-first century? Innovation and Development 4(2): 187–202.

Prabhu, J. and Jain, S. (2015) Innovation and entrepreneurship in India: Understanding jugaad. Asia Pacific Journal of Management 32(4): 843–868.

Prahalad, C.K. (2006) The Fortune Ad the Bottom of the Pyramid: Eradicating Poverty Through Profits. Upper Saddle River: Wharton School Publishing.

Prahalad, C.K. and Mashelkar, R.A. (2010) Innovation's Holy Grail. Harvard Business Review 88(7–8): 132–141.

Radjou, N. and Prabhu, J. (2014) Frugal Innovation: How to do More with Less. London: Profile Books.

Rao, B.C. (2013) How disruptive is frugal? Technology in Society 35(1): 65–73.

Ray, S. and Ray, P.K. (2011) Product innovation for the people's car in an emerging economy. Technovation 31(5): 216–227.

Roiland, D. (2016) Frugality, a positive principle to promote sustainable development. Journal of Agricultural and Environmental Ethics 29(4): 571–585.

Rosca, E., Bendul, J. and Arnold, M. (2016) Business models for sustainable innovation – an empirical analysis of frugal products and services. Journal of Cleaner Production (in press).

Sachs, J.D. (2015) The Age of Sustainable Development. New York: Columbia University Press.

Satar, M.S. and John, S. (2016) A conceptual model of critical success factors for Indian social enterprises. World Journal of Entrepreneurship, Management and Sustainable Development 12(2): 113–138.

Schaltegger, S. and Hörisch, J. (2015) In search of the dominant rationale in sustainability management: legitimacy-or profit-seeking?. Journal of Business Ethics (in press).

Schumacher, E.F. (1973) Small is Beautiful: Economics as if People Really Mattered. London: Blond and Briggs.

Seelos, C. and Mair, J. (2007). Profitable business models and market creation in the context of deep poverty: A strategic view. The Academy of Management Perspectives 21(4): 49–63.

Shan, J. and Khan, M.A. (2016) Implications of reverse innovation for socio-economic sustainability: A case study of Philips China. Sustainability 8(6) (in press).

Sharma, A. and Jha, S. (2016) Innovation from emerging market firms: what happens when market ambitions meet technology challenges?. Journal of Business & Industrial Marketing 31(4): 507–518.

Sharma, A. and Iyer, G.R. (2012) Resource-constrained product development: Implications for green marketing and green supply chains. Industrial Marketing Management 41(4): 599–608.

Singh, R., Gupta, V. and Mondal, A. (2012) Jugaad—From 'Making Do'and 'Quick Fix'to an innovative, sustainable and low-cost survival strategy at the bottom of the pyramid. International Journal of Rural Management 8(1–2): 87–105.

Sinkovics, N., Sinkovics, R.R. and Yamin, M. (2014) The role of social value creation in business model formulation at the bottom of the pyramid–implications for MNEs? International Business Review 23(4): 692–707.

Soni, P. and T. Krishnan, R. (2014) Frugal innovation: aligning theory, practice, and public policy. Journal of Indian Business Research 6(1): 29–47.

Stubbs, W. and Cocklin, C. (2008) Conceptualizing a "sustainability business model". Organization & Environment 21(2): 103–127.

Tata, R.N. and Matten, D. (2016) Corporate community involvement in the 21st century. In: D. Barton, D. Horváth, M. Kipping (eds) Re-Imagining Capitalism: Towards a Responsible, Long-Term Model. Oxford University Press (Forthcoming). Available at SSRN: https://ssrn.com/abstract=2740687.

The Economist (2010) First break all the rules. 15 April.

Tiwari, R. and Herstatt, C. (2012) Assessing India's lead market potential for cost-effective innovations. Journal of Indian Business Research 4(2): 97–115.

Tiwari, R., Kalogerakis, K. and Herstatt, C. (2014) Frugal innovation and analogies: Some propositions for product development in emerging economies. In: Proceedings of the RandD Management Conference, 3–6 June, Stuttgart, Germany, pp. 15–23.

Tiwari, R., Kalogerakis, K. and Herstatt, C. (2016) Frugal innovations in the mirror of scholarly discourse: Tracing theoretical basis and antecedents. In: Proceedings of the RandD Management Conference, 3–6 July, Cambridge, UK.

Tran, V.T. and Ravaud, P. (2016) Frugal innovation in medicine for low resource settings. BMC Medicine 14(1) (in press).

Tranfield, D., Denyer, D. and Smart, P. (2003) Towards a methodology for developing evidence‐informed management knowledge by means of systematic review. British Journal of Management 14(3): 207–222.

United Nations (2015a) The Millennium Development Goals Report. United Nations: Retrieved from:http://www.un.org/millenniumgoals/2015_MDG_Report/pdf/MDG%202015%20rev%20(July%201).pdf.

United Nations (2015b) Transforming Our World: the 2030 agenda for sustainable development. (A/RES/70/1). United Nations: Retrieved from: https://sustainabledevelopment.un.org/content/documents/21252030%20Agenda%20for%20Sustainable%20Development%20web.pdf.

Weyrauch, T. and Herstatt, C. (2017) What is frugal innovation? Three defining criteria. Journal of Frugal Innovation 2(1): 1.

World Commission on Environment and Develoopment (WCED) (1987) Our Common Future. Bruntland Commission.

Zeschky, M.B., Winterhalter, S. and Gassmann, O. (2014) From cost to frugal and reverse innovation: Mapping the field and implications for global competitiveness. Research-Technology Management 57(4): 20–27.

Zeschky, M., Widenmayer, B. and Gassmann, O. (2011) Frugal innovation in emerging markets. Research-Technology Management 54(4): 38–45.
Appendix A
Appendix A
See Table A1.
About this article
Cite this article
Rosca, E., Reedy, J. & Bendul, J.C. Does Frugal Innovation Enable Sustainable Development? A Systematic Literature Review. Eur J Dev Res 30, 136–157 (2018). https://doi.org/10.1057/s41287-017-0106-3
Keywords
frugal innovation

sustainability

inclusive development

Base of the Pyramid

sustainable development