Abstract
Parenting interventions can reduce child maltreatment and improve child outcomes in high-risk settings, but little is known about mechanisms underlying effects. This study presents qualitative findings on mechanisms of change from a randomized trial of a parenting intervention in Liberia. Participants (N = 30) completed semi-structured interviews, and thematic content analysis was conducted from transcripts. Results suggest that learning about effects of violence on child development and discussing the value of empathy for children strengthened caregivers' sense of identity as nurturers and protectors. This in turn drove efforts to decrease harsh discipline. As a result, children expressed less fear, increasing opportunities for positive interactions; shared enjoyment maintained reduced harsh treatment. Caregivers also described recognizing that physical punishment was often ineffective and using new non-violent discipline skills alongside emotion regulation skills to facilitate behavior change. Participants also described reduced couples conflict and more peaceful home environments associated with increased self-identification as role models.
Les interventions d'éducation parentale peuvent réduire la maltraitance des enfants et améliorer les résultats chez les enfants dans les contextes à haut risque, mais on sait peu de choses sur les mécanismes qui sous-tendent ces effets. Cette étude présente des résultats qualitatifs sur les mécanismes de changement à partir d'un essai randomisé d'une intervention d'éducation parentale au Libéria. Les participants (N = 30) ont participé à des entretiens semi-structurés et l'analyse thématique du contenu a été effectuée à partir des transcriptions. Les résultats suggèrent que le fait d'apprendre les effets de la violence sur le développement de l'enfant et de débattre de la valeur de l'empathie pour les enfants a renforcé l'identité des éducateurs en tant que nourriciers et protecteurs. Cela a entraîné des efforts pour diminuer la discipline sévère. En conséquence, les enfants ont exprimé moins de peur, augmentant ainsi les possibilités d'interactions positives; le plaisir partagé a permis de maintenir la diminution de la discipline sévère. Les éducateurs ont également reconnu que la punition physique était souvent inefficace et qu'ils utilisaient de nouvelles compétences disciplinaires non violentes ainsi que des techniques de régulation de l'émotion pour faciliter le changement de comportement. Les participants ont également décrit la réduction des conflits au sein des couples et des foyers plus sereins ainsi qu'une plus forte identification à leur role de modèle.
This is a preview of subscription content, log in to check access.
Access options
Buy single article
Instant access to the full article PDF.
US$ 39.95
Price includes VAT for USA
Subscribe to journal
Immediate online access to all issues from 2019. Subscription will auto renew annually.
US$ 122
This is the net price. Taxes to be calculated in checkout.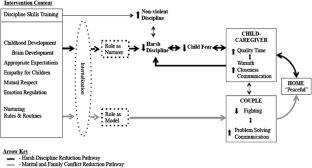 References
Annan, J., Sim, A., Puffer, E.S., Salhi, C. and Betancourt, T.S. (2016) Improving mental health outcomes of Burmese migrant and displaced children in Thailand: A community-based randomized controlled trial of a parenting and family skills intervention. Prevention Science 1–11, doi:10.1007/s11121-016-0728-2.

Bacchus, L.J., Colombini, M., Contreras Urbina, M., Howarth, E., Gardner, F., Annan, J., Ashburn, K., Madrid, B., Levtov, R. and Watts, C. (2017) Exploring opportunities for coordinated responses to intimate partner violence and child maltreatment in low and middle income countries: A scoping review. Psychology, Health & Medicine 22: 135–165, doi:10.1080/13548506.2016.1274410.

Bavolek, S. (2000) The Nurturing Parenting Programs. Washington, DC: Office of Juvenile Justice and Delinquency Prevention.

Betancourt, T.S., Ng, L.C., Kirk, C.M., Munyanah, M., Mushashi, C., Ingabire, C., Teta, S., Beardslee, W.R., Brennan, R.T., Zahn, I. and Stulac, S. (2014) Family-based prevention of mental health problems in children affected by HIV and AIDS: An open trial. AIDS 28(0 3): S359.

Borba, C.P.C., Ng, L.C., Stevenson, A., Vesga-Lopez, O., Harris, B.L., Parnarouskis, L., Gray, D.A., Carney, J.R., Domínguez, S., Wang, E.K.S., Boxill, R., Song, S.J. and Henderson, D.C. (2016) A mental health needs assessment of children and adolescents in post-conflict Liberia: Results from a quantitative key-informant survey. International Journal of Culture and Mental Health 9: 56–70, doi:10.1080/17542863.2015.1106569.

Boudreault-Bouchard, A.-M., Dion, J., Hains, J., Vandermeerschen, J., Laberge, L. and Perron, M. (2013) Impact of parental emotional support and coercive control on adolescents' self-esteem and psychological distress: Results of a four-year longitudinal study. Journal of Adolescence 36: 695–704, doi:10.1016/j.adolescence.2013.05.002.

Braun, V. and Clarke, V. (2006) Using thematic analysis in psychology. Qualitative Research in Psychology 3: 77–101, doi:10.1191/1478088706qp063oa.

Britto, P.R., Lye, S.J., Proulx, K., Yousafzai, A.K., Matthews, S.G., Vaivada, T. and MacMillan, H. (2017) Nurturing care: Promoting early childhood development. The Lancet 389: 91–102.

Cluver, L., Meinck, F., Yakubovich, A., Doubt, J., Redfern, A., Ward, C., Salah, N., De Stone, S., Petersen, T., Mpimpilashe, P., Romero, R.H., Ncobo, L., Lachman, J., Tsoanyane, S., Shenderovich, Y., Loening, H., Byrne, J., Sherr, L., Kaplan, L. and Gardner, F. (2016) Reducing child abuse amongst adolescents in low- and middle-income countries: A pre-post trial in South Africa. BMC Public Health 16, doi:10.1186/s12889-016-3262-z.

Collins, L.M. (2014) Optimizing family intervention programs: The multiphase optimization strategy (MOST). In: S.M. McHale, P. Amato and A. Booth (eds.) Emerging Methods in Family Research. Cham: Springer, pp. 231–244, doi:10.1007/978-3-319-01562-0_14.

Collins, P.Y., Musisi, S., Frehywot, S. and Patel, V. (2015) The core competencies for mental, neurological, and substance use disorder care in sub-Saharan Africa. Global Health Action 8: 26682, doi:10.3402/gha.v8.26682.

Conger, R.D., Wallace, L.E., Sun, Y., Simons, R.L., McLoyd, V.C. and Brody, G.H. (2002) Economic pressure in African American families: A replication and extension of the family stress model. Developmental Psychology 38: 179–193, doi:10.1037//0012-1649.38.2.179.

Cowell, R.A., Cicchetti, D., Rogosch, F.A. and Toth, S.L. (2015) Childhood maltreatment and its effect on neurocognitive functioning: Timing and chronicity matter. Development and Psychopathology 27: 521–533, doi:10.1017/S0954579415000139.

Eccles, J. (2009) Who am i and what am i going to do with my life? Personal and collective identities as motivators of action. Educational Psychologist 44: 78–89, doi:10.1080/00461520902832368.

Errázuriz, P., Cerfogli, C., Moreno, G. and Soto, G. (2016) Perception of Chilean parents on the triple P Program for improving parenting practices. Journal of Child and Family Studies 25: 3440–3449, doi:10.1007/s10826-016-0492-8.

Eyberg, S.M., Nelson, M.M. and Boggs, S.R. (2008) Evidence-based psychosocial treatments for children and adolescents with disruptive behavior. Journal of Clinical Child & Adolescent Psychology 37: 215–237.

Feinberg, M.E., Jones, D.E., Hostetler, M.L., Roettger, M.E., Paul, I.M. and Ehrenthal, D.B. (2016) Couple-focused prevention at the transition to parenthood, a randomized trial: Effects on coparenting, parenting, family violence, and parent and child adjustment. Prevention Science 17: 751–764, doi:10.1007/s11121-016-0674-z.

Forehand, R., Lafko, N., Parent, J. and Burt, K.B. (2014) Is parenting the mediator of change in behavioral parent training for externalizing problems of youth? Clinical Psychology Review 34: 608–619, doi:10.1016/j.cpr.2014.10.001.

Furlong, M., Collaboration, C., et al. (2012) Behavioural and Cognitive-Behavioural Group-Based Parenting Programmes for Early-Onset Conduct Problems in Children Aged 3 to 12 Years. Hoboken: Wiley Online Library.

Glenton, C., Lewin, S. and Scheel, I.B. (2011) Still too little qualitative research to shed light on results from reviews of effectiveness trials: A case study of a Cochrane review on the use of lay health workers. Implementation Science 6: 53.

Goeke-Morey, M.C. and Mark Cummings, E. (2007) Impact of father involvement: A closer look at indirect effects models involving marriage and child adjustment. Applied Developmental Science 11: 221–225.

Hanley, B., Truesdale, A., King, A., Elbourne, D. and Chalmers, I. (2001) Involving consumers in designing, conducting, and interpreting randomised controlled trials: Questionnaire survey. BMJ 322: 519–523.

Kaminski, J.W., Valle, L.A., Filene, J.H. and Boyle, C.L. (2008). A meta-analytic review of components associated with parent training program effectiveness. Journal of Abnormal Child Psychology 36: 567–589, doi:10.1007/s10802-007-9201-9.

Kerr, M.E. (1981) Family systems theory and therapy. In: A.S. Gurman and D.P. Kniskern (eds.) Family Systems Theory and Therapy. New York: Routledge.

Knerr, W., Gardner, F. and Cluver, L. (2013) Improving positive parenting skills and reducing harsh and abusive parenting in low-and middle-income countries: A systematic review. Prevention Science 14: 352–363.

Kohrt, M. (2016) Task-sharing and alternative care models. In: Global Mental Health: Anthropological Perspectives. Walnut Creek, CA: Left Coast Press, p. 255.

Leonard, K.E. and Eiden, R.D. (2007) Marital and family processes in the context of alcohol use and alcohol disorders. Annual Review of Clinical Psychology 3: 285–310, doi:10.1146/annurev.clinpsy.3.022806.091424.

LISGIS, Liberia Institute of Statistics and Geo-Information Services. (2008) Liberia Demographic and Health Survey 2007. Liberia: Liberia Institute of Statistics and Geo-Information Services (LISGIS) and Macro International Inc, Monrovia, Liberia.

Loop, L., Mouton, B., Stievenart, M. and Roskam, I. (2017) One or many? Which and how many parenting variables should be targeted in interventions to reduce children's externalizing behavior? Behaviour Research and Therapy 92: 11–23, doi:10.1016/j.brat.2017.01.015.

Lu, C., Black, M.M. and Richter, L.M. (2016) Risk of poor development in young children in low-income and middle-income countries: An estimation and analysis at the global, regional, and country level. The Lancet Global Health 4: e916–e922.

Mejia, A., Calam, R. and Sanders, M.R. (2012) A review of parenting programs in developing countries: Opportunities and challenges for preventing emotional and behavioral difficulties in children. Clinical Child and Family Psychology Review 15: 163–175.

Mejia, A., Ulph, F. and Calam, R. (2015) An exploration of parents' perceptions and beliefs about changes following participation in a family skill training program: A qualitative study in a developing country. Prevention Science 16: 674–684, doi:10.1007/s11121-014-0530-y.

Mejia, A., Ulph, F. and Calam, R. (2016) Exploration of mechanisms behind changes after participation in a parenting intervention: A qualitative study in a low-resource setting. American Journal of Community Psychology 57: 181–189.

Mels, C., Derluyn, I., Broekaert, E. and Rosseel, Y. (2010) The psychological impact of forced displacement and related risk factors on Eastern Congolese adolescents affected by war. Journal of Child Psychology and Psychiatry 51: 1096–1104.

Murphy, K.M., Rodrigues, K., Costigan, J. and Annan, J. (2017) Raising children in conflict: An integrative model of parenting in war. Peace and Conflict: Journal of Peace Psychology 23: 46–57, doi:10.1037/pac0000195.

Panter-Brick, C., Burgess, A., Eggerman, M., McAllister, F., Pruett, K. and Leckman, J.F. (2014) Practitioner review: Engaging fathers - recommendations for a game change in parenting interventions based on a systematic review of the global evidence. Journal of Child Psychology and Psychiatry 55: 1187–1212, doi:10.1111/jcpp.12280.

Patel, V., Boyce, N., Collins, P.Y., Saxena, S. and Horton, R. (2011) A renewed agenda for global mental health. Lancet 378: 1441–1442, doi:10.1016/S0140-6736(11)61385-8.

Puffer, E.S., Green, E.P., Chase, R.M., Sim, A.L., Zayzay, J., Friis, E., Garcia-Rolland, E. and Boone, L. (2015a) Parents make the difference: a randomized-controlled trial of a parenting intervention in Liberia. Global Mental Health 2, doi:10.1017/gmh.2015.12.

Reed, R.V., Fazel, M., Jones, L., Panter-Brick, C. and Stein, A. (2012) Mental health of displaced and refugee children resettled in low-income and middle-income countries: Risk and protective factors. The Lancet 379: 250–265.

Repetti, R.L., Taylor, S.E. and Seeman, T.E. (2002) Risky families: Family social environments and the mental and physical health of offspring. Psychological Bulletin 128: 330–366, doi:10.1037/0033-2909.128.2.330.

Sanders, M.R. (2012) Development, evaluation, and multinational dissemination of the triple P-positive parenting program. Annual Review of Clinical Psychology 8: 345–379, doi:10.1146/annurev-clinpsy-032511-143104.

Sandler, I.N., Schoenfelder, E.N., Wolchik, S.A. and MacKinnon, D.P. (2011) Long-term impact of prevention programs to promote effective parenting: Lasting effects but uncertain processes. Annual Review of Psychology 62: 299–329, doi:10.1146/annurev.psych.121208.131619.

Schmidt, S.J. and Schimmelmann, B.G. (2015) Mechanisms of change in psychotherapy for children and adolescents: Current state, clinical implications, and methodological and conceptual recommendations for mediation analysis. European Child and Adolescent Psychiatry 24: 249–253, doi:10.1007/s00787-015-0698-0.

Singla, D.R., Kumbakumba, E. and Aboud, F.E. (2015) Effects of a parenting intervention to address maternal psychological wellbeing and child development and growth in rural Uganda: A community-based, cluster-randomised trial. The Lancet Global Health 3(8): e458–e469.

Stoltenborgh, M., Bakermans-Kranenburg, M.J., Alink, L.R.A. and van IJzendoorn, M.H. (2015) The prevalence of child maltreatment across the globe: Review of a series of meta-analyses. Child Abuse Review 24: 37–50, doi:10.1002/car.2353.

Thomas, R. and Zimmer-Gembeck, M.J. (2007) Behavioral outcomes of parent-child interaction therapy and triple P—Positive parenting program: A review and meta-analysis. Journal of Abnormal Child Psychology 35: 475–495, doi:10.1007/s10802-007-9104-9.

Valentino, K. (2017). Relational interventions for maltreated children. Child Development, doi:10.1111/cdev.12735.

Walker, S.P., Wachs, T.D., Grantham-McGregor, S., Black, M.M., Nelson, C.A., Huffman, S.L., Baker-Henningham, H., Chang, S.M., Hamadani, J.D., Lozoff, B., Gardner, J.M., Powell, C.A., Rahman, A. and Richter, L. (2011) Inequality in early childhood: Risk and protective factors for early child development. Lancet 378: 1325–1338, doi:10.1016/S0140-6736(11)60555-2.

Wiggins, J.L., Mitchell, C., Hyde, L.W. and Monk, C.S. (2015) Identifying early pathways of risk and resilience: The codevelopment of internalizing and externalizing symptoms and the role of harsh parenting. Development and Psychopathology 27: 1295–1312, doi:10.1017/S0954579414001412.

Wuermli, A.J., Tubbs, C.C., Petersen, A.C. and Aber, J.L. (2015) Children and youth in low- and middle-income countries: Toward an integrated developmental and intervention science. Child Development Perspectives 9: 61–66, doi:10.1111/cdep.12108.

Yap, M.B.H., Pilkington, P.D., Ryan, S.M. and Jorm, A.F. (2013) Parental factors associated with depression and anxiety in young people: A systematic review and meta-analysis. Journal of Affective Disorders, doi:10.1016/j.jad.2013.11.007.
Acknowledgements
For their input into project design and implementation, the authors would like to thank Paul Amendola, Joanne Creighton, Julia Frazier, Esther Karnley, Geoffrey Kirenga, Ruth Z.B. Korgba-Siafa, Anjuli Shivshanker, Rufus J. Kuku, Justine Landegger, Sandra Maignant, Sarah Smith, Crystal Stewart, Katherine Rodrigues, Joanne Creighton, Eduardo Garcia-Rolland, and Laura Boone.
About this article
Cite this article
Giusto, A., Friis, E., Sim, A.L. et al. A Qualitative Study of Mechanisms Underlying Effects of a Parenting Intervention in Rural Liberia. Eur J Dev Res 29, 964–982 (2017). https://doi.org/10.1057/s41287-017-0101-8
Keywords
Liberia

young children

harsh discipline

Parenting