Abstract
Present-day development theory and practice highlight the potential of micro-entrepreneurship for poverty reduction in rural Africa. At the same time, subsequent studies show that entrepreneurial propensity is not often exhibited by subsistence farmers. Basing our analysis on a cross-section dataset from Burundi, we analyze the entrepreneurial livelihood strategies of rural households: diversifying crops, processing food for sale, supplementary wage work, and non-agricultural employment. We find that the farmers living close to subsistence level are more risk averse in their decision making and less likely to pursue these opportunities. Further, we show that risk aversion is negatively correlated to employment diversification, while there is no significant correlation for the other strategies. Employment diversification is indeed the most risk-bearing strategy that the subsistence farmers cannot afford as adverse outcomes would endanger their households' survival. Our results also suggest that this risk effect is mitigated by the participation in formal and informal networks.
La théorie et la pratique actuelles de la coopération internationale au développement mettent en évidence le potentiel du micro-entreprenariat pour la réduction de la pauvreté en Afrique rurale. Parallèlement à cela, des études ultérieures montrent que les agriculteurs de subsistance ne sont pas souvent enclins à devenir entrepreneurs. En basant notre analyse sur un ensemble de données transversales du Burundi, nous analysons les stratégies entrepreneuriales de subsistance des ménages ruraux: diversification des cultures, transformation d'aliments pour les vendre, travail salarié complémentaire et emploi non agricole. Nous constatons que les agriculteurs vivant près du niveau de subsistance sont moins enclins à prendre des risques dans leur prise de décision et moins susceptibles de poursuivre ces opportunités. En outre, nous montrons que l'aversion au risque est corrélée négativement à la diversification de l'emploi, alors qu'il n'y a pas de corrélation particulière avec les autres stratégies. La diversification de l'emploi est en effet la stratégie la plus risquée que les agriculteurs de subsistance ne peuvent pas se permettre car des résultats défavorables mettraient en danger la survie de leur ménage. Nos résultats suggèrent également que ce risque est atténué par la participation à des réseaux formels et informels.
Access options
Buy single article
Instant access to the full article PDF.
USD 39.95
Price excludes VAT (USA)
Tax calculation will be finalised during checkout.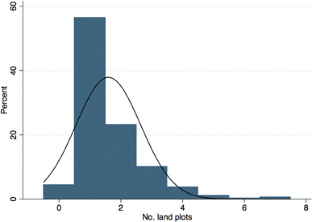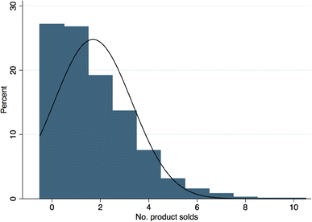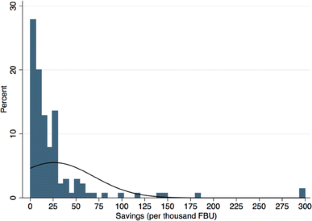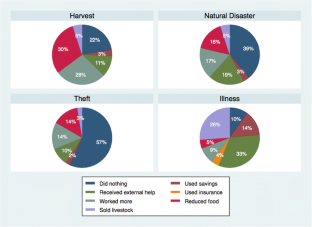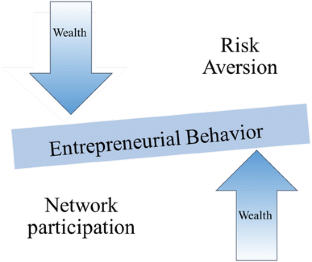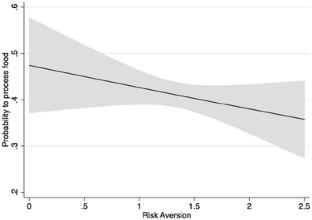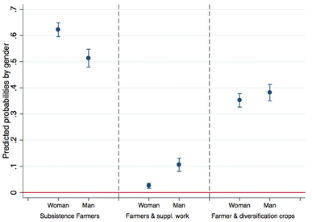 References
Akay, A., Martinsson, P., Medhin, H., and Trautmann, S. (2012) Attitudes toward uncertainty among the poor: An experiment in rural Ethiopia. Theory and Decision 73: 453–464.

Alsos, G.A., Carter, S., Ljunggren, E., and Welter, F. (2011) The Handbook of Research on Entrepreneurship in Agriculture and Rural Development. Edward Elgar, Cheltenham, UK, Northampton, USA.

Andersson Djurfeldt, A. (2013) African Re-Agrarianization? Accumulation or pro-poor agricultural growth? World Development 41: 217–231.

Baland, J.-M., Guirkinger, C., and Mali, C. (2011) Pretending to be poor: Borrowing to escape forced solidarity in Cameroon. Economic Development and Cultural Change 60(1): 1–16.

Banerjee, A., and Duflo, E. (2007) The Economic Lives of the Poor. Journal of Economic Perspectives 21(1): 141–168.

Banerjee, A. V., and Duflo, E. (2011) Poor Economics. Barefoot Hedge-Fund Managers, DIY Doctors and the Surprising Truth about Life on Less Than $1 a Day. London: Penguin Books.

Bateman, M. (2010) Why Doesn't Microfinance Work? The Destructive Rise of Local Neoliberalism. London: Zed Books.

Bauernschuster, S., Falck, O., and Heblich, S. (2010) Social capital access and entrepreneurship. Journal of Economic Behavior & Organization 76(3): 821–833.

Beauchamp, J., Cesarini, D., and Johannesson, M. (2014) The Psychometric Properties of Measures of Economic Risk Preferences. SSRN Working Paper, available at: http://scholar.harvard.edu/files/jonathanpbeauchamp/files/psychometrics_and_empirical_prop_risk_pref-paper.pdf?m=1447196643

Berner, E., Gomez, G., and Knorringa, P. (2012) Helping a large number of people become a little less poor: The logic of survival entrepreneurs. European Journal of Development Research 24(3): 382–396.

Bianchi, M., and Bobba, M. (2013) Liquidity, risk, and occupational choice. Review of Economic Studies 80(2): 491–511.

Binswanger, H.P. (1981) Attitudes toward risk: Theoretical implications of an experiment in rural India. The Economic Journal 91(364): 867–890.

Blattman, Ch., Fiala, N., and Martinez, S. (2013) Employment generation in rural Africa: Mid-term results from an experimental evaluation of the youth opportunities program in Northern Uganda. Gender Impact: The World Bank's Gender Impact Evaluation Database. Washington DC: World Bank.

Bosworth, G, McElwee, G., and Smith, R. (2015) Rural enterprise in Mexico: A case of necessity diversification. Journal of Enterprising Communities: People and Places in the Global Economy 9: 327–343.

Burt, R. S. (2000) The network structure of social capital. Research in Organizational Behavior 22: 345–423.

Cai, J., de Janvry, A., and Sadoulet, E. (2014) Social networks and the decision to insure. American Economic Journal: Applied Economics 7(2): 81–108.

Camerer, C.F., and Hogarth, R.M. (1999) The effects of financial incentives in experiments: A review and capital-labor-production framework. Journal of Risk and Uncertainty 19(1–3): 7–42.

Cardenas, J.C., and Carpenter, J. (2008) Behavioural development economics: Lessons from field labs in the developing world. Journal of Development Studies 44(3): 311–338.

Chrétien, J.P., and Mukuri, M. (2002) Burundi, la fracture identitaire. Logiques de violence et certitudes « ethniques ». Paris: Karthala.

Cochet, H. (1996) Burundi: la paysannerie dans la tourmente: éléments d'analyse sur les origines du conflit politico-éthnique. Paris: Librarie FPH.

Cochet, H. (2001) Crises et révolutions agricoles au Burundi. Paris: Inapg – Karthala.

Cochet, H. (2004) Agrarian dynamics, population growth and resource management: The case of Burundi. GeoJournal 60(1): 11–22.

Cole, S., Gine, X., and Vickery, J. (2013) How Does Risk Management Influence Production Decisions? Evidence from a Field Experiment. Policy Research Working Paper Series 6546, Washington DC: The World Bank.

Coleman, J. (1994) A rational choice perspective on economic sociology. In: N. Smelser and R. Swedberg (eds.) The Handbook of Economic Sociology, Princeton, NJ: Princeton University Press.

Cull, R., Demirgüç-Kunt, A., Morduch, J. (2009) Microfinance trade-offs, regulation, competition, and financing. The World Bank Development Policy Research Working Paper 5086; available at: http://documents.worldbank.org/curated/en/846571468339264494/pdf/WPS5086.pdf.

Curry, G. N., and Koczberski, G. (2012) Relational economies, social embeddedness and valuing labour in Agrarian change: An example from the developing world. Geographical Research 50(4): 377–392.

Davis, B., Winters, P., Carletto, G., Covarrubias, K., Quinones, E., Zezza, A., Stamoulis, K., Bonomi, G., and DiGuiseppe, S. (2007) Rural Income Generating Activities: A Cross-Country Comparison. ESA Working Paper No. 07-16, Rome: FAO.

De Vita, L., Mari, M., and Poggesi, S. (2014) Women entrepreneurs in and from developing countries: Evidences from the literature. European Management Journal 32(3): 451–460.

Di Falco, S., and Bulte, E. (2013) The impact of kinship networks on the adoption of risk-mitigating strategies in Ethiopia. World Development 43: 100–110.

Diaz-Pichardo, R., Cantu-Gonzalez, C., Lopez-Hernandez, P., and McElwee, G. (2012) From farmers to entrepreneurs: The importance of collaborative behaviour. Journal of Entrepreneurship 21(1): 91–116.

Egbert, H. (2009) Business success through social networks? A comment on social networks and business success. American Journal of Economics and Sociology 68: 665–677.

Eswaran, M., and Kotwal, A. (1990) Implications of credit constraints for risk behaviour in less developed economies. Oxford Economic Papers 42(2): 149–161.

Fafchamps, M., and Pender, J. (1997) Precautionary saving, credit constraints, and irreversible investment: Theory and evidence from semi-arid India. Journal of Business and Economic Statistics 15(2): 180–194.

Fafchamps, M. (2009) Vulnerability, risk management, and agricultural development. CEGA Working Paper Series No. AfD-0904. Berkeley: Center of Evaluation for Global Action.

Fox, L., and Sohnesen, T. (2013) Household Enterprises in Mozambique: Key to Poverty Reduction but not on the Development Agenda? Policy Research Working Paper 6570.

Gebreegziabher, K., and Tadesse, T. (2014) Risk perception and management in smallholder dairy farming in Tigray, Northern Ethiopia. Journal of Risk Research 17(3): 367–381.

Gloede, O., Menkhoff, L., and Waibel, H. (2013) Shocks, individual risk attitude, and vulnerability to poverty among rural households in Thailand and Vietnam. World Development 71: 54–78.

Green, M. (2000) Participatory development and the appropriation of agency in southern Tanzania. Critique of Anthropology 20(1): 67–89.

Grimm, M., Knorringa, P., and Lay, J. (2012) Constrained gazelles: High potentials in West Africa's informal economy. World Development 40(7): 1352–1368.

Guillen, L., Coromina, L., and Saris, W. E. (2011) Measurement of social participation and its place in social capital theory. Social Indicators Research 100(2): 331–350.

Hanson, S., and Blake, M. (2009) Gender and entrepreneurial networks. Regional Studies 43: 135–149.

Hausman, J.A. (2001) Mis-measured variables in econometric analysis: Problems from the right and problems from the left. Journal of Economic Perspectives 15(4): 57–67.

Henrich, J., and McElreath, R. (2002) Are peasants risk averse decision makers? Current Anthropology 43: 1–81.

Hoff, K., and Sen, A. (2006) The kin system as a poverty trap. In: S. Bowles, S. Durlauf and K. Hoff (eds.) Poverty Traps. Princeton: Princeton University Press, pp. 95–115.

Hopkins, D.J., and King, G. (2010) Improving anchoring vignettes: Designing surveys to correct interpersonal Incomparability. Public Opinion Quarterly 74(2): 201–222.

Iversen, J., Jorgensen, R., and Malchow-Moller, N. (2008) Defining and Measuring Entrepreneurship: Foundations and Trends in Entrepreneurship. Hanover, M.A.: Now Publishers.

Jayachandran, S. (2006) Selling labor low: Wage responses to productivity shocks in developing countries. Journal of Political Economy 114(3):538–575.

Kabeer, N. (2011) Between affiliation and autonomy. Navigating pathways of women's empowerment and gender justice in Bangladesh. Development and Change 42(2): 499–528.

Kanbur, R., and Squire, L. (2001) The evolution of thinking about poverty. In: G.M. Meier and J.E. Stiglitz (eds.) Frontiers of Development Economics. Oxford: Oxford University Press, pp. 183–227.

Kapteyn, A., Smith, J., and Van Soest, A. (2007) Vignettes and self-reports of work disability in the U.S., and the Netherlands. American Economic Review 97: 461–473.

Karlan, D., Osei, R., Osei-Akoto, I., and Udry, Ch. (2014) Agricultural decisions after relaxing credit and risk constraints. The Quarterly Journal of Economics 129(2): 597–652.

Karnani, A. (2007) Fortune at the bottom of the pyramid: A mirage. How the private sector can alleviate poverty. California Management Review 49(4): 90–111.

Kasseeah, H., and Tandrayen-Ragoobur, V. (2014) Women in the informal sector in Mauritius: a survival mode. Equality, Diversity & Inclusion 33(8): 750–763.

Kolenikov, S., and Angeles, G. (2009) Socio-economic status measurement with discrete proxy variables: Is principal component analysis a reliable answer? Review of Income and Wealth 55(1): 128–165.

Langevang, T., Namatovu. R., and Dawa, S. (2012) Beyond necessity and opportunity entrepreneurship: Motivations and aspirations of young entrepreneurs in Uganda. International Development Planning Review 34(4): 439–460.

Lin, N., and Ao, D. (2008) The invisible hand of social capital: An exploratory study. In: N. Lin and B. Erickson (eds.) Social Capital: An International Research Program. New York: Oxford University Press, pp. 107–132.

London, T., and Hart, S.L. (2004) Reinventing strategies for emerging markets: Beyond the transnational model. Journal of International Business Studies 35: 350–370.

Mosley, P., and Verschoor, A. (2005) Risk attitudes and the 'vicious circle of poverty'. European Journal of Development Research 17: 59–88.

Narayan, D., and Pritchett, L. (1999) Cents and sociability: Household income and social capital in rural Tanzania. Economic Development and Cultural Change 47(4): 871–897.

Niragira, S., D'Haese, M., D'Haese, L., Ndimubandi, J., Desiere, S., and Buysse, J. (2015) Food for survival: Diagnosing crop patterns to secure lower threshold food security levels in farm households of Burundi. Food and Nutrition Bulletin 36(2): 196–210.

Nisrane, F., Berhane, G., Asrat, S., Getachew, G., Taffesse, A. S., and Hoddinott, J. (2011) IFPRI Working Paper: Sources of Inefficiency and Growth in Agricultural Output in Subsistence Agriculture: A Stochastic Frontier Analysis. Ethiopia Strategy Support Program (ESSP II), 1–52. Retrieved from: www.ifpri.org.

Oya, C. (2007) Stories of rural accumulation in Africa: Trajectories and transitions among rural capitalists in Senegal. Journal of Agrarian Change 7(4): 453–493.

Poon, J.P.H., Thai, D.T., and Naybor, D. (2012) Social capital and female entrepreneurship in rural regions: Evidence from Vietnam. Applied Geography 35(1–2): 308–315.

Prahalad, C.K. (2004) The Fortune at the Bottom of the Pyramid. Philadelphia: Wharton School Publishing.

Putnam, R. (2000) Bowling Alone: The Collapse and Revival of American Community. New York: Simon and Schuster.

Reardon, T., Berdegue, J., Barrett, C., and Stamoulis, K. (2006) Household Income Diversification into Rural Non-Farm Activities. Baltimore: Johns Hopkins University

Rijkers, B., and Costa, R. (2012) Gender and rural non-farm entrepreneurship. World Development 40(12): 2411–2426.

Riley, K. (2009) Participation and the state: Towards an anthropological view. New Proposals: Journal of Marxism and Interdisciplinary Inquiry 2: 24–30.

Rutstein, S.-O., and Johnson, K. (2004) The DHS wealth index. DHS Comparative Reports, No. 6.

Sabatini, F. (2009) Social capital as social networks: A new framework for measurement and an empirical analysis of its determinants and consequences. Journal of Socio-Economics 38(3): 429–442.

Schnegg, M. (2015) Reciprocity on demand. Human Nature 26(3): 313–330.

Scott, J. (1977) The Moral Economy of the Peasant: Rebellion and Subsistence in Southeast Asia. New Haven, CT and London: Yale University Press.

Shakya, Y. B., and Rankin, K. N. (2008) The politics of subversion in development practice: An exploration of microfinance in Nepal and Vietnam. The Journal of Development Studies 44(8): 1214–1235.

Sridharan, S., Maltz, E., Viswanathan, M., and Gupta, S. (2014) Transformative Subsistence Entrepreneurship: A Study in India. Journal of Macromarketing 34(4): 486–504.

Sutter, M., Kocher, M. G., Glätzle-Rützler, D., and Trautmann, S.T. (2013) Impatience and uncertainty: Experimental decisions predict adolescents' field behavior. American Economic Review 103(1): 510–531.

Szirmai, A., Gebreeyesus, M., Guadagno, F., and Verspagen, B. (2013) Promoting productive employment in sub-Saharan Africa. A review of the literature. Knowledge Platform Development Policies of the Ministry of Foreign Affairs of the Netherlands (April), 1–59.

Teweldemedhin, M. Y., and Kapimbi, Y. (2012) Factors influencing enterprise diversification as a risk strategy management in Namibia: A case study of communal farmers from the Kunene region. International Journal of Agro Science 2(September), 845–853.

UNDP (2012) BURUNDI Millennium Development Report. Available at: www.undp.org.

UNDP (2013) Human Development Report 2013: Burundi. Available at: http://hdr.undp.org/sites/default/files/Country-Profiles/BDI.pdf.

Venugopal, S., Viswanathan, M., and Jung, K. (2015) Consumption constraints and entrepreneurial intentions in subsistence marketplaces. Journal of Public Policy & Marketing 34(2): 235–251.

Venugopal, S., and Viswanathan, M. (2017) The subsistence marketplaces approach to poverty. Marketing Theory 17(3): 341–356.

Vieider, F. M., Lefebvre, M., Bouchouicha, R., Chmura. T., Hakimov, R., Krawczyk, M., and Martinsson, P. (2015) Common components of risk and uncertainty attitudes across contexts and domains: Evidence from 30 countries. Journal of the European Economic Association 13(3): 421–452.

Vieider, F. M., Truong, N., Martinsson, P., and Nam, P. K. (2013) Risk Preferences and Development Revisited. WZB Discussion Paper, No. SP II 2013-403, available at: http://www.ferdinandvieider.com/01_Vietnam_risk_complete.pdf

Viswanathan, M. (2016) Bottom-Up Enterprise: Insights From Subsistence Marketplaces. EBookpartnership.

Viswanathan, M., and Venugopal, S. (2015) Subsistence marketplaces: Looking back, looking forward. Journal of Public Policy & Marketing 34(2): 228–234.

Viswanathan, M., Echambadi, R.,Venugopal, S., and Sridharan, S. (2014a) Subsistence entrepreneurship, value creation, and community exchange systems. A social capital explanation. Journal of Macromarketing 34(2): 213–226.

Viswanathan, M., Gajendiran, S., and Venkatesan, R. (2008) Understanding and enabling marketplace literacy in subsistence contexts: The development of a consumer and entrepreneurial literacy educational program in South India. International Journal of Educational Development 28(3): 300–319.

Viswanathan, M., Shultz, C. J., and Sridharan, S. (2014b) Introduction to the special issue on subsistence marketplaces: From micro-level insights to macro-level impact. Journal of Macromarketing 34(2): 119–121.

Viswanathan, M., Sridharan, S., and Ritchie, R. (2010) Understanding consumption and entrepreneurship in subsistence marketplaces. Journal of Business Research 63(6): 570–581.

Viswanathan, M., Sridharan, S., Ritchie, R., Venugopal, S., and Jung, K. (2012) Marketing interactions in subsistence marketplaces: A bottom-up approach to designing public policy. Journal of Public Policy & Marketing 31(2): 159–177.

Wik, M., Aragie Kebede, T., Bergland, O., and Holden, S. T. (2004) On the measurement of risk aversion from experimental data. Applied Economics 36(21): 2443–2451.

Williams, N., and Williams, C. C. (2014) Beyond necessity versus opportunity entrepreneurship: Some lessons from English deprived urban neighborhoods. International Entrepreneurship and Management Journal 10(1): 23–40.

Woolcock, M. (2001) Microenterprise and social capital: A framework for theory, research, and policy. The Journal of Socio-Economics 30(2):193–198.

Yang, D.T., and An, M.Y. (2002) Human capital, entrepreneurship, and farm household earnings. Journal of Development Economics 68(1): 65–88.

Yesuf, M., and Bluffstone, R.A. (2009) Poverty, risk aversion, and path dependence in low-income countries: Experimental evidence from Ethiopia. American Journal of Agricultural Economics 91(4): 1022–1037.
Acknowledgements
This research was made possible through the funding of the FNRS/FRFC research project Microfinance services, intra-household behavior, and welfare in developing countries: a longitudinal and experimental approach. This paper has been completed in the framework of an Interuniversity Attraction Pole funded by the Belgian Science Policy Office, If not for Profit, for What and How? The authors contributed equally. Katarzyna Cieslik acknowledges the financial support from the Marie and Alain Philippson Foundation. Olivia D'Aoust acknowledges the financial support from the Fonds National de la Recherche Scientifique (FNRS).
Additional information
This research was performed when both authors were at Universite Libre de Bruxelles (European Center for Advanced Research in Economics and Statistics and Center for European Resesarch in Microfinance). All remaining errors are our own.
Appendix 1: Risk attitudes – vignette questions (translated from French)
Appendix 1: Risk attitudes – vignette questions (translated from French)
Questions

Risk attitude: 0 – very risk averse, 3 – not risk averse

1. If you are not certain how risky a job/commercial activity is, you become anxious

1–0

4–3

 1. Strongly agree

 2. Agree

 3. Disagree

 4. Strongly disagree

2. In your daily life, you are more risk taking than others

1–3

4–0

 1. Strongly agree

 2. Agree

 3. Disagree

 4. Strongly disagree

3. Imagine that you are suffering from a severe leg pain. You have two options:

 Option A: You can take a palliative medicine but it will not cure your leg.

 Option B: You can take a curative medicine, but it involves a low risk of death.

Which of these options would you choose?

 1. Option A

 2. Option B

 3. I don't care

 4. I don't know

4. Imagine you have enough money to start a business. You have two options.

 Option A: A business that generates high profits but that bears continuous risk of loss.

 Option B: A business that generates low profits but any without risk of loss.

Which of these options would you choose?

 1. Option A

 2. Option B

 3. I don't care

 4. I don't know
About this article
Cite this article
Cieslik, K., D'Aoust, O. Risky Business? Rural Entrepreneurship in Subsistence Markets: Evidence from Burundi. Eur J Dev Res 30, 693–717 (2018). https://doi.org/10.1057/s41287-017-0100-9
Published:

Issue Date:

DOI: https://doi.org/10.1057/s41287-017-0100-9
Keywords
rural entrepreneurship

risk aversion

subsistence farming

Burundi

social networks