Abstract
Modern societies are increasingly characterised by complex multilevel governance mechanisms. Nonetheless, evaluations of how development initiatives are implemented with respect to the international aid effectiveness agenda have embraced this multilevel complexity only to a limited extent. The purpose of this paper is twofold. Firstly, to place the discussion on aid effectiveness within a multilevel governance perspective, going beyond country assessments. Secondly, to evaluate the Paris principles in terms of dynamic processes rather than simply outcomes, thus entailing the need for systemic evaluations, also through participatory methods. The Ethio-Italian cooperation project "Agricultural Value Chains in Oromia" is analysed as a case study, assessing its coherence with the Paris Declaration on aid effectiveness by involving stakeholders at different levels. Overall, the project's focus on transformative quality-oriented value chain processes is proved to substantially shape dynamic multi-stakeholder interactions in enhancing Paris principles at local, national and international levels.
Les sociétés modernes sont caractérisés par des mécanismes de gouvernance complexes et a plusieurs niveaux. Néanmoins, cette complexité n'a été étudié que partiellement dans les évaluations de comment les initiatives de développement sont implémentes au sein de l'agenda international de l'efficacité de l'aide. Cette étude a deux buts : d'abord, de placer la discussion sur l'efficacité de l'aide au sein de la perspective de gouvernance multiniveaux, au-delà des évaluations de pays individuels. Ensuite, on évalue les principes de Paris comme des principes dynamiques, et pas seulement comme des résultats, à travers des méthodes participatives et des évaluations systématiques. Le projet « Chaines de valeur agricultural en Oromia » , une coopération Italo-Ethiopienne, est utilisé comme étude de cas. On évalue sa cohérence avec la Déclaration de Paris sur l'efficacité de l'aide impliquant des parties prenantes à différents niveaux. On révèle comment l'objectif du projet, c'est-à-dire le procès transformationnel dans la chaine de valeur cible sur la qualité, façonne de forme dynamique les interactions multilatérales en améliorant les principes de Paris a niveau locale, nationale et internationale.
This is a preview of subscription content, log in to check access.
Access options
Buy single article
Instant access to the full article PDF.
US$ 39.95
Price includes VAT for USA
Subscribe to journal
Immediate online access to all issues from 2019. Subscription will auto renew annually.
US$ 122
This is the net price. Taxes to be calculated in checkout.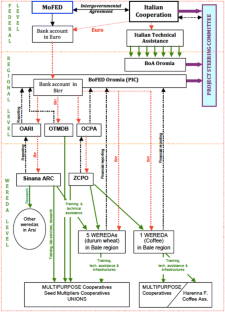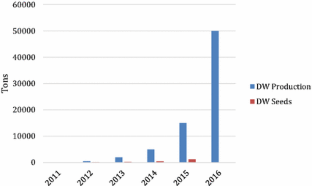 References
Abate, G.T., Francesconi, G.N. and Getnet, K. (2014) Impact of agricultural cooperatives on smallholders' technical efficiency: Empirical evidence from Ethiopia. Annals of Public and Cooperative Economics 85(2): 257–286.

Abebaw, D. and Haile, M.G. (2013) The impact of cooperatives on agricultural technology adoption: Empirical evidence from Ethiopia. Food Policy 38: 82–91.

Altenburg, T. (2006a) Introduction to the special issue: Shaping value chains for development. The European Journal of Development Research 18(4): 493–497.

Altenburg, T. (2006b) Governance patterns in value chains and their development impact. The European Journal of Development Research 18(4): 498–521.

Altenburg, T. (2007) Donor approaches to supporting pro-poor value chains. Report Prepared for the Donor Committee For Enterprise Development, Working Group on Linkages and Value Chains. Bonn: German Development Institute.

AVCPO (2010) Project Implementation Document – Annex A. Firenze: IAO – Overseas Agronomic Institute.

Barrientos, S. and Smith, S. (2007) Do workers benefit from ethical trade? Assessing codes of labour practice in global production systems. Third World Quarterly 28(4): 713–729.

Barrientos, S., Dolan, C. and Tallontire, A. (2003) A gendered value chain approach to codes of conduct in African horticulture. World Development 31(9): 1511–1526.

Barrientos, S., Gereffi, G. and Rossi, A. (2010) Economic and social upgrading in global production networks: Developing a framework for analysis. Capturing the Gains' Working Paper No. 3, University of Manchester.

Bernard, T., Taffesse, A.S. and Gabre-Madhin, E. (2008) Impact of cooperatives on smallholders' commercialization behaviour: Evidence from Ethiopia. Journal of Agricultural Economics 39(2): 147–161.

Biggeri, M. and Ferrannini, A. (2014a) Sustainable Human Development: A New Territorial and People-Centred Perspective. Basingstoke and New York: Palgrave Macmillan.

Biggeri, M. and Ferrannini, A. (2014b) Opportunity gap analysis: Procedures and methods for applying the capability approach in development initiatives. Journal of Human Development and Capabilities 15(1): 60–78.

Biggeri, M. and Ferrannini, A. (2015) The evaluation of complex development programs: An application of a mixed methods procedure proposal. Paper presented at the HDCA Annual Conference on Capabilities on the Move: Mobility and Aspirations, 10–13 September, Washington, DC.

Billings, L.L., Thiessen, M. and Witwicki, N. (2004) Value Chain Guidebook. A Process for Value Chain Development. Nisku, AB: Value Chain Initiative and Agriculture and Food Council of Alberta.

Bolwig, S., Ponte, S., Du Toit, A., Riisgaard, L. and Halberg, N. (2010) Integrating poverty and environmental concerns into value-chain analysis: A conceptual framework. Development Policy Review 28(2): 173–194.

Bossuyt, J. and Steenbergen, K. (2012) Development Effectiveness at the Local and Regional Level. Brussels: Platforma – The European Voice of Local and Regional Authorities for Development.

Chiari, T. (2013) Agricultural Value Chains Project in Oromia. Presented at the High-level Stakeholders Meeting, 5 September, Addis Ababa.

Delarue, J. and Chocet, H. (2013) Systemic impact evaluation: A methodology for complex agricultural development projects. The case of a contract farming project in Guinea. The European Journal of Development Research 25(5): 778–796.

DeLog (2011) Busan and Beyond: Localising Paris Principles for More Effective Support to Decentralisation and Local Governance Reforms. Bonn: Development Partners Working Group on Decentralisation & Local Governance.

Faysse, N. and Simon, C. (2014) Holding all the cards? Quality management by cooperatives in a Moroccan dairy value chain. The European Journal of Development Research 27(1): 140–155.

Francesconi, G.N. and Heerink, N. (2010) Ethiopian agricultural cooperatives in an era of global commodity exchange: Does organizational form matter? Journal of African Economies 20: 1–25.

Gereffi, G. and Korzeniewicz, M. (eds.). (1994) Commodity Chains and Global Capitalism. London: Praeger.

Getnet, K. and Tsegaye, A. (2012) Agricultural cooperatives and rural livelihoods: Evidence from Ethiopia. Annals of Public and Cooperative Economics 83(2): 181–198.

Giuliani, E., Pietrobelli, C. and Rabellotti, R. (2005) Upgrading in global value chains: Lessons from Latin American clusters. World Development 33(4): 527–547.

GTZ (2007) Value Links Manual – The Methodology of Value Chain Promotion. Eschborn: German Technical Cooperation.

Gujit, I. and Roche, C. (2014) Does impact evaluation in development matter? Well, it depends what it's for. The European Journal of Development Research 26(1): 46–54.

Harrison, G.W. (2014) Impact evaluation and welfare evaluation. The European Journal of Development Research 26(1): 39–45.

Herr, M.L. and Muzira, T.J. (2009) Value Chain Development for Decent Work: A Guide for Development Practitioners, Government and Private Sector Initiatives. Geneva: International Labour Organization.

Humphrey, J. (2006) Policy implications of trends in agribusiness value chains. The European Journal of Development Research 18(4): 572–592.

Humphrey, J. and Navas-Alemán, L. (2010) Value Chains, Donor Interventions and Poverty Reduction: A Review of Donor Practice. IDS Research Report, No. 63, Institute of Development Studies, Brighton.

Kaplinsky, R. (2000) Globalisation and unequalisation: What can be learned from value chain analysis?. The Journal of Development Studies 37(2): 117–146.

Kaplinsky, R. and Morris, M. (2000) A Handbook for Value Chain Research. Working Paper Prepared for the IDRC, Institute of Development Studies, Brighton.

Kenny, C. (2008) What is effective aid? How would donors allocate it? The European Journal of Development Research 20(2): 330–346.

Kindornay, S. (2011) From Aid to Development Effectiveness. The North-South Institute Working Paper, Ottawa.

Lensink, R. (2014) What can we learn from impact evaluations? The European Journal of Development Research 26(1): 12–17.

Mehrotra, S. and Biggeri, M. (2007a) Subcontracting and homework in the value chain. In: S. Mehrotra and M. Biggeri (eds.) Asian Informal Workers: Global Risks Local Protection. London and New Delhi: Routledge, pp. 62–81.

Mehrotra, S. and Biggeri, M. (eds.). (2007b) Asian Informal Workers: Global Risks, Local Protection. London and New Delhi: Routledge.

Picciotto, R. (2014) Is impact evaluation evaluation? The European Journal of Development Research 26(1): 31–38.

Ponte, S. and Gibbon, P. (2005) Quality standards, conventions and the governance of global value chains. Economy and Society 34(1): 1–31.

Pyke, F. and Senberger, W. (eds.). (1992) Industrial Districts and Local Economic Regeneration. Geneva: International Institute for Labour Studies.

Reardon, T., Barrett, C.B., Berdegué, J.A. and Swinnen, J.F. (2009) Agrifood industry transformation and small farmers in developing countries. World Development 37(11): 1717–1727.

Saarelainen, E. and Sievers, M. (2011) Combining value chain development and local economic development. ILO Value Chain Development Briefing Paper, No. 1, International Labour Organization, Geneva.

Sen, A.K. (1999) Development as Freedom. Oxford: Oxford University Press.

Stamm, A. and von Drachenfels, C. (2011) Value Chain Development. Approaches and Activities by Seven UN Agencies and Opportunities for Interagency Cooperation. Geneva: International Labour Organization.

Stern, E.D., Altinger, L., Feinstein O., Maranon, M., Schulz, N.S. and Nielsen, N.S. (2008) Thematic Study on the Paris Declaration, Aid Effectiveness and Development Effectiveness. Copenhagen: Ministry of Foreign Affairs.

Teigist, L. (2008) Growth without structures: the cooperative movement in Ethiopia. In: P. Develtere, I. Pollet and F. Wanyama (eds.) Cooperating Out of Poverty: The Renaissance of the African Cooperative Movement. Geneva: International Labor Office and World Bank Institute, pp. 128–152.

UCLG (2009) UCLG Position Paper on Aid Effectiveness and Local Government. Understanding the Link between Governance and Development. Barcelona: United Cities and Local Government.

Wanyama, F.O., Develtere, P. and Pollet, I. (2009) Reinventing the wheel? African cooperatives in a liberalized economic environment. Annals of Public and Cooperative Economics 80(3), 361–392.
Acknowledgments
We would like to express our gratitude to all farmers, leaders of cooperatives and unions and representatives of local governments in the three Weredas we visited, as well as the several key informants, for their contribution to this research. We are most grateful to Genene Gezu of AVCPO, Tesfaye Letta Dugo, Mulusew Fikere, Falmata Gezachew Nasisaa and Tadele Tadesse of SARC, and Tiberio Chiari and Lorenzo Orioli of IAO for their crucial support in organising the research and facilitating the meetings and the focus group discussions. Finally, we would like to thank the anonymous referee(s) for providing us with helpful feedbacks on this paper.
About this article
Cite this article
Biggeri, M., Ciani, F. & Ferrannini, A. Aid Effectiveness and Multilevel Governance: The Case of a Value Chain Development Project in Rural Ethiopia. Eur J Dev Res 29, 843–865 (2017). https://doi.org/10.1057/s41287-016-0064-1
Keywords
aid effectiveness

Paris principles

multilevel governance

value chain development

cooperatives

participatory methods

Ethiopia