Abstract
Turkey witnessed a remarkable transformation over the last century. However, the female labour force participation rate (FLFPR) stagnated around 30 per cent, well below the OECD average. In this study, the determinants of female labour force participation are analysed with a special focus on the effects of traditionalism. Using probit and multinomial logit models as well instrumental variable approach, the effects of traditional norms for 3 sectors and 5 job statuses are estimated. Widely used determinants in the literature such as own education, fertility and maternity conditions are found significant with expected signs where own education has the biggest impact on labour force participation and employment. Finally, it is found that women who were raised under a traditional culture have a lower probability to participate to labour force and find jobs. These detrimental effects are stronger in services sector and among regular/waged workers.
La Turquie s'est beaucoup transformée au cours du dernier siècle. Cependant, la participation féminine au marché du travail (en anglais : FLFPR) est reste autour de 30 pourcent, bien au-dessus de la moyenne OECD. Ici on étude les déterminants du FLFPR, portant une attention particulière au effet du traditionalisme. Utilisant des modelés probit, logit multinomial, et de variable instrumentale, on estime quels sont les effets que les normes traditionnelles ont sur trois secteurs et sur cinq types de travail. D'autres déterminants, déjà beaucoup étudiés (comme l'éducation, la fertilité, et la grossesse) sont significatives aussi; l'éducation ayant l'impact le plus important sur la participation au monde du travail, comme prévu. Les femmes élevées au sein d'une culture traditionnelle ont une probabilité mineure de participer au marché du travail. Ces effets négatifs sont plus marqués dans le secteur des services, et parmi les salariés et les travailleurs réguliers.
Access options
Buy single article
Instant access to the full article PDF.
USD 39.95
Price excludes VAT (USA)
Tax calculation will be finalised during checkout.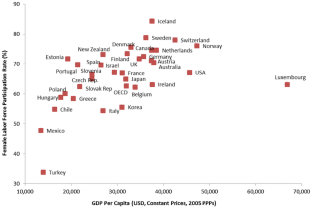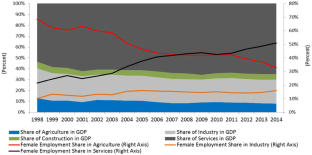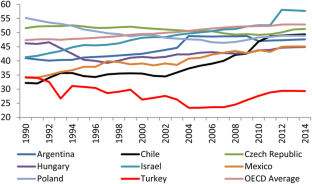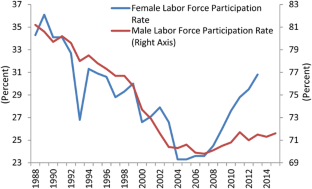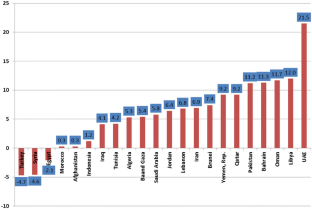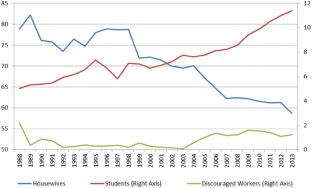 References
Ahn, N. and Mira P. (2002) A note on the changing relationship between fertility and female employment rates in developed countries. Journal of Population Economics 15: 667–682.

Alesina, A.F., Giuliano P. and Nunn N., (2013) On the origins of gender roles: Women and the plough. Quarterly Journal of Economics 128(2): 469–530.

Antecol, H. (2000) An examination of cross-country differences in the gender gap in labour force participation rates. Labour Economics 7: 409–426.

Antecol, H. (2003) Why Is There Cross-country Variation In Female Labour Force Participation Rates? The Role of Male Attitudes Toward Family and Sex Roles. Claremont Colleges Working Papers No. 2003-03.

Aslam, M., Kingdon G. and Soderbom M. (2008) Is female education a pathway to gender equality in the labour market? Some evidence from Pakistan. In: Tembon, M., Fort, L. (eds.) Girls' Education in the 21st Century: Gender Equality, Empowerment, and Economic Growth. Washington, DC: World Bank.

Baslevent, C. and Onaran O. (2003) Are married women in turkey more likely to become added or discouraged workers? Labour 17(3): 439–458.

Baslevent, C. and Onaran, O. (2004) The effect of export-oriented growth on female labour market outcomes in Turkey. World Development r 32(8): 1375–1393.

Bussmann, M. (2009) The effect of trade openness on women's welfare and work life. World Development 37(6): 1027–1038.

Cagatay, N. and Ozler S. (1995) Feminization of the labour force: The effects of long-term development and structural adjustment, World Development 23(11): 1883–1894.

Cameron, L.A., Dowling, J.M. and Worswick C. (2001) Education and labour market participation of women in Asia: Evidence from five countries. Economic Development and Cultural Change 49(3): 459–477.

Chamlou, N., Muzi, S. and Ahmed, H. (2011) Understanding the Determinants of Female Labor Force Participation in the Middle East and North Africa Region: The Role of Education and Social Norms in Amman. Working Paper No. 31, AlmaLaurea Inter-University Consortium, Bologna, Italy.

Clark, R., Ramsbey, T.W. and Adler, E.S. (1991) Culture, gender, and labour force participation: A cross-national study. Gender and Society 5(1): 47–66.

Dayioglu, M. (2000) Labour market participation of women in Turkey. In: F. Acar and A. Gunes-Ayata (eds) Gender and Identity Construction: Women in Central Asia, the Caucasus and Turkey. Köln: Brill, pp. 44–73.

Dedeoglu, S. (2010) Visible hands - invisible women: Garment production in Turkey, Feminist Economics 16(4): 1–32.

Del Boca, D., Pasqua S. and Pronzato C. (2009) Motherhood and market work decisions in institutional context: A European perspective. Oxford Economic Papers 61(suppl 1): 147–171.

Dildar, Y. (2015) Patriarchal norms, religion, and female labour supply: Evidence from Turkey. World Development 76: 40–61.

Ecevit, Y. (1998) The Impact of Restructuring on Women's Labour in Turkey since 1980s. In: Women and Work in the Mediterranean Conference.

Farré, L. and Vella F. (2007) The Intergenerational Transmission Of Gender Role Attitudes And Its Implications For Female Labour Force Participation. Instituto Valenciano de Investigaciones Económicas Working Paper Serie AD 2007-2023, S.A. (Ivie).

Fernández, R. (2013) Cultural change as learning: The evolution of female labor force participation over a century. American Economic Review 103(1): 472–500.

Fernandez, R. and Fogli. A. (2009) Culture: An empirical investigation of beliefs, work, and fertility. American Economic Journal: Macroeconomics 1(1): 146–77.

Fernandez, R., Fogli, A., Olivetti C. (2004) Mothers and sons: Preference formation and female labour force dynamics. Quarterly Journal of Economics 119: 1249–1299.

Fortin, N. (2005) Gender role attitudes and labour market outcomes of women across OECD countries. Oxford Reviews of Economic Policy 21(3): 416–438

Franz, W. (1985) An economic analysis of female work participation, education, and fertility: Theory and empirical evidence for the Federal Republic of Germany. Journal of Labour Economics 3:1, Part 2: Trends in Women's Work, Education, and Family Building, pp. 218–234.

Gaddis, I. and Klasen S. (2014) Economic development, structural change, and women's labour force participation. Journal of Population Economics 27(3): 639–681.

Galor, O. (2012) The Demographic transition: Causes and consequences. Clinometrica 5: 1–28.

Gedikli, C. (2014) Female Labour Supply in Turkey: Do Traditional Gender Roles Matter? In: Paper Prepared for the IARIW 33rd General Conference Rotterdam, The Netherlands.

Goksel, I. (2012) The reasons of decreasing trend of female labour force participation in Turkey: The Role Of Conservatism. Izmir University of Economics Working Papers 1205.

Goldin C. (1995) The U-shaped female labour force function in economic development and economic history. In:T. PaulSchultz (ed.) Schultz TP Investment in Women's Human Capital and Economic Development. Chicago, IL: University of Chicago Press, pp. 61–90.

Guiso, L., Sapienza, P., and Zingales L. (2003) People's opium? Religion and economic attitudes. Journal of Monetary Economics 50: 225–282.

Gulesci, S. and Meyersson. E. (2015) For the Love of the Republic' Education, Religion, and Empowerment in Turkey. Working Paper, Downloaded from http://goo.gl/Vncpq.

Gunduz-Hosgor, A. and Smits, J. (2008) Variation in labor market participation of married women in Turkey. Women's Studies International Forum 31: 104–117.

Hayo, B. and Caris T. (2013) Female labour force participation in the MENA region: The role of identity. Review of Middle East Economics and Finance 9(3): 271–292.

Hazan, M. and Maoz, D.Y. (2002) Women's labor force participation and the dynamics of tradition. Economics Letters 75(2): 193–198.

Heathcote, J., Storesletten, K. and Violante G. (2010) The macroeconomic implications of rising wage inequality in the United States. Journal of Political Economy 118(4): 681–722.

Heineck, G., (2004) Does Religion Influence the Labour Supply of Married Women in Germany? The Journal of Socio-Economics 33(3): 307–328.

Johnston, D. W., Schurer, S., and Shields, M. A. (2012) Maternal Gender Role Attitudes, Human Capital Investment, and Labour Supply of Sons and Daughters. IZA Discussion Papers 6656, Institute for the Study of Labour (IZA).

Kasnakoglu, Z. and Dayioglu M. (2002), Measuring the value of home production in Turkey. In: T. Bulutay (eds.) The New Developments in National Accounts. SIS: Ankara.

Kawaguchi, D. and Miyazaki, J. (2009) Working mothers and sons' Preferences regarding female labour supply: Direct evidence from stated preferences. Journal of Population Economics 22: 115–130.

Kizilirmak, B. (2008) Labour market participation decisions of married women: Evidence from Turkey. In: A. Deshpande (ed.) Globalization and Development: A Handbook of New Perspective. Oxford: Oxford University Press.

Knudsen, K. and Waerness, K. (2001) National context, individual characteristics and attitudes on mothers' employment: A comparative analysis of Great Britain, Sweden and Norway. Acta Sociologica 44(1): 67–79.

Lee, D. and Wolpin K. I. (2010) Accounting for wage and employment changes in the US from 1968 to 2000: A dynamic model of labour market equilibrium. Journal of Econometrics 156(1): 68–85.

Mammen, K. and Paxson C. (2000) Women's work and economic development. Journal of Economic Perspectives 14(4): 141–164.

Meyer, L.B. (2006) Trade liberalization and women's integration into national labour markets: A crosscountry analysis. Social Indicators Research 75(1): 83–121.

Mishra, V. and Smyth, R. (2010) Female labour force participation and total fertility rates in the OECD: New evidence from panel cointegration and granger causality testing. Journal of Economics and Business 62(1): 48–64.

Olson, L.R. and Green, J.C. (2006) The religion gap. PS: Political Science & Politics 39: 455–59.

O'Neil, M.L. and Bilgin. M.H. (2013) Religion as a factor influencing women's decisions to work. Journal of International Women's Studies 14(3): 163–173.

Pancaroglu, N.S. (2006) Problems of women participation in labor force and employment in urban areas: The case of Izmit. Unpublished Master's Thesis. Kocaeli University, Kocaeli.

Psacharopoulos, G. and Tzannatos Z. (1989) Female labour force participation: An international perspective. World Bank Research Observer 4(2): 187–201.

Reimers, C.W. (1985) Cultural differences in labour force participation among married women. The American Economic Review 75(2): 251–255.

Semyonov, M. (1980) The social context of women's labour force participation: A comparative analysis. American Journal of Sociology 86(3): 534–550.

Sinha, J.N. (1967) Dynamics of Female Participation in Economic Activity in a Developing Economy. In: Proceedings of the World Population Conference Belgrade (Vol. 4), pp. 336–337.

Tam, H. (2011) U-shaped female labour participation with economic development: Some panel data evidence. Economics Letters 110(2): 140–142.

Tansel, A. (2002) Economic development and female labour force participation in Turkey: Time-series evidence and cross-province estimates. ERC Working Papers 0105, ERC – Economic Research Center, Middle East Technical University.

Taymaz, E. (2009) Growth, employment, skills and female labour force. State Planning Organisation of the Republic of Turkey and World Bank Welfare and Social Policy Analytical Work Program Working Papers No. 6, Ankara.

Thornton, A, Alwin, D.F and Camburn, D. (1983) Causes and consequences of sex-role attitudes and attitude change. American Sociological Review 48(2): 211–227.
About this article
Cite this article
Atasoy, B.S. Female Labour Force Participation in Turkey: The Role of Traditionalism. Eur J Dev Res 29, 675–706 (2017). https://doi.org/10.1057/s41287-016-0013-z
Published:

Issue Date:

DOI: https://doi.org/10.1057/s41287-016-0013-z
Keywords
development

inequality

poverty

labour

growth