Abstract
The body as a thick and complex materiality has been populating social sciences in the last three decades in a critical mode toward both naturalism and social constructionism. The body has been progressively theorized in terms of what is established, even though flexible. In other words, as the structural metaphor of knowledge. The co-construction of bodies is not reduced to the politics of mirroring, truth-discovery, and what I was interested to highlight is how the cosmetic and photographic tactile gaze operates on the body as a tabula rasa. The focus on the skin allows precisely to challenge the flat/flattering approach to the body that negates its multilayered subjectivity. How does the beauty labour transform the body and attitudes in YouTube skincare culture and cinema? How does the photographic rupture shape the embodied reactions of new digital identities? The present study investigated visual culture through which the skin has become a subject-matter per se in cinema and YouTube.
Access options
Buy single article
Instant access to the full article PDF.
USD 39.95
Price excludes VAT (USA)
Tax calculation will be finalised during checkout.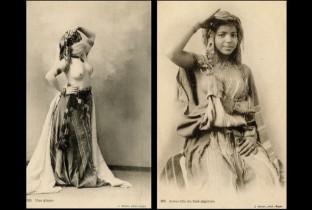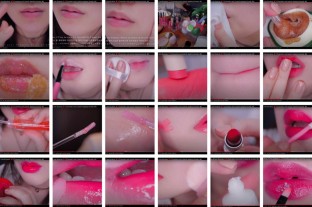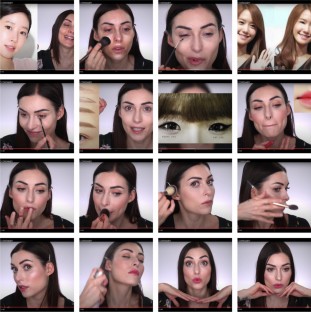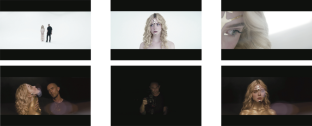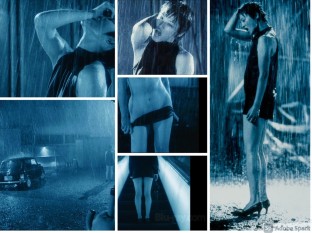 Data availability
Data discussed in this paper are available online, on YouTube and on-demand on Amazon and other streaming platforms.
References
Alloula, M. 1986. L'harem colonial: images d'un sous-érotisme. Genève: Slatkine.

Alpha Johnston Hurst, R. 2018. Collapsing the Surfaces of Skin and Photograph in Cosmetic Minimally-Invasive Procedures. Body & Society 24 (1–2): 175–192.

Anzieu, D. 1991. Une Peau pour les pensées: Interviews with Gilbert Tarrab. Paris: Apsygée.

Attimonelli, C. 2020. Estetica del malessere. Il nero, il punk, il teschio nei paesaggi mediatici contemporanei. DeriveApprodi

Banet-Weiser, S. 2015. Keynote Address: Media, Markets, Gender: Economies of Visibility in a Neoliberal Moment. The Communication Review 18 (1): 53–70. https://doi.org/10.1080/10714421.2015.996398.

Baudelaire, C. 2004. Il mio cuore messo a nudo. Milano: Mondadori.

Behar, K. 2016. Facing Necrophilia, or "Botox Ethics." In Object-Oriented Feminism, ed. K. Behar, 123–143. Minneapolis: University of Minnesota Press.

Blackman, L. 2008. The Body: The Key Concepts. London: Routledge.

Blackman, L. 2010. Bodily Integrity. Body & Society 16 (3): 1–9.

Borgerson, J.L., and J.E. Schroeder. 2018. Making Skin Visible: How Consumer Culture Imagery Commodifies Identity. Body & Society 24 (1–2): 103–136.

Clark-Parsons, R. 2019. "I SEE YOU, I BELIEVE YOU, I STAND WITH YOU": #MeToo and the Performance of Networked Feminist Visibility. Feminist Media Studies. https://doi.org/10.1080/14680777.2019.162879.

del Campo, M.A., and J.T. Kehle. 2016. Autonomous Sensory Meridian Response (ASMR) and Frisson: Mindfully Induced Sensory Phenomena that Promote Happiness. International Journal of School & Educational Psychology 4 (2): 99–105.

Deleuze, G., and F. Guattari. 1996. Millepiani - Capitalismo e Schizofrenia, Castelvecchi: Roma (Mille Plateaux - Capitalisme et schizophrénie 2, Les Editions de Minuit, Paris, 1980).

Gill, R. 2012. The Sexualisation of Culture? Social and Personality Psychology Compass 10 (111): 483–498.

Gill, R. 2017. The Affective, Cultural and Psychic Life of Postfeminism: A Postfeminist Sensibility 10 Years on. European Journal of Cultural Studies 20: 606–626.

Gill, R., and O. Shani. 2018. The Shifting Terrain of Sex and Power: From the 'Sexualization of Culture' to #Metoo. Sexualities 21 (8): 1313–1324.

Groenevelt, I., S. de Haan, and J. Slatman. 2022. Doing Bodies in YouTube Videos about Contested Illnesses. Body & Society 28 (4): 28–52.

Hickman, T.A. 2013. Target America: Visual Culture, Neuroimaging, and the 'hijacked brain' Theory of Addiction. Past and Present 222 (9): 207–226.

Hindes, S., and B. Fileborn. 2019. "Girl Power Gone wrong": #MeToo, Aziz Ansari, and Media Reporting of (Grey Area) Sexual Violence. Feminist Media Studies. https://doi.org/10.1080/14680777.2019.1606843.

Khoja-Moolji, S. 2015. Ecoming an 'intimate Publics': Exploring the Affective Intensities of Hashtag Feminism. Feminist Media Studies 15 (2): 347–350.

Kellett, H. 2018. 'Skin Portraiture' in the Age of Bio Art: Bodily Boundaries, Technology and Difference in Contemporary Visual Culture. Body & Society 24 (1–2): 137–165.

Lafrance, M. 2018. Skin Studies: Past, Present and Future. Body & Society 24 (1–2): 3–32.

Li, K., and J. Blommaert. 2020. 'Please abuse me': Ludic-Carnivalesque Female Masochism on Sina Weibo. Gender & Language 14 (1): 28–48.

Li, K. 2021. Enregistering Cuteness of Fashion Clothes on Chinese Social Media. Journal of Material Culture. https://doi.org/10.1177/1359183521994876.

Matambanadzo, M.S. 2012. Embodying Vulnerability: A Feminist Theory of the Person. Duke Journal of Gender Law & Policy 20: 45–83.

Mathebula, M., and H. Canham. 2022. The Affective Afterlife of Naked Body Protests. In Feminism & Psychology, pp. 1–18. Sage.

McClelland, S.I. (2012). Measuring Sexual Quality of Life. Ten Recommendations for Health Psychologists. In Handbook of Health Psychology, eds. A. Baum, T. A. Revenson, and J. Singer, 245–267. Taylor & Francis.

Metz, C. 1990. Photography and Fetish. In The Critical Image: Essays on Contemporary Photography, eds. C. Squiers, 154–164. Seattle: Bay Press.

Mulvey, L. 1989. Visual and Other Pleasures. Language, Discourse, Society. London: Palgrave Macmillan.

Niedermair, B. 2020. [Female Gaze] Fashion photographer Brigitte Niedermair discusses the roots and inspirations for her extraordinary and distinctive aesthetic, Dior Talks - June 2020, Spotify

Pollock, G. 2017. The Missing wit(h)Ness: Monroe, Fascinance and the unguarded intimacy of Being Dead. Journal of Visual Art Practice 16 (3): 265–296.

Reavey, P., and J. Prosser. 2012. Visual research in psychology. In APA Handbooks in Psychology®. APA Handbook of Research Methods in Psychology, Vol. 2. Research Designs: Quantitative, Qualitative, Neuropsychological, and Biological, eds. H. Cooper, P.M. Camic, D.L. Long, A.T. Panter, D. Rindskopf, and K.J. Sher, 185–207. https://doi.org/10.1037/13620-012

Rousseau, J. 1762. Emile: On Education. Charleston: BiblioBazaar.

Skelly, J. 2018. Skin and Scars: Probing the Visual Culture of Addiction. Body & Society 24 (1–2): 193–209.

Spry, T. 2018. Skin and Bone: Beauty as Critical Praxis. Qualitative Inquiry 24 (5): 342–344.

Steuer, J. 1992. Defining Virtual Reality: Dimensions Determining Telepresence. Journal of Communication 42 (4): 73–93.

Tarlo, E. 2007. Islamic Cosmopolitanism: The Sartorial Biographies of Three Muslim Women in London. Fashion Theory 11 (2–3): 1–30.

Turkle, S. 1995. Life on the Screen: Identity in the Age of the Internet. New York: Simon & Schuster.

Valsiner, J. 2020. Sensuality in Human Living. The Cultural Psychology of Affect. Cham: Springer.

van den Boomen, M. 2009. Hacking Barbie in gendered computer culture. In Doing Gender in Media, Art and Culture, ed. R. Buikema and I. van der Tuin, 193–206. London: Routledge.

Van Wyk, S. 2005. Skin: Photographs of the Body from the Twentieth Century. Victoria: National Gallery of Victoria.

Wegenstein, B., and N. Ruck. 2011. Physiognomy, Reality Television and the Cosmetic Gaze. Body & Society 17 (4): 27–55.

Zappavigna, M. 2020. Digital intimacy and ambient embodied copresence in YouTube videos: construing visual and aural perspective in ASMR role play videos. Visual Communication. https://doi.org/10.1177/1470357220928102.

Zappavigna, M. 2021. Ambient Affiliation in Comments on YouTube Videos: Communing Around Values About ASMR. Journal of Foreign Languages 44 (1): 21–40.
Additional information
Publisher's Note
Springer Nature remains neutral with regard to jurisdictional claims in published maps and institutional affiliations.
Rights and permissions
Springer Nature or its licensor (e.g. a society or other partner) holds exclusive rights to this article under a publishing agreement with the author(s) or other rightsholder(s); author self-archiving of the accepted manuscript version of this article is solely governed by the terms of such publishing agreement and applicable law.
About this article
Cite this article
Traversa, R. Facing the skin: layers and counter-mirror subjectivities. Subjectivity 30, 130–151 (2023). https://doi.org/10.1057/s41286-023-00157-8
Accepted:

Published:

Issue Date:

DOI: https://doi.org/10.1057/s41286-023-00157-8
Keywords