Abstract
This paper claims that maps and the "act of mapping" have the capacity to disrupt symbolic horizons concerning representations of space constructing aesthetic, political and subjective worldviews. These worldviews constitute modes of subjectivity that challenge the notion of the Cartesian subject, and put forward a "situated" concept of subjectivity. Through an intertextual analysis of Deleuze and Guattari, and Heidegger's late essay "Building Dwelling Thinking," Moro pursues a possible redefinition of mapping as assemblage or gathering point of the fourfold. This redefinition in turn indicates the becoming-space of a narration that constitutes particular kinds of world views and subjectivities. The lines between narration, mapping, and mythology are further blurred in recent art projects, where through the 'cartographic imagination' artists deliberately deconstruct the rational appearance of the map to expose current political impasse in a globalized world.
Access options
Buy single article
Instant access to the full article PDF.
USD 39.95
Price excludes VAT (USA)
Tax calculation will be finalised during checkout.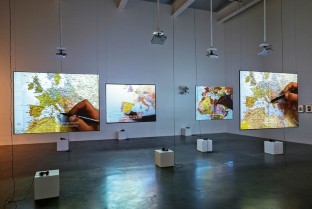 Notes
There are of course many relevant texts in the critical literature that analyze the phenomenon of mapping in contemporary cartographic image-making. Some examples are Giuliana Bruno's Atlas of Emotions: Journeys in Art, Architecture, and Film (Verso 2002); Tom Conley's Cartographic Cinema (University of Minnesota Press 2007); Jacques Lévy's edited collection A Cartographic Turn (Routledge 2015), and many others that are not possible to discuss in this short paper, which intends to focus on a very specific philosophical understanding of the practice of mapping. I discuss these and other texts at length in my book Cartographic Paradigms in Modern and Contemporary Art (forthcoming by Routledge).

The process of "urbanization" of Heidegger's thought has been pursued by Gadamer, Vattimo, and Volpi, among others. See G. Vattimo, Essere e dintorni, p. 397. A similar pursuit, albeit under different terms, is at the basis of Jeff Malpas's re-reading of "Building Dwelling Thinking" in his lecture for the University of Auckland's School of Architecture, cited here.

A seminal text is, here, Heidegger's The Age of the World Picture, which is at the center of Martin Jay's critique. Jay's intent is to challenge the monolithic conception of 'world picture' advanced by Heidegger, and especially his focus on Cartesian perspectivism as hegemonic of modernity, in favor of a more pluralistic view that includes two other 'scopic regimes' of modernity: (a) the 'art of describing' mode of the Dutch renaissance (Alpers), and (b) that of 'baroque reason' (see Buci-Glucksmann): "Each of these was a manifestation of what Jacqueline Rose had called the 'moment of unease' in the dominant scopic regime of an era" (p. 55).

I am, of course, mindful of the different perception that a book such as Chatwin's may have more than thirty years after it was published, particularly in light of the flourishing of indigenous studies and texts written by indigenous scholars on these issues. However, I am also interested in exploring what happens when non-indigenous consciousnesses encounter indigenous consciousnesses, and the opportunity offered by such encounters.

As Paul Daley notes in "Songlines at the NMA: A Breathtaking Triumph of Twenty-First Century Museology" (The Guardian, September 15, 2017), "Many Aboriginal and Torres Strait Islander leaders have long embraced Chatwin's 'songlines' (at least the word, if not his 1987 novel The Songlines). They have claimed it to describe what they also know to be churinga tracks or dreaming paths – cultural, political, spiritual, ecological, geographical, historical (and so very much more) wisdom that is etched for them in the land.".

In "Travel and Endless Talk Connected me to Details Chatwin's Songlines Missed" (The Guardian, October 15, 2017), Daley remarks that "The Songlines, which I first read about 1990, was instrumental to my awakening about Indigenous spiritual belief and creationism." He quotes from "eminent historian and museum ethnographer Philip Jones" who, in the essay Beyond Songlines, writes, "Thirty years after its publication it is evident enough that Bruce Chatwin's book was much less about Aboriginal culture or 'songlines' in particular than about his own rather strained efforts to find a universal human rationale for the nomadic, self-sufficient lifestyle he and his moleskin notebooks now represent.".

For all its shortcomings and simplifications, Chatwin's book remains an important reference with respect to the reception and "translation" of the Aboriginal mapping consciousness in the West. Most importantly, its value lies in it being a literary work, not a scientific account. As such, I consider it an example of poetic cartography itself, no less mythological than the cartographic practices it purports to describe.

The quotation is from Heidegger, "What are the Poets for?", in Off the Beaten Track (Cambridge University Press 2002).

Information gathered during personal research in the archives of the New York Public Library, at the Lionel Pincus and Princess Firyal Map division, by analyzing nineteenth century maps recording aboriginal Native American settlements and trails.

Malpas acknowledges the problematic interpretations of 'place' and identity as belonging to an essential dwelling, in particular with reference to Heidegger's political adhesion to National Socialism in the 1930s. He also examines Levinas's critique of Heidegger on this issue (Malpas pp. 5–6), but rejects it by way of a more nuanced (and 'corrected') reading of the concept of "belonging together," to demonstrate that in Heidegger issues of identity need to be understood as instances of difference. This reading diverges from the way we understand identity in Western metaphysics. What is 'essential' here is the relatedness of identity (p. 8).

The Deleuzian twofold meaning implicit in the term "plan/plane" can be of help: it indicates two contrary conceptions: (1) plan as design, organization (hidden, transcendent, involving forms and subjects), (2) plane of immanence (no supplementary dimension; composition, not development or organization; not hidden but given, disclosed; not form, but relations of velocity between unformed material). See Spinoza, 1988, p. 128.

Mapping can be considered a techne in the sense Heidegger gives to the term in Nietzsche, Vol. I, David Farrell Krell, trans. (New York: Harper One 1991), pp. 80–82, that is, as a mode of knowing.
References
Blackman, L., J. Cromby, D. Hook, D. Papadopoulos, and V. Walkerdine. 2008. Creating Subjectivities (Editorial). Subjectivity 22: 1–27. https://doi.org/10.1057/sub.2008.8.

Borges, J.L. 1999. On Exactitude in Science. In Collected Fictions, ed. J.L. Borges. London: Penguin Random House.

Chatwin, B. 1987. Songlines. New York: Viking.

Daley, P. 2017a. Songlines at the NMA: A Breathtaking Triumph of 21st Century Museology. The Guardian, September 15, 2017. Accessed 14 Oct 2020.

Daley, P. 2017b. Travel and Endless Talk Connected me to Details Chatwin's Songlines Missed. The Guardian, October 15, 2017. Accessed 14 Oct 2020.

Deleuze, G. 1988. Spinoza: Practical philosophy. San Francisco: City Lights.

Deleuze, G. 2011. Gilles Deleuze from A to Z. [DVD] New York: Semiotext(e)/Foreign Agent.

Deleuze, G., and F. Guattari. 1994. What is Philosophy? New York: Columbia University Press.

Deleuze, G., and F. Guattari. 2011. A Thousand Plateaus: Capitalism and Schizophrenia. Minneapolis: University of Minnesota Press.

Derrida, J. 1999. Adieu to Levinas. Stanford: Stanford University Press.

Derrida, J. 2001. Violence and Metaphysics. In Writing and Difference, ed. A. Bass. London: Routledge.

Grosz, E. 2008. Chaos, Territory, Art: Deleuze and the Framing of the Earth. New York: Columbia University Press.

Harman, G. 2007. Heidegger Explained: From Phenomenon to Thing. Chicago: Open Court.

Harman, G. 2011. The Quadruple Object. Alresford, Hants.: Zero Books.

Heidegger, M. 2001. The Thing. In Poetry, Language, Thought, ed. M. Heidegger, 161–184. New York: Harper Perennial.

Heidegger, M. 2008. Building Dwelling Thinking. In Basic Writings, ed. D.F. Krell, 343–363. London: Harper Perennials.

Homberger, E. 1998. The Historical Atlas of New York City: A Visual Celebration of Nearly 400 Years of New York City's History. New York: An Owl Book, Henry Holt and Company LLC.

Jay, M. 2011. Essays from the Edge. Charlottesville: University of Virginia Press.

Khalili, B. 2010. Story Mapping (catalogue). Texts by P. Azoury, O. Berrada, and P. Cassagnau. Marseille: Bureau des compétences et désirs.

Levinas, E. 1979. Totality and Infinity: An Essay on Exteriority. The Hague: Martinus Nijhoff Publishers.

Levinas, E. 1997. Difficult Freedom: Essays on Judaism. Baltimore: John Hopkins paperback edition (1990 The Athlone Press).

Lévy, J. (ed.). 2015. A Cartographic Turn: Mapping and the Spatial Challenges in Social Sciences. Lausanne: EPFL Press (Routledge).

Livesey, G. 2010. Assemblage. In TheDeleuze Dictionary, ed. A. Parr, 18–19. Edinburgh: Edinburgh University Press.

Malpas, J. 2012. Rethinking Dwelling: Heidegger and the Question of Place. Paper presented at the University of Auckland's School of Architecture, 16 May, Auckland, NZ.

Massumi, B. 1992. A User's Guide to Capitalism and Schizophrenia: Deviations from Deleuze and Guattari. Cambridge, MA: The MIT Press.

Message, K. 2010. Territory. In TheDeleuze Dictionary, ed. A. Parr, 280. Edinburgh: Edinburgh University Press.

Millar, B. 2005. From Songlines to Sales. Financial Times, 22 July. Accessed 22 Sept 2019.

Pile, S. 2008. Where is the Subject? Geographical Imaginations and Spatializing Subjectivity. Subjectivity 23: 206–218. https://doi.org/10.1057/sub.2008.9.

Rovatti, P. A. 2007. Abitare la distanza: per una pratica della filosofia. Milano: Raffaello Cortina.

Said, E.W. 1994. Culture and Imperialism. New York: Vintage Books.

Thrift, N. 2008. I Just Don't Know What Got Into Me: Where is The Subject? Subjectivity 22: 82–89. https://doi.org/10.1057/sub.2008.1.

Vattimo, G. 2018a. Essere e dintorni. Milano: La nave di Teseo.

Vattimo, G. 2018b (1971). Introduzione a Heidegger. Bari: Laterza.

Warf, B., and S. Arias (eds.). 2009. The Spatial Turn: Interdisciplinary Perspectives. London: Routledge.
Additional information
Publisher's Note
Springer Nature remains neutral with regard to jurisdictional claims in published maps and institutional affiliations.
About this article
Cite this article
Moro, S. Mapping practices and the cartographic imagination. Subjectivity 13, 298–314 (2020). https://doi.org/10.1057/s41286-020-00111-y
Accepted:

Published:

Issue Date:

DOI: https://doi.org/10.1057/s41286-020-00111-y
Keywords
Mapping

Cartography

Place

Deleuze and Guattari

Heidegger

Contemporary art

Bouchra Khalili

Emily Kame Kngwarreye