Abstract
The use of social media is increasing in the treatment and management of health. Patients with chronic diseases are especially interested in using these technologies to look for support, but organizations are lagging behind. The aim of this study is to explore the implications of applying social support theory to social media use in the field of chronic diseases. A systematic review was conducted in the Web of Science Core Collection database. Our analysis retrieved ten registers on initiatives around social support theory, social media, and chronic diseases. Despite the paucity of initiatives from this perspective, the studies included in this review offer some recommendations on how health-related organizations can improve patient-physician communication. Our findings suggest that social media can provide social support regularly, but institutions need to create safe environments addressed to specific diseases where physicians also take part in the community of the site. As patients have been in social media without physicians' support for many years now, finding new ways of reducing the communicative gap between these two stakeholders is crucial. This review suggests that the application of social support theory could be one of the solutions, especially regarding chronic pain patients.
Access options
Buy single article
Instant access to the full article PDF.
US$ 39.95
Tax calculation will be finalised during checkout.
Subscribe to journal
Immediate online access to all issues from 2019. Subscription will auto renew annually.
US$ 119
Tax calculation will be finalised during checkout.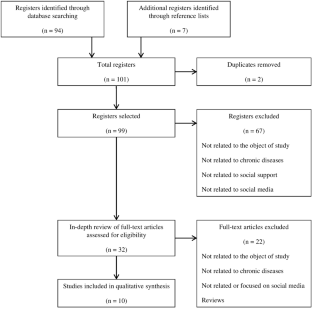 References
Ahmad, F., et al. 2006. Are physicians ready for patients with internet-based health information? Journal of Medical Internet Research 8 (3): e22.

Alhaboby, Z.A., et al. 2017. Challenges facing online research: Experiences from research concerning cyber-victimisation of people with disabilities. Cyberpsychology 11 (1): 8.

Allen, C., et al. 2016. Long-term condition self-management support in online communities: A meta-synthesis of qualitative papers. Journal of Medical Internet Research 18 (3): e61.

Becker, K.L. 2013. Cyberhugs: Creating a voice for chronic pain sufferers through technology. Cyberpsychology, Behavior, and Social Networking 16 (2): 123–126.

Berkman, L.F., et al. 2000. From social integration to health: Durkheim in the new millennium. Social Science and Medicine 51 (6): 843–857.

Brosseau, L., et al. 2015. Internet-based implementation of non-pharmacological interventions of the "People getting a grip on arthritis" educational program: An international online knowledge translation randomized trial design protocol. JMIR Research Protocols 4 (1): e19.

Coulson, N.S., and R.L. Shaw. 2013. Nurturing health-related online support groups Exploring the experiences of patient moderators. Computers in Human Behavior 29 (4): 1695–1701.

Coulter, A., et al. 2014. Collecting data on patient experience is not enough: They must be used to improve care. BMJ 348: g2225.

Deloitte. 2019. 2019 Global health care outlook. Shaping the future, https://www2.deloitte.com/content/dam/Deloitte/global/Documents/Life-Sciences-Health-Care/gx-lshc-hc-outlook-2019.pdf. Accessed 19 March 2019.

Deng, Z., and S. Liu. 2017. Understanding consumer health information-seeking behavior from the perspective of the risk perception attitude framework and social support in mobile social media websites. International Journal of Medical Informatics 105 (September): 98–109.

Eccleston, C., et al. 2018. Pain in Europe. In European pain management, ed. C. Eccleston, C. Wells, and B. Morlion, 3–7. Oxford: Oxford University Press.

EU General Data Protection Regulation Portal. n.d. GDPR Portal: Site Overview. Home Page of EU GDPR, https://www.eugdpr.org/eugdpr.org.html. Accessed 20 March 2018.

Fatima, L., et al. 2015. Smart CDSS: Integration of social media and interaction engine (SMIE) in healthcare for chronic disease patients. Multimedia Tools and Applications 74 (14): 5109–5129.

Frohlich, D.O. 2014. The social support model for people with chronic health conditions: A proposal for future research. Social Theory & Health 12 (2): 218–234.

Gonzalez-Polledo, E. 2016. Chronic media worlds: Social media and the problem of pain communication on Tumblr. Social Media + Society (January-March): 1–11.

Gonzalez-Polledo, E., and J. Tarr. 2016. The thing about pain: The remaking of illness narratives in chronic pain expressions on social media. New Media & Society 18 (8): 1455–1472.

Grosberg, D., et al. 2016. Frequent surfing on social health networks is associated with increased knowledge and patient health activation. Journal of Medical Internet Research 18 (8): e212.

Hamad, E.O., et al. 2016. Toward a mixed-methods research approach to content analysis in the digital age: The combined content-analysis model and its applications to health care twitter feeds. Journal of Medical Internet Research 18 (3): e60.

Harris, J.K., et al. 2013. Social media adoption in local health departments nationwide. American Journal of Public Health 103 (9): 1700–1707.

Heaney, C.A., and B.A. Israel. 2002. Social networks and social support. In Health behavior and health education. Theory, research and practice, ed. K. Glanz, B.K. Rimer, and F.M. Lewis, 185–209. San Francisco: Wiley.

Hess, A. 2016. The Social Media Cure. Slate, 4 March, http://www.slate.com/articles/technology/users/2016/03/how_spoonies_people_with_chronic_illnesses_use_memes_selfies_and_emojis.html. Accessed 10 March 2018.

Hester, J.L. 2015. Living With Invisible Illness. The Atlantic, 17 July, https://www.theatlantic.com/health/archive/2015/07/invisible-illness-chronic-disease-fibromyalgia/398393/. Accessed 10 March 2018.

Isika, N.U. et al. 2015. Appropriation of social media by patients with chronic illness to share knowledge. Proceedings of the Australasian Conference on Information Systems, https://minerva-access.unimelb.edu.au/handle/11343/58177. Accessed 20 March 2018.

Israel, B.A. 1985. Social networks and social support: Implications for natural helper and community level interventions. Health Education Quarterly 12 (1): 65–80.

Jervelund, S.S. 2018. How social media is transforming the spreading of knowledge: Implications for our perceptions concerning vaccinations and migrant health. Scandinavian Journal of Public Health 46: 167–169.

Johnson, M.I., and M. Hudson. 2016. Generalizing, deleting and distorting information about the experience and communication of chronic pain. Pain Management 6 (5): 411–414.

Keim-Malpass, J., et al. 2016. 'It's back! my remission is over': Online communication of disease progression among adolescents with cancer. Journal of Pediatric Oncology Nursing 33 (3): 209–217.

Kim, H. 2014. Enacted social support on social media and subjective well-being. International Journal of Communication 8: 2201–2221.

Kleinman, A. 1988. The illness narratives. Suffering, healing & the human condition. New York: Basic Books.

Korenda, L. et al. 2016. Will patients and caregivers embrace technology-enabled health care?. Deloitte Insights, 30 August, https://www2.deloitte.com/insights/us/en/focus/internet-of-things/digitizedcare-use-of-technology-in-health-care.html. Accessed 10 March 2018.

Laestadius, L. 2017. Instagram. In The sage handbook of social media research methods, ed. L. Sloan and A. Quan-Haase, 573–592. London: Thousand Oaks.

Lavorgna, L., et al. 2017. Health-related coping and social interaction in people with multiple sclerosis supported by a social network: Pilot study with a new methodological approach. Interactive Journal of Medical Research 6 (2): e10.

Lupton, D. 2012. M-health and health promotion: The digital cyborg and surveillance society. Social Theory & Health 10 (3): 229–244.

Lupton, D. 2013. The digitally engaged patient: Self-monitoring and self-care in the digital health era. Social Theory & Health 11 (3): 256–270.

Lupton, D. 2018a. How do data come to matter? Living and becoming with personal data. Big Data & Society (July–December): 1–11.

Lupton, D. 2018b. Digital health. Critical and cross-disciplinary perspectives. London: Routledge.

Lupton, D., and S. Maslen. 2017. Telemedicine and the senses: A review. Sociology of Health & Illness 39 (8): 1557–1571.

Magnezi, R., et al. 2014. Online activity and participation in treatment affects the perceived efficacy of social health networks among patients with chronic illness. Journal of Medical Internet Research 16 (1): e12.

McKenna, J. 2017. Social media: a powerful tool for physicians and patients. European Heart Journal 38 (7): 469–470.

Merolli, M., et al. 2013a. Health outcomes and related effects of using social media in chronic disease management: A literature review and analysis of affordances. Journal of Biomedical Informatics 46 (6): 957–969.

Merolli, M., et al. 2013b. Developing a framework to generate evidence of health outcomes from social media use in chronic disease management. Medicine 2 (2): e3.

Merolli, M., et al. 2015. Using social media while waiting in pain: A clinical 12-week longitudinal pilot study. JMIR Research Protocols 4 (3): e101.

Metha, N., and A. Atreja. 2015. Online social support networks. International Review of Psychiatry 27 (2): 118–123.

Milani, R.V., and C.J. Lavie. 2015. Health care 2020: Reengineering health care delivery to combat chronic disease. The American Journal of Medicine 128: 337–343.

Moorhead, S.A., et al. 2013. A new dimension of health care: Systematic review of the uses, benefits, and limitations of social media for health communication. Journal of Medical Internet Research 15 (4): e85.

Newhouse, N., et al. 2018. Pain and the internet: Transforming the experience? In Painscapes. Communicating pain, ed. E.J. Gonzalez-Polledo and J. Tarr, 129–155. London: Palgrave Macmillan.

Nordfelt, S., et al. 2010. Patient and parent views on a Web 2.0 diabetes portal-the management tool, the generator, and the gatekeeper: Qualitative study. Journal of Medical Internet Research 12 (2): e17.

Obar, J.A., and S. Wildman. 2015. Social media definition and the governance challenge: An introduction to the special issue. Telecommunications Policy 39 (9): 745–750.

Owen, N., et al. 2002. Communication technology and health behaviour change. In Health behavior and health education. Theory, research and practice, ed. K. Glanz, B.K. Rimer, and F.M. Lewis, 510–529. San Francisco: Wiley.

Patel, R., et al. 2015. Social media use in chronic disease: A systematic review and novel taxonomy. The American Journal of Medicine 128 (12): 1335–1350.

PatientView. 2015. What do patients and carers need in health apps—but are not getting?. eHealthNews.eu, 26 June, http://www.ehealthnews.eu/images/stories/pdf/patientview_white_paper_2015.pdf. Accessed 10 March 2018.

Patient Power. 2005. Connect to the knowledge of a community of cancer experts. Home page of patient power. https://www.patientpower.info/. Accessed 10 March 2018.

Ressler, P.K., et al. 2012. Communicating the experience of chronic pain and illness through blogging. Journal of Medical Internet Research 14 (5): e143.

Roland, D. 2018. Social media, health policy, and knowledge translation. Journal of the American College of Radiology 15 (1): 149–152.

Rus, H.M., and L.D. Cameron. 2016. Health communication in social media: Message features predicting user engagement on diabetes-related facebook pages. Annals of Behavioral Medicine 50 (5): 678–689.

Sendra, A., and J. Farré. 2017. Institutional pain communication via Twitter by Spanish and US pain societies: Analysis of levels of use and engagement. Catalan Journal of Communication and Cultural Studies 9 (1): 3–23.

Tjora, A.H., and G. Scambler. 2009. Square pegs in round holes: Information systems, hospitals and the significance of contextual awareness. Social Science and Medicine 68: 519–525.

Urrútia, G., and X. Bonfill. 2010. PRISMA declaration: A proposal to improve the publication of systematic reviews and meta-analyses. Medicina Clínica 135 (11): 507–511.

Vianna, H.D., and J.L.V. Barbosa. 2017. In search of computer-aided social support in non-communicable diseases care. Telematics and Informatics 34 (8): 1419–1432.

Wright, K.B. 2016a. Communication in health-related online social support groups/communities: A review of research on predictors of participation, applications of social support theory, and health outcomes. Review of Communication Research 4: 65–87.

Wright, K.B. 2016b. Social networks, interpersonal social support, and health outcomes: A health communication perspective. Frontiers in Communication 1: 10.

Wright, K.B., et al. 2010. Weak-tie support network preference and perceived life stress among participants in health-related, computer-mediated support groups. Journal of Computer-Mediated Communication 15 (4): 606–624.
Acknowledgements
The authors would like to thank the Department of Communication Studies of the Universitat Rovira i Virgili (URV); the Department of Journalism and Media Studies of Oslo Metropolitan University (OsloMet); the ASTERISC Communication Research Group (URV); and the Entrepreneurship and Innovation in Media Research Group (OsloMet).
Funding
This work was supported by the Agency for Management of University and Research Grants (AGAUR) (Grant No. 2018FI_B2 00132); and the URV-Repsol International Chair for Excellence in Communication.
Ethics declarations
Conflict of interest
The authors declare that there is no conflict of interest.
Additional information
Publisher's Note
Springer Nature remains neutral with regard to jurisdictional claims in published maps and institutional affiliations.
About this article
Cite this article
Sendra, A., Farré, J. & Vaagan, R.W. Seeking, sharing and co-creating: a systematic review of the relation between social support theory, social media use and chronic diseases. Soc Theory Health 18, 317–339 (2020). https://doi.org/10.1057/s41285-019-00106-z
Keywords
Social support

Chronic disease

Social media

Health communication

Patients

Physicians