Abstract
The study investigated the Corporate Security stratum of work within large Australian organisations, seeking to extract professional seating, roles, associated task complexity, career opportunity and progression ceilings as articulated through the socio-organisational literature. Two phases were applied: Phase One used online surveys distributed to participants (N = 53) across four Australian organisations, Phase Two employed semi-structured interviews and focus groups (N = 14). Findings reinforced the established literature articulation of corporate security's roles; however, they contested the current articulation of corporate security's executive level seating within large organisations. Instead, the study identified a Corporate Security seating with a restricted sphere of risk-based influence, along with a maximum career level at general manager. The study demonstrates an occupational corporate security ceiling, debunking the security executive belief. Corporate security was located within the technostructure group as a specialist, limiting opportunity for executive level roles or strategic influence.
This is a preview of subscription content, log in to check access.
Access options
Buy single article
Instant access to the full article PDF.
US$ 39.95
Tax calculation will be finalised during checkout.
Subscribe to journal
Immediate online access to all issues from 2019. Subscription will auto renew annually.
US$ 199
Tax calculation will be finalised during checkout.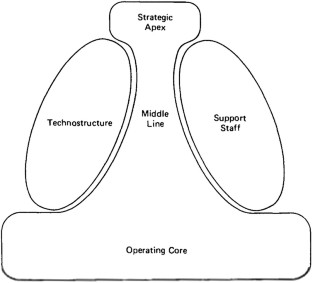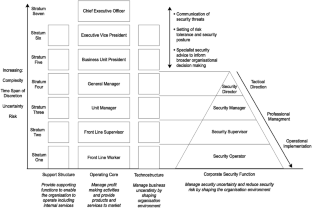 References
ASIS International. 2004. Chief Security Officer Guideline. https://cdn.fedweb.org/137/268/ASIS%2520Chief%2520Security%2520Officer%2520Guide-Public.pdf.

Bamfield, J. 2014. Security and Risk Management. In The Handbook of Security, 2nd ed, ed. M. Gill, 791–812. Basingstoke: Palgrave Macmillan.

Barefoot, J.K., and D.A. Maxwell. 1987. Corporate Security Administration and Management. Boston: Butterworth Publishers.

Barnes, B. 1995. The Elements of Social Theory. Princeton: Princeton University Press.

Bazerman, M.H., and D.A. Moore. 2009. Judgement in Managerial Decision Making. Danvers, MA: John Wiley & Sons Inc.

Beck, U. 1992. Risk Society Towards a New Modernity (M. Ritter, Trans.). Thousand Oaks, CA: Sage Publications Ltd.

Brickley, J.A., C.W. Smith, and J.L. Zimmerman. 2009. Managerial Economics and Organizational Architecture, 5th ed. New York: McGraw-Hill/Irwin.

Brislin, R. 2014. The Effective Security Officers Training Manual, 3rd ed. Waltham: Elsevier Inc.

Brooks, D. 2013. Corporate Security: Using Knowledge Construction to Define a Practising Body of Knowledge. Asian Journal of Criminology 8 (2): 89–101.

Brooks, D., and J. Corkill. 2014. Corporate Security and the Stratum of Security Management. In Corporate Security in the 21st Century: Theory and Practice in International Perspective, 1st ed., 216–234. Palgrave Macmillan.

Burnstein, H. 1978. Beyond Cops and Robbers: A Note on Corporate Security. University of Michigan Business Review 30 (2): 30–32.

Clarke, T. 2015. Changing Paradigms in Corporate Governance: New Cycles and New Responsibilities. Society and Business Review 10 (3): 306–326.

Clement, S.D. 2015. Time-Span and Time Compression: New Challenges Facing Contemporary Leaders. Journal of Leadership and Management 2 (4): 35–40.

Clement, S.D., and C.R. Clement. 2013. All About Work. The Woodlands: Organizational Design Inc.

Coole, M.P., D. Brooks, and A. Minnaar. 2017. The Physical Security Professional: Mapping a Body of Knowledge. Security Journal 30 (4): 1169–1197.

Craddock, K. 2002. Requisite Leadership Theory: An Annotated Research Bibliography On Elliott Jaques, Including: Requisite Organization—The Glacier Project—Stratified Systems Theory—Time-Span of Discretion—Levels of Mental Complexity—Complexity of Information Processing—The Quality of Labor—The Mid-Life Crisis—and Psychoanalysis (covering 1942–2002). In C. University (ed.). Columbia University.

Cubbage, C., and D.J. Brooks. 2013. Corporate Security in the Asia-Pacific Region. Boca Raton: CRC Press.

Deming, E.W. 2013. The Essential Deming: Leadership Principles from the Father of Quality. New York: McGraw Hill.

Diefenbach, T., and J.A.A. Sillince. 2011. Formal and Informal Hierarchy in Different Types of Organization. Organization Studies 32 (11): 1515–1537.

Fay, J.J. 2002. Contemporary Security Management, 1st ed. Woburn: Butterworth-Heinemann.

Fayol, H. 1916, 1949. General and Industrial Management. Chicago: Pitman Publishing Corporation.

Field, A. 2013. Discovering Statistics Using IBM SPSS Statistics (M. Carmichael ed.), 4th ed. Thousand Oaks: Sage Publications Ltd.

Freidman, S., D. Laurison, and A. Miles. 2015. Breaking the 'Class' Ceiling?: Social Mobility into Britain's Elite Occupat. The Sociological Review 63 (2): 259–289.

Füredi, F. 2006. Culture of Fear Revisited: Risk-Taking and the Morality of Low Expectation. New York: Continuum.

Giddens, A. 1991. Modernity and Self-Identity. Cambridge: Polity Press.

Gill, M., and C. Howell. 2012. The security sector in perspective. http://www.mocotouch.co.uk/library/2012-08_The_security_sector_in_perspective.pdf.

Gill, M., E. Taylor, T. Bourne, and G. Keats. 2008. Organisational perspectives on the value of security. http://www.perpetuityresearch.com/images/Reports/2008%20SRI%20-%20Organisational%20perspectives%20on%20the%20value%20of%20security.pdf.

Grobler, S.W. 2005. Organisational Structure and Elliot Jaques' Stratified Systems Theory. (Masters Degree in Business Leadership), University of South Africa, South Africa. http://uir.unisa.ac.za/bitstream/handle/10500/146/2005%20MBL%203%20Research%20Report%20S%20W%20Grobler.pdf?sequence=1 (3397-508-6).

Heslin, P.A. 2005. Conceptualizing and Evaluating Career Success. Journal of Organizational Behaviour 26 (2): 113–136.

Ivanov, S. 2011. Why Organizations Fail: A Conversation About American Competitiveness. International Journal of Organizational Innovation 4 (1): 94.

Ivanov, S. (Producer). 2015, 16 January 2018. Innovation, Ethics, Morality. [Recorded Academic Lecture]. https://www.youtube.com/watch?v=7B1GqogYvik.

Jacobs, O.T., and P. Lewis. 1992. Leadership Requirements in Stratified Systems Strategic Leadership: A Multiorganizational-Level Perspective. Westport, CT: Quorum Books.

Jaques, E. 1976. A General Theory of Bureaucracy. London: Heinemann Educational Books Ltd.

Jaques, E. 1996. Requisite Organization A Total System for Effective Managerial Organization and Managerial Leadership for the 21st Century, 2nd ed. Cambridge: Carson Hall and Co Publishers.

Jaques, E. 2002. The Life and Behavior of Living Organisms A General Theory. Westport: Praeger Publishers.

Jesus, B., S.E. Seibert, M. Kraimer, S. Wayne, and R. Liden. 2015. Measuring Career Orientations in the Era of the Boundaryless Career. Journal of Career Assessment 25 (10): 502–525.

Jo, T.-H. 2018. The Institutionalist Theory of the Business Enterprise: Past, Present, and Future. Munich Personal RePEc Archive.

Koch, M., B. Forgues, and V. Monties. 2015. The Way to the Top: Career Patterns of Fortune 100 CEOs. Human Resource Management 52 (2): 267–285.

Krahmann, E. 2011. Beck and Beyond: Selling Security in the World Risk Society. Review of International Studies 37 (1): 349–372. https://doi.org/10.1017/S0260210510000264.

Le Grand, C., and M. Tahlin. 2013. Class, Occupation, Wages, and Skills: The Iron Law of Labor Market Inequality. In Class and Stratification Analysis, ed. E.B. Gunn. Bingley: Emerald Group Publishing Ltd.

Lee, W.J., H.G. Rainey, and Y.H. Chun. 2010. Goal Ambiguity, Work Complexity, and Work Routineness in Federal Agencies. The American Review of Public Administration 40 (3): 284–308.

Litterer, J.A. 1963. Organizations: Structured Behaviour. New York: Wiley.

Ludbey, C. 2016. The Corporate Security Stratum of Work: Identifying Levels of Work in the Domain. Perth: Edith Cowan University.

Ludbey, C., and D. Brooks. 2017. Stratum of Security Practice: Using Risk as a Measure in the Stratification of Security Works. Security Journal 30 (3): 686–702.

Ludbey, C., D.J. Brooks, and M.P. Coole. 2018. Corporate Security: Identifying and Understanding the Levels of Security Work in an Organisation. Asian Journal of Criminology 13 (2): 109–128.

Maitland, E., and A. Sammartino. 2014. Decision-making and uncertainty: The role of heuristics and experience in assessing a politcally hazardous environment. Strategic Management Journal 36 (10): 1554–1578.

Martin, J., and M. Fellenz. 2010. Organizational Behaviour and Management, 4th ed. Andover: Cengage Learning EMEA.

McGregor, C. 1997. Class in Australia. Ringwood: Penguin Books Australia Ltd.

Meyer, J.W., and B. Rowan. 1977. Institutionalized Organizations: Formal Structure as Myth and Ceremony. American Journal of Sociology 83 (2): 340–363.

Milliken, F.J. 1987. Three Types of Perceived Uncertainty About the Environment: State, Effect and Response Uncertainty. The Academy of Management Review 12 (1): 133–143.

Mintzberg, H. 1979. The Structuring of Organizations. Englewood Cliffs: Prentice-Hall Inc.

Mintzberg, H. 1980. Structure in 5's: A Synthesis of the Research on Organization Design. Management Science 26 (3): 322–341.

Mintzberg, H. 2009. Managing, 1st ed. San Fransisco: Berrett-Koehler Publishers Inc.

Mumford, T.V., M.A. Campion, and F.P. Morgeson. 2007. The Leadership Skills Strataplex: Leadership Skill Requirements Across Organizational Levels. The Leadership Quarterly 18 (2): 154–166.

Nalla, M.K., and M. Morash. 2002. Assessing the Scope of Corporate Security: Common Practices and Relationships with Other Business Functions. Security Journal 15 (3): 7–19. https://doi.org/10.1057/palgrave.sj.8340119.

Nalla, M.K., and A. Wakefield. 2014. The Security Officer. In The Handbook of Security, 2nd ed, ed. M. Gill, 727–746. Basingstoke: Palgrave Macmillan.

Ocqueteau, F. 2012. Heads of Corporate Security in the Era of Global Security. Champ pénal/Penal field [En ligne]. https://doi.org/10.4000/champpenal.8245.

Oesch, D. 2015. Occupational Structure and Labor Market Change in Western Europe Since 1990. In The Politics of Advanced Capitalism, ed. P. Beramendi, S. Kitschelt, H. Kriesi, and H. Häusermann, 112–132. Cambridge: Cambridge University Press.

Papadakis, V.M., and P. Barwise. 2002. How Much do CEOs and Top Managers Matter in Strategic Decision-Making? British Journal of Management 31 (1): 83–95.

Petersen, K.L. 2013. The Corporate Security Professional: A Hybrid Agent Between Corporate and National Security. Security Journal 26 (3): 222–235.

Petersen, K.L. 2014. The Politics of Corporate Security and the Translation of National Security. In Corporate Security in the 21st Century. Crime Prevention and Security Management, ed. K. Walby and R.K. Lippert. London: Palgrave Macmillan.

Prenzler, T., K. Earle, and R. Sarre. 2009. Private Security in Australia: Trends and Key Characteristics. Trends & Issues in Crime and Criminal Justice 374: 1–6.

Qu, S.Q., and J. Dumay. 2011. The Qualitative Research Interview. Qualitative Research in Accounting & Management 8 (3): 238–264.

Rowbottom, R., and D. Billis. 1977. The Stratification of Work and Organizational Design. Human Relations 30 (1): 53–76.

Saldana, J. 2009. The Coding Manual for Qualitaive Researchers. London: SAGE Publications.

Sammarra, A., S. Profili, and L. Innocenti. 2012. Do External Careers Pay Off for Both Managers and Professionals? The Effect of Inter-organizational Mobility on Objective Career Success. The International Journal of Human Resource Management 24 (13): 2490–2511.

Sarre, R., and T. Prenzler. 2000. The Relationship Between Police and Private Security: Models and Future Directions. International Journal of Comparative and Applied Criminal Justice 24 (1): 91–113. https://doi.org/10.1080/01924036.2000.9678654.

Sennewald, C.A. 2011. Effective Security Management, 5th ed. Portland: Butterworth-Heinemann.

Smith, C., and D.J. Brooks. 2012. Security Science: The Theory and Practice of Security. Oxford: Butterworth-Heinemann.

Speer, J.D. 2017. Pre-Market Skills, Occupational Choice, and Career Progression. Journal of Human Resources 52 (1): 187–246.

Somerson, I.S. 2009. The Art and Science Of Security Risk Assessment. Alexandria, VA: ASIS International.

Stewart, D.W., P.N. Shamdasani, and D.W. Rook. 2007. Focus Groups, 2nd ed. Thousand Oaks: SAGE Publications Inc.

Stichweh, R. 2008. The Eigenstructures of World Society and the Regional Cultures of the World. In Frontiers of Globalization Research, ed. I. Rossi, 133–151. New York: Springer.

Strauss, A.L. 1975, 2001. Professions, Work and Careers. New Jersey: Transaction, Inc.

Talbot, J., and M. Jakeman. 2009. Security Risk Management Body of Knowledge. New Jersey: Wiley.

Wakefield, A. 2014. Where Next for the Professionalization of Security? In The Handbook of Security, ed. M. Gill, 919–935. London: Palgrave Macmillan.

Walby, K., B. Wilkinson, and R.K. Lippert. 2014. Legitimacy, professionalisation and expertise in public sector corporate security. Policing and Society.. https://doi.org/10.1080/10439463.2014.912650.

Weber, M. 1947. The Theory of Social and Economic Organization A. M. Henderson (ed.) http://solomon.sth2.alexanderstreet.com.ezproxy.ecu.edu.au/cgi-bin/asp/philo/sth2/documentidx.pl?sourceid=S10020412.

Willis, H.H. 2007. Guiding Resource Allocations Based on Terrorism Risk. Risk Analysis 27 (3): 597–606.

Witte, R.S., and J.S. Witte. 2017. Statistics, 11th ed. New Jersey: Wiley.
Acknowledgements
The authors acknowledges the Australian Government for its support in the conduct of this research through the Australian Government Research Training Program Scholarship.
Additional information
Publisher's Note
Springer Nature remains neutral with regard to jurisdictional claims in published maps and institutional affiliations.
About this article
Cite this article
Ludbey, C.R., Brooks, D.J. & Coole, M. Corporate security career progression: a comparative study of four Australian organisations. Secur J 33, 531–551 (2020). https://doi.org/10.1057/s41284-019-00189-3
Keywords
Organisation

Career

Occupation

Stratum

Work

Complexity

Security

Glass-ceiling

Progression ceiling