Abstract
This article evaluates the effective of a hot spots policing strategy: using automated license plate readers at roadblocks in Buffalo, NY. Different roadblock locations were chosen by the Buffalo Police Department every day over a two-month period. We use propensity score matching to identify a set of control locations based on prior counts of crime and demographic factors. We find modest reductions in Part 1 violent crimes (10 over all roadblock locations and over the two months) using t tests of mean differences. We find a 20% reduction in traffic accidents using fixed effects negative binomial regression models. Both results are sensitive to the model used though, and the fixed effects models predict increases in crimes due to the intervention. We suggest that the limited intervention at one time may be less effective than focusing on a single location multiple times over an extended period.
Access options
Buy single article
Instant access to the full article PDF.
USD 39.95
Price excludes VAT (USA)
Tax calculation will be finalised during checkout.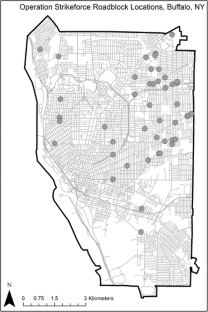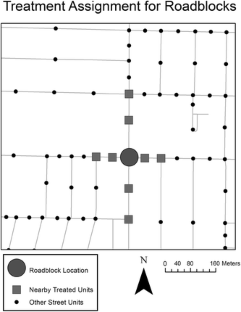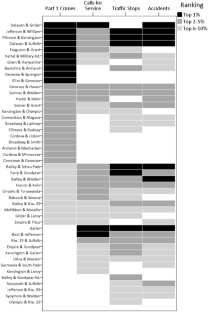 Notes
Results were also replicated using a caliper of one quarter of the standard deviation of the logit of the estimated propensity score. The findings were identical to those reported. Many different procedures to match control cases tend to result in very similar levels of balance subsequent inferences (Austin 2014).

Places that were targeted multiple times only the first treated time is used to determine the pre- and post-period.

We also conducted analysis assessing whether the treatment effect varied over locations. In particular, we were interested whether locations that had multiple roadblocks had larger deterrent effects, or places where multiple roadblocks were spatially clustered had larger deterrent effects. Neither appeared to be the case, and there were no specific locations with very large increases or decreases in crime, calls for service, or accidents—consistent with the pooled results.

For each regression equation, different sets of units needed to be dropped due to all zero counts. So not all equations have an equal number of observations associated with them.
References
Austin, P.C. 2014. A comparison of 12 algorithms for matching on the propensity score. Statistics in Medicine 33 (6): 1057–1069.

Bowers, K.J., S.D. Johnson, R.T. Guerette, L. Summers, and S. Poynton. 2011. Spatial displacement and diffusion of benefits among geographically focused policing initiatives: A meta-analytical review. Journal of Experimental Criminology 7 (4): 347–374.

Braga, A.A., D.M. Hureau, and A.V. Papachristos. 2011. An Ex Post Facto evaluation framework for place-based police interventions. Evaluation Review 35 (3–4): 592–626.

Braga, A.A., A.V. Papachristos, and D.M. Hureau. 2010. The concentration and stability of gun violence at micro places in Boston, 1980-2008. Journal of Quantitative Criminology 26 (1): 33–53.

Braga, A.A., A.V. Papachristos, and D.M. Hureau. 2012. The effects of hot spots policing on crime: An updated systematic review and meta-analysis. Justice Quarterly 31 (4): 633–663.

Browning, S., and K. Thompson. 2016. Specific deterrence and the infrequent use of sobriety checkpoints. Security Journal 29 (3): 340–351.

Bryant, K. 2014. An evaluation of data-driven approaches to crime and traffic safety in Shawnee, Kansas: 2010-2013. Prepared for the Department of Justice, Bureau of Justice Assistance, Smart Policing Initiative and the Shawnee Police Department. Last obtained from http://www.smartpolicinginitiative.com/sites/all/files/Shawnee%20KS%20PD%20SPI%20Final%20Report%20DDACTS.pdf on 8/9/2016.

Chaiken, J.M. 1978. What is known about deterrent effects of police activities. In James A Cramer (Ed.), Preventing Crime. Beverly Hills, CA: Sage, pp. 109–135.

Corsaro, N., D. Gerard, R. Engel, and J. Eck. 2012. Not by accident: An analytical approach to traffic crash harm reduction. Journal of Criminal Justice 40 (6): 502–514.

Crank, J., C. Koski, M. Johnson, E. Ramirez, A. Shelden, and S. Peterson. 2010. Hot corridors, deterrence, and guardianship: An assessment of the Omaha metro safety initiative. Journal of Criminal Justice 38 (4): 430–438.

Eck, J.E. 2006. When is a bologna sandwich better than sex? A defense of small-n case study evaluations. Journal of Experimental Criminology 2 (3): 345–362.

Erke, A., C. Goldenbeld, and T. Vaa. 2009. The effects of drink-driving checkpoints on crashes—A meta-analysis. Accident Analysis and Prevention 41 (5): 914–923.

Gibbs, J.P. 1988. Toward theories about criminal justice. Journal of Contemporary Criminal Justice 4 (1): 20–36.

Hinkle, J.C., D. Weisburd, C. Famega, and J. Ready. 2013. The problem is not just sample size: The consequences of low base rates in policing experiments in smaller cities. Evaluation Review 37 (3–4): 213–238.

Jacobs, B. 2010. Serendipity in robbery target selection. The British Journal of Criminology 50 (3): 514–529.

Jang, H., C.B. Lee, and L.T. Hoover. 2012. Dallas' disruption unit: efficacy of hot spots deployment. Policing: An International Journal of Police Strategies & Management 35 (3): 593–614.

Kochel, T. 2011. Constructing hot spots policing: Unexamined consequences for disadvantaged populations and for police legitimacy. Criminal Justice Policy Review 22 (3): 350–374.

Koper, C.S. 1995. Just enough police presence: reducing crime & disorderly behavior by optimizing patrol time in crime hot spots. Justice Quarterly 12 (4): 649–671.

Lawton, B.A., R.B. Taylor, and A.J. Luongo. 2005. Police officers on drug corners in Philadelphia, drug crime, and violent crime: Intended, diffusion, & displacement impacts. Justice Quarterly 22 (4): 427–451.

Levine, N., and K.E. Kim. 1998. The location of motor vehicle crashes in Honolulu: A methodology for geocoding intersections. Computers, Environment and Urban Systems 22 (6): 557–576.

Lum, C. 2011. License plate reader (LPR) police patrols in crime hot spots: An experimental evaluation in two adjacent jurisdictions. Journal of Experimental Criminology 7 (4): 321–345.

Matthews, R. 1990. Developing more effective strategies for curbing prostitution. Security Journal 1 (3): 182–187.

McClure, D., J. Levy, N. La Vigne, and D. Hayeslip. 2014. DDACTS evaluability assessment: Final report on individual and cross-site findings. Washington, D.C.: U.S. Department of Justice. National Institute of Justice.

McDowall, D., and C. Loftin. 2009. Do U.S. city crime rates follow a national trend? The influence of nationwide conditions on local crime patterns. Journal of Quantitative Criminology 25 (3): 307–324.

McDowall, D., C. Loftin, and M. Pate. 2012. Seasonal cycles in crime, and their variability. Journal of Quantitative Criminology 28 (3): 389–410.

Ozer, M. 2016. Automatic license plate reader (ALPRT) technology: Is ALPR a smart choice in policing? The Police Journal 89 (2): 117–132.

Phillips, S., A. Wheeler, and D. Kim. 2016. The effect of police paramilitary unit raids on crime at micro-places in Buffalo, New York. International Journal of Police Science & Management 18 (3): 206–219.

Piza, E., A. Gilchrist, J. Caplan, L. Kennedy, and B. O'Hara. 2016. The financial implications of merging proactive CCTV monitoring and directed police patrol: A cost-benefit analysis. Journal of Experimental Criminology 12 (3): 403–429.

Pogarsky, G., A.R. Piquero, and R. Paternoster. 2004. Modeling change in perceptions about sanction threats: The neglected linkage in deterrence theory. Journal of Quantitative Criminology 20 (4): 343–369.

Santos, R.G., and R.B. Santos. 2015. An ex post facto evaluation of tactical police response in residential theft from vehicle micro-time hot spots. Journal of Quantitative Criminology 31 (4): 679–698.

Riggs, W., and J. Gilderbloom. 2016. Two-way street conversion: Evidence of increased livability in Louisville. Journal of Planning Education and Research 36 (1): 105–118.

Rosenfeld, R., M.J. Deckard, and E. Blackburn. 2014. The effects of directed patrol and self-initiated enforcement on firearm violence: A randomized controlled study of hot spot policing. Criminology 52 (3): 428–449.

Sampson, R.J., S.W. Raudenbush, and F. Earls. 1997. Neighborhoods and violent crime: A multilevel study of collective efficacy. Science 277 (5328): 918–924.

Schnelle, J.F., R.E. Kirchner Jr., J.D. Casey, P.H. Uselton Jr., and M.P. McNees. 1977. Patrol evaluation research: A multiple-baseline analysis of saturation police patrolling during day and night hours. Journal of Applied Behavior Analysis 10 (1): 33–40.

Shaw, C.R., and H.D. McKay. 1969. Juvenile delinquency and urban areas. Chicago, IL: University of Chicago Press.

Sherman, L.W. 1990. Police crackdowns: Initial and residual deterrence. Crime & Justice 12: 1–48.

Sherman, L.W., and D.P. Rogan. 1995. Effects of gun seizures on gun violence: "Hot spots" patrol in Kansas City. Justice Quarterly 12 (4): 673–693.

Sherman, L.W., and D. Weisburd. 1995. General Deterrent effects of police patrol in crime "hot spots": A randomized controlled trial. Justice Quarterly 12 (4): 625–648.

Tonry, M. 2011. Less imprisonment is no doubt a good thing: More policing is not. Criminology & Public Policy 10 (1): 137–152.

Taylor, B., C. Koper, and D. Woods. 2012. Combating vehicle theft in Arizona: A randomized experiment with license plate recognition technology. Criminal Justice Review 37 (1): 24–50.

Weisburd, D., S.D. Bushway, C. Lum, and S.M. Yang. 2004. Trajectories of crime at places: A longitudinal study of street segments in the city of Seattle. Criminology 42 (2): 283–322.

Weisburd, D., and C. Gill. 2014. Block randomized trials at places: Rethinking the limitations of small N experiments. Journal of Quantitative Criminology 30 (1): 97–112.

Weisburd, D., and C. Telep. 2014. Hot spots policing: What we know and what we need to know. Journal of Contemporary Criminal Justice 30 (2): 200–220.

Welsh, B., M. Mudge, and D. Farrington. 2010. Reconceptualizing public area surveillance and crime prevention: Security guards, place managers, and defensible space. Security Journal 23 (4): 299–319.
About this article
Cite this article
Wheeler, A.P., Phillips, S.W. A quasi-experimental evaluation using roadblocks and automatic license plate readers to reduce crime in Buffalo, NY. Secur J 31, 190–207 (2018). https://doi.org/10.1057/s41284-017-0094-1
Published:

Issue Date:

DOI: https://doi.org/10.1057/s41284-017-0094-1
Keywords