Abstract
The present study analyses the influence that perceived default risk and accounting information quality have on the process of credit granting to small- and medium-sized enterprises (SMEs). Empirical evidence was obtained from a survey of 471 bank loan officers in Spain, in which they were asked to answer questions relating to audited and not-audited firms. Through a structural equations modeling (SEM) approach, the results confirm that the likelihood that the loan officers are more willing to provide access to credit to SMEs, and to do so in more favourable conditions, is negatively influenced by perceived default risk and positively influenced by the general perception about accounting information quality. Besides, we find that information quality is an antecedent of perceived risk, so that the latter becomes the central element of the research model. Additionally, the perceptions of the decision-makers regarding all the analysed variables are better for the audited SMEs than for the unaudited ones.
Access options
Buy single article
Instant access to the full article PDF.
USD 39.95
Price includes VAT (USA)
Tax calculation will be finalised during checkout.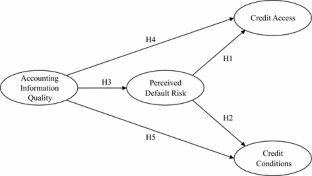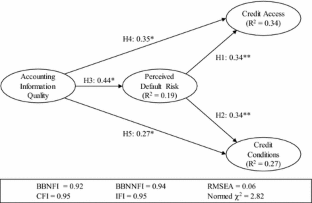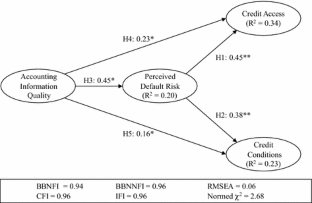 Notes
1.

Section 2 of International Financial Reporting Standard for Small and Medium-sized Entities (IFRS for SMEs), published by the International Accounting Standards Board (IASB), establishes 11 qualitative characteristics (understandability, relevance, materiality, reliability, substance over form, prudence, completeness, comparability, timeliness, balance between benefit and cost, undue cost or effort) that financial information must gather. However, there are five dimensions that have been most frequently used to refer to 'information quality': timeliness, accuracy, completeness, relevance and reliability (see, among others, Monczka et al. 1998; Nicolaou and McKnight 2006).
References
Alessandrini, P., A.F. Presbitero, and A. Zazzaro. 2009. Banks, distances and firms' financing constraints. Review of Finance 13 (2): 261–307.

Armstrong, J.S., and T.S. Overton. 1977. Estimating nonresponse bias in mail surveys. Journal of Marketing Research 14 (3): 396–402.

Avery, R.B., R.W. Bostic, P.S. Calem, and G.B. Canner. 1996. Credit risk, credit scoring, and the performance of home mortgages. Federal Research Bulletin 82: 621–648.

Bagozzi, R.P., and Y. Yi. 1988. On the evaluation of structural equation models. Journal of the Academy of Marketing Science 16 (1): 74–94.

Bauer, R.A. 1960. Consumer behavior as risk taking. In Risk Taking and Information Handling in Consumer Behavior, ed. D.F. Cox, 389–398. Cambridge: Harvard University Press.

Beck, T., A. Demirgüç-Kunt, and V. Maksimovic. 2005. Financial and legal constraints to growth: Does firm size matter? Journal of Finance 60 (1): 137–177.

Beck, T., A. Demirgüç-Kunt, L. Laeven, and V. Maksimovic. 2006. The determinants of financing obstacles. Journal of International Money and Finance 25 (6): 932–952.

Berger, A.N., and G.F. Udell. 1998. The economics of small business finance: The roles of private equity and debt markets in the financial growth cycle. Journal of Banking and Finance 22 (6): 613–673.

Berger, A.N., and G.F. Udell. 2006. A more complete conceptual framework for SME finance. Journal of Banking and Finance 30 (11): 2945–2966.

Berger, A.N., L.F. Klapper, and G.F. Udell. 2001. The ability of banks to lend to informationally opaque small business. Journal of Banking and Finance 25 (12): 2127–2167.

Berry, A.J., S. Faulkner, M. Hughes, and R. Jarvis. 1993. Financial information, the banker and the small business. The British Accounting Review 25 (2): 131–150.

Binks, M.R., and C.T. Ennew. 1996. Growing firms and the credit constraint. Small Business Economics 8 (1): 17–25.

Boze, B.V. 1988. Selection of legal services: An investigation of perceived risk. Journal of Professional Services Marketing 3 (1/2): 287–297.

Brown, M., T. Jappelli, and M. Pagano. 2009. Information sharing and credit: Firm-level evidence from transition countries. Journal of Financial Intermediation 18 (2): 151–172.

Bruns, V., D.V. Holland, D.A. Shepherd, and J. Wiklund. 2008. The role of human capital in loan officers' decision policies. Entrepreneurship Theory and Practice 32 (3): 485–506.

Byrne, B.M. 1994. Structural Equation Modeling with EQS and EQS/Windows: Basic Concepts, Applications, and Programming. Thousand Oaks: Sage Publications.

Casasola, M.J., and C. Cardone. 2009. "Too important to fail": Do banking relationships improve Spanish SMEs credit conditions? Universia Business Review 24: 12–29.

Cassar, G. 2011. Discussion of the value of financial statement verification in debt financing: Evidence from private U.S. firms. Journal of Accounting Research 49 (2): 507–528.

Chang, S.J., A. Van Witteloostuijn, and L. Eden. 2010. From the editors: Common method variance in international business research. Journal of International Business Studies 41 (2): 178–184.

Churchill, G.A., and D. Iacobucci. 2002. Marketing Research Methodological Foundations, 8th ed. Mason: Thomson.

Collis, J., R. Jarvis, and L. Skerratt. 2004. The demand for the audit in small companies in the UK. Accounting and Business Research 34 (2): 87–100.

Cosh, A., and A. Hughes. 1994. Size, financial structure and profitability: UK companies in the 1980s. In Finance and the Small Firm, ed. A. Hughes, and D.J. Storey, 18–63. London: Routledge.

Cressy, R. 2002. Introduction: Funding gaps. Economic Journal 112 (477): F1–F16.

Danos, P., D.L. Holt, and E.A. Imhoff. 1989. The use of accounting information in bank lending decisions. Accounting, Organizations and Society 14 (3): 235–246.

D'Auria, C., A. Foglia, and P.M. Reedtz. 1999. Bank interest rates and credit relationships in Italy. Journal of Banking and Finance 23 (7): 1067–1093.

De la Torre, A., M.S. Martínez-Pería, and S.L. Schmuckler. 2010. Bank involvement with SMEs: Beyond relationship lending. Journal of Banking and Finance 34 (9): 2280–2293.

Dechow, P., W. Ge, and C. Schrand. 2010. Understanding earnings quality: A review of the proxies, their determinants and their consequences. Journal of Accounting and Economics 50 (2): 344–401.

DeJong, D.V., and J.H. Smith. 1984. The determination of audit responsibilities: An application of agency theory. Auditing: A Journal of Practice and Theory 4 (2): 20–34.

Demirgüç-Kunt, A., L. Klapper, D. Singer, and P. Van Oudheusden. 2015. The Global Findex Database 2014: Measuring Financial Inclusion Around the World. Policy Research Working Paper 7255. Washington: World Bank.

Dowling, G.R., and R. Staelin. 1994. A model of perceived risk and intended risk-handling activity. Journal of Consumer Research 21 (1): 119–134.

Elsas, R., and J.P. Krahnen. 1998. Is relationship lending special? Evidence from credit-file data in Germany. Journal of Banking and Finance 22 (10): 1283–1316.

Fornell, C., and D. Larcker. 1981. Evaluating structural equation models with unobservable variables and measurement error. Journal of Marketing Research 18 (1): 39–50.

Fredriksson, A., and A. Moro. 2014. Bank-SMEs relationships and banks' risk-adjusted profitability. Journal of Banking and Finance 41: 67–77.

Guiral, A., E. Ruiz, and H.J. Choi. 2014. Audit report information content and the provision of non-audit services: Evidence from Spanish lending decisions. Journal of International Accounting, Auditing and Taxation 23 (1): 44–57.

Hair, J.F., R.E. Anderson, R.L. Tatham, and W.C. Black. 2010. Multivariate Data Analysis, 7th ed. New Jersey: Prentice Hall.

Hyytinen, A., and M. Pajarinen. 2008. Opacity of young businesses: Evidence from rating disagreements. Journal of Banking and Finance 32 (7): 1234–1241.

Hyytinen, A., and L. Väänänen. 2006. Where do financial constraints originate from? An empirical analysis of adverse selection and moral hazard in capital markets. Small Business Economics 27 (4–5): 323–348.

IASB. 2009. International Financial Reporting Standard for Small and Medium-sized Entities (IFRS for SMEs). London, UK: IASC Foundation Publications Department.

Karanja, E., and M.A. Rosso. 2017. The Chief Risk Officer: A study of roles and responsibilities. Risk Management 19 (2): 103–130.

Libby, R. 1979. The impact of uncertainty reporting on the loan decision. Journal of Accounting Research 17: 35–57.

Love, I., and N. Mylenko. 2003 Credit Reporting and Financing Constraints. World Bank Mimeo.

Miranda, S.M., and C.S. Saunders. 2003. The social construction of meaning: An alternative perspective on information sharing. Information Systems Research 14 (1): 87–107.

Mitchell, V. 1999. Consumer perceived risk: Conceptualisations and models. European Journal of Marketing 33 (1/2): 163–195.

Monczka, R.M., K.J. Petersen, R.B. Handfield, and G.L. Ragatz. 1998. Success factors in strategic supplier alliances: The buying company perspective*. Decision Sciences 29 (3): 553–577.

Moro, A., M. Fink, and T. Kautonen. 2014. How do banks assess entrepreneurial competence? The role of voluntary information disclosure. International Small Business Journal 32 (5): 525–544.

Moro, A., M. Fink, and D. Maresch. 2015. Reduction in information asymmetry and credit access for small and medium-sized enterprises. Journal of Financial Research 38 (1): 121–143.

Nicolaou, A.I., and D.H. McKnight. 2006. perceived information quality in data exchanges: Effects on risk, trust, and intention to use. Information Systems Research 17 (4): 332–351.

Norden, L., and M. Weber. 2010. Credit line usage, checking account activity, and default risk of bank borrowers. Review of Financial Studies 23 (10): 3665–3699.

Palazuelos, E., J. Montoya, and A. Herrero. 2017. Determinants of the continuity in the voluntary demand for external auditing services: Evidence for the case of Spain. Spanish Accounting Review 20 (1): 63–72.

Petersen, M.A., and R.G. Rajan. 1994. The benefits of lending relationships: Evidence from small business data. The Journal of Finance 49 (1): 3–37.

Podsakoff, P.M., S.B. Mackenzie, J.Y. Lee, and N.P. Podsakoff. 2003. Common method biases in behavioral research: A critical review of the literature and recommended remedies. Journal of Applied Psychology 88 (5): 879–903.

Scott, J.A. 2006. Loan officer turnover and credit availability for small firms. Journal of Small Business Management 44 (4): 544–562.

Siegrist, M., H. Gutscher, and T.C. Earle. 2005. Perception of risk: The influence of general trust, and general confidence. Journal of Risk Research 8 (2): 145–156.

Steenkamp, J.B.E., and H.C. Van Trijp. 1991. The use of LISREL in validating marketing constructs. International Journal of Research in Marketing 8 (4): 283–299.

Stiglitz, J.E., and A. Weiss. 1981. Credit rationing in markets with imperfect information. The American Economic Review 71 (3): 393–410.

Toft, B. 2002. Financial risks, decisions and behaviour. Risk Management 4 (1): 7–15.

Van Caneghem, T., and G. Van Campenhout. 2012. Quantity and quality of information and SME financial structure. Small Business Economics 39 (2): 341–358.

Wagner, S.M., L.S. Coley, and E. Lindemann. 2011. Effects of suppliers' reputation on the future of buyer-supplier relationships: The mediating roles of outcome fairness and trust. Journal of Supply Chain Management 47 (2): 29–48.

Zecchini, S., and M. Ventura. 2009. The impact of public guarantees on credit to SMEs. Small Business Economics 32 (2): 191–206.
Appendix 1
Appendix 1
See Table 7.
About this article
Cite this article
Palazuelos, E., Herrero Crespo, Á. & Montoya del Corte, J. Effect of perceived default risk and accounting information quality on the decision to grant credit to SMEs. Risk Manag 20, 121–141 (2018). https://doi.org/10.1057/s41283-017-0030-z
Keywords
Perceived risk

Information quality

Credit access

Credit conditions

External audit

SMEs