Abstract
This article attempts to rethink what conservationists have seen as the damage done to manuscripts by insects from the insects' perspective. We have learned so much in recent years about the agency of the ruminants whose skins make up the leaves of medieval manuscripts, but we have yet to hear much from the bookworm. Small wonder: the cow gives its skin for the conservation of texts, while the bookworm, the natural enemy of the librarian, steals our words like a 'þeof in þystro' ['a thief in the dark'], in the words of the Exeter riddle. This article reconsiders this ancient rivalry between human and insect bookworms as a mutually constitutive partnership, and even as a co-authorship of the text or, in Barad's words, an entanglement.
Access options
Buy single article
Instant access to the full article PDF.
US$ 39.95
Tax calculation will be finalised during checkout.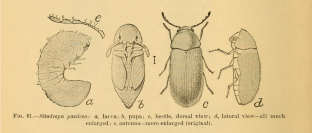 Notes
1.

Thanks to recent advances in proteomic and genomic analysis, we now know how many and (to a certain extent) which animals (in terms of species, breed, and gender) gave their hides to which codices: for example, we know that 216 animals gave their hides to the fourteenth-century Messale Rosselli, 41% calves and 59% goats (Calà, 2019, 723–4).

2.

Here, my take differs from that of Zeb Tortorici, who emphasizes the battles lost by insects in the archive, which have indeed been many: 'Pests,' he stresses, 'are killed within the documents, for the documents, and by the documents' (Tortorici, 2015, 84).

3.

On the recent, alarming decline of insect populations, see Hallmann, et al. (2017).

4.

In the past, librarians attempted to deter Sitodrepa panacea with 'a little fine pepper sprinkled on the shelves' (Iiams, 1932, 376). Inadvertently, they were only spicing the bookworm's meal.

5.

A survey conducted by researchers at University College London's Institute for Sustainable Heritage found that subjects compared the smell of old books to that of chocolate, coffee, and burnt wood (Bembibre and Strlič, 2017).

6.

For another epigram that compares grammarians to bookworms, see Philippus (1916–18, 4.218–19).

7.

See Owen (2004) for an account of the collaboration between forgers, authenticators, and dealers.

8.

We have already seen that antiquarians kept collections of pet bookworms, a habit that, in light of these accusations, begins to look rather suspicious.

9.

10.

Our bodies leave both visible and invisible marks on what we read, such as yellowed or darkened splotches left by the oils in fingertips (or by kisses: see Amsler, 2001, 96–7), and microbial analysis reveals a teeming 'biological palimpsest' of microbes from human mouths, stool, nose, and skin imprinted on the leaves of medieval manuscripts (Teasdale, 2017, 3–7).
References
Amsler, M. 2001. Affective Literacy: Gestures of Reading in the Later Middle Ages. Essays in Medieval Studies 18: 83–110.

Antiphanes. 1916–18. On the Grammarians. In The Greek Anthology, ed. W. Paton, 218–221. 5 vols. London: Heinemann.

Aristotle. 1970. History of Animals: Books IV–VI, trans. A. Peck. Cambridge, MA: Harvard University Press.

Aziz, M.S. and A.Y. El sherif. 2016. Biomimicry as an approach for bio-inspired structure with the aid of computation. Alexandria Engineering Journal 55 (1): 707–14.

Barad, K. 2007. Meeting the Universe Halfway: Quantum Physics and the Entanglement of Matter and Meaning. Durham, NC: Duke University Press.

Barney, S.A. 1977. Word-Hoard: An Introduction to Old English Vocabulary. New Haven, CT: Yale University Press.

Baynes-Cope, A. 1974. The Scientific Examination of the Vinland Map at the Research Laboratory of the British Museum. Geographical Journal 140 (2): 208–11.

Bembibre, C. and M. Strlič. 2017. Smell of heritage: a framework for the identification, analysis and archival of historic odours. Heritage Science 5 (2). https://doi.org/10.1186/s40494-016-0114-1.

Bowden, A. 1885. The Bookworm. Book-Lore 1: 161–5.

Calà, E. et al. 2019. The Messale Rosselli: Scientific investigation on an outstanding 14th-century illuminated manuscript from Avignon. Journal of Archaeological Science: Reports 23: 721–30.

Carruthers, R. and H. Weiss. 1937. Annotated Bibliography. Insect Enemies of Books, 19–57. New York: New York Public Library.

Clark-Hall, J.R. [1894] 1960. A Concise Anglo-Saxon Dictionary, Fourth Ed. Toronto, Canada: University of Toronto Press.

Colgrave, B. and R.A.B. Mynors, eds. 1969. Bede's Ecclesiastical History of the English People. Oxford, UK: Clarendon Press.

Craven, W. 2005. Stanford White: Decorator in Opulence and Dealer in Antiquities. New York: Columbia University Press.

Ehrlich, H. 2015. Materials Design Principles of Fish Scales and Armor. In Biological Materials of Marine Origin, 237–62. Dordrecht, Netherlands: Springer.

Foys, M. 2018. The Undoing of Exeter Book Riddle 47: 'Bookmoth.' In Transitional States: Change, Tradition, and Memory in Medieval Literature and Culture, ed. G. Caie and M. Drout, 101–30. Tempe, AZ: ACMRS.

Hallmann, C. et al. 2017. More than 75 percent decline over 27 years in total flying insect biomass in protected areas. PloS One 12 (10): 1–21.

Holsinger, B. 2009. Of Pigs and Parchment: Medieval Studies and the Coming of the Animal. PMLA 124 (2): 616–23.

Hooke, R. 1665. Micrographia. London: Royal Society.

Horace. 2004. Odes and Epodes, ed. N. Rudd. Cambridge, MA: Harvard University Press.

Howard, L. and C. Marlatt. 1896. Principal Household Insects of the United States. Washington D.C.: Government Printing Office.

Howe, D. and M. Warren. 2014. The Dartmouth Brut: Conservation, Authenticity, Dissemination. Digital Philology 3 (2): 178–95.

Houlbert, C. 1903. Les insectes ennemis des livres. Paris, France: Picard.

Iiams, T. M. 1932. Preservation of Rare Books and Manuscripts in the Huntington Library. The Library Quarterly: Information, Community, Policy 2(4): 375–86.

Isidore of Pelusium. 1860. CXXVII. Vol. 78 of Patrologiae Graeca, ed. J.-P. Migne, 267. Paris, France: Imprimerie Catholique, 1857–1866.

Jones, M. 1990. Fake? The Art of Deception. Berkeley, CA: University of California Press.

Kar, S., S. Lahiri, and S. SenGupta. 2015. Can extra dimensional effects allow wormholes without exotic matter? Physics Letters B 750: 319–24. https://doi.org/10.1016/j.physletb.2015.09.039.

Kay, S. 2017. Animal Skins and the Reading Self in Medieval Latin and French Bestiaries. Chicago, IL: University of Chicago Press.

Kwakkel, E. 2018. Books Before Print. Leeds: Arc.

Lopez, R. 1971. The Case is Not Yet Settled. In Proceedings of the Vinland Map Conference, ed. W. Washburn, 31–43. Chicago, IL: University of Chicago Press.

Lucian. 1960. The Ignorant Bookseller. Vol. 3 of Lucian, trans. A. Harmon, 174–211. Cambridge, MA: Harvard University Press.

Miller, T, ed. 1891. Vol. 2. of The Old English Version of Bede's Ecclesiastical History of the English People. Early English Text Society 96. London: Oxford University Press.

Misner, C.W. and J.A. Wheeler. 1957. Classical Physics as Geometry. Annals of Physics 2 (6): 525–603.

Muir, B. 2000. The Exeter Anthology of Old English Poetry. 2 vols. Exeter, UK: University of Exeter Press.

Osler, W. 1917. Illustrations of the Book-Worm. Bodleian Quarterly Record 1 (23): 355–7.

Owen, R. 2004. Duped art experts praise a master forger. The Times, 19 June.

Philippus 1916–18. 321 – Epigram on the Grammarians. In The Greek Anthology, ed. W.R. Paton, 218–19. 5 vols. London: William Heinemann.

Pinniger, D. 2001. Pest Management in Museums, Archives, and Historic Houses. London, Archetype.

Pinniger, D. 2010. Saving Our Heritage – Pest Management in Museums and Historic Houses. Outlooks on Pest Management 21(5): 239–41.

Reinicke, W. 1924. The Insidious Bookworm. Bookman 59 (5): 573–8.

Symphosius. 2014. Tinea. In Symphosius: The Aenigmata, ed. T. Leary. London: Bloomsbury.

Teasdale, M.D. et al. 2017. The York Gospels: A One Thousand Year Biological Palimpsest. Royal Society Open Science 4 (10): 1–15. https://doi.org/10.1098/rsos.170988.

Thomas, E., ed. 1970. The Philobiblon of Richard of Bury. Oxford, UK: Blackwell.

Tortorici, Z. 2015. Animal Archive Stories: Species Anxiety in the Mexican National Archive. In The Historical Animal, ed. S. Nance, 75–98. Syracuse, NY: Syracuse University Press.

Vincent, J.F.V. et al. 2006. Biomimetics: its practice and theory. Journal of The Royal Society Interface 3 (9): 471–82.

Weiss, H. 1937. The More Important Insect Enemies of Books. In H. Weiss and R. Carruthers, Insect Enemies of Books, 3–18. New York: New York Public Library.
Acknowledgments
My heartfelt thanks to Marieke Van Der Steenhoven at the Department of Special Collections at Bowdoin College and to Vanessa Wilkie at the Huntington Library for all their generous help with this project.
Additional information
Publisher's Note
Springer Nature remains neutral with regard to jurisdictional claims in published maps and institutional affiliations.
About this article
Cite this article
Solberg, E.M. Human and insect bookworms. Postmedieval 11, 12–22 (2020). https://doi.org/10.1057/s41280-020-00162-z