Abstract
The symbiotic relationship between ports and cities in spatial, social, and cultural terms is fundamental in tackling new transport, urban, and environmental challenges. A positive perception of port clusters within local communities is increasingly becoming a source of competitive advantage for the further development of port clusters and regions. This research examines how the economic, social, and environmental practices of port-managing bodies influence such perceptions and ensure the sustainable development of port clusters and regions. We define sustainable port practices and measure their impact on perceptions of ports. We apply structural equation modeling (SEM) to data from 256 survey responses. The results confirm the importance of sustainable port practices in influencing perceptions. Communication with local communities; the participation of the latter in port management; and investment by the port in local development are key sustainable port practices. The study also confirms the moderating influence of the characteristics of the port region and port cluster.
Access options
Buy single article
Instant access to the full article PDF.
USD 39.95
Price excludes VAT (USA)
Tax calculation will be finalised during checkout.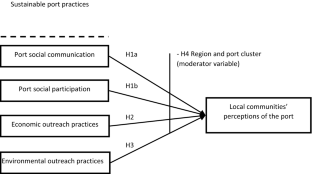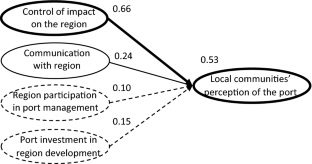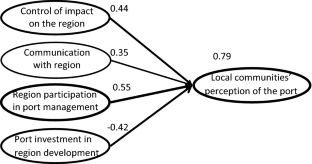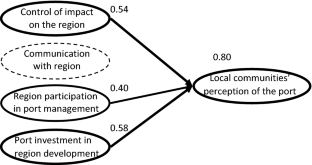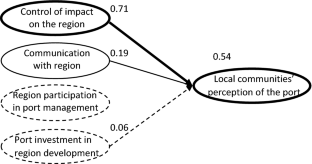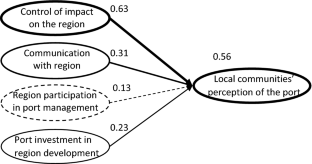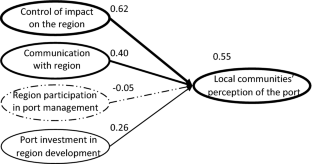 References
Adams, M., P. Quinonez, P. Pallis, A.A. and T.H. Wakeman. 2009. Environmental issues in port competitiveness. Working Paper 7, Centre for International Trade and Transportation. Halifax: Dalhousie University.

AIVP 2022. Agenda 2030. 10 goals for sustainable port cities: https://www.aivp.org/wp-content/uploads/2021/01/AIVP_Agenda_2030-Brochure-2020-EN.pdf.

Arbuckle, J. L. 2010. IBM SPSS AMOS 19 user's guide. Crawfordville: Amos Development Corporation

Ashrafi, M., M. Acciaro, T. Walker, G. Magnan, and M. Adams. 2019. Corporate sustainability in Canadian and US maritime ports. Journal of Cleaner Production 220: 386–397.

Ashrafi, M., T.R. Walker, G.M. Magnan, M. Adams, and M. Acciaro. 2020. A review of corporate sustainability drivers in maritime ports: A multi-stakeholder perspective. Maritime Policy & Management 47 (8): 1027–1044. https://doi.org/10.1080/03088839.2020.1736354.

Bonciani, B. 2016. L'impatto economico del crocierismo, tra porto e città: Iconsumi degli equipaggi. Rivista Di Economia e Politica Dei Trasporti 3 (5): 1–20.

Bossuyt, D.M., and F. Savini. 2018. Urban sustainability and political parties: Eco-development in Stockholm and Amsterdam. Environment and Planning C. Politics Space 36: 1006–1026.

Carpenter, A., and R. Lozano. (eds.). 2020. European port cities in transition. Strategies for Sustainability. https://doi.org/10.1007/978-3-030-36464-9. Port-city redevelopment and sustainable development P Fenton—European port cities in transition.

Castellano, R., M. Ferretti, G. Musella, and M. Risitano. 2020. Evaluating the economic and environmental efficiency of ports: Evidence from Italy. Journal of Cleaner Production 271: 122560. https://doi.org/10.1016/j.jclepro.2020.122560.

Cerreta, M., E. Giovene di Girasole, G. Poli, and S. Regalbuto. 2020. Operationalizing the circular city model for Naples' City-Port: A hybrid development strategy. Sustainability 12: 2927.

Cheon, S.H., and E. Dwakin. 2010. Supply chain coordination for port sustainability. Journal of the Transportation Research Board 2166: 10–19.

D'agostini, E., and S.-H. Jo. 2018. Port-city and local population relationship: The perception of busan citizens of the port. Journal of Navigation and Port Research 43 (2): 110–121. https://doi.org/10.5394/KINPR.2019.43.2.11.

De Langen, P., and H. Sornn-Friese. 2019. Chapter 5—Ports and the circular economy green ports inland and seaside sustainable transportation strategies, 85–108. Amsterdam: Elsevier.

Dooms, M. 2019. Stakeholder management for port sustainability: moving from Ad-Hoc to structural approaches. In 2019, Green ports: Inland and seaside sustainable transportation strategies, ed. R. Bergqvist and J. Monios, 63–84. Amsterdam: Elsevier.

Ducruet, C., and S.-W. Lee. 2006. Frontline soldiers of globalisation: Port-City evolution and regional competition. GeoJournal 67: 107–122.

Eabrasu, M., M. Brueckner, and R. Spencer. 2021. A social license to operate legitimacy test: Enhancing sustainability through contact quality. Journal of Cleaner Production 293: 126080.

Fobbe, L., R. Lozano, and A. Carpenter. 2020. Proposing a holistic framework to assess sustainability performance in seaports. In European port cities in transition: Moving towards more sustainable sea transport hubs. eds. A. Carpenter and R. Lozano. Pub. January 2020. https://doi.org/10.1007/978-3-030-36464-9_3.

Geerts, M., and M. Dooms. 2020. Sustainability reporting for inland port managing bodies: A stakeholder-based view on materiality. Sustainability 12 (5): 1726. https://doi.org/10.3390/SU12051726.

Gkargkavouzi, A., G. Halkos, and S. Matsiori. 2019. Assessing values, attitudes, and threats towards marine biodiversity in a Greek coastal port city and their interrelationships. Ocean and Coastal Management 167: 115–126. https://doi.org/10.1016/j.ocecoaman.2018.09.008.

Green, R. 1999. Meaning and form in community perception of town character. Journal of Environmental Psychology 19 (4): 311–329. https://doi.org/10.1006/jevp.1999.0143.

Haezendonck, E., M. Dooms, and A. Verbeke. 2014. A new governance perspective on port-hinterland relationships: The Port Hinterland Impact (PHI) matrix. Maritime Economics & Logistics 16 (3): 229–249.

Haezendonck, E., G. Pison, P. Rousseeuw, A. Struyf, and A. Verbeke. 2000. The competitive advantage of seaports. International Journal of Maritime Economics 2 (2): 69–82. https://doi.org/10.1057/ijme.2000.8.

Hall, P., and W. Jacobs. 2012. Why are maritime ports (still) urban, and why should policy-makers care? Maritime Policy & Management 39 (2): 189–206.

Hein, C., S. Luning, and P. van der Laar. 2021. Innovative methods for studying and shaping cultures. In Port City Territories, Port city cultures, values, or maritime mindsets, Part 2: Studying and shaping cultures in port city territories. European Journal of Creative Practices in Cities and Landscapes 2 (4): 7–15. https://doi.org/10.6092/issn.2612-0496/v2-n2-2019.

Hein, C., and P. Schubert. 2020. Resilience and path dependence: A comparative study of the port cities of London, Hamburg, and Philadelphia. Journal of Urban History 47 (2): 389–419.

Hörisch, J., R.E. Freeman, and S. Schaltegger. 2014. Applying stakeholder theory in sustainability management: Links, similarities, dissimilarities, and a conceptual framework. Organization & Environment 27 (4): 328–346.

Hossain, T., M. Adams, and T.R. Walker. 2019. Sustainability initiatives in Canadian ports. Marine Policy 106: 103519. https://doi.org/10.1016/j.marpol.2019.103519.

Hossain, T., M. Adams, and T.R. Walker. 2021. Role of sustainability in global seaports. Ocean and Coastal Management 202 (1): 105435.

Hoyle, B. 1999. Scale and sustainability: The role of community groups in Canadian port-city waterfront change. Journal of Transport Geography 7: 65–78.

Ignaccolo, M., G. Inturri, and M. Le Pira. 2018. Framing stakeholder involvement in sustainable port planning. Transport Maritime Science 7: 136–142.

Ignaccolo, M., Inturri, G., Giuffrida, N., Torrisi, V., and Cocuzza, E. 2020. Sustainability of freight transport through an integrated approach: the case of the eastern sicily port system. Transportation Research Procedia, 45: 177–184

Jansen, M., A. Brandellero, and R. van Houwelingen. 2021. Port-City transition: Past and emerging socio-spatial imaginaries and uses in Rotterdam's Makers District. Cogitatio 6 (3): 166–180.

Jean Debrie, J., and N. Raimbault. 2016. The port–city relationships in two European inland ports: A geographical perspective on urban governance. Cities 50: 180–187.

Jiang, B., Y. Li, W. Lio, and J. Li. 2018. Sustainability efficiency evaluation of seaports in China: An uncertain data envelopment analysis approach. Soft Computing 24: 2503–2514. https://doi.org/10.1007/s00500-018-3559-1.

Jöreskog, K. and Sörbom, D. 1993. LISREL 8: Structural Equation Modeling with the SIMPLIS Command Language. Chicago, IL: Scientific Software International Inc.

Joyce, S., and I. Thomson. 2000. Earning a social license to operate: Social acceptability and resource development in Latin America. The Canadian Mining and Metallurgical Bulletin 93 (1037): 49–52.

Kellya, R., G. Pecla, and A. Fleming. 2017. Social license in the marine sector: A review of understanding and application. Marine Policy 81: 21–28.

Kuznetsov, A., J. Dinwoodie, D. Gibbs, M. Sansom, and H. Knowles. 2015. Towards a sustainability management system for smaller ports. Marine Policy 54: 59–68. https://doi.org/10.1016/j.marpol.2014.12.016.

Lam, J., and W. Yap. 2019. A stakeholder perspective of port city sustainable development. Sustainability 11 (2): 447.

Lee, J. 1951. Coefficient alpha and the internal structure of tests. Psychometrika 16 (3): 297–334. https://doi.org/10.1007/bf02310555.

Lim, S., S. Pettit, W. Abouarghou, and A. Beresford. 2019. Port sustainability and performance: A systematic literature review. Transportation Research Part D: Transport and Environment 72: 47–64. https://doi.org/10.1016/j.trd.2019.04.009.

Lopez-Navarro, M., V. Tortosa-Edo, and V. Castan-Broto. 2018. Firm-local community relationships in polluting industrial agglomerations: How firms' commitment determines residents' perceptions. Journal of Cleaner Production 186: 22–33.

Moeremans, B., and M. Dooms. 2021. An Exploration of Social License to Operate (SLTO) measurement in the port industry: The case of North America. Sustainability 13 (5): 2543.

Moglia, F., and M. Sanguineri. 2003. Port planning: The need for a new approach? Maritime Economics & Logistics 5: 413–425. https://doi.org/10.1057/palgrave.mel.9100089.

Musso, E., M. Benacchio, and C. Ferrari. 2000. Ports and employment in port cities. Maritime Economics & Logistics 2: 283–311. https://doi.org/10.1057/ijme.2000.23.

Narula, S., S. Narula, and S. Rai. 2018. Environmental awareness and the role of social media. Hershey: IGI Global, ISBN: 978-1-5225-5291-8.

Oh, H., S. Lee, and Y. Seo. 2018. The evaluation of seaport sustainability: The case of South Korea. Ocean and Coastal Management 161: 50–56.

Ports Australia. 2020. Port sustainability strategy development guide: Approaches and future opportunities, 2020. https://uploads-ssl.webflow.com/5b503e0a8411da3c0f173ea8/5f6a83dc05a0951f90a9bb86_Port%20Sustainability%20Strategy%20Development%20Guide.pdf, Accessed 21 April 2021.

Rodriguez, M. A., Ricart, J. E. and Sanchez, P. 2002. Sustainable development and the sustainability of competitive advantage: A Dynamic and sustainable view of the firm sustainable development and competitive advantage. Blackell Publishers Ltd, Oxford, 11 (3): 135–146

Roh, S., V.V. Thai, and Y.D. Wong. 2016. Towards sustainable ASEAN port development: Challenges and opportunities for vietnamese ports. The Asian Journal of Shipping and Logistics 32 (2): 107–118. https://doi.org/10.1016/j.ajsl.2016.05.004.

Santos Martín, A.E., N. González-Cancelas, B.M. Serrano, and F. Soler-Flores. 2020. Towards the sustainability of the Spanish Port System through the business observation tool. Proceedings of the Institution of Civil Engineers—Maritime Engineering. https://doi.org/10.1680/jmaen.2020.25.

Schippera, C., H. Vreugdenhila, and M. de Jonga. 2017. A sustainability assessment of ports and port-city plans: Comparing ambitions with achievements. Transportation Research Part D 57: 84–111.

Shiau, T.-A., and C.-C. Chuang. 2013. Social construction of port sustainability indicators: A case study of Keelung Port. Maritime Policy & Management 42 (1): 26–42. https://doi.org/10.1080/03088839.2013.863436.

Stein, M., and M. Acciaro. 2020. Value creation through corporate sustainability in the port sector: A structured literature analysis. Sustainability 12 (14): 5504. https://doi.org/10.3390/SU12145504.

Tan, T.Y. 2007. Port cities and hinterlands: A comparative study of Singapore and Calcutta. Political Geography 26 (7): 851–865.

Tyson, Elic, Brian Kennedy, and Cary Funk. 2021. Gen Z, Millennials Stand out for Climate Change Activism, Social Media Engagement with Issue. Pew Research Center. https://www.pewresearch.org/science/2021/05/26/gen-z-millennialsstand-out-for-climate-change-activism-social-media-engagement-with-issue.

Van den Berghe, K., and T.A. Daamen. 2020. From planning the port/city to planning the port-city: Exploring the economic interface in European port cities. Cham: Springer.

Voyer, M., W. Gladstone, and H. Goodall. 2015. Obtaining a social license for MPAs—influences on social acceptability. Marine Policy 51: 260–266.

WPSP. 2020. World ports sustainability report, World Ports Sustainability Program, www.sustainableworldports.org. Accessed 21 April 2021.

Zheng, Y., J. Zhao, and G. Shao. 2020. Port city sustainability: A review of its research trends. Sustainability 12 (20): 8355.
Additional information
Publisher's Note
Springer Nature remains neutral with regard to jurisdictional claims in published maps and institutional affiliations.
Appendix
Appendix
About this article
Cite this article
Felício, J.A., Batista, M., Dooms, M. et al. How do sustainable port practices influence local communities' perceptions of ports?. Marit Econ Logist 25, 351–380 (2023). https://doi.org/10.1057/s41278-022-00237-7
Accepted:

Published:

Issue Date:

DOI: https://doi.org/10.1057/s41278-022-00237-7
Keywords