Abstract
The paper investigates the relationship between space and institutional change by studying the evolution and development of Hongkong International Terminals (HIT): a Hong Kong-based firm with a highly established institutional system, in the early 1990s. We investigate how HIT has made effective use of space to undertake organizational evolution, regional expansion, and finally establish itself as a global player in container terminal operations. Simultaneously, we illustrate how penetration across space has generated proactive forces that have fundamentally transformed HIT's institutional system. The study offers insights to the dynamic relationship between space and institutional change.
Access options
Buy single article
Instant access to the full article PDF.
US$ 39.95
Tax calculation will be finalised during checkout.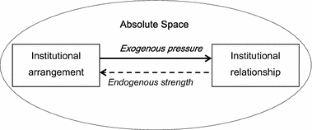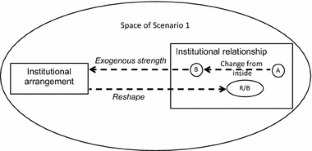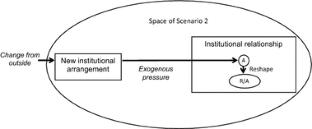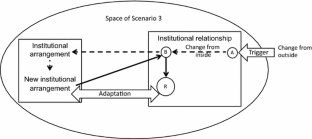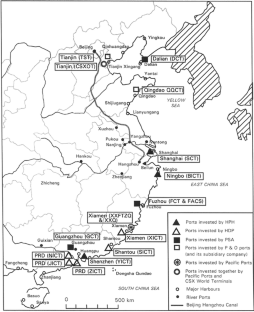 Notes
1.

The term was defined with reference to the definitions of 'area,' 'space,' and 'outlet' in the Oxford Dictionary of English (2nd Edition) (2010).

2.

Hutchison Port Holdings (HPH) was formed in 1994, although HIT remained de facto decision-making institution of HPH.

3.

4.

Although Harvey explained space, including absolute space, in great detail, he focused on the physical components (e.g., housing, urban space) and did not explicitly mention institution as a non-physical absolute space.

5.

6.

The next local expansion of HIT took place in 2003 when Container Terminal 9 (North) (CT9N) was added to its operation.

7.

With more than a decade of the Open Door Policy and the clock ticking to 1997 (when Hong Kong would return to China), one would not deny the possibility of HIT's desire to benefit from the increasingly close relationship formed between Hong Kong and Mainland China as a reason for its geographical expansion to Mainland China. However, in this study, we could not verify this point and thus it is subject to further research.

8.

For example, according to the Marine Department of the Hong Kong SAR Government (2006), worldwide crane productivity ranged between 23 and 40 moves per hour (MPH), while the average crane rate of Hong Kong's container terminals (including HIT) was persistent at around 36 MPH with peak rate at 40 MPH.
References
Airriess, C.A. 2001. The regionalization of Hutchison Port Holdings in Mainland China. Journal of Transport Geography 9 (4): 267–278.

Bathelt, H., and J. Glückler. 2014. Institutional Change in Economic Geography. Progress in Human Geography 38 (3): 340–363.

Boxer, B. 1991. Societal Contexts of Ocean Pollution Science: Cross-National Comparisons. Global Environmental Change 1 (2): 139–156.

Buitelaar, E., A. Lagendijk, and W. Jacobs. 2007. A Theory of Institutional Change: Illustrated by Dutch City-Provinces and Dutch Land Policy. Environment and Planning A 39: 891–908.

Dacin, M.T., M.A. Hitt, and E. Levitas. 1997. Selecting Partners for Successful International Alliances: Examination of U.S. and Korean Firms. Journal of World Business 32 (1): 3–16.

Friedman, J.P., and T.C. Langlinais. 1999. Best Intentions: A Business Model for the eEconomy. Outlook 1: 34–41.

Fuchs, M., and A. Scharmanski. 2009. Counteracting Path Dependencies: Rational Investment Decisions in the Globalizing Commercial Property Market. Environment and Planning A 41 (11): 2724–2740.

Fujita, M. and Mori, T. 2005. Frontiers of the new economic geography, discussion paper, the Academic Research Repository at the Institute of Developing Economies, IDE-JETRO (no. 27).

GHK. 2004. Hong Kong Port Master Plan 2020. Paper prepared for the Government of the Hong Kong Special Administrative Region (HKSAR) (Legislative Council paper no. CB(1)230/05-05(04)). http://www.legco.gov.hk/yr04-05/english/panels/es/papers/es1122cb1-230-4e.pdf.

Glassman, J. 2004. Transnational Hegemony and US Labor Foreign Policy: Towards a Gramscian International Labour Geography. Environment and Planning D: Society and Space 22 (4): 573–593.

Gottlieb, A. 2016. The Dream of Enlightenment: The Rise of Modern Philosophy. New York, NY: Liveright.

Gutmann, A., and D. Thompson. 2012. The Spirit of Compromise. Princeton, NJ: Princeton University Press.

Hall, P.A. 1986. Governing the Economy: The Politics of State Intervention in Britain and France. Cambridge: Polity.

Hall, P.A., and R.C.R. Taylor. 1998. Political Science and the Three New Institutionalisms. In Institutions and Social Order, ed. K. Soltan, E. Soltan, and E.M. Uslaner, 14–44. Ann Arbor, MI: University of Michigan Press.

Harvey, D. 2005. A Brief History of Neoliberalism. Oxford: Oxford University Press.

Harvey, D. 2006. Spaces of Global Capitalism: Towards a Theory of Uneven Geographical Development. London: Verso.

HIT website: https://www.hit.com.hk. Accessed Dec 2017.

Hodgson, G. 1993. Economics and Evolution: Bringing Life Back in Economics. Cambridge: Polity.

Jessop, B., and S. Oosterlynck. 2008. Cultural Political Economy: On Making the Cultural Turn Without Falling Into Soft Economic Sociology. Geoforum 39 (3): 1155–1169.

Krugman, P.R. 1991. Increasing Returns and Economic Geography. Journal of Political Economy 99: 483–499.

Lam, J., A.K.Y. Ng, and X. Fu. 2013. Stakeholder Management for Establishing Sustainable Regional Port Governance. Research in Transportation Business and Management 8: 30–38.

Lam, J.S.L., and W.Y. Yap. 2011. Container Port Competition and Complementarity in Supply Chain Systems: Evidence from the Pearl River Delta. Maritime Economics and Logistics 13 (2): 102–120.

Loughlin, P.H., and C.W. Pannell. 2010. The Port of Hong Kong: Past Successes, New Realities and Emerging Challenges. Focus on Geography 53 (2): 50–58.

March, J.G., and J.P. Olsen. 1989. Rediscovering Institutions: The Organizational Basis of Politics. New York: The Free Press.

Marine Department of the Hong Kong SAR Government. 2006. Port Benchmarking for Assessing Hong Kong's Maritime Services and Associated Costs with other Major International Ports. Planning, Development and Port Security Branch, Marine Department, Hong Kong SAR Government, Hong Kong.

Martin, R. 2000. Institutional Approaches in Economic Geography. In A Companion to Economic Geography, ed. E. Sheppard, and T. Barnes, 77–94. Oxford: Blackwell.

Ng, A.K.Y. 2013. The Evolution and Trends of Port Geography. The Professional Geographer 65 (1): 65–86.

Ng, A.K.Y., and C. Ducruet. 2014. The Changing Tides of Port Geography (1950-2012). Progress in Human Geography 38 (6): 785–823.

Ng, A.K.Y., and J.J. Liu. 2014. Port-Focal Logistics and Global Supply Chains. New York, NY: Palgrave Macmillan.

Ng, A.K.Y., P.V. Hall, and A.A. Pallis. 2013. Institutions and the Transformation of Transport Nodes. Journal of Transport Geography 27: 1–82.

Ng, A.K.Y., Monios, J. and Zhang, H. (forthcoming) Climate adaptation management and institutional erosion: insights from a major Canadian port. Journal of Environmental Planning and Management (in press). https://doi.org/10.1080/09640568.2018.1435410.

Ng, A.K.Y., and A.A. Pallis. 2010. Port Governance Reforms in Diversified Institutional Frameworks: Generic Solutions, Implementation Asymmetries. Environment and Planning A 42 (9): 2147–2167.

Ng, A.K.Y., and K.C. Tam. 2012. China's Seaport Development During the Early Open-Door Policy Period, 1978-2002. In World's Key Industry: History and Economics of International Shipping, ed. G. Harlafti, S. Tenold, and J.M. Valdaliso, 180–199. New York, NY: Palgrave Macmillan.

Notteboom, T. 2009. Complementarity and Substitutability Among Adjacent Gateway Ports. Environment and Planning A 41: 743–762.

Notteboom, T., P. de Langen, and W. Jacobs. 2013. Institutional Plasticity and Path Dependence in Seaports: Interactions Between Institutions, Port Governance Reforms and Port Authority Routines. Journal of Transport Geography 27: 26–35.

Notteboom, T.E., F. Parola, G. Satta, and A.A. Pallis. 2017. The Relationship Between Port Choice and Terminal Involvement of Alliance Members in Container Shipping. Journal of Transport Geography 64: 158–173.

North, D.C. 1990. Institutions, Institutional Change and Economic Performance. Cambridge University Press, Cambridge.

Oxford Dictionaries (Edited by Soanes, C. and Stevenson, A.). 2010. Oxford Dictionaries of English (2nd Edition). Oxford University Press, Oxford.

Sager, T. 2011. Neo-liberal Urban Planning Policies: A Literature Survey 1990-2010. Progress in Planning 76: 147–199.

Strambach, S. 2010. Path Dependency, Path Plasticity-the Co-evolution of Institutions and Innovation: The German Business Software Industry. In Handbook for Evolutionary Economic Geography, ed. R.A. Boschma, and R. Martin, 406–431. Cheltenham: Edward Elgar.

Tongzon, J.L., A.K.Y. Ng, and E.C. Shou. 2015. Institutions, Transport Infrastructure Governance and Planning: Lessons from the Corporatization of Port Authorities in East Asia. Environment and Planning C: Government and Policy 33 (6): 1467–1483.

Wang, K., A.K.Y. Ng, J. Lam, and X. Fu. 2012. Cooperation or Competition? Factors and Conditions Affecting Regional Port Governance in South China. Maritime Economics & Logistics 14 (3): 386–408.

Wang, J.J. 1998. A Container Load Center with a Developing Hinterland: A Case Study of Hong Kong. Journal of Transport Geography 6 (3): 187–201.

Wang, J.J., and B. Slack. 2000. The Evolution of a Regional Container Port System: The Pearl River Delta. Journal of Transport Geography 8 (4): 263–275.

Weber, M. 1922. Economy and Society (edited version by G. Roth and C. Wttich in 1978). University of California Press, Berkeley, CA.

Williamson, O.E. 2000. The New Institutional Economics: Taking Stock, Looking Ahead. Journal of Economic Literature 38: 595–613.

Yip, T.L., J. Liu, X. Fu, and J. Feng. 2014. Modeling the Effects of Competition on Seaport Terminal Awarding. Transport Policy 35: 341–349.

Young, O.R. 1989. International Cooperation: Building Regimes for Natural Resources and the Environment. Ithaca, NY: Cornell University Press.
Acknowledgements
The support of the Transport Institute of the University of Manitoba (UMTI) is gratefully acknowledged. The contents of this paper do not necessarily reflect the views of HIT and Hutchison Ports. An earlier version of the paper was presented at the 1st World Transport Convention (WTC) in Beijing, China, 4–6 June 2017. We would like to thank Prof. Ying-En Ge, Shanghai Maritime University, the reviewers, and all other colleagues for their valuable opinions in enhancing the quality of the paper.
About this article
Cite this article
Ng, A.K.Y., Wong, K., Shou, E.C. et al. Geography and institutional change: insights from a container terminal operator. Marit Econ Logist 21, 334–352 (2019). https://doi.org/10.1057/s41278-018-0103-2
Keywords
Port

Geography

Institutional change

Spatial outlet

Hong Kong

China