Abstract
The objective of this study is to deduce the comparative level of external costs per transported trailer within a context where an existing freight transport chain is replaced by one that includes greater use of shipping. Using both Sweden's national guidelines for cost–benefit analysis (ASEK) and the European guidelines (Ricardo), the external costs of two alternative options are evaluated. The external costs for a road and shipping option are estimated to be lower than for the direct shipping option under Swedish guidelines, but higher under the European guidelines. However, the results favour the road and shipping option in preference to the direct shipping option under both Swedish and European guidelines when internalizing taxes and fees are accounted for. This is the case even where the shipping mode is compliant with the most stringent environmental regulations. The paper concludes that the evaluation system employed can have a fundamental impact on the outcome of a CBA and that the Swedish guidelines (ASEK) could by improved by incorporating specific values for air pollution from ships (particularly NOx emissions) and a system for regularly updating emission factors.
Access options
Buy single article
Instant access to the full article PDF.
US$ 39.95
Tax calculation will be finalised during checkout.
Subscribe to journal
Immediate online access to all issues from 2019. Subscription will auto renew annually.
US$ 399
Tax calculation will be finalised during checkout.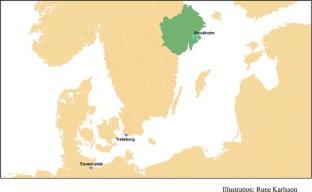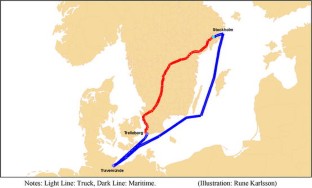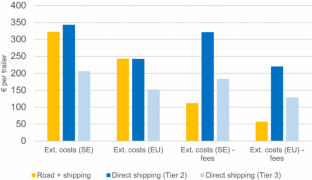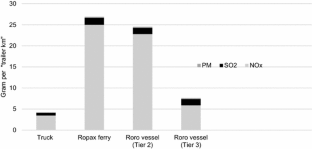 Notes
1.

Styhre (2009) provides some insights into the sort of considerations and strategies influencing the supply of short sea shipping services.

2.

Directive 91/542/EWG defined Euro 1 and Euro 2, which were compulsory from 10/1993 and 10/1996, respectively. Euro 3 became compulsory from 10/2001 and Euro 4 from 10/2006, regulated by 1999/96/EWG updated by 2001/27/EWG. Three years later, Euro 5 was required, described in Directive 2006/81/EWG and modified in 2008/74/EWG. Euro 6 became compulsory in 01/2014. New Euro classes are usually on the market one or more years before they become compulsory (Dieselnet 2017).

3.

In undertaking this analysis, it is not entirely certain that all diesel fuel consumed by trucks on the Stockholm-Trelleborg route is taxed in Sweden. The reason is that foreign trucks carry a large part of the freight moved to and from Sweden and fuel taxes differ across Europe. Luxembourg, for example, has one of the lowest diesel taxes in Europe; standing at about 40% lower than that in Sweden. There is, therefore, reason to believe that the degree of internalization presented is slightly overestimated. As an extreme case, if only diesel purchased in Luxembourg is used, the internalization rate decreases from 75 to 44% under ASEK values.

4.

The EU Directive 8/77/EWG regulates the emissions of carbon oxide (CO), hydrocarbon (HC), nitrogen oxide (NOx), particulate matter (PM) and smoke. From Euro 1 to Euro 6, CO emissions have been reduced by 67%, HC emissions by 88%, NOx emissions by 95% and PM emissions by 97% (Dieselnet 2017).
References
Aperte, X.G., and A.J. Baird. 2013. Motorways of the sea policy in Europe. Maritime Policy & Management 40 (1): 10–26.

Baindur, D., and J. Viegas. 2011. Challenges to implementing motorways of the sea concept—lessons from the past. Maritime Policy & Management 38 (7): 673–690.

Baird, A.J. 2007. The economics of Motorways of the Sea. Maritime Policy & Management 34 (4): 287–310.

Bickel, P., and R. Friedrich (eds.). 2013. Environmental external costs of transport. Berlin: Springer.

Browne, D., B. Caulfield, and M. O'Mahony. 2012. Assessing the barriers to greener fiscal measures and ecological tax reform in the transport sector. In Sustainable systems and energy management at the regional level: Comparative approaches, ed. M. Tortora, 19–37. Information Science Reference: Hershey PA.

DieselNet. 2017. Emission standards. Heavy-duty diesel truck and bus engines. http://www.dieselnet.com/standards/eu/hd.php, accessed 10/09/17.

Douet, M., and J.F. Cappuccilli. 2011. A review of short Sea Shipping policy in the European Union. Journal of Transport Geography 19 (4): 968–976.

Eliasson, J. 2013. Project appraisal in Sweden. In International comparisons of transport appraisal practice: Overview report, ed. P. Mackie, and T. Worsley. Leeds: Institute for Transport Studies, University of Leeds.

European Commission. 2004. Motorways of the Sea, Implementation through Article 12a TEN-T. Consultation, Document dated 30 July, Brussels: Commission of the European Communities.

European Commission. 2011. White paper: Roadmap to a single European transport area—towards a competitive and resource efficient transport system. COM(2011) 144. Brussels: Commission of the European Communities.

Feo, M., R. Espino, and L. Garcia. 2011. A stated preference analysis of Spanish freight forwarders modal choice on the south-west Europe Motorway of the Sea. Transport Policy 18 (1): 60–67.

Hjelle, H. 2014. Atmospheric emissions of short sea shipping compared to road transport through the peaks and troughs of short-term market cycles. Transport Reviews 34 (3): 379–395.

IMO. 2014. Third IMO GHG Study 2014. London: International Maritime Oraganisation.

Janic, M. 2007. Modelling the full costs of an intermodal and road freight transport network. Transportation Research Part D: Transport and Environment 12 (1): 33–44.

Kystverket. 2017. Kystverkets veileder for tilskudd til overføring av gods fra veg til sjø. http://kystverket.no/link/68d44d9f645f4d4b83c3e9ccc9cfb726.aspx. Accessed 05 Sept 17.

Lee, P.T.W., K.C. Hu, and T. Chen. 2010. External costs of domestic container transportation: Short-sea shipping versus trucking in Taiwan. Transport Reviews 30 (3): 315–335.

López-Navarro, M.A. 2013. Unaccompanied transport as a strategy for international road hauliers in Ro-Ro short sea shipping. Maritime Economics & Logistics 15 (3): 374–394.

Lun, Y.V., K.H. Lai, and T.E. Cheng. 2013. An evaluation of green shipping networks to minimize external cost in the Pearl River Delta region. Technological Forecasting and Social Change 80 (2): 320–328.

Macharis, C., E. Van Hoeck, E. Pekin, and T. Van Lier. 2010. A decision analysis framework for intermodal transport: Comparing fuel price increases and the internalisation of external costs. Transportation Research Part A: Policy and Practice 44 (7): 550–561.

Mellin, A., Wikberg, Å., Karlsson, R., and Vierth, I. 2013. Internalization of external effects in European freight corridors. CTS Working Paper 2013:2, Stockholm: Center for Transport Sttudies.

Morales-Fusco, P., M. Grau, and S. Sauri. 2017. Effects of RoPax shipping line strategies on freight price and transporter's choice, Policy Implications for promoting MoS. Transport Policy. https://doi.org/10.1016/j.tranpol.2017.03.021.

Mostert, M., A. Caris, and S. Limbourg. 2017. Road and intermodal transport performance: the impact of operational costs and air pollution external costs. Research in Transportation Business and Management. 23: 75–85.

Ng, A.K.Y. 2009. Competitiveness of short sea shipping and the role of port: the case of North Europe. Maritime Policy & Management 36 (4): 337–352.

NTM. 2016. NTM Calc 4.0. https://www.transportmeasures.org/ntmcalc/v4/basic/index.html#/. Accessed 10 Apr 2017.

Paixão Casaca, A.C., and P.B. Marlow. 2007. The impact of the trans-european transport networks on the development of short sea shipping. Maritime Economics & Logistics 9 (4): 302–323.

Resa-mellan.se. 2017. Truck distance and fuel calculator. http://www.resa-mellan.se/. Accessed 4 Sept 2017.

Ricardo. 2014. Update of the handbook on external costs of transport (Final Report), London: Ricardo-AEA.

Sea-distances.org. 2017. Sea distance calculator. https://sea-distances.org/. Accessed 04 Sept 2017.

Sjöfartsverket. 2017. Fairway Dues. http://www.sjofartsverket.se/en/About-us/Finances/Fairway-Dues/. Accessed 04 Sept 2017.

SåCalc. 2015. Verktyg från Sveriges Åkeriföretag. Årlig körsträcka för lastbil. http://www.akeri.se/transportindex/sacalc-basic. Accessed 04 Sept 2017.

Styhre, L. 2009. Strategies for capacity utilisation in short sea shipping. Maritime Economics & Logistics 11 (4): 418–437.

Styhre, L., V. Roso, R. Bergqvist, J. Woxenius, and K. Lumsden. 2014. Development of the short sea shuttle concept. Gothenburg: IVL Swedish Environmental Research Institute Ltd.

Suárez-Alemán, A. 2016. Short sea shipping in today's Europe: A critical review of maritime transport policy. Maritime Economics & Logistics 18 (3): 331–351.

Tichavska, M., and B. Tovar. 2017. External costs from vessel emissions at port: A review of the methodological and empirical state of the art. Transport Reviews 37 (3): 383–402.

Trafikanalys. 2015. Transportsektorns samhällsekonomiska kostnader 2015: Rapport 2015. Stcokholm: Trafikanalys.

Trafikanalys. 2017. Eco-bonus för sjöfart: slutredovisning, Rapport 2017:11, Stcokholm: Trafikanalys. http://www.trafa.se/globalassets/rapporter/2017/rapport-2017_11-ecobonus-for-sjofart—slutredovisning.pdf. Accessed 14 Sept 2017.

Trafikverket. 2015. Samhällsekonomiska principer och kalkylvärden för transportsektorn: ASEK 5.2. Version 2015-04-01. Borlänge: Trafikverket.

Tzannatos, E., S. Papadimitriou, and A. Katsouli. 2014. The cost of modal shift: a short sea shipping service compared to its road alternative in Greece: European. Transport 56 (2): 1–20.

U.K. Department for Transport. 2015. Guide to the Waterborne Freight Grant scheme. https://www.gov.uk/government/publications/waterborne-freight-grantscheme-guide-2015-to-2020. Accessed 09 Apr 2017.

Unifeeder. 2015. Vessels and vessel tracking. http://www.unifeeder.com. Accessed 17 Apr 2017.

Vanherle, K., and Delhaye, E. 2010. Road versus short sea shipping: comparing emissions and external costs. Proceedings of the International Association of Maritime Economists, Lisbon, Portugal, 7–9.

Vierth, I. Mellin, A., and Karlsson, R. 2013. Externa kostnader och avgifter för fem svenska, gränsöverskridande godstransporter. Notat 10-2013Stockholm: VTI.

Vierth, I., and Sowa, V. 2015. Externa kostnader i transportscenarier med utökad användning av sjöfart. Report 848. Stockholm: VTI.
Acknowledgements
The authors are grateful to Sweden's East Coast Ports Coalition for funding this study. For valuable comments received on an earlier version of the paper, thanks are due to Katarina Händel (Swedish Maritime Administration), Gunnel Bångman (Swedish Transport Administration), Henrik Swahn (HSAB) and Mattias Haraldsson (VTI – The Swedish National Road and Transport Research Institute). The authors would also like to thank Rune Karlsson at the VTI (for the use of Figs. 1 and 2), as well as the Editor-in-Chief of the journal, Prof. Hercules Haralambides, and anonymous reviewers, for providing valuable feedback on an earlier version of the paper. The conclusions and recommendations expressed in the paper remain the authors alone and do not necessarily reflect the opinions of the VTI as an authority.
About this article
Cite this article
Vierth, I., Sowa, V. & Cullinane, K. Evaluating the external costs of trailer transport: a comparison of sea and road. Marit Econ Logist 21, 61–78 (2019). https://doi.org/10.1057/s41278-018-0099-7
Keywords
Freight transport

Environment

CBA

Emissions

ro–ro

Ropax