Abstract
With the rapid development of ports in China, competition for cargo is growing. The ability of a port to attract hinterland traffic is affected by many factors, including distance to the hinterland destinations. This paper studies the effects of distance on import cargo flows from a port to its hinterland. Two major findings are reported. Through a Spatial Concentration Analysis, this study shows that cargo imported through ports with relatively low throughput is primarily delivered to local areas, with the proportion of cargo delivered to local areas from larger ports being much smaller. The present study also shows (according to a gravity model, the Gompertz function and several other methods) that cargo flows from a large port to its hinterland increase with distance below a certain threshold, while cargo flows approach a stable state once they exceed this threshold. These results can be used to inform port managers and policy makers regarding the hinterland markets for ports of different sizes.
Access options
Buy single article
Instant access to the full article PDF.
US$ 39.95
Tax calculation will be finalised during checkout.
Subscribe to journal
Immediate online access to all issues from 2019. Subscription will auto renew annually.
US$ 399
Tax calculation will be finalised during checkout.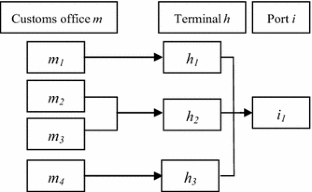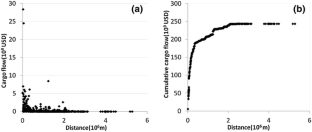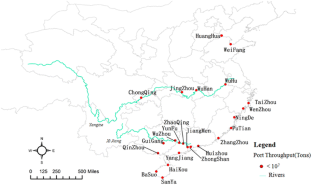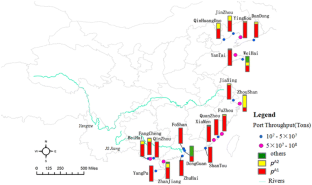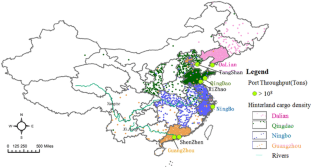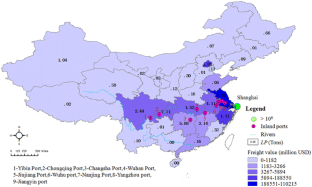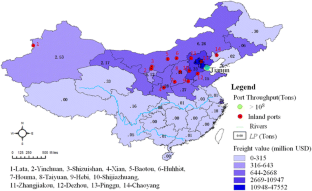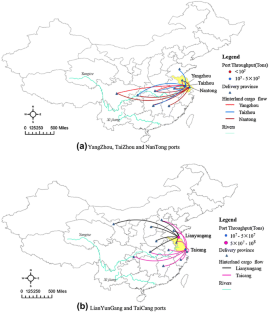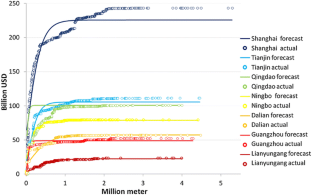 References
Blonigen, B.A., and W.W. Wilson. 2006. International trade, transportation networks and port choice. Transportation Journal 34: 32–47.

Chang, Y.-T., S.-Y. Lee, and J.L. Tongzon. 2008. Port selection factors by shipping lines: Different perspectives between trunk liners and feeder service providers. Marine Policy 32 (6): 877–885.

Cidell, J. 2010. Concentration and decentralization: The new geography of freight distribution in US metropolitan areas. Journal of Transport Geography 18 (3): 363–371.

De Langen, P.W. 2007. Port competition and selection in contestable hinterlands; the case of Austria. European Journal of Transport and Infrastructure Research 7 (1): 1–14.

Fan, L., W.W. Wilson, and D. Tolliver. 2010. Optimal network flows for containerized imports to the United States. Transportation Research Part E: Logistics and Transportation Review 46 (5): 735–749.

Ferrari, C., F. Parola, and E. Gattorna. 2011. Measuring the quality of port hinterland accessibility: The Ligurian case. Transport Policy 18 (2): 382–391.

Fotheringham, A.S. 1981. Spatial structure and distance–decay parameters. Annals of the Association of American Geographers 71 (3): 425–436.

Guerrero, D. 2014. Deep-sea hinterlands: Some empirical evidence of the spatial impact of containerization. Journal of Transport Geography 35: 84–94.

Herfindahl, O. C. (1950) Concentration in the steel industry. Ph.D. thesis, Columbia University, NY.

Hoare, A.G. 1986. British ports and their export hinterlands: A rapidly changing geography. Geografiska Annaler. Series B. Human Geography 68 (1): 29–40.

Jones, D.A., J.L. Farkas, O. Bernstein, C.E. Davis, A. Turk, M.A. Turnquist, L.K. Nozick, B. Levine, C.G. Rawls, S.D. Ostrowski, and W. Sawaya. 2011. U.S. import/export container flow modeling and disruption analysis. Research in Transportation Economics 32 (1): 3–14.

Leachman, R.C. 2008. Port and modal allocation of waterborne containerized imports from Asia to the United States. Transportation Research Part E: Logistics and Transportation Review 44 (2): 313–331.

Lee, T., G.T. Yeo, and V.V. Thai. 2014. Changing concentration Ratios and geographical patterns of Bulk Ports: The case of the Korean West Coast. The Asian Journal of Shipping and Logistics 30 (2): 155–173.

Levine, B., L. Nozick, and D. Jones. 2009. Estimating an origin–destination table for US imports of waterborne containerized freight. Transportation Research Part E: Logistics and Transportation Review 45 (4): 611–626.

Luoma, M., K. Mikkonen, and M. Palomäki. 1993. The threshold gravity model and transport geography: how transport development influences the distance–decay parameter of the gravity model. Journal of Transport Geography 1 (4): 240–247.

Luo, M., and T.A. Grigalunas. 2003. A spatial-economic multimodal transportation simulation model for US coastal container ports. Maritime Economics & Logistics 5 (2): 158–178.

Malchow, M.B., and A. Kanafani. 2004. A disaggregate analysis of port selection. Transportation Research Part E: Logistics and Transportation Review 40 (4): 317–337.

Martínez, L.M., and J.M. Viegas. 2013. A new approach to modelling distance–decay functions for accessibility assessment in transport studies. Journal of Transport Geography 26: 87–96.

Monios, J., and Y. Wang. 2013. Spatial and institutional characteristics of inland port development in China. GeoJournal 78 (5): 897–913.

Notteboom, T.E. 1997. Concentration and load centre development in the European container port system. Journal of Transport Geography 5 (2): 99–115.

Notteboom, T.E. 2006. Traffic inequality in seaport systems revisited. Journal of Transport Geography 14 (2): 95–108.

Notteboom, T.E., and W. Winkelmans. 2001. Structural changes in logistics: How will port authorities face the challenge? Maritime Policy & Management 28 (1): 71–89.

Reynolds-Feighan, A.J. 1998. The impact of US airline deregulation on airport traffic patterns. Geographical Analysis 30: 234–253.

Rodrigue, J.P., and T. Notteboom. 2010. Comparative North American and European gateway logistics: The regionalism of freight distribution. Journal of Transport Geography 18 (4): 497–507.

Steven, A.B., and T.M. Corsi. 2012. Choosing a port: An analysis of containerized imports into the US. Transportation Research Part E: Logistics and Transportation Review 48 (4): 881–895.

Tiwari, P., H. Itoh, and M. Doi. 2003. Shippers' port and carrier selection behavior in China: a discrete choice analysis. Maritime Economics & Logistics 5 (1): 23–39.

Tongzon, J., and W. Heng. 2005. Port privatization, efficiency and competitiveness: Some empirical evidence from container ports (terminals). Transportation Research Part A: Policy and Practice 39 (5): 405–424.

Wilson, A.G. 1967. A statistical theory of spatial distribution models. Transportation Research 1 (3): 253–269.

Yuen, C.A., A. Zhang, and W. Cheung. 2012. Port competitiveness from the users' perspective: An analysis of major container ports in China and its neighboring countries. Research in Transportation Economics 35 (1): 34–40.
Acknowledgements
The authors wish thank the editor and anonymous referees for their valuable suggestions, which have helped improve this paper considerably. This study was sponsored by the Social Science Foundation, by the Ministry of Education of China (Grant No. 12YJC630205), through the Shanghai Pujiang Program (Grant No. 15PJC060), and by the Shanghai Maritime University Foundation (Grant No. 20120079).
About this article
Cite this article
Wang, L., Goodchild, A. & Wang, Y. The effect of distance on cargo flows: a case study of Chinese imports and their hinterland destinations. Marit Econ Logist 20, 456–475 (2018). https://doi.org/10.1057/s41278-017-0079-3
Keywords
Import cargo flow

Hinterland

Ports of China

Distance decay

Gompertz model