Abstract
Cargo vessels navigating ice-infested waters have to comply with additional requirements including a strengthened hull and additional engine power, modifications that affect their operational economics. This paper analyses the additional cost of ice imposed on container vessels conforming to the most commonly used Finnish-Swedish Ice Class Rules. Cost estimations are based on descriptive statistics and regression analysis. The aim is to assess the reportedly higher costs of IA and IA Super Ice Class vessels compared with lower-classed or conventional vessels. Our analysis reveals that Ice Classed vessels incur significantly higher fuel and capital costs. This increases the shipping costs of Ice Classed vessels in open water by 9% (1 USD/TEU/day) compared with the other vessels under review. In wintertime, Ice Classed vessels unit costs could be up to 4 USD/TEU/day higher than for vessels in the reference group in open water. Our findings contribute to the discussion on the economics of shipping in winter conditions, and on the imposition of environmental regulations in the industry when operating in ice-infested waters. These themes have been scantly covered in extant literature, but are important for countries with trade depending on winter navigation.
Access options
Buy single article
Instant access to the full article PDF.
US$ 39.95
Tax calculation will be finalised during checkout.
Subscribe to journal
Immediate online access to all issues from 2019. Subscription will auto renew annually.
US$ 399
Tax calculation will be finalised during checkout.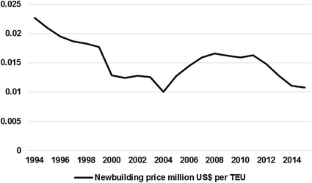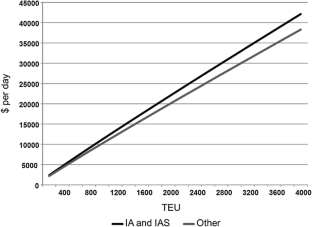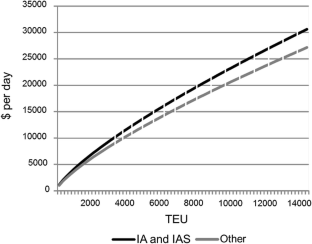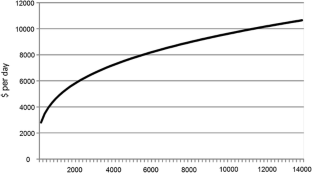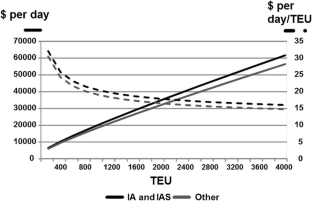 References
Bunker Index. 2015. Available at http://www.bunkerindex.com/. Accessed June 2015.

Bourbonnais, P., and F. Lasserre. 2015. Winter Shipping in the Canadian Arctic: Toward Year-Round Traffic? Polar Geography 38 (1): 70–88.

CRSL; Clarkson Research Services Limited. 2015. Clarksons World Fleet Register. https://www.clarksons.net/wfr2/. Accessed Jan 2015.

Cullinane, K., and M. Khanna. 1999. Economies of Scale in Large Container Ships. Journal of Transport Economics Policy 33 (2): 185–208.

Corbett, J.J., and H.W. Koehler. 2003. Updated Emissions from Ocean Shipping. Journal of Geophysical Research 108 (D20): 4650.

Corbett, J.J., H. Wang, and J.J. Winebrake. 2009. The Effectiveness and Costs of Speed Reductions on Emissions from International Shipping. Transportation Research Part D 14 (8): 593–598.

Draper, N.R., and H. Smith. 1998. Applied Regression Analysis. New York: Wiley.

Drewry. 2012. Ship Operating Costs Annual Review and Forecast: Annual Report 2012/13. London: Drewry Shipping Consultants.

Dvorak, R.E. 2009. Engineering and Economic Implications of Ice-Classed Containerships. MSc Dissertation. Massachusetts Institute of Technology, Cambridge, MA.

Erikstad, S.O., and S. Ehlers. 2012. Decision Support Framework for Exploiting Northern Sea Route Transport Opportunities. Ship Technology Research 59 (2): 34–42.

Federal Reserve. 2016. Foreign exchange rates, Board of Governors of the Federal Reserve System. https://www.federalreserve.gov/releases/h10/hist/. Retrieved 21 Apr 2015.

Finnish Transport Safety Agency. 2011. Guidelines for the application of the Finnish-Swedish ice class rules. TRAFI/21816/03.04.01.01/2011 Helsinki, 20 December, 2011.

Furuichi, M., and N. Otsuka. 2015. Proposing a Common Platform of Shipping Cost Analysis of the Northern Sea Route and the Suez Canal Route. Maritime Economics and Logistics 17 (1): 9–31.

Goerlandt, F., J. Montewka, W. Zhang, and P. Kujala. 2016. An Analysis of Ship Escort and Convoy Operations in Ice Conditions. Safety Science 95: 198–209.

Gritsenko, D., and T. Kiiski. 2016. A Review of Russian Ice-Breaking Tariff Policy on the Northern Sea Route 1991–2014. Polar Record 52 (2): 144–158.

Hummels, D. 2007. Transportation Costs and International Trade in the Second Era of Globalization. The Journal of Economic Perspectives 21 (3): 131–154.

Kiiski, T., T. Solakivi, J. Töyli, and L. Ojala. 2016. Long-Term Dynamics of Shipping and Icebreaker Capacity Along the Northern Sea Route. Maritime Economics & Logistics. doi:10.1057/s41278-016-0049-1.

Koskinen, M.-M., and O.-P. Hilmola. 2005. Investment Cycles in the Newbuilding Market of Ice-Strengthened Oil Tankers. Maritime Economics & Logistics 7 (2): 173–188.

Krugman, P. 1991. History and Industry Location: the Case of Manufacturing Belt. The American Economic Review 81 (2): 80–83.

Laulajainen, R. 2009. The Arctic Sea Route. International Journal of Shipping and Transport Logistics 1 (1): 55–73.

Lasserre, F. 2014. Case Studies of Shipping Along Arctic Routes. Analysis and profitability perspectives for the container sector. Transportation Research Part A 66: 144–161.

Liu, M., and J. Kronbak. 2010. The Potential Economic Viability of Using the Northern Sea Route (NSR) as an Alternative Route Between Asia and Europe. Journal of Transport Geography 18 (3): 434–444.

Lloyd's Register. 2015. LR to class 3600 TEU Container Ships for Maersk Line—First Boxships to be Built at COSCO Zhoushan. http://www.lr.org/en/news/news/LR-to-class-3600-teu-container-ships-for-Maersk-Line-first-boxships-to-be-built-at-COSCO-Zhoushan.aspx. Accessed 28 Oct 2015.

Maersk. 2015. Maersk Line Orders Seven Ice-Class Container Vessels. http://www.maerskline.com/ro-ro/countries/int/news/news-articles/2015/03/seven-ice-class-container-vessels. Accessed 28 Oct 2015.

Maloni, M., J.A. Paul, and D.M. Gligor. 2013. Slow Steaming Impacts on Ocean Carriers and Shippers. Maritime Economics and Logistics 15 (2): 151–171.

MAN Diesel & Turbo. 2013. Ice Classed Ships. Copenhagen: MAN Diesel & Turbo.

Omstedt, A., J. Elken, A. Lehmann, M. Leppäranta, H.M.E. Meier, K. Myrberg, and A. Rutgersson. 2014. Progress in Physical Oceanography of the Baltic Sea During the 2003–2014 Period. Progress in Oceanography 128: 139–171.

Pruyn, J.F.J. 2016. Will the Northern Sea Route Ever be a Viable Alternative? Maritime Policy & Management 43 (6): 661–675.

Riska, K., and J. Kämäräinen. 2011. A Review of Ice Loading and the Evolution of the Finnish-Swedish Ice Class Rules. Transactions of the Society of Naval Architects and Marine Engineers 119: 265–298.

Riska, K., Wilhelmson, M., Englund, K. (1997) Performance of merchant vessels in ice in the Baltic, Finnish Maritime Administration, Winter Navigation Research Board, Research Report No. 52.

Stephenson, S.R., L.C. Smith, L.W. Brigham, and J.A. Agnew. 2013. Projected 21st-Century Changes to Arctic Marine Access. Climate Change 118 (3–4): 885–899.

Tran, N.K., and H.-D. Haasis. 2015. An Empirical Study of Fleet Expansion and Growth of Ship Size in Container Liner Shipping. International Journal of Production Economics 159: 241–253.

UNCTAD—United Nations Conference on Trade and Development. 2016. Review of Maritime Transport 2016. New York: United Nations Publications.

Wijnolst, N., and T. Wergeland. 2009. Shipping Innovation. Amsterdam: IOS Press.

World Shipping Council. 2015. http://www.worldshipping.org/. Accessed 27 Oct 2015.

WTO. 2015. World Trade Organization Statistics Database.

Xu, M., Z. Yin, D. Jia, F. Jin, and H. Ouyang. 2011. The Potential Seasonal Alternative of Asia-Europe Container Service Via Northern Sea Route Under the Arctic Sea Ice Retreat. Maritime Policy & Management 38 (5): 541–560.
Acknowledgements
The authors would like to thank the anonymous reviewers and the editor-in-chief for their valuable comments in developing this paper. We would also like to acknowledge the Jenny and Antti Wihuri Foundation for their financial support.
About this article
Cite this article
Solakivi, T., Kiiski, T. & Ojala, L. On the cost of ice: estimating the premium of Ice Class container vessels. Marit Econ Logist 21, 207–222 (2019). https://doi.org/10.1057/s41278-017-0077-5
Keywords
Ice Class fleet

Winter navigation

Container shipping

Cost structure

Cost differentials