Abstract
Travel demand modelling has a long history going back to 50s when the conventional four-step modelling structure was introduced and developed for Chicago and Detroit, USA. However, the first travel demand models for freight movements were not developed until 40 years after the first model for passenger cars. Freight models are yet limited to studies looking at goods movements by truck and rail. This paper explores the effectiveness of the conventional travel demand modelling techniques for maritime container movements. Two approaches for modelling the movement of trade in the global maritime container network are discussed. The conventional methods of trip generation and distribution are applied in a sequential model, and compared against an alternative joint model methodology. Results show that the sequential methodology achieves high accuracy, while the joint methodology reveals more detailed trade relationships. Significant relationships are revealed, such as the varying influence of airports, the negative impact of coastline length and the impact of being an island, on containerised trade volumes. The findings of this paper provide a basis for modelling the container network from a transportation discipline viewpoint.
Access options
Buy single article
Instant access to the full article PDF.
US$ 39.95
Tax calculation will be finalised during checkout.
Subscribe to journal
Immediate online access to all issues from 2019. Subscription will auto renew annually.
US$ 399
Tax calculation will be finalised during checkout.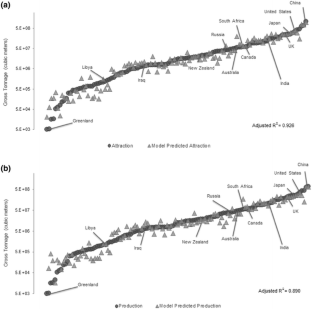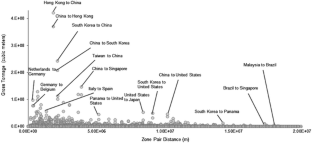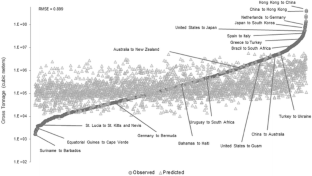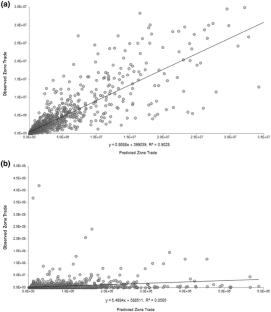 References
Anderson, J.E. (2011) The gravity model. Annual Review of Economics 3: 133–160.

Anderson, J.E. and Wincoop, E.V. (2004) Trade costs. Journal of Economic Literature 42(3): 691–751.

Auld, J., Hossein Rashidi, T. and Lin, J. (2009) Analysis of National Country-Level Heavy-Duty Freight Truck Emissions. Orlando, FL: Transportation, Land Use, Planning and Air Quality, pp. 1–10.

Baier, S.L. and Bergstrand, H.J. (2007) Do free trade agreements actually increase members' international trade? Journal of International Economics 71(1): 72–95.

Barigozzi, M., Fagiolo, G. and Garlaschelli, D. (2010) Multinetwork of international trade: A commodity-specific analysis. Physical Review E 81(4): 046104.

Bell, M.G., Liu, X., Rioult, J. and Angeloudis, P. (2013) A cost-based maritime container assignment model. Transportation Research Part B 58: 58–70.

Bensassia, S., Martinez-Zarzoso, I. and Suárez, C. (2014) The effect of maritime transport costs on the extensive and intensive margins: Evidence from the Europe–Asia trade. Maritime Economics and Logistics 16(3): 276–297.

Bergstrand, J.H. (1984) The gravity equation in international trade: Some microeconomic foundations and empirical evidence. The Review of Economics and Statistics 67: 474–481.

Bougheas, S., Demetriades, P.O. and Morgenroth, L.E. (1999) Infrastructure, transport costs and trade. Journal of International Economics 47: 169–189.

Burgess, A. et al. (2008) TRANS-TOOL Final Report, http://www.transport-research.info/sites/default/files/project/documents/20100304_172116_94411_TRANSTOOLS%20-%20Final%20Report.pdf, accessed 11 January 2015.

Carrere, C. (2006) Revisiting the effects of regional trade agreements on trade flows with proper specification of the gravity model. European Economic Review 50(2): 223–247.

Chou, C.-C., Chu, C.-W. and Liang, G.-S. (2008) A modified regression model for forecasting the volumes of Taiwan's import containers. Mathematical and Computer Modelling 47(1): 797–807.

Egger, P. (2000) A note on the proper econometric specification of the gravity equation. Economics Letters 66: 25–31.

Elsdon, P. and Burdall, T. (2004) Container Terminal Planning and Design, s.l.: Ports 2001.

Ferguson, M. et al. (2012) Transferability and enhancement of a microsimulation model for estimating urban commercial vehicle movements. Journal of Transport Geography 24: 358–369.

Gosasang, V., Chandraprakaikul, W. and Kiattisin, S. (2011) A comparison of traditional and neural networks forecasting techniques for container throughput at bangkok port. The Asian Journal of Shipping and Logistics 27(3): 463–482.

IHS Maritime & Trade (2016) IHS World Trade Service, https://www.ihs.com/pdf/World-Trade-Service_205126110913044932.pdf, accessed 11 January 2015.

Kaluza, P., Kolzsch, A., Gastner, M.T. and Blasius, B. (2010) The complex network of global cargo ship movements. Journal of the Royal Society Interface 7(48): 1093–1103.

Lam, H.W., Ng, L.P., Seabrooke, W. and Hui, C.E. (2004) Forecasts and reliability analysis of port cargo throughput in Hong Kong. Journal of urban Planning and Development 130: 133–144.

Lightfoot, A., Bolin, R. and Lubulwa, G. (2009) Australian Sea Port Activity to 2029–30. s.l.: Bureau of Infrastructure, Transport and Regional Economics.

Limao, N. and Venables, A.J. (2001) Infrastructure, geographical disadvantage, trasport costs, and trade. The World Bank Economic Review 15(3): 451–479.

Luo, M. and Grigalunas, T.A. (2003) A spatial-economic multimodal transportation simulation model For US Coastal Container Ports. Maritime Economics & Logistics 5(2): 158–178.

Mansfield, E.D. and Milner, H.V. (2010) Regime type, veto points, and preferential trading arrangements. Stanford Journal of International Law 46: 219.

Marcouiller, D. and Anderson, J.E. (2002) Insecurity and the pattern of trade: An empirical investigation. Review of Economics and statistics 84(2): 342–352.

Martinez-Zarzoso, I. and Nowak-Lehmann, F. (2003) Augmented gravity model: An empirical application to Mercosur–European union trade flows. Journal of Applied Economics 6(2): 291–316.

Newton, S. (2009) WORLDNET Final Report (D11). Zoetermeer: NEA Transport Research and Training.

Nuzzolo, A., Crisalli, U. and Comi, A. (2013) An aggregate transport demand model for import and export flow simulation. Transport 30: 43–54.

Organisation for Economic Co-operation and Development (2016) Metro Version 1 Model Documentation, http://www.oecd.org/officialdocuments/publicdisplaydocumentpdf/?cote=TAD/TC/WP(2014)24/FINAL&docLanguage=En, accessed 11 January 2015.

Oxford Economics (2015) Global Economic Model, http://www.oxfordeconomics.com/forecasts-and-models/countries/scenario-analysis-and-modeling/global-economic-model/overview, accessed 11 January 2015.

Rodrigue, J.-P. (2013) The Geography of Transport Systems, 3rd edn. New York: Hofstra University.

Sapienza, P., Zingales, L. and Sapienza, P. (2006) Does culture affect economic outcomes? Journal of Economic Perspectives 20(2): 23–48.

Sinha-Ray, P. et al. (2003) Container World: GLOBAL Agent-Based Modelling of the Container Transport Business. In Proceedings 4th Workshop of Agent-Based Simulation, Montpellier.

Taplin, G.B. (1967) Models of world trade. Staff Papers 14(3): 433–455.

The UNCTAD Secretariat (2012) Review of Maritime Transport. Geneva: United Nations Publication.

Viton, P.A. (1994) Calibrating the Gravity Model, Working Paper. Columbus: Department of City and Regional Planning, The Ohio State University.

World Trade Organisation (2013) World Trade Report 2013. s.l.: World Trade Organisation.
About this article
Cite this article
Huang, Y., Rashidi, T.H. & Gardner, L. Modelling the global maritime container network. Marit Econ Logist 20, 400–420 (2018). https://doi.org/10.1057/s41278-016-0047-3
Keywords
transport

modelling

container

network

4-step modelling