Abstract
In this study, we investigate the ways in which three national-origin varieties of Spanish commonly heard in metropolitan Miami—Cuban, Colombian, and Peninsular—are conceptualized by young adult residents of Miami-Dade County in terms of implicit perception. Further, we test whether or not perceptions about Spanish can predict social outcomes in the domains of labor, employment, and income. Three male residents of Miami were asked to read a text in their home variety of Spanish. All men were college educated in their respective countries of origin (Cuba, Colombia, and Spain) and are professionally employed in Miami. For each voice heard, participants were given background information about the speaker, including the parents' country of origin. In some cases, the parents' national-origin label matched the country of origin of the speaker (Speaker: Cuba, Origin-label: Cuba), but in other cases, the background information and voices were mismatched (Speaker: Cuba, Origin-label: Spain). This manipulation allows us to separate the perceptions based on the elements of the speech signal from the provided social information. Participants were asked to rate the voice/background permutations on five-point Likert-scales for a range of personal characteristics. Data were analyzed for significance using a three (dialect) X four (label) within-subjects ANOVA with a series of specific statistical contrasts. Our analyses of these judgments showed three kinds of significant effects: (1) main effects of language variety, (2) main effects of the background label, and (3) interaction effects. Overall, we find that adolescent Latin@s in Miami-Dade exhibit divergent perceptions of national-origin varieties of Spanish and that they use sociolinguistic differences to make predictive judgments about nonlinguistic, social attributes related to socioeconomic class, including family wealth, personal income, and profession.
This is a preview of subscription content, log in to check access.
Access options
Buy single article
Instant access to the full article PDF.
US$ 39.95
Price includes VAT for USA
Subscribe to journal
Immediate online access to all issues from 2019. Subscription will auto renew annually.
US$ 102
This is the net price. Taxes to be calculated in checkout.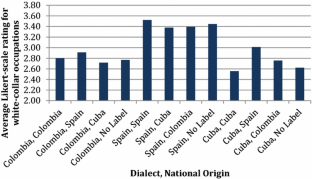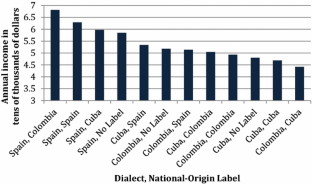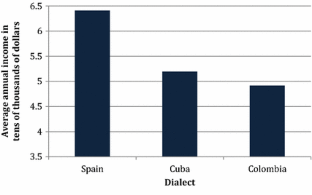 Notes
1.

Although these turns of phrase suggest that these linguistic features are socially stigmatized or are inherently wrong or incorrect, linguists recognize that the phonological process of lenition or consonant "weakening" is a natural process in language change. Furthermore, similar patterns are not condemned, for example, in Rioplatense varieties of Spanish.

2.

For participants who identified as Hispanic/Latino, we collected information on family national origin background. Although there were not enough participants in each group to run separate statistical analyses, we report the national-origin background information here: 91 (43%) Cuban, 29 (14%) Central American, 2 (10%) Colombian, 9 (4%) Dominican, 4 (2%) Mexican, 14 (7%) Puerto Rican, 13 (6%) Venezuelan, 20 (10%) South American (other than Venezuela or Colombian), 8 (4%) Spanish (Spain).

3.

In this article we use the term Anglo White to refer to the population of typically monolingual English-speaking people of European descent who are variably referred to in popular discourse as "Caucasian," "Anglo," and "White." We do not use the term "White," which is commonly used in academic writing on ethnicity, since many people in Miami who inhabit the racio-ethnic category "Latino" consider themselves racially "White." We also avoid the term "Anglo," which tracks in some parts of the US as a euphemism for "White."

4.

Participants did not hear every condition for two reasons. First, the number of conditions tested made it logistically impossible to test every condition with every participant for reasons related to participant attrition. Second, we limited the number of conditions heard by each participant in order to increase the plausibility of the manipulation. That is, the more mismatched dialect/label permutations a speaker hears, the more likely they are to catch on to the experimental manipulation.
References
Alfaraz, G. 2002. Miami Cuban Perceptions of Varieties of Spanish. In Handbook of Perceptual Dialectology, vol. 2, ed. D. Long, and D. Preston, 1–12. Amsterdam: John Benjamins.

Alfaraz, G. 2014. Dialect Perceptions in Real Time: A Restudy of Miami Cuban Perceptions. Journal of Linguistic Geography 2 (2): 74–86.

Anderson, B. 1983. Imagined Communities: Reflections on the Origin and Spread of Nationalism. New York: Verso Books.

Babel, A. 2014. Stereotypes Versus Experience: Indexing Regional Identity in Bolivian Valley Spanish. Journal of Sociolinguistics 18 (5): 604–633.

Baugh, J. 2003. Linguistic Profiling. In Black Linguistics: Language, Society, and Politics in Africa and the Americas, ed. S. Makoni, G. Smitherman, A.F. Ball, and A.K. Spears, 155–168. London: Routledge.

Benjamini, Y., and Y. Hochberg. 1995. Controlling the False Discovery Rate: A Practical and Powerful Approach to Multiple Testing. Journal of the Royal Statistical Society (Series B) 57: 289–300.

Blom, J.P., and J.J. Gumperz. 1972. Social Meaning in Linguistic Structures: Code Switching in Northern Norway. In Directions in Sociolinguistics, ed. J.J. Gumperz, and D. Hymes, 407–434. New York: Holt, Rinehart, and Winston.

Boersma, P., and D. Weenink. 2013. Praat: Doing Phonetics by Computer (Computer program).Version 5.3.23. http://www.praat.org/.

Bourdieu, P. 1984. Distinction: A Social Critique of the Judgement of Taste. Cambridge, MA: Harvard University Press.

Bourdieu, P. 1991. Language and Symbolic Power. Cambridge, MA: Harvard University Press.

Bradac, J.J., and R. Wisegarver. 1984. Ascribed Status, Lexical Diversity, and Accent: Determinants of Perceived Status, Solidarity, and Control Of Speech. Journal of Language and Social Psychology 3 (4): 239–255.

Brown, A., and M.H. Lopez. 2013. Mapping the Latino Population by State, County, and City. Washington, DC: Pew Research Center.

Brown, A., and E. Patten. 2013. Hispanics of Cuban Origin in the United States, 2011. Washington, DC: Pew Research Center.

Bucholtz, M., N. Bermudez, L. Edwards, V. Fung, and R. Vargas. 2007. Hella Nor Cal or Totally So Cal?: The Perceptual Dialectology of California. Journal of English Linguistics 35 (4): 325–352.

Carter, P.M. 2013. Shared Spaces, Shared Structures: Latino Social Formation and African American English in the U.S. South. Journal of Sociolinguistics 17 (1): 66–92.

Carter, P.M., and A. Lynch. 2014. Ideological Dimensions of Speech Perception in Bilingual Miami. Madison, WI: Paper delivered at Workshop on Spanish Sociolinguistics. April.

Carter, P.M., and A. Lynch. 2015. Multilingual Miami: Current Trends in Sociolinguistic Research. Language and Linguistics Compass 9 (9): 369–385.

Cedergren, H. 1973. The Interplay of Social and Linguistic Factors in Panama. PhD dissertation, Cornell University, Ithaca, NY.

Docherty, G., C. Langstrof, and P. Folkes. 2013. Listener Evaluation of Sociophonetic Variability: Probing Constraints and Capabilities. Linguistics 51 (2): 355–380.

Duany, J. 1998. Reconstructing Racial Identity: Ethnicity, Color, and Class among Dominicans in the United States and Puerto Rico. Latin American Perspectives 25 (3): 147–172.

Eckert, P. 2000. Linguistic Variation as Social Practice. Malden, MA: Blackwell.

Eckert, P. 2005. Variation, Convention, and Social Meaning. Annual Meeting of the Linguistic Society of America. Vol. 7. Oakland, CA: Linguistic Society of America.

Escobar, A.M., and K. Potowski. 2015. El Español de los Estados Unidos. Cambridge, UK: Cambridge University Press.

Eurostat. 2015. Youth Unemployment. Eurostat: Statistics Explained. 1 September. http://ec.europa.eu/eurostat/statistics-explained/index.php/Youth_unemployment.

Feagin, C. 1979. Variation and Change in Alabama English: A Sociolinguistic Study of the White Community. Washington, DC: Georgetown University Press.

Fought, C. 2002. California Students' Perceptions of, You Know, Regions and Dialects. In Handbook of Perceptual Dialectology, vol. 2, ed. D. Long, and D. Preston, 113–134. Amsterdam: John Benjamins.

Fridland, V., and K. Bartlett. 2006. Correctness, Pleasantness, and Degree of Difference Ratings across Regions. American Speech 81 (4): 358–386.

Fridland, V., K. Bartlett, and R. Kreuz. 2004. Do You Hear What I Hear? Experimental Measurement of the Perceptual Salience of Acoustically Manipulated Vowel Variants by Southern Speakers in Memphis. TN. Language Variation and Change 16 (1): 1–16.

Fuller, J. 2012. Bilingual Pre-teens: Competing Ideologies and Multiple Identities in the US and Germany. London: Routledge.

García, O., I. Evangelista, M. Martínez, C. Disla, and B. Paulino. 1988. Spanish Language Use and Attitudes: A Study of Two New York City Communities. Language in Society 17 (4): 475–511.

Guy, G. 2005. Grammar and Usage: A Variationist Response. Language 81 (3): 561–563.

Horvath, B. 1985. Variation in Australian English: The Sociolects of Sydney. Cambridge Studies in Linguistics London 45: 1–200.

Irvine, J. 1989. When Talk Isn't Cheap: Language and Political Economy. American Ethnologist 16 (2): 248–267.

Labov, W. 1966. The Social Stratification of English in New York City. Washington DC: Center for Applied Linguistics.

Lambert, W.E., R.C. Hodgson, R.C. Gardner, and S. Fillenbaum. 1960. Evaluational Reactions to Spoken Languages. Journal of Abnormal and Social Psychology 60 (1): 44–51.

Lavandera, B. 1978. Where Does the Sociolinguistic Variable Stop? Language in Society 7 (2): 171–182.

Lippi-Green, R. 1997. English with an Accent: Language, Ideology, and Discrimination in the United States. London: Routledge.

Lopez, M. H., A. Gonzalez-Barrera, and D. Cuddington. 2013. Diverse Origins: The Nation's 14 Largest Hispanic-Origin Groups. Washington, DC: Pew Research Center. http://www.pewhispanic.org/2013/06/19/diverse-origins-the-nations-14-largest-hispanic-origin-groups/.

Lynch, A. 2009. A Sociolinguistic Analysis of Final/s/ in Miami Cuban Spanish. Language Sciences 31 (6): 766–790.

Macías, R. 1985. Language and Ideology in the United States. Social Education 49 (2): 97–100.

Massey, D., and G. Lundy. 2001. Use of Black English and Racial Discrimination in Urban Housing Markets: New Methods and Findings. Urban Affairs Review 36 (4): 470–496.

Mendoza-Denton, N. 2008. Homegirls: Language and Cultural Practice among Latina Youth Gangs. Malden, MA: Blackwell.

Modaressi, Y. 1978. A Sociolinguistic Investigation of Modern Persian. PhD dissertation, Lawrence, KS: University of Kansas.

Mojica de León, C.M. 2014. Una mirada hacia las actitudes lingüística en Puerto Rico. Bergen Language and Linguistics Studies 5: 1249–1315.

Naro, A. 1981. The Social and Structural Dimensions of a Syntactic Change. Language 57 (1): 63–98.

Niedzielski, N. 1999. The Effect of Social Information on the Perception of Sociolinguistic Variables. Journal of Language and Social Psychology 18 (1): 62–85.

Niedzielski, N., and Preston. 2000. Folk Linguistics. In Trends in Linguistics Studies and Monographs, vol. 122, ed. W. Winter. Berlin: Mouton de Gruyter.

Omi, M., and H. Winant. 1994. Racial Formation in the United States: From the 1960s to the 1990s, 2nd ed. London: Routledge.

Otheguy, R., O. García, and A. Roca. 2000. Speaking in Cuban: The Language of Cuban Americans. In New Immigrants in the United States: Readings for Second Language Educators, ed. S. McKay, and S.C. Wong, 165–188. Cambridge, UK: Cambridge University Press.

Otheguy, R., A.C. Zentella, and D. Livert. 2007. Language and Dialect Contact in Spanish in New York: Toward the Formation of a Speech Community. Language 83 (4): 770–802.

Otheguy, R., and A.C. Zentella. 2012. Spanish in New York: Language Contact, Dialect Leveling, and Structural Continuity. Oxford, UK: Oxford University Press.

Poplack, S. 1980. Sometimes I'll Start a Sentence in Spanish y Termino en Español: Toward a Typology of Code-switching. Linguistics 18 (7–8): 581–618.

Porcel, J. 2006. The Paradox of Spanish among Miami Cubans. Journal of Sociolinguistics 10 (1): 93–110.

Portes, A., and R. Schauffler. 1996. Language and the Second Generation: Bilingualism Yesterday and Today. In The New Second Generation, ed. A. Portes, 8–29. New York: Russell Sage.

Preston, D.R. 1989. Perceptual Dialectology. Dordrecht: Foris.

Preston, D.R. 1993. Folk Dialectology. In American Dialect Research, ed. D.R. Preston, 333–377. Amsterdam: John Benjamins.

Preston, D.R. 1996. Whaddayaknow? The Modes of Folk Linguistic Awareness. Language Awareness 5 (1): 40–74.

Preston, D. R. 1999. A Language Attitude Approach to the Perception of Regional Variety. In Handbook of Perceptual Dialectology, ed. D. R. Preston, vol. 1. Trans. B. E. Evans. Amsterdam: John Benjamins.

Preston, 2002. Perceptual Dialectology: Aims, Methods, Findings. In Trends in Linguistics Studies and Monographs, vol. 137, ed. W. Winter, and W. Bisand, 57–104. Berlin: Mouton de Gruyter.

Purnell, T., W. Idsari, and J. Baugh. 1999. Perceptual and Phonetic Experiments on American English Dialect Identification. Journal of Social Psychology 18 (1): 10–30.

Quesada Pacheco, M.A. 2015. División dialectal del Español de América según sus hablantes: Análisis dialectológico perceptual. Boletín de Filología 49 (2): 257–309.

Rickford, J.R., and S. King. 2016. Language and Linguistics on Trial: Hearing Rachel Jeantel (and Other Vernacular Speakers) in the Courtroom and Beyond. Language 92 (4): 948–988.

Santa Ana, O. 2002. Brown Tide Rising: Metaphors of Latinos in Contemporary American Public Discourse. Austin: University of Texas Press.

Shuy, R.W., W. Wolfram, and W.K. Riley. 1968. Field Techniques in an Urban Language Study, vol. 3. Washington DC: Center for Applied Linguistics.

Silverstein, M. 2003. Indexical Order and the Dialectics of Sociolinguistic Life. Language & Communication 23 (3): 193–229.

Slomanson, P., and M. Newman. 2004. Peer Group Identification and Variation in New York Latino English Laterals. English World Wide 25 (2): 199–216.

Sobrino Triana, R., L.E. Montero Bernal, and A.J. Menéndez Pryce. 2014. Actitudes lingüísticas en Cuba. Cambios positivos hacia la variante nacional de lengua. Bergen Language and Linguistics Studies 5: 290–408.

Stepick, A., G. Grenier, M. Castro, and M. Dunn. 2003. This Land is Our Land: Immigrants and Power in Miami. Berkeley: University of California Press.

Suárez Büdenbender, E.M. 2013. "Te conozco bacalao": Investigating the Influence of Social Stereotypes on Linguistic Attitudes. Hispania 96 (1): 110–134.

Tamasi, S. 2003. Cognitive Patterns of Linguistic Perceptions. PhD dissertation, Athens: University of Georgia.

Tetel Andresen, J., and P.M. Carter. 2016. Languages of the World: How History, Culture, and Politics Shape Language. Malden, MA: Wiley-Blackwell.

Trudgill, P. 1974. The Social Differentiation of English in Norwich. Cambridge, MA: Cambridge University Press.

US Census Bureau. 2010. 2010 Census. http://www.census.gov/2010census/data/.

Veltman, C. 1988. Modeling the Language Shift Process of Hispanic Immigrants. International Migration Review 22 (4): 545–562.

Wiley, T., and M. Lukes. 1996. English-Only and Standard English Ideologies in the U.S. TESOL Quarterly 30 (3): 511–535.

Wolfram, W., P.M. Carter, and B. Moriello. 2004. Emerging Hispanic English: New Dialect Formation in the American South. Journal of Sociolinguistics 8 (3): 339–358.

Wolfram, W., and N. Schilling. 2015. American English: Dialects and Variation, 3rd ed. Malden, MA: Wiley-Blackwell.

Zentella, A.C. 1995. The "Chiquitafication" of U.S. Latinos and Their Languages, or: Why We Need an Anthropolitical Linguistics. Proceedings of Symposium about Language and Society III. Austin: University of Texas Press.

Zentella, A.C. 1997. Growing Up Bilingual: Puerto Rican Children in New York. Malden, MA: Wiley Blackwell.

Zentella, A.C. 2014. TWB (Talking while Bilingual): Linguistic Profiling of Latina/os, and Other Linguistic Torquemadas. Latino Studies 12 (4): 620–635.

Zurer Pearson, B., and A. McGee. 1993. Language Choice in Hispanic-background Junior High School Students in Miami: A 1988 Update. In Spanish in the United States: Linguistic Contact and Diversity, ed. A. Roca, and J. Lipski. Berlin: Mouton de Gruyter.
Acknowledgements
We are grateful to the three anonymous external reviewers for their invaluable feedback on the manuscript, to Andrew Lynch and Melissa Baralt for their feedback at various stages of the research and writing process, and to David Neal for his expertise in study design and statistical analysis. We are especially indebted to Scott Schwenter for suggesting that we pursue this line of research, and to Sarah Mahler for including our study in this special edition and for providing invaluable feedback on several drafts of the manuscript. Any errors herein are our own.
About this article
Cite this article
Carter, P.M., Callesano, S. The social meaning of Spanish in Miami: Dialect perceptions and implications for socioeconomic class, income, and employment. Lat Stud 16, 65–90 (2018). https://doi.org/10.1057/s41276-017-0105-8
Keywords
Miami

Spanish

Dialect perception

Sociolinguistics

Cuban Spanish

Latinidad