Abstract
Know-how is a critical element of franchising, and its transfer is a key issue for franchisors and their staff. The aim of this paper was to analyse franchisees' perceptions about know-how transfer in franchise networks. Findings of our qualitative empirical study show that franchisees seem to value the mechanisms used in their network, which include formalised processes (the operations manual, online tools), training (initial and ongoing) and social mechanisms (discovery sessions, meetings and committees). Only the effectiveness of on-field consultants is questioned, which leads to important managerial implications. At the theoretical level, the paper contributes to our understanding of franchise operations by providing a franchisee-centred model of how knowledge is created and disseminated in the networks.
This is a preview of subscription content, log in to check access.
Access options
Buy single article
Instant access to the full article PDF.
US$ 39.95
Price includes VAT for USA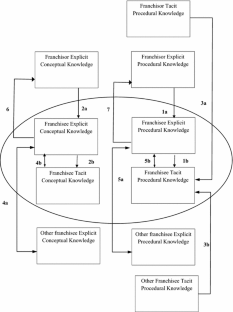 References
Ater, I., and O. Rigbi. 2015. Price control and advertising in franchising chains. Strategic Management Journal 36 (1): 148–158.

Cumberland, D., and R. Githens. 2012. Tacit knowledge barriers in franchising: practical solutions. Journal of Workplace Learning24 (1): 48–58.

Dant, R.P. 2008. A futuristic research agenda for the field of franchising. Journal of Small Business Management 46 (1): 91–98.

El Akremi, A., K. Mignonac, and R. Perrigot. 2011. Opportunistic behaviors in franchise chains: the role of cohesion among franchisees. Strategic Management Journal 32 (9): 930–948.

Gorovaia, N., and J. Windsperger. 2010. The use of knowledge transfer mechanisms in franchising. Knowledge and Process Management 17 (1): 12–21.

Gorovaia, N., and J. Windsperger. 2013. Determinants of knowledge transfer strategy in franchising: integrating knowledge-based and relational governance perspectives. The Service Industries Journal 33 (12): 1117–1134.

Hussler, C., and P. Ronde. 2015. To be or not to be franchised? A knowledge-based perspective. Knowledge Management Research & Practice 13 (4): 429–445.

Jakubik, M. 2007. Exploring the knowledge landscape: four emerging views of knowledge. Journal of Knowledge Management 11 (4): 6–19.

Kalnins, A. 2003. Hamburger prices and spatial econometrics. Journal of Economics & Management Strategy 12 (4): 591–616.

Kolbe, R.H., and M.S. Burnett. 1991. Content-analysis research: an examination of applications with directives for improving research reliability and objectivity. Journal of Consumer Research 18 (2): 243–250.

Kosova, R., F. Lafontaine, and R. Perrigot. 2013. Organizational form and performance: evidence from the hotel industry. Review of Economics and Statistics 95 (4): 1303–1323.

Lafontaine, F. 1992. Agency theory and franchising: some empirical results. RAND Journal of Economics 23 (2): 263–283.

Lawrence, B., and P. Kaufmann. 2011. Identity in franchise systems: the role of franchisee associations. Journal of Retailing 87 (3): 285–305.

Michael, S.C. 2002. Can a franchise chain coordinate? Journal of Business Venturing 17 (4): 325–341.

Nonaka, I. 1994. A dynamic theory of organizational knowledge creation. Organization Science 5 (1): 14–37.

Okoroafor, H. 2014. The barriers to tacit knowledge sharing in franchise organizations. Knowledge Management Research & Practice 12 (1): 97–102.

Paswan, A.K., and C.M. Wittmann. 2009. Knowledge management and franchise systems. Industrial Marketing Management 38 (2): 173–180.

Perrigot, R., and O. Herrbach. 2012. The plural form from the inside. A study of franchisee perception of company–owned outlets within their network. International Journal of Retail and Distribution Management 40 (7): 544–563.

Polanyi, M. 1966. The Tacit Dimension. London: Routledge & Kegan Paul.

Stemler, S. 2001. An overview of content analysis. Practical Assessment, Research & Evaluation 7 (17): 137–146.

Weaven, S., and L. Frazer. 2007. Expansion through multiple unit franchising. Australian franchisors reveal their motivations. International Small Business Journal 25(2), 173–205.

Windsperger, J., and N. Gorovaia. 2011. Knowledge attributes and the choice of knowledge transfer mechanism in networks: the case of franchising. Journal of Management and Governance 15 (4): 617–640.
Acknowledgements
The authors thank the French National Research Agency (ref: FRANBLE – ANR-12-BSH1-0011-01), as well as the Center in Franchising, Retail & Service Chains for their valuable support.
About this article
Cite this article
Perrigot, R., Herrbach, O., Cliquet, G. et al. Know-how transfer mechanisms in franchise networks: a study of franchisee perceptions. Knowl Manage Res Pract 15, 272–281 (2017). https://doi.org/10.1057/s41275-017-0051-0
Received:

Revised:

Accepted:

Published:

Issue Date:
Keywords
Franchise networks

Know-how

Knowledge transfer

Franchisee perceptions