Abstract
This paper studies the impact of a set of managerial characteristics on performance in the top division (Serie A) of the Italian football league during seasons 2000/2001–2009/2010. We employ a bivariate ordered probit model applied to match-level data, which allows for asymmetric effects at home and away matches and in goals scored and conceded. Our set of coach characteristics includes indicators of skill, experience, innate features as well as empathy with the team. We find that some managerial features matter even when we control for club power and past results. Performance is positively correlated with the manager having had experience abroad and with the manager being a former player with the club; but performance is worsened by lack of managerial experience. Other features affect only some particular aspects of performance. In particular, Italian managers are more defensive in home games while older managers are more defensive in away games. Our approach also identifies a negative effect of managerial turnover on defensive performance, an effect which is masked when a more traditional aggregated model is used.
This is a preview of subscription content, log in to check access.
Access options
Buy single article
Instant access to the full article PDF.
US$ 39.95
Price includes VAT for USA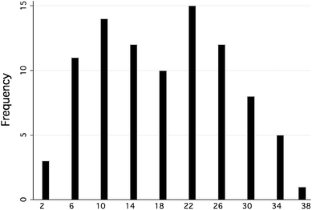 Notes
1.

Age and Age2 are included in order to take into account nonlinear effects. The rationale is that growing older has a positive impact on his team's results. But, at some point in time any further increase in the age may lead to a reduction in ability and performance. However, dropping the square term we obtain the same results.
References
Audas R, Dobson S and Goddard J (2002). The impact of managerial change on team performance in professional sports. Journal of Economics and Business 54(6):33–650.

Audas R, Dobson S and Goddard J (1999). Organizational performance and managerial turnover. Managerial and Decision Economics 20(6):305–318.

Bickel JE (2007). Some comparisons among quadratic, spherical, and logarithmic scoring rules. Decision Analysis 4(2):29–65.

Boero G, Smith J and Wallis KF (2011). Scoring rules and survey density forecast. International Journal of Forecasting 27(2):379–393.

Bloom N and Van Reenen J (2007). Measuring and explaining management practices across firms and nations. Quarterly Journal of Economics 122(4):1351–1408.

Bolton P, Brunnermeier M and Veldkamp L (2013). Leadership, coordination and corporate culture. Review of Economic Studies 80(2):512–537.

Bridgewater S, Kahn LM and Goodall AH (2011). Substitution and complementarity between managers and subordinates: Evidence from British football. Labour Economics 18(3):275–286.

Clements MP and Hendry DF (1998). Forecasting Economic Time Series. Cambridge: Cambridge University Press.

Dawson, P. and Dobson, S. (2002). Managerial efficiency and human capital: an application to English association football. Managerial and Decision Economics 23(8):471–486.

De Paola M and Scoppa V (2012). The effects of managerial turnover: Evidence from coach dismissals in Italian soccer teams. Journal of Sports Economics 13(2):152–168.

Flores R, Forrest DK and Tena JD (2012). Decision taking under pressure: Evidence on football manager dismissals in Argentina and their consequences. European Journal of Operation Research 222(3):653–662.

Gervais S Heaton JB and Odean T (2011). Overconfidence, compensation contracts, and capital budgeting. Journal of Finance 66(5):1735–1777.

Giacomini R and White H (2006). Tests of conditional predictive ability. Econometrica 74(6):1545–1578.

Goodall AH, Kahn LM and Oswald AJ (2011). Why do leaders matter? A study of expert knowledge in a superstar setting. Journal of Economic Behavior and Organization 77(3):265–284.

Grilli L and Rampichini C (2003). Alternative specifications of multivariate multilevel probit ordinal response models. Journal of Educational and Behavioral Statistics 28(1):31–44.

Heaton JB (2002). Managerial optimism and corporate finance. Financial Management 3(2):33–45.

Hofler RA and Payne JE (2006). Efficiency in the National Basketball Association: A stochastic frontier approach with panel data. Managerial and Decision Economics 27(4):279–285.

Kahane L (2005). Production efficiency and discriminatory hiring practices in the National Hockey League: A stochastic frontier approach. Review of Industrial Organization 27(1):47–71.

Kaplan SN, Klebanov M and Sorensen M (2012). Which CEO Characteristics and Abilities Matter? The Journal of Finance LXVII(3):973–1007.

Koning RH (2000). Balance in competition in Dutch soccer. The Statistician 49(3):419–431.

Malmendier U and Tate G (2005). CEO overconfidence and corporate investment. The Journal of Finance 60(6):2661–2700.

Mintzerg, H. (1973). The Nature of Managerial Work. New York: Harper and Row.

Sajaia Z (2008). Maximum likelihood estimation of a bivariate ordered probit model: Implementation and Monte Carlo simulations. The Stata Journal 4(2):1–18.

Tena JD and Forrest D (2007). Within-season dismissal of football coaches: Statistical analysis of causes and consequences. European Journal of Operational Research 181(1):362–373.
Acknowledgements
We are very grateful to two anonymous referees for incisive suggestions and to Bruno Atzori for excellent research assistance. J. D. Tena acknowledges financial support from Ministerio de Educación y Ciencia, ECO2009-08100 and ECO2012-32401. Dimitri Paolini gratefully acknowledges financial support by the Ministry of Education, Universities and Research (PRIN), by the Autonomous Region of Sardinia (Legge n. 7), and Fondazione Banco di Sardegna. Claudio Detotto would like to acknowledge the facilities provided by the Faculty of Economics at the University of Guayaquil (Ecuador) and by the Institute of Statistics at the Pontificia Universidad Católica de Valparaíso (Chile).
Appendix
Appendix
See Table 9.
About this article
Cite this article
Detotto, C., Paolini, D. & Tena, J.D. Do managerial skills matter? An analysis of the impact of managerial features on performance for Italian football. J Oper Res Soc (2017). https://doi.org/10.1057/s41274-017-0215-6
Received:

Accepted:

Published:
Keywords
leadership

bi-ordered probit model

coach dismissals

endogeneity
JEL Classification