Abstract
This paper extends the fundamental static revenue management capacity control problem by incorporating statistical dependence. A single-resource is sold through multiple fare classes each with a corresponding stochastic, but not necessarily independent, demand. We explicitly account for any level of positive or negative dependence and focus on the traditional macro-level demand model in order to provide distribution-free bounds on the foundational expected marginal seat revenue heuristics, both without and with buy-up. We illustrate for the case with three fare classes and demand drawn from (i) normal distributions, and (ii) normal and exponential distributions.
This is a preview of subscription content, log in to check access.
Access options
Buy single article
Instant access to the full article PDF.
US$ 39.95
Price includes VAT for USA
Subscribe to journal
Immediate online access to all issues from 2019. Subscription will auto renew annually.
US$ 282
This is the net price. Taxes to be calculated in checkout.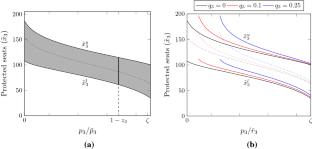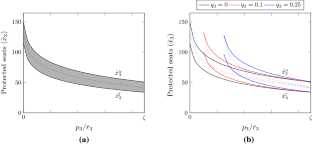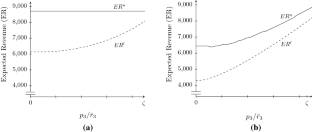 References
Alsina, C. 1981. Some functional equations in the space of uniform distribution functions. aequationes mathematicae 22 (1): 153–164. https://doi.org/10.1007/BF02190176.

Banciu, M., and F. Ødegaard. 2016. Optimal product bundling with dependent valuations: The price of independence. European Journal of Operational Research 255 (2): 481–495.

Belobaba, P. 1987a. Survey paper-airline yield management an overview of seat inventory control. Transportation science 21 (2): 63–73.

Belobaba, P. 1987b. Air travel demand and airline seat inventory management. PhD thesis, Massachusetts Institute of Technology,

Belobaba, P. 1989. Application of a probabilistic decision model to airline seat inventory control. Operations Research 37 (2): 183–197.

Belobaba, P.P., and L.R. Weatherford. 1996. Comparing decision rules that incorporate customer diversion in perishable asset revenue management situations. Decision Sciences 27 (2): 343–363.

Brumelle, S.L., and J.I. McGill. 1993. Airline seat allocation with multiple nested fare classes. Operations Research 41 (1): 127–137.

Brumelle, S., and D. Walczak. 2003. Dynamic airline revenue management with multiple semi-Markov demand. Operations Research 51 (1): 137–148.

Brumelle, S.L., J.I. McGill, T.H. Oum, K. Sawaki, and M.W. Tretheway. 1990. Allocation of airline seats between stochastically dependent demands. Transportation Science 24 (3): 183–192.

Curry, R.E. 1990. Optimal airline seat allocation with fare classes nested by origins and destinations. transportation science 24 (3): 193–204.

Denuit, M., C. Genest, and É. Marceau. 1999. Stochastic bounds on sums of dependent risks. Insurance: Mathematics and Economics 25 (1): 85–104.

Fiig, T., K. Isler, C. Hopperstad, and P. Belobaba. 2010. Optimization of mixed fare structures: Theory and applications. Journal of Revenue and Pricing Management 9 (1–2): 152–170.

Frank, M.J., R.B. Nelsen, and B. Schweizer. 1987. Best-possible bounds for the distribution of a sum—a problem of Kolmogorov. Probability Theory and Related Fields 74 (2): 199–211. https://doi.org/10.1007/BF00569989.

Gallego, G., L. Li, and R. Ratliff. 2009. Choice-based EMSR methods for single-leg revenue management with demand dependencies. Journal of Revenue and Pricing Management 8 (2–3): 207–240.

Littlewood, K. 1972. Forecasting and control of passenger bookings. In: AGIFORS 12th Annual Symposium Proceedings, vol. 12, 95–117. Nathanya, Israel.

McGill, J.I., and G.J. Van Ryzin. 1999. Revenue management: Research overview and prospects. Transportation Science 33 (2): 233–256.

Phillips, R.L. 2005. Pricing and revenue optimization. Palo Alto: Stanford University Press.

Robinson, L.W. 1995. Optimal and approximate control policies for airline booking with sequential nonmonotonic fare classes. Operations Research 43 (2): 252–263.

Strauss, A.K., R. Klein, and C. Steinhardt. 2018. A review of choice-based revenue management: Theory and methods. European Journal of Operational Research 271 (2): 375–387. https://doi.org/10.1016/j.ejor.2018.01.011.

Talluri, K.T., and G.J. Van Ryzin. 2004. The theory and practice of revenue management. New York: Springer.

Tavana, H., and L. Weatherford. 2017. Application of an alternative expected marginal seat revenue method (EMSRc) in unrestricted fare environments. Journal of Air Transport Management 62: 65–77.

Weatherford, L.R., and S.E. Bodily. 1992. A taxonomy and research overview of perishable-asset revenue management: Yield management, overbooking, and pricing. Operations Research 40 (5): 831–844.

Weatherford, L.R., and R.M. Ratliff. 2010. Review of revenue management methods with dependent demands. Journal of Revenue and Pricing Management 9 (4): 326–340.

Wollmer, R.D. 1992. An airline seat management model for a single leg route when lower fare classes book first. Operations Research 40 (1): 26–37.
About this article
Cite this article
Banciu, M., Ødegaard, F. & Stanciu, A. Distribution-free bounds for the expected marginal seat revenue heuristic with dependent demands. J Revenue Pricing Manag 18, 155–163 (2019). https://doi.org/10.1057/s41272-018-00170-6
Received:

Accepted:

Published:

Issue Date:
Keywords
Revenue management

Capacity allocation

Expected marginal seat revenue

Stochastic dependence