Abstract
In the hospitality industry, an allotment is a block of pre-negociated "rooms" which have been bought by a tour operator. In the context of campsites, allotments represent a significant share of the mobile homes sales. For the campsite owner, dealing with tour operator allotment requests is a poisoned chalice. On one hand these pre-booked sales are more or less a guarantee of selling a good share of its inventory. On the other hand, the discount level is so high that selling the whole inventory through allotments could potentially ruin the business. Hence, a balance must be found between allotment contracts and estimated direct sales to final customers (at full price, or lightly discounted price). The purpose of the present paper is to show that the stochastic optimisation problem at stake is highly combinatorial and that algorithmic approaches relying on continuous relaxations of the demand ("bid price") behave poorly. For multi-site allotment optimisation with service level requirements from tour operators, we developed a Lagrange decomposition technique based on local Markov Decision Process solvers that outperforms classic "fluid displacement" approaches. We provide experimental results on instances with 200 campsites 20,000 mobile homes and 15 tour operators inspired from a leading European actor of the campsite industry.
Access options
Buy single article
Instant access to the full article PDF.
US$ 39.95
Tax calculation will be finalised during checkout.
Subscribe to journal
Immediate online access to all issues from 2019. Subscription will auto renew annually.
US$ 259
Tax calculation will be finalised during checkout.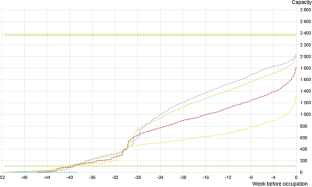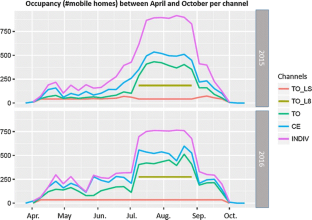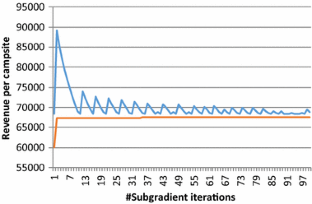 References
Benoist, T., Bourreau, E., Caseau, Y., Rottembourg, B. (2001) Towards Stochastic Constraint Programming: A Study of Online Multi-Choice Knapsack with Deadlines. Principles and Practice of Constraint Programming — CP 2001. Lecture Notes in Computer Science Volume 2239: 61–76.

Bitran, G.R. and Mondschein, S.V. (1995) An application of yield management to the hotel industry considering multiple day stays. Operations Research 43(3): 427–443.

Kimes, S.J. (1999) Group forecasting accuracy in hotels. Operations Research Society 50: 1104

Talluri, K.T. and Van Ryzin, G.J. (2004) The Theory and Practice of Revenue Management. Berlin: Springer.

Topaloglu, H. (2009) Using Lagrangian relaxation to compute capacity-dependent bid prices in network revenue management. Operations Research. 57(3): 637–649

Rottembourg, B., Lautier, S. (2013) Relaxation lagrangienne pour le calcul de Bid Price en Revenue Management hôtelier. In: ROADEF'13. Troyes.
About this article
Cite this article
Rottembourg, B., Masson, J. When bid price is not enough: Taking better allotment decisions for Camping Revenue Management. J Revenue Pricing Manag 16, 115–124 (2017). https://doi.org/10.1057/s41272-016-0062-0
Revised:

Published:

Issue Date:
Keywords
network revenue management

markov decision process

combinatorial optimization

Lagrange relaxation

stochastic knapsack

hospitality

camping

campsite