Abstract
The study examines occupational health risks of informal e-waste activities on major landfills and e-village in Lagos state, Nigeria. The concept of informality guided the study based on primary and secondary data sources. We adopted a non-probabilistic sampling technique. Thus purposive sampling was used in selecting the main landfills and the computer village in Lagos state as study sites. We used descriptive and inferential statistics to analyze the data at a p = 0.05% confidence level. Wounds and cuts accounted for over nine-tenths (92%) of the main form of injuries experienced by 300 e-workers selected by convenience sampling on the three main landfills and the e-village in Lagos. Subjects of concern include job designation of e-workers across respondents. There was a significant association between e-waste activity and occupational health risks (X2 = 20.341). E-waste workers use primitive methods that expose them to harmful substances and pollute the environment. Thus, we propose the formalization of the informal e-waste sector and the development of an eco-friendly environment that integrates health benefits for the workers.
This is a preview of subscription content,
to check access.
Access this article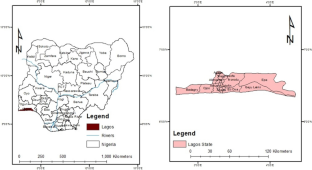 Similar content being viewed by others
References
Erasmus J. E-waste Pilot Project. 2009 http://www.mediaclubsouthafrica.com/index.php?option=com_content&view=article&i=997:e-waste-260209&catid=45:economynews&Itemid114

Breivik K, Armitage JM, Wania F, Jones KC. Tracking the global generation and exports of e-waste. Do existing estimates add up? Environ Sci Technol. 2014;4:8735–43.

Different C, Brune MN, Prout K. Background document on exposures to e-waste. Geneva: World Health Organization; 2013.

Frazzoli C, Orisakwe OE, Dragone R, Mantovani A. Diagnostic health risk assessment of electronic waste on the general population in developing countries scenarios. Environ Impact Assess Rev. 2010;30:388–99.

United Nations Environmental Programme (UNEP). E-waste Volume I: Assessment Manual; Division of Technology I and E, International Environmental Technology. Osaka, Japan, 2007.

Widmer R, Oswald-Krapf H, Sinha-Khetriwal A, Scnellmann M, Boni H. Global perspectives on the e-waste. Environ Impact Assess Rev. 2005;25:436–58.

Brigden K, Labunska I, Santillo D, Johnston P. Chemical contamination at e-waste recycling and disposal sites in Accra and Korforidua, Nigeria. Greenpeace International, Amsterdam Conference, Abuja, 2008.

Asante KA, Agusa T, Biney CA, Agyekum WA, Bello M, Otsuka M, et al. Multi-trace element levels and arsenic speciation in urine of e-waste recycling workers from Agbogbloshie, Accra in Ghana. Sci Total Environ. 2012;424:63–73.

Perkins DV, Brune DM, Nxele MS, Peter D, Sly MD. E-waste: a global hazard. Ann Glob Health. 2014;80:286–95.

Grant K, Goldizen FC, Sly PD, Brune MN, Neira M, Van M, Norman RE. Health consequences of exposure to e-waste: a systematic review. Lancet Glob Health. 2013;1:350–61.

Wong CS, Wu SC, Duzgoren-Aydin NS, Aydin A, Wong MH. Trace metal contamination of sediments in an e-waste processing village in China. Environ Pollut. 2007;145:434e42.

Manomaivibool P. Extended producer responsibility in a non-OECD context: the management of waste electrical and electronic equipment in India. Resour Conserv Recyc. 2009;53(3):136–44. https://doi.org/10.1016/j.resconrec.2008.10.003.

Nyathi S, Olowoyo JO, Agboola O. Perception of scavengers and occupational health hazards associated with scavenging from a waste dumpsite in Pretoria, South Africa. J Environ Public Health. 2017. https://doi.org/10.1155/2018/9458156.

Deng WJ, Louie PK, Liu WK, Bi XH, Fu JM, Wong MH. Atmospheric levels and cytotoxicity of PAHs and heavy metals in TSP and PM 25 at an electronic waste site in Southeast China. Atmos Environ. 2006;40:6945–55.

E-waste, LLC. Green jobs and other benefits of e-waste recycling. Columbus: End-of-Life Technology Solutions Provider; 2013.

Baldé CP, Kuehr R, Blumenthal K, Gill SF, Kern M, Micheli P, Magpantay E, Huisman J. E-waste statistics guidelines on classifications, reporting and indicators. Bonn: United Nations University IAS Cycle; 2014.

Wong MH, Wu SC, Deng WJ, Yu XZ, Luo Q, Leung AOW. Export of toxic chemicals: a review of the case of uncontrolled electronic waste recycling. Environ Pollut. 2007;149:131–40.

Leung AOW, Duzgoren-Aydin NS, Cheung KC, Wong MH. Heavy metals concentrations of surface dust from e-waste recycling and its human health implications in Southeast China. Environ Sci Technol. 2008;42(7):2674–80.

Greenpeace Report. Recycling of electronic waste in China and India: workplace and environmental contamination. Amsterdam: Greenpeace International; 2005.

Prakash S, Manhart A. Socio-economic assessment and feasibility study in sustainable e-waste management in Ghana. Freiburg, 2010.

United Nations Environment Programme [UNEP], Division of Technology, Industry, and Economics, International Environmental Technology. http://www.wcmsp5/groups/public/dialogue/sector/documents/publication/wcms_196105.pdf 2011

Kang HY, Schoenung JM. Economic analysis of electronic waste recycling: modeling the cost and revenue of a materials recovery facility in California. Environ Sci Technol. 2006;40(5):1672–80.

Lundgren K. The global impact of e-waste: addressing the challenge. Geneva: International Labor Office (ILO); 2012.

Borthakur A, Sinha K. Electronic waste management in India: a stakeholder's perspective. http://escholarship.org/uc/item/1cq3j0b0 (2017)

Robinson BH. E-waste: an assessment of global production and environmental impacts. Sci Total Environ. 2009;408:183–91.

Noel-Brune M, Goldizen FC, Neira M, Berg MV, Lewis N, King M. Health effects of exposure to e-waste. J Lancet Glob Health. 2013;1(2):e70.

Tsydenova O, Bengtsson M. Environmental and human health risks associated with end-of-life treatment of electrical and electronic equipment. Institute for Global Environmental Strategies (IGES) Integrated Waste Management and Resource Efficiency project; 2009.

Shirodkar N, Terkar R. Stepped recycling: the solution for e-waste management and sustainable manufacturing in India. materials today proceedings. www.sciendirect.com (2015)

Afon AO, Faniran GB. Scavenging activity in Lagos, Nigeria: operational characteristics and residents'. In: Afon A, Aina O, editors. Perception in issues in the built environment of Nigeria. Ife-Ife: Obafemi Awolowo University Press; 2011. p. 229–58.

United Nations. Glossary of Environment Statistics, Studies in Methods, Series F, 1997; No. 67.

Wahab B, Agbola B. The place of informality and illegality in planning education in Nigeria. Plan Pract Res. 2017;32(2):212–25.

Guevara NK. Informality and formalization of informal settlements at the turn of the third millennium: practices and challenges in urban planning. J Stud Soc Sci. 2014;9(2):247–99.
Additional information
Publisher's Note
Springer Nature remains neutral with regard to jurisdictional claims in published maps and institutional affiliations.
History note
The article title has been corrected
Rights and permissions
Springer Nature or its licensor holds exclusive rights to this article under a publishing agreement with the author(s) or other rightsholder(s); author self-archiving of the accepted manuscript version of this article is solely governed by the terms of such publishing agreement and applicable law.
About this article
Cite this article
Jimoh, U.U., Famewo, A. Occupational health risks of informal e-waste activities on major landfills and e-village in Lagos State, Nigeria. J Public Health Pol 43, 335–346 (2022). https://doi.org/10.1057/s41271-022-00360-y
Accepted:

Published:

Issue Date:

DOI: https://doi.org/10.1057/s41271-022-00360-y
Keywords