Abstract
This study investigates the effect of social identity (caste, religion, gender, and asset) on adult chronic energy deficiency (CED) using the Indian Human Development Survey (IHDS) data from 2005 and 2011. From 2005 to 2011, out of 63,323 adult individuals, four-fifths (85.7%) of men and two-fifths (44.7%) of women improved their health status from CED to non-CED. The lowest improvement was observed among Dalit (Scheduled Casts, Scheduled Tribes) women: 41.9% moved from CED to non-CED status. We also find significant differences in prevalence of CED between Dalit and non-Dalit individuals and households. To achieve a significant improvement in CED, programs targeting malnourishment must be prioritized the Dalit households.
Access options
Buy single article
Instant access to the full article PDF.
US$ 39.95
Tax calculation will be finalised during checkout.
Subscribe to journal
Immediate online access to all issues from 2019. Subscription will auto renew annually.
US$ 79
Tax calculation will be finalised during checkout.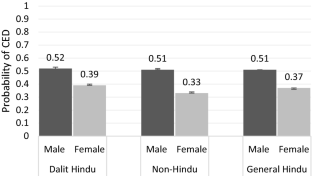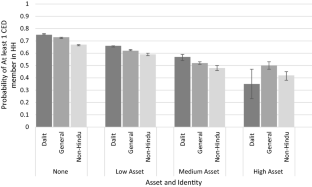 References
1.

FAO, IFAD, WFP. The State of Food Insecurity in the World: meeting the 2015 international hunger targets: taking stock of uneven progress. Rome. 2015. http://www.fao.org/publications. Accessed 25 Aug 2019.

2.

Radhakrishna R, Ravi C. Malnutrition in India: trends and determinants. Econ Polit Wkly. 2004;39(7):671–6.

3.

Deaton A, Drèze J. Food and nutrition in india: facts and interpretations. Econ Polit Wkly. 2009;44(7):42–65.

4.

Swain S, Chowdhury S. Trends of nutritional status among rural adults in six states of India: findings from national survey data. Clin Epidemiol Glob Heal. 2018;6(4):181–7.

5.

National Family Health Survey (NFHS-4) 2015–16 India. 2017. https://www.rchiips.org/nfhs.

6.

Besora-Moreno M, Llauradó E, Tarro L, Solà R. Social and economic factors and malnutrition or the risk of malnutrition in the elderly: a systematic review and meta-analysis of observational studies. Nutrients. 2020;12:737.

7.

O'Keeffe M, Kelly M, O'Herlihy E, O'Toole PW, Kearney PM, Timmons S, et al. Potentially modifiable determinants of malnutrition in older adults: a systematic review. Clin Nutr. 2019;38:2477–98.

8.

Ravaoarisoa L, Randriamanantsaina L, Rakotonirina J, De Dieu J, Rakotomanga M, Donnen P, et al. Socioeconomic determinants of malnutrition among mothers in the Amoron'i Mania region of Madagascar: a cross-sectional study. https://doi.org/10.1186/s40795-018-0212-4.

9.

López Bóo F, Canon ME. Richer but more unequal? Nutrition and caste gaps. SSRN Electron J. 2012.

10.

Puri S, Anand D. The state of nutrition of the marginalized community in India. Int J Recent Adv Multidiscip Res. 2015;2(8):0588–593.

11.

Jungari S, Chauhan BG. Caste, wealth and regional inequalities in health status of women and children in India. Contemp Voice Dalit. 2017;9(1):87–100. https://doi.org/10.1177/2455328X17690644.

12.

Jayalakshmi R, Kannan S. The double burden of malnutrition: an assessment of 'stunted child and overweight/obese mother (SCOWT) pairs' in Kerala households. J Public Health Policy. 2019.

13.

Bhattacharya J, Currie J, Org E. UCLA On-Line working paper series title youths at nutritional risk: malnourished or misnourished? Publication Date. 2000. https://escholarship.org/uc/item/0dz4t9mq. Accessed 19 Nov 2019.

14.

Veghari G. The comparison of under-five-children's nutrition status among ethnic groups in North of Iran, 1998–2013; results of a three stages cross-sectional study. Iran J Pediatr. 2015;25(4):e2004.

15.

Guo S, Zhao C, Ma Q, Sun HP, Pan CW. Prevalence of overweight and malnutrition among ethnic minority children and adolescents in China, 1991–2010. Sci Rep. 2016;6:37491.

16.

India Nutrition Profile - Global Nutrition Report. https://globalnutritionreport.org/resources/nutrition-profiles/asia/southern-asia/india/. Accessed 19 Nov 2019.

17.

Kanjilal B, Mazumdar PG, Mukherjee M, Rahman MH. Nutritional status of children in India: Household socio-economic condition as the contextual determinant. Int J Equity Health. 2010;9:19.

18.

United Nations Children's Fund. Strategy for improved nutrition of children and women in developing countries. Indian J Pediatr. 1991;58:13–24.

19.

Smith LC, Haddad L. Reducing child undernutrition: past drivers and priorities for the post-MDG era. World Dev. 2015;68:180–204.

20.

Sahoo S, Panda B. A study of nutritional status of pregnant women of some villages in Balasore District, Orissa. J Hum Ecol. 2006;20(3):227–32. https://doi.org/10.1080/09709274.2006.11905932.

21.

Kader M, Perera NKPP. Socio-economic and nutritional determinants of low birth weight in India. N Am J Med Sci. 2014;6(7):302–8.

22.

Fall CHD, Sachdev HS, Osmond C, Restrepo-Mendez MC, Victora C, Martorell R, et al. Association between maternal age at childbirth and child and adult outcomes in the offspring: a prospective study in five low-income and middle-income countries (COHORTS collaboration). Lancet Glob Heal. 2015;3(7):e366–e377377. https://doi.org/10.1016/S2214-109X(15)00038-8.

23.

Villar J, Merialdi M, Gülmezoglu AM, Abalos E, Carroli G, Kulier R, et al. Nutritional interventions during pregnancy for the prevention or treatment of maternal morbidity and preterm delivery: an overview of randomized controlled trials. J Nutr. 1625S;133(5):1606S–25S. https://doi.org/10.1093/jn/133.5.1606S.

24.

Conde-Agudelo A, Rosas-Bermúdez A, Kafury-Goeta AC. Birth spacing and risk of adverse perinatal outcomes: a meta-analysis. JAMA. 2006;295(15):1809–23. https://doi.org/10.1001/jama.295.15.1809.

25.

Arokiasamy P. Regional patterns of sex bias and excess female child mortality in India. Population. 2004;59(6):833–63.

26.

Sabharwal NS, Sonalkar W. Dalit women in India: at the crossroads of gender, class, and caste. Glob Justice. 2015;8(1):44–73.

27.

Thorat S, Sabharwal NS. Caste and social exclusion. In: India's children. Oxford University Press; 2015. p. 374–92.

28.

Clarke P, O'Malley PM, Johnston LD, Schulenberg JE. Social disparities in BMI trajectories across adulthood by gender, race/ ethnicity and lifetime socio-economic position: 1986–2004. Int J Epidemiol. 2009;38(2):499–509.

29.

Das S. Food Insecurity among Dalit communities in India: searching the root causes and dimensions. J Polit Sci Public Aff. 2016;04(01):1.

30.

Schmid MA, Egeland GM, Salomeyesudas B, Satheesh PV, Kuhnlein HV. Traditional food consumption and nutritional status of Dalit mothers in rural Andhra Pradesh, South India. Eur J Clin Nutr. 2006;60(11):1277–83.

31.

Malik SK. Dalit identity: the hermeneutical understanding and an epistemological alternative worldview. Voice Dalit. 2014;7(1):45–60.

32.

Johns H. Stigmatization of Dalits in access to water and sanitation in India. New Delhi. 2012. https://idsn.org/wp-content/uploads/user_folder/pdf/New_files/UN/HRC/Stigmatization_of_dalits_in_access_to_water_sanitation.pdf.

33.

Dutta S, Sinha I, Parashar A. Dalit women and water: availability, access and discrimination in rural India. J Soc Incl Stud. 2018;4(1):62–79.

34.

Prasad D, Srihari G. Mapping the politics of shauchalaya in Dalit localities: an inquiry. Contemp Voice Dalit. 2017;9(1):19–26.

35.

Routray P, Schmidt WP, Boisson S, Clasen T, Jenkins MW. Socio-cultural and behavioural factors constraining latrine adoption in rural coastal Odisha: an exploratory qualitative study Global health. BMC Public Health. 2015;15(1):880.

36.

Sinha D, Tiwari DK, Bhattacharya R, Kattumuri R. Public services, social relations, politics, and gender: tales from a north Indian village. In: Himanshu, Jha P, Rodgers G, (ed) The changing village in India: insights from longitudinal research. New Delhi: Oxford University Press; 2016. p. 401–436.

37.

Engle PL, Menon P, Haddad L. Care and nutrition: concepts and measurement. World Dev. 1999;27(8):1309–37.

38.

Smith LC, Haddad L. Explaining child malnutrition in developing countries: a cross-country analysis; 1999.

39.

IIPS. India National Family Health Survey (NFHS-3). Mumbai. 2007. https://www.mohfw.nic.in. Accessed 25 Aug 2019.

40.

Tiwari A. Gender inequality in terms of health and nutrition: evidence from national family health survey-3. Pac Bus Rev Int. 2013;5:24–34.

41.

Desai S. Reeve Vanneman, National Council of Applied Economic Research. India Human Development Survey (IHDS), 2005. ICPSR22626-v8. New Delhi: Ann Arbor, MI: Inter-university Consortium for Political and Social Research [distributor]. 2010–06–29; 2005.

42.

Desai S. Reeve Vanneman, National Council of Applied Economic Research. India Human Development Survey-II (IHDS-II), 2011–12. ICPSR36151-v2. New Delhi: Ann Arbor, MI: Inter-university Consortium for Political and Social Research [distributor], 2015–07–31.; 2015.

43.

NCAER, University of Maryland. Papers and theses using India Human Development Survey (IHDS). https://www.ncaer.org/uploads/photo-gallery/files/1472021580PapersandThesesUsingIHDS.pdf.

44.

Yadav K. PURVI VINDHYA KSHETRA KE KRISHI JALVAYU PRATIROOP KA BHAOUGOLIK ADHYAYAN. University of Allahabad. 2017. https://shodhganga.inflibnet.ac.in:8080/jspui/bitstream/10603/184118/2/chapter 1.pdf. Accessed 26 Jan 2020.

45.

Sinha DK. 20 Agro-Ecological Regions of India. IDE-India. 2015. https://www.ide-india.org/sites/default/files/20agroecologicalregionsofIndia.pdf. Accessed 26 Jan 2020

46.

Rao PP, Jagadeesh E, Lagesh MA, Surjit V. System/zones location no. of districts dominant activities insights from VDSA meso level database diversification of agriculture in India. 2015. https://exploreit.icrisat.org. Accessed 2020 Jan 26.

47.

Rai RK, Kumar S, Sekher M, Pritchard B, Rammohan A. A life-cycle approach to food and nutrition security in India. Public Health Nutr. 2015;18(5):944–9.

48.

Mukhopadhyay S. The intersection of gender, caste and class inequalities in child nutrition in rural India. Asian Popul Stud. 2015;11(1):17–311.

49.

Turning promises into action: gender equality in the 2030 agenda for sustainable development. 2018. http://www.unwomen.org/sdg-report. Accessed 1 Feb 2020.

50.

Kumar SK, Hotchkiss D. Consequences of deforestation for women's time allocation, agricultural production, and nutrition in hill areas of Nepal. 1988.

51.

FAO. 2010–11: The State of Food and Agriculture. Women in agriculture: closing the gender gap for development. Rome; 2011. https://www.fao.org/catalog/inter-e.htm. Accessed 26 Aug 2019

52.

Agarwal B. Gender and land rights revisited: exploring new prospects via the state, family and market. J Agrar Chang. 2003;3(1–2):184–224.

53.

Agarwal B. Food security, productivity, and gender inequality. Herring RJ, editor, vol. 1. Oxford: Oxford University Press; 2013.

54.

Bamji MS, Thimayamma BVS. Impact of women's work on maternal and child nutrition. Ecol Food Nutr. 2000;39(1):13–311. https://doi.org/10.1080/03670244.2000.9991602.

55.

Siddiqui MZ, Donato R. Undernutrition among adults in India: The significance of individual-level and contextual factors impacting on the likelihood of underweight across sub-populations. Public Health Nutr. 2017;20:130–41.

56.

Madjdian DS, Bras HAJ. Family, gender, and women's nutritional status: a comparison between two himalayan communities in Nepal. Econ Hist Dev Reg. 2016;31(1):198–223.

57.

Thorat S, Sabharwal NS. Addressing the unequal burden of malnutrition. India Heal Beat. 2011;5(5):1.

58.

Mamgain RP, Diwakar GD. Elimination of Identity-based discrimination in food and nutrition programmes in India. IDS Bull. 2012;43(Suppl. 1):25–31.

59.

Jose S. Adult undernutrition in India: is there a huge gender gap? Econ Polit Wkly. 2011;56(29):95–102.

60.

Sinha D, Bhattacharya R. Human development: education, health, public services. In: Himanshu, Lanjouw P, Stern N (ed) How lives change: Palanpur, India, and development economics. Oxford University Press, Oxford; 2018. p. 350–78.

61.

Kynch J. Nutrition. In: Lanjouw P, Stern NH, editors. Economic development in Palanpur over five decades. New Delhi: Oxford University Press; 1998.

62.

Barker M, Chorghade G, Crozier S, Leary S, Fall C. Gender differences in body mass index in rural India are determined by socio-economic factors and lifestyle. J Nutr. 2006;136(12):3062–8.

63.

Khera R. Trends in diversion of grain from the public distribution system. Econ Polit Wkly. 2011;46:106–14.

64.

Sathyanarayana Rao TS, Gowda MR, Ramachandran K, Andrade C. Prevention of farmer suicides: greater need for state role than for a mental health professional's role. Indian J Psychiatry. 2017;59:3–5.

65.

Rukmini S. India's new farm suicides data: myths and facts. The Hindu. 2015. https://www.thehindu.com/data/indias-new-farm-suicides-data-myths-and-facts/article7461095.ece. Accessed 1 Feb 2020.

66.

Desai S, Dubey A, Joshi BL, Sen M, Shariff A, Vanneman R. India human development survey: design and data quality. 2011.

67.

Consumption | India Human Development Survey. https://www.ihds.umd.edu/consumption. Accessed 23 Jan 2020.
Funding
The author has not received any funding for the study.
Ethics declarations
Conflict of interests
The author has no conflict of interest regarding this study.
Ethical approval
Since this study was solely based on secondary data, no ethical approval was required.
Additional information
Publisher's Note
Springer Nature remains neutral with regard to jurisdictional claims in published maps and institutional affiliations.
Electronic supplementary material
Below is the link to the electronic supplementary material.
About this article
Cite this article
Bhattacharya, R. Social identity as a driver of adult chronic energy deficiency: analysis of rural Indian households. J Public Health Pol 41, 436–452 (2020). https://doi.org/10.1057/s41271-020-00244-z
Keywords
Adult malnourishment

Chronic energy deficiency

Body mass index (BMI)

Social identity

Dalit

India