Abstract
Efficiency and productivity improvement have become central in global health debates. In this study, we explored productivity change, particularly the contribution of technological progress and efficiency gains associated with improvements in child survival in Zambia (population 15 million). Productivity was measured by applying the Malmquist productivity index on district-level panel data. The effect of socioeconomic factors was further analyzed by applying an ordinary least squares regression technique. During 2004–2009, overall productivity in Zambia increased by 5.0 per cent, a change largely attributed to technological progress rather than efficiency gains. Within-country productivity comparisons revealed wide heterogeneity in favor of more urbanized and densely populated districts. Improved cooking methods, improved sanitation, and better educated populations tended to improve productive gains, whereas larger household size had an adverse effect. Addressing such district-level factors and ensuring efficient delivery and optimal application of existing health technologies offer a practical pathway for further improving population health.
This is a preview of subscription content,
to check access.
Access this article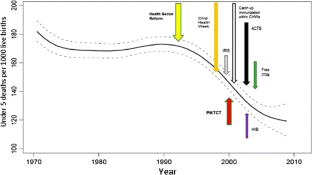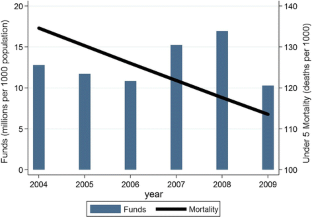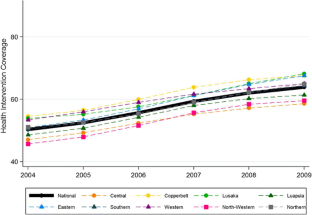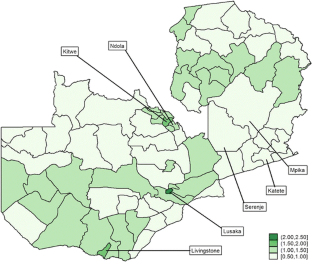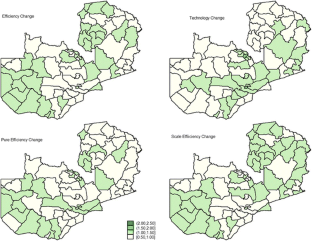 References
World Health Organization. (2010) Health systems financing: The path to universal coverage. Geneva, Switzerland. http://www.who.int/whr/2010/en/.

World Health Organization. (2007) Everybody business: Strengthening health systems to improve health outcomes: WHO's framework for action. Geneva, Switzerland. http://www.who.int/healthsystems/strategy/everybodys_business.pdf.

Institute for Health Metrics and Evaluation. (2015) Financing Global Health 2014: Shifts in Funding as the MDG Era Closes. Institute for Health Metrics and Evaluation. http://www.healthdata.org/sites/default/files/files/policy_report/2015/FGH2014/IHME_PolicyReport_FGH_2014_0.pdf.

Colson, K.E., Dwyer-Lindgren, L., Achoki, T. et al (2015) Benchmarking health system performance across districts in Zambia: A systematic analysis of levels and trends in key maternal and child health interventions from 1990 to 2010. BMC Medicine 13: 69.

Achoki, T. and Chansa, C. (2013) Impact of funding modalities on maternal and child health intervention coverage in Zambia. Health Policy and Technology 2: 162–167.

Jeppsson, A. and Okuonzi, S.A. (2000) Vertical or holistic decentralization of the health sector? Experiences from Zambia and Uganda. International Journal of Health Planning and Management 15: 273–289.

Zambia Ministry of Health. (2005) National Health Strategic Plan 2006–2010. Lusaka, Zambia. http://www.africanchildforum.org/clr/policy%20per%20country/zambia/zambia_health_2006-2010_en.pdf.

Zambia Ministry of Health. (2011) National Health Strategic Plan 2011–2015. Lusaka, Zambia. http://www.moh.gov.zm/docs/nhsp.pdf.

Chansa, C., Sundewall, J., McIntyre, D., Tomson, G. and Forsberg, B.C. (2008) Exploring SWAp's contribution to the efficient allocation and use of resources in the health sector in Zambia. Health Policy and Planning 23: 244–251.

Lee, C. (2011) Malmquist Productivity Analysis using DEA frontier in Stata. Stata Users Group, https://ideas.repec.org/p/boc/chic11/21.html, accessed 8 January 2016.

Giuffrida, A. (1999) Productivity and efficiency changes in primary care: A Malmquist index approach. Health Care Management Science 2: 11–26.

Jacobs, R., Smith, P. and Street, A. (2006) Measuring Efficiency in Health Care: Analytic Techniques and Health Policy. Cambridge: Cambridge University Press

Murray, C.J.L. and Frenk, J. (1999) A WHO Framework for Health System Performance Assessment. World Health Organization, http://www.who.int/healthinfo/paper06.pdf.

Gakidou, E., Cowling, K., Lozano, R. and Murray, C.J.L. (2010) Increased educational attainment and its effect on child mortality in 175 countries between 1970 and 2009: A systematic analysis. The Lancet 376: 959–974.

Dobe, M. (2015) The role of sanitation in malnutrition — A science and policy controversy in India. Journal of Public Health Policy 36: 7–14. doi:10.1057/jphp.2014.45.

United Nations Development Programme. (2015) Human Development Report. Work for Human Development, http://hdr.undp.org/sites/default/files/2015_human_development_report.pdf.

Nankabirwa, V., Tumwine, J., Mugaba, P. et al (2015) Child survival and BCG vaccination: A community based prospective cohort study in Uganda. BMC Public Health 15: 175.

Andre, F.E., Booy, R., Bock, H.L. et al (2008) Vaccination greatly reduces disease, disability, death and inequity worldwide. Bulletin of the World Health Organization 86: 140–146.

Chanda, P., Hamainza, B., Mulenga, S. et al (2009) Early results of integrated malaria control and implications for the management of fever in under-five children at a peripheral health facility: A case study of Chongwe rural health centre in Zambia. Malaria Journal 8: 49.

Steketee, R.W. and Campbell, C. (2010) Impact of national malaria control scale-up programmes in Africa: Magnitude and attribution of effects. Malaria Journal 9: 299.

Bernis, L., Sherrat, D., AbouZahr, C. and Lerberghe, W. (2003) Skilled attendants for pregnancy, childbirth and postnatal care. British Medical Bulletin 67: 39–57.

World Health Organization. (2016) Children: Reducing mortality. Fact sheet. Geneva, Switzerland, http://www.who.int/mediacentre/factsheets/fs178/en/.

Yakoob, M., Ali, M. A., Ali, M.U. et al (2011) The effect of providing skilled birth attendance and emergency obstetric care in preventing stillbirths. BMC Public Health 11(Suppl 3): S7.

Titaley, C.R., Dibley, M. and Agho, K. (2008) Determinants of neonatal mortality in Indonesia. BMC Public Health 8: 232.

Thanassoulis, E. (2001) Introduction to the Theory and Application of Data Envelopment Analysis: A Foundation Text with Integrated Software. Dordrecht: Kluwer.

Cheelo, C., Chitah, B., Mwamba, S. and Lutangu, I. (2008) Donor effects on the national aids response and the national health system: Theme 5. Final Report. Lusaka, Zambia: University of Zambia.

Shengelia, B., Tandon, A., Adams, O.B. and Murray, C.J.L. (2005) Access, utilization, quality, and effective coverage: An integrated conceptual framework and measurement strategy. Social Science and Medicine 61: 97–109.

Murray, C.J.L., Barber, R.M., Foreman, K.J. et al (2016) Global, regional, and national disability-adjusted life years (DALYs) for 306 diseases and injuries and healthy life expectancy (HALE) for 188 countries, 1990–2013: Quantifying the epidemiological transition. The Lancet. doi:10.1016/S0140-6736(15)61340-X.

Murray, C.J.L., Frenk, J. and Evans, T. (2007) The Global Campaign for the Health MDGs: Challenges, opportunities, and the imperative of shared learning. The Lancet 370: 1018–1020.
Acknowledgments
We thank all the researchers who worked on the MCPA project at IHME, led by Prof. Emmanuela Gakidou. We extend our gratitude to David Philips, Nicholas Kassebaum, Mohammad Forouzanfar, and Joseph Dieleman for their comments. We acknowledge the support from Ministry of Health, Zambia, for allowing access to data.
About this article
Cite this article
Achoki, T., Kinfu, Y., Masiye, F. et al. Health system productivity change in Zambia: A focus on the child health services. J Public Health Pol 38, 88–104 (2017). https://doi.org/10.1057/s41271-016-0046-8
Published:

Issue Date:

DOI: https://doi.org/10.1057/s41271-016-0046-8
Keywords