Abstract
More than 1 billion children – half the children in the world – are victims of violence every year. As part of the Post-2015 sustainable development agenda, the UN has issued a global call-to-action: to eliminate violence against children. Essential to preventing violence against children is guidance to countries on using the best available evidence to address this problem. THRIVES provides this evidence. It represents a framework of complementary strategies that, taken together, have potential to achieve and sustain efforts to prevent violence against children. These strategies, which span health, social services, education, and justice sectors, include Training in parenting, Household economic strengthening, Reduced violence through legislative protection, Improved services, Values and norms that protect children, Education and life skills, and Surveillance and evaluation. For each THRIVES area, we review evidence for effectiveness and identify programmatic or policy examples. This framework will facilitate commitments to effective, sustainable, and scalable action.
This is a preview of subscription content, log in to check access.
Access options
Buy single article
Instant access to the full article PDF.
US$ 39.95
Price includes VAT for USA
Subscribe to journal
Immediate online access to all issues from 2019. Subscription will auto renew annually.
US$ 90
This is the net price. Taxes to be calculated in checkout.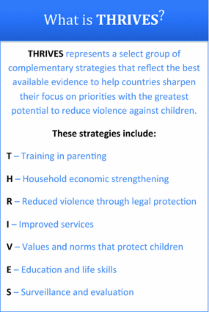 References
1.

Hillis, S., Mercy, J., Amobi, A. and Kress, H. (2016) Global prevalence of past-year violence against children. Pediatrics 2016;137(3): e20154079.

2.

WHO. (2014) Global Status Report on Violence Prevention 2014. Geneva: World Health Organization.

3.

Hillis, S., Mercy, J. and Saul, J. (2016) The enduring impact of violence against children. Psychology, Health & Medicine. doi:10.1080/13548506.2016.1153679.

4.

Bilukha, O., Hahn, R., Crosby, A., Fullilove, M., Liberman, A., Moscicki, E., et al. (2005) The effectiveness of early childhood home visitation in preventing violence: A systematic review. American Journal of Preventive Medicine 28:11–39.

5.

Rotheram-Borus, M.J., le Roux, I.M., Tomlinson, M., Mbewu, N., Comulada, W.S., le Roux, K., et al. (2011) Philani plus (+): A mentor mother community health worker home visiting program to improve maternal and infants' outcomes. Prevention Science 12: 372–388.

6.

Knerr, W., Gardner, F. and Cluver, L. (2013) Improving positive parenting skills and reducing harsh and abusive parenting in low and middle income countries: A systematic review. Prevention Science 14: 352–363.

7.

Vandenhoudt, H., Miller, K.S., Ochura, J., Wyckoff, S.C., Obong'o, C.O., Otwoma, N.J., et al. (2010) Evaluation of a U.S. evidence-based parenting intervention in rural western Kenya: From parents matter! to families matter! AIDS Education & Prevention 22: 328–343.

8.

Flay, B.R., Allred, C.G. and Ordway, N. (2001) Effects of the positive action program on achievement and discipline. Prevention Science 2: 71–89.

9.

Foshee, V., McNaughton Reyes, H., Ennett, S., Cance, J., Bauman, K. and Bowling, J. (2012) Assessing the effects of families for safe dates, a family-based teen dating abuse prevention program. Journal of Adolescent Health 51: 349–356.

10.

Salmivalli, C. and Poskiparta, E. (2012) KiVa antibullying program: Overview of evaluation studies based on a randomized controlled trial and national rollout in Finland. International Journal of Conflict & Violence 6: 294–301.

11.

Anthony, E., King, B. and Austin, M. (2011) Reducing child poverty by promoting child well-being: Identifying best practices in a time of great need. Children & Youth Services Review 33: 1999–2009.

12.

Vyas, S. and Watts, C. (2009) How does economic empowerment affect women's risk of intimate partner violence in low and middle income countries? A systematic review of published evidence. Journal of International Development 21: 577–602.

13.

Cancian, M., Yang, M. and Slack, K.S. (2013) The effect of additional child support income on the risk of child maltreatment. Social Service Review 87: 417–437.

14.

Ozer E.J., Fernald, L., Manley, J.G. and Gertler, P. (2009) Effects of a conditional cash transfer program on children's behavior problems. Pediatrics 123: e630–e637.

15.

Pronyk, P.M., Hargreaves, J.R. and Morduch, J. (2007) Microfinance programs and better heath: Prospects for sub-Saharan Africa. JAMA 298: 925–927.

16.

Gupta J., Falb, K.L., Lehmann, H., Kpebo, D., Xuan, Z., Hossain, M. et al. (2013) Gender norms and economic empowerment intervention to reduce intimate partner violence against women in rural Cote d'Ivoire: A randomized controlled pilot study. BMC International Health and Human Rights 13: 46.

17.

Stier, D.D., Mercy, J.A. and Kohn, M. (2007) Injury prevention. In: R.A. Goodman, R.E. Hoffman, W. Lopez, G.W. Matthews, M.A. Rothstein, and K.L. Foster (eds.), Law in Public Health Practice, 2nd Edition. New York: Oxford, pp. 506–527.

18.

Bellis, M.A. and Hughes, K. (2008) Comprehensive strategies to prevent alcohol-related violence. IPC Review 2: 137–168.

19.

Bussmann, K., Erthal, C. and Schroth, A. (2011) Effects of banning corporal punishment in Europe: A five-nation comparison. In: J.E. Durrant and A.B. Smith (eds.), Global Pathways to Abolishing Physical Punishment. New York: Routledge, pp. 299–322.

20.

Task Force on Community Preventive Services. (2010) Recommendations on maintaining limits on days and hours of sale of alcoholic beverages to prevent excessive alcohol consumption and related harms. American Journal of Preventive Medicine 39: 605–606.

21.

Turquet, L., Seck, P., Azcona, G., Menon, R., Boyce, C., Pierron, N. et al. (2011) Progress of the world's women: In pursuit of justice, 2011-2012. New York: UN Women.

22.

Task Force on Community Preventive Services. (2008) Recommendations to reduce psychological harm from traumatic events among children and adolescents. American Journal of Preventative Medicine 35: 314–316.

23.

Murray, L.K., Familiar, I., Skavenski, S., Jere, E., Cohen, J., Imasiku, M., et al. (2013) An evaluation of trauma focused cognitive behavioral therapy for children in Zambia. Child Abuse & Neglect, 37: 10.

24.

Moyer, V.A. and U.S. Preventive Services Task Force. (2013) Screening for intimate partner violence and abuse of elderly and vulnerable adults: U.S. preventive services task force recommendation statement. Annals of Internal Medicine 158: 478–486.

25.

Sullivan, C.M. (2012) Domestic violence shelter services: A review of the empirical evidence. Harrisburg, PA: National Resource Center on Domestic Violence.

26.

Sullivan, C.M. (2012) Support groups for women with abusive partners: A review of the empirical evidence. Harrisburg, PA: National Resource Center on Domestic Violence.

27.

Sullivan, C.M. (2012) Advocacy services for women with abusive partners: A review of the empirical evidence. Harrisburg, PA: National Resource Center on Domestic Violence.

28.

Promundo. (2012) Engaging men to prevent gender-based violence: A multi-country intervention an impact evaluation study. Washington, D.C.: Instituto Promundo.

29.

Miller, E., Tancredit, D., McCauley, H., Decker, M., Virata, M., Anderson, H., et al. (2012) 'Coaching boys into Men': A cluster-randomized controlled trial of a dating violence prevention program. Journal of Adolescent Health 51:431–438.

30.

Verma, R., Pulerwitz, J., Mahendra, V., Khandekar, S., Singh, A.K., Das, S. et al. (2008) Promoting gender equity as a strategy to reduce HIV risk and gender-based violence among young men in India. Horizons Final Report. Washington, D.C.: Population Council. http://menengage.org/wp-content/uploads/2014/06/Promoting-Gender-Equity-as-a-Strategy.pdf, accessed 10 April 2016.

31.

Coker, A.L., Fisher, B.W., Bush, H.M., Swan, S.C., Williams, C.M., Clear, E.R. et al. (2014) Evaluation of the green dot bystander intervention to reduce interpersonal violence among college students across three campuses. Violence against Women. doi:10.1177/1077801214545284.

32.

Watts, C., Abramsky, T., Devries, K., Kiss, L., Nakuti, J., Kyegombe, N., et al. (2014) Findings from the SASA! study: A cluster randomized controlled trial to assess the impact of a community mobilization intervention to prevent violence against women and reduce HIV risk in Kampala, Uganda. BMC Medicine 12: 122.

33.

Usdin, S., Scheepers, E., Goldstein, S. and Japhet, G. (2005) Achieving social change on gender-based violence: A report on the impact evaluation of Soul City's fourth series. Social Science & Medicine 61: 2434–2445.

34.

Center for the Study and Prevention of Violence, Institute of Behavioral Science, University of Colorado Boulder. Blueprints for Healthy Youth Development. www.blueprintsprograms.com.

35.

Durlak, J.A., Weissberg, R.P. and Pachan, M. (2010) A meta-analysis of after-school programs that seek to promote personal and social skills in children and adolescents. American Journal of Community Psychology 45: 294–309.

36.

Hallfors, D., Cho, H., Rusakaniko, S., Iritani, B., Mapfumo, J. and Halpern, C. (2011) Supporting adolescent orphan girls to stay in school as HIV risk prevention: Evidence from a randomized controlled trial in Zimbabwe. American Journal of Public Health 101: 1082–1088.

37.

Reynolds, A.J., Temple, J.A., Ou, S., Arteaga, I.A. and White, B. (2011) School-based early childhood education and well-being: Effects by timing, dosage, and subgroups. Science 333: 360–364.

38.

Hahn, R.A., Fuqua-Whitley, D., Wethington, H., Lowy, J., Crosby, A., Fullilove, M., et al. (2007) Effectiveness of universal school-based programs to prevent violent and aggressive behavior: A systematic review. American Journal of Preventative Medicine 33: S114–S129.

39.

Fellmeth, G.L.T., Heffernan, C., Nurse, J., Habibula, S. and Sethi, D. (2013) Educational and skills-based interventions for preventing relationship and dating violence in adolescents and young adults. Cochrane Database of Systematic Reviews 6: 4534. doi:10.1002/14651858.CD004534.pub3.

40.

Wolfe, D.A., Crooks, C., Jaffe, P., Chiodo, D., Hughes, R., Ellis, W., et al. (2009) A school-based program to prevent adolescent dating violence: A cluster randomized trial. Archives of Pediatrics and Adolescent Medicine 163: 692–699.

41.

Holcomb, D.R., Savage, M.P., Seehafer, R. and Walkes, D.M., (2001) A mixed-gender date rape prevention intervention targeting freshmen college athletes. College Student Journal 36(2):165–179.

42.

Sarnquist, C., Omondi, B., Sinclair, J., Gitau, C., Paiva, L., Mulinge, M., et al. (2014) Rape prevention through empowerment of adolescent girls. Pediatrics 133: e1226–e1232.
About this article
Cite this article
Hillis, S., Mercy, J., Saul, J. et al. THRIVES: Using the best evidence to prevent violence against children. J Public Health Pol 37, 51–65 (2016). https://doi.org/10.1057/s41271-016-0003-6
Keywords
violence against children

global

child maltreatment

child sexual abuse

prevention programs