Abstract
Because of an important consistency in the prestige ratings of occupations from respondents across various social groups, countries and over time, the roots of divergent perceptions of the social prestige of occupations have attracted little attention. Yet structural changes in modern economies, brought by rapid globalization and technological change, and the polarization of political life might have triggered a growing contestation of the traditional foundations of modern societies. We contribute to this important question by analyzing a unique data set in Switzerland based on a survey of adults' perception of the social prestige of occupations. As our results indicate, respondents identifying with major or minor right-wing populist parties do not reject the dominant view of the prestige of occupations. Rather, adherence to radical political ideologies, whether at the far left or far right, correlates with a lower impact of the educational requirements of occupations on their perceived social prestige. Interestingly, individuals at the far left of the ideology spectrum also value autonomy at the workplace less, while voters of the New and Centre-Left put a stronger emphasis on problem-solving skills for the prestige of occupations.
Access options
Buy single article
Instant access to the full article PDF.
USD 39.95
Price excludes VAT (USA)
Tax calculation will be finalised during checkout.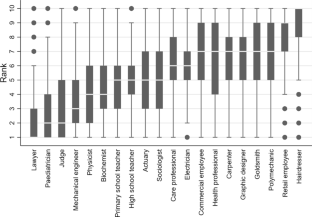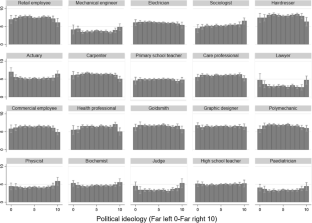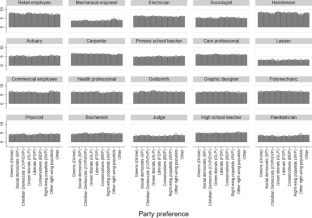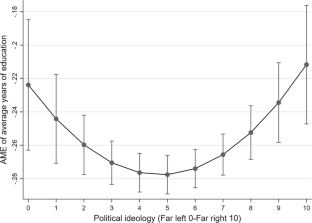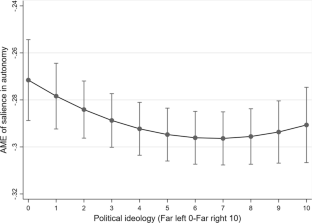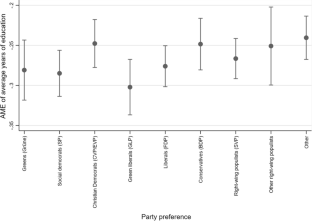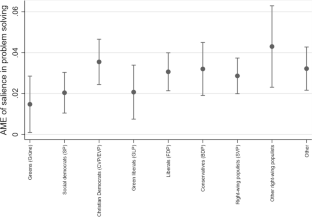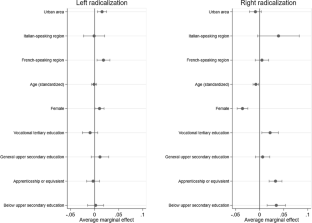 Notes
In modern societies, the mass media have also, by sharing with populist parties issues in a similar tone, contributed to the expansion of their domination in the political discourse (Mudde 2013).

This survey was developed by the Swiss Leading House on Economics of Education, a research program of the Swiss State Secretariat for Education, Research and Innovation and a joint project between the University of Bern and University of Zurich and conducted by the LINK Institute.

Additional analyses were also conducted by retaining, instead of excluding, those respondents who gave the same rank twice to different occupations, and replacing, alternatively, one of both redundant ranks by the one missing among the ten that should have been assigned. This resulted in two additional distinct samples that were then used to test for the robustness of our results. Whether we used the original sample or one of both additional samples, the results remained similar (results available upon request).

Because only the level of education was available in the SLFS data set, each level had first to be transformed into the corresponding years of education based on official sources (retrieved from: http://www.edk.ch/dyn/11586.php).

For more information on the exact methodology, see Eurofound (2016).

Unfortunately, information at a more detailed level of occupational grouping was not available in the EWCS and PIAAC databases.

Since Switzerland did not participate in PIAAC and did not include enough observations at the occupational level to conduct the appropriate analyses, we were unable to derive indices only for Switzerland. This should however not be a problem, as Taylor et al. (2008) have shown that the skill content of tasks is rated similarly across countries.

Some occupations from the ranking list in our main data set were not present in the SLFS data as such because of a less detailed variable in the latter. As a result, in some cases, more general categories were used to compute the needed variables.

This category was unfortunately not available in a more detailed manner.
References
Abrassart, A., and S.C. Wolter. 2020. Investigating the image deficit of vocational education and training: Occupational prestige ranking depending on the educational requirements and the skill content of occupations. Journal of European Social Policy 30 (2): 225–240.

Afonso, A., and Y. Papadopoulos. 2015. How the populist radical right transformed Swiss welfare politics: From compromises to polarization. Swiss Political Science Review 21 (4): 617–635.

Allison, P.D., and N.A. Christakis. 1994. Logit models for sets of ranked items. Sociological Methodology 24: 199–228.

Balkwell, J.W., F.L. Bates, and A.P. Garbin. 1980. On the intersubjectivity of occupational status evaluations: A test of a key assumption underlying the "Wisconsin Model" of status attainment. Social Forces 58 (3): 865–881.

Bernhard, L. 2017. Three faces of populism in current Switzerland: Comparing the populist communication of the Swiss people's party, the Ticino League, and the Geneva Citizens' movement. Swiss Political Science Review 23 (4): 509–525.

Blau, P., and O.D. Duncan. 1967. The American Occupational Structure. New York: John Wiley&Sons.

Boltanski, L., and L. Thévenot. 1983. Finding one's way in social space: A study based on games. Social Science Information 22 (4–5): 631–680.

Bornschier, S. 2010. The new cultural divide and the two-dimensional political space in Western Europe. West European Politics 33 (3): 419–444.

Bornschier, S. 2015. The new cultural conflict, polarization, and representation in the Swiss party system, 1975–2011. Swiss Political Science Review 21 (4): 680–701.

Bourdieu, P. 1985. The social space and the genesis of groups. Information (international Social Science Council) 24 (2): 195–220.

Buchmann, M., I. Kriesi, M. Koomen, C. Imdorf, and A. Basler. 2016. Differentiation in secondary education and inequality in educational opportunities: The case of Switzerland. In Models of secondary education and social inequality—An international comparison, ed. H.-P. Blossfeld, S. Buchholz, J. Skopek, and M. Triventi, 111–128. Cheltenham: Edward Elgar.

Buchmann, M., and S. Sacchi. 1998. The transition from school to work in Switzerland: Do characteristics of the educational system and class barriers matter. In From school to work. A comparative study of educational qualifications and occupational destinations, ed. Y. Shavit and W. Müller, 407–442. Oxford: Clarendon Press.

Caprara, G.V., S. Schwartz, C. Capanna, M. Vecchione, and C. Barbaranelli. 2006. Personality and politics: Values, traits, and political choice. Political Psychology 27 (1): 1–28.

Caramani, D. 2017. Will vs. reason: the populist and technocratic forms of political representation and their critique to party government. American Political Science Review 111 (1): 54–67.

Converse, P.E. 2006. The nature of belief systems in mass publics (1964). Critical Review 18 (1–3): 1–74.

Corneo, G., and H.P. Grüner. 2002. Individual preferences for political redistribution. Journal of Public Economics 83 (1): 83–107.

Cutler, S.J. 1973. Perceived prestige loss and political attitudes among the aged. The Gerontologist 13 (1): 69–75.

Ernst, N., S. Engesser, and F. Esser. 2017. Bipolar populism? The use of anti-elitism and people-centrism by Swiss parties on social media. Swiss Political Science Review 23 (3): 253–261.

Eurofound,. 2016. What do Europeans do at work? A task-based analysis: European Jobs Monitor 2016. Luxembourg: Publications Office of the European Union.

Feldman, S. 1988. Structure and consistency in public opinion: The role of core beliefs and values. American Journal of Political Science 32: 416–440.

Feldman, S. 2003. Enforcing social conformity: A theory of authoritarianism. Political Psychology 24 (1): 41–74.

Foa, R.S., and Y. Mounk. 2017. The signs of deconsolidation. Journal of Democracy 28 (1): 5–15.

Gauchat, G., and K.T. Andrews. 2018. The cultural-cognitive mapping of scientific professions. American Sociological Review 83 (3): 567–595.

Gest, J., T. Reny, and J. Mayer. 2018. Roots of the radical right: Nostalgic deprivation in the United States and Britain. Comparative Political Studies 51 (13): 1694–1719.

Gidron, N., and P.A. Hall. 2017. The politics of social status: Economic and cultural roots of the populist right. The British Journal of Sociology 68: 57–84.

Gingrich, J., and S. Häusermann. 2015. The decline of the working-class vote, the reconfiguration of the welfare support coalition and consequences for the welfare state. Journal of European Social Policy 25 (1): 50–75.

Goren, P. 2001. Core principles and policy reasoning in mass publics: A test of two theories. British Journal of Political Science 31 (1): 159–177.

Guppy, N., and J.C. Goyder. 1984. Consensus on occupational prestige: A reassessment of the evidence. Social Forces 62 (3): 709–725.

Güveli, A., A. Need, and N.D. De Graaf. 2007. The rise of "new" social classes within the service class in the Netherlands: Political orientation of social and cultural specialists and technocrats between 1970 and 2003. Acta Sociologica 50 (2): 129–146.

Häusermann, S., A. Mach, and Y. Papadopoulos. 2004. From corporatism to partisan politics: Social policy making under strain in Switzerland. Swiss Political Science Review 10 (2): 33–59.

Hodge, R.W., P.M. Siegel, and P.H. Rossi. 1964. Occupational prestige in the United States, 1925–63. American Journal of Sociology 70 (3): 286–302.

Hodge, R.W., D.J. Treiman, and P.H. Rossi. 1966. A comparative study of occupational prestige. Class, Status and Power 2: 309–321.

Jagers, J., and S. Walgrave. 2007. Populism as political communication style: An empirical study of political parties' discourse in Belgium. European Journal of Political Research 46 (3): 319–345.

Jansen, G. 2016. Self-employment as atypical or autonomous work: diverging effects on political orientations. Socio-Economic Review. https://doi.org/10.1093/ser/mww017.

Jost, J.T., B.A. Nosek, and S.D. Gosling. 2008. Ideology: Its resurgence in social, personality, and political psychology. Perspectives on Psychological Science 3 (2): 126–136.

Katsambekis, G. 2017. The populist surge in post-democratic times: Theoretical and political challenges. The Political Quarterly 88 (2): 202–210.

Kitschelt, H., and P. Rehm. 2014. Occupations as a site of political preference formation. Comparative Political Studies 47 (12): 1670–1706.

Knutsen, O. 1995. Value orientations, political conflicts and left-right identification: A comparative study. European Journal of Political Research 28 (1): 63–93.

Kurer, T. 2020. The declining middle: Occupational change, social status, and the populist right. Comparative Political Studies 53 (10–11): 1798–1835.

Kurer, T., and B. Palier. 2019. Shrinking and shouting: The political revolt of the declining middle in times of employment polarization. Research & Politics 6 (1): 2053168019831164.

Lamont, M. 2012. Toward a comparative sociology of valuation and evaluation. Annual Review of Sociology 38: 201–221.

Lauer, R.H. 1974. Socialization into inequality: Children's perception of occupational status. Sociology and Social Research 58 (2): 176–183.

Lynn, F.B., and G. Ellerbach. 2017. A position with a view: Educational status and the construction of the occupational hierarchy. American Sociological Review 82 (1): 32–58.

MacKinnon, N.J., and T. Langford. 1994. The meaning of occupational prestige scores: A social psychological analysis and interpretation. The Sociological Quarterly 35 (2): 215–245.

Meyer, J.W., and B. Rowan. 1977. Institutionalized organizations: Formal structure as myth and ceremony. American Journal of Sociology 83 (2): 340–363.

Mudde, C. 2004. The populist zeitgeist. Government and Opposition 39 (4): 541–563.

Mudde, C. 2013. Three decades of populist radical right parties in Western Europe: So what? European Journal of Political Research 52 (1): 1–19.

Mutz, D.C. 2018. Status threat, not economic hardship, explains the 2016 presidential vote. Proceedings of the National Academy of Sciences 115 (19): E4330–E4339.

Oesch, D. 2012. The class basis of the cleavage between the new left and the radical right: An analysis for Austria, Denmark, Norway and Switzerland. In Class politics and the radical right, ed. J. Rydren. London: Routledge.

Parcel, T.L., and C.W. Mueller. 1983. Occupational differentiation, prestige, and socioeconomic status. Work and Occupations 10 (1): 49–80.

Penn, R. 1975. Occupational prestige hierarchies: A great empirical invariant? Social Forces 54 (2): 352–364.

Rennwald, L. 2020. Social democratic parties and the working class: New voting patterns. New York: Springer Nature.

Sartori, G. 1969. Politics, ideology, and belief systems. American Political Science Review 63 (2): 398–411.

Schulze, H., M. Mauk, and J. Linde. 2020. How populism and polarization affect Europe's liberal democracies. Politics and Governance 8 (3): 1–5.

Stinchcombe, A.L. 1986. Reason and rationality. Sociological Theory 4 (2): 151–166.

Treiman, Donald. 1977. Occupational prestige in comparative perspective. New York: Academic Press.

Vatter, A. 2016. Switzerland on the road from a consociational to a centrifugal democracy? Swiss Political Science Review 22 (1): 59–74.

Villemez, W.J. 1976. Occupational prestige and distributive justice. Sociometry 39 (4): 355–367.

Volpato, C., L. Andrighetto, and C. Baldissarri. 2017. Perceptions of low-status workers and the maintenance of the social class status quo. Journal of Social Issues 73 (1): 192–210.

Weber, M. (1946). From max weber: Essays in sociology. Trans. and ed. by H. Gerth and C. Mills. New York: Oxford.

Weeden, K.A. 2002. Why do some occupations pay more than others? Social closure and earnings inequality in the United States. American Journal of Sociology 108 (1): 55–101.

Young, M., and P. Willmott. 1956. Social grading by manual workers. The British Journal of Sociology 7 (4): 337–345.

Zhou, X. 2005. The institutional logic of occupational prestige ranking: Reconceptualization and reanalyses. American Journal of Sociology 111 (1): 90–140.
Funding
Funding was provided by Staatssekretariat für Bildung, Forschung und Innovation.
Ethics declarations
Conflict of interest
On behalf of all authors, the corresponding author states that there is no conflict of interest.
Additional information
Publisher's Note
Springer Nature remains neutral with regard to jurisdictional claims in published maps and institutional affiliations.
Supplementary Information
Below is the link to the electronic supplementary material.
About this article
Cite this article
Abrassart, A., Wolter, S.C. Rejecting education as the basis of the social prestige of occupations: the role of polarized political ideologies and parties in Switzerland. Acta Polit 58, 1–35 (2023). https://doi.org/10.1057/s41269-021-00230-7
Accepted:

Published:

Issue Date:

DOI: https://doi.org/10.1057/s41269-021-00230-7
Keywords
Autonomy

Educational requirements

Occupational prestige ranking

Political radicalization

Populism

Polarization