Abstract
Latin American welfare systems are truncated and marked by regressive spending patterns. Contributing an electoral microfoundation for the endurance of narrow social policies in the region, we argue that clientelism hollows out support for welfare progressivity. On the one hand, clientelism distorts the link between the vested interest of low-income earners and redistributive policies so that the poor are more likely to support parties with a residualistic social policy agenda; by paying off the poor in return for their vote, clientelistic parties gain greater leverage to pursue liberal social policies. On the other, clientelism induces uncertainty in the provision of public goods among middle and high-income earners, which makes them more likely to opt for residualistic social policies as well. We investigate how clientelism influences electoral support for parties with residualistic social policy platforms by merging information on party strategies from an expert survey with public opinion data for Latin America. Findings confirm that clientelistic practices have an impact on the electoral support for political parties which promote a liberal welfare state.
Access options
Buy single article
Instant access to the full article PDF.
US$ 39.95
Tax calculation will be finalised during checkout.
Subscribe to journal
Immediate online access to all issues from 2019. Subscription will auto renew annually.
US$ 79
Tax calculation will be finalised during checkout.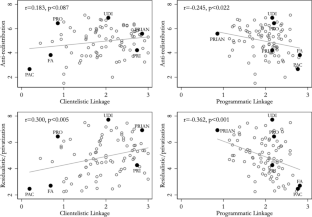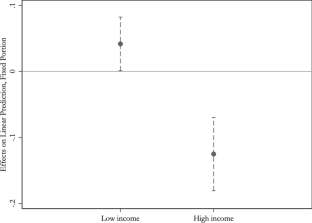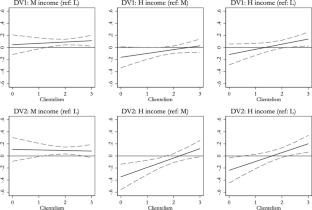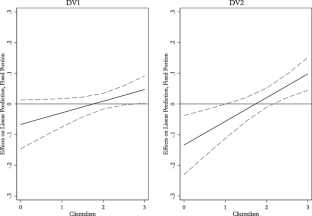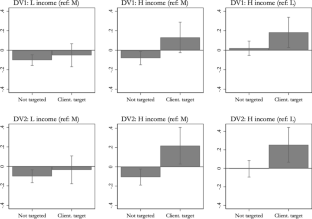 Notes
1.

We refer to progressive and residualistic/liberal social policies in order to emphasize the distributive outcome of social protection programs. We associate progressive social policy with universal access to welfare benefits (e. g. universal healthcare programs such as Seguro Popular in Mexico or SUS in Brazil). A residualistic welfare state is "characterized by narrow social insurance coverage and a strong reliance on private-type institutions of social protection" (Mares and Carnes 2009, p. 95).

2.

3.

Even high-income earners can have in interest in a more progressive social protection system as investment in human capital (education and healthcare) can raise the country's productivity and economic growth.

4.

Items E3 and E2, see Research Design chapter below for item wording.

5.

Items D1 and D3, see Research Design chapter below for item wording.

6.

One might contend that clientelism works as an equivalent to the welfare state itself, since it also provides benefits like employment or access to social security programs (see Hilgers 2011). However, clientelism differs from a normal welfare state in how social security programs are allocated and in the conditionality of the exchange of benefits (see Stokes et al. 2013; Nichter 2018). Non-programmatic social policy is unable to harmonize the income distribution as clientelistic benefits are exclusive in nature, supporting the persistence of truncated welfare systems (see Weyland 1996).

7.

Nevertheless, the socio-economic dimension is highly relevant for voters in the Latin American context (e.g. Wiesehomeier and Doyle 2012).

8.

Due to DALP's operationalization of D3, we cannot map social policy along the classic concepts of universal, contribution-based and targeted/means-tested programs.

9.

In LAPOP's direct question on voting behavior (VB3) respondents are asked to indicate their preferred presidential candidate or pre-electoral presidential coalition. But we cannot identify party preferences with this item as party's and president's ideological positions do not always overlap, responses on coalitions do not allow a clear identification of individual parties, and the non-response rate is high. We acknowledge that there might be a sampling bias as we oversample those individuals which indicate a party preference. However, individuals who reveal a party identification might be the most active voters in the electorate and thus, they represent the most relevant voters for the proposed theory. Testing how non-response on the item party preference is influenced by socio-demographic factors (age, gender, income, education and employment status), we find that male, employed, older, and well-educated individuals are most likely to reveal a party preference (results are available on request). Moreover, middle-income earners also have an increased likelihood of responding compared to low-income earners. The coefficient is not significant for the high-income group, meaning that our sampling strategy oversamples middle-income earners, a fact which needs to be kept in mind for the interpretation of results.

10.

To address concerns regarding the discrepancy between clientelistic efforts and effectiveness (see Kitschelt and Altamirano 2015), we take advantage of another item provided in the DALP survey (B11), which asks experts "how effective political parties are in their efforts to mobilize voters by targeted benefits". The item runs from 1 (not at all effective) to 4 (to a great extent effective). Following Kitschelt and Altamirano's (2015) approach, we use parties' aggregated mean expert responses and weight them with their seat share to calculate the country level effectiveness of clientelism (see Figure S2 in the supplementary material). We then subtract these scores from the country's level of clientelistic effort to generate a variable that captures the "effectiveness gap". The estimation results from this robustness check are provided in the supplementary materials in Table S10. Our results remain substantively unchanged.

11.

Descriptive information for the distribution of income groups across countries is provided as supplementary material. We also estimate the model with income as continuous measure in interaction with clientelism. The estimation results support the findings displayed below and are provided as supplementary material. Additionally, we use an alternative measure of income (asset indicator) in the robustness section.

12.

This control variable is calculated in the same way as our main independent variable for clientelistic party system.

13.

To check the robustness of our findings we make use of Rothstein's (2011) 'impartiality' indicator, which measures the quality of the government as proxy for state capacity. We also add GDP per capita to hold constant the country's economic development status, as welfare generosity is constrained by resource scarcity. Our findings remain robust. Estimation results are provided in Tables S9 as supplementary material.

14.

Technically speaking, the DV is constrained by a floor and a ceiling; however, since the range is quite large and as it is not a categorical variable, we decide to use a linear model. Moreover, the hierarchical model is already quite demanding regarding the scope of the data, so a linear model is considered reasonable.

15.

The Likelihood Ratio test indicates that the cross-level interaction increases the model fit.

16.

Except for clientelism, the model controls for the same set of controls as in Model 1. The estimation table is provided as supplementary material (Table S5).

17.

Overlapping confidence intervals indicate that the income groups as such are less distinguishable from each other.
References
Alesina, A., and E. La Ferrara. 2005. Preferences for Redistribution in the Land of Opportunities. Journal of Public Economics 89 (5–6): 897–931.

Altman, D., J.P. Luna, R. Piñeiro, and S. Toro. 2009. Partidos y sistemas de partidos en América Latina: Aproximaciones desde la encuesta a expertos 2009. Revista de Ciencia Política 29 (3): 775–798.

AmericasBarometer. 2010. Latin American Public Opinion Project (LAPOP).

Auyero, J. 1999. "From the Client's Point(s) of View": How Poor People Perceive and Evaluate Political Clientelism. Theory and Society 28: 297–334.

Berens, S. 2020. Opting for Exit: Informalization, Social Policy Discontent, and Lack of Good Governance. Latin American Politics and Society 62 (2): 1–28.

Berens, S., and S.P. Ruth-Lovell. 2019. Universal Social Policies and Clientelistic Party Strategies in Latin America. In Political Clientelism and Democratic Representation in Comparative Perspective, ed. S.P. Ruth-Lovell and M. Spirova, 151–174. London: Rowman & Littlefield International, ECPR Press.

Berens, S., and A. von Schiller. 2017. Taxing Higher Incomes: What Makes the High-Income Earners Consent to More Progressive Taxation in Latin America? Political Behavior 39 (3): 703–729.

Brooks, S.M. 2015. Social Protection for the Poorest: The Adoption of Antipoverty Cash Transfer Programs in the Global South. Politics & Society 43 (4): 551–582.

Bustikova, L., and C. Corduneanu-Huci. 2017. Patronage, Trust, and State Capacity: The Historical Trajectories of Clientelism. World Politics 69 (2): 277–326.

Calvo, E., and M.V. Murillo. 2013. When Parties Meet Voters: Assessing Political Linkages Through Partisan Networks and Distributive Expectations in Argentina and Chile. Comparative Political Studies 46 (7): 851–882.

Carnes, M.E., and I. Mares. 2014. Coalitional Realignment and the Adoption of Non-contributory Social Insurance Programmes in Latin America. Socio-Economic Review 12 (4): 695–722.

Carnes, M., and I. Mares. 2015. Explaining the "Return of the State" in Middle-Income Countries: Employment Vulnerability, Income, and Preferences for Social Protection in Latin America. Politics & Society 43 (4): 525–550.

Cramer, B.D., and R.R. Kaufman. 2011. Views of Economic Inequality in Latin America. Comparative Political Studies 44 (9): 1206–1237.

Cusack, T., T. Iversen, and P. Rehm. 2006. Risks at Work: The Demand and Supply Sides of Government Redistribution. Oxford Review of Economic Policy 22 (3): 365–389.

Dahlström, C., J. Lindvall, and B. Rothstein. 2013. Corruption, Bureaucratic Failure and Social Policy Priorities. Political Studies 61 (3): 523–542.

Das, U., and D. Maiorano. 2019. Post-clientelistic Initiatives in a Patronage Democracy: The Distributive Politics of India's MGNREGA. World Development 117: 239–252.

De Ferranti, D., G.E. Perry, F.H.G. Ferreira, and M. Walton. 2004. Inequality in Latin America: Breaking with History? Washington, D.C.: World Bank Publications.

De la Torre, Carlos, and Catherine Conaghan. 2009. The Hybrid Campaign: Tradition and Modernity in Ecuador's 2006 Presidential Election. International Journal of Press/Politics 14: 335–352.

Díaz-Cayeros, A., F. Estévez, and B. Magaloni. 2016. The Political Logic of Poverty Relief: Electoral Strategies and Social policy in Mexico. Cambridge: Cambridge University Press.

Dion, M.L., and V. Birchfield. 2010. Economic Development, Income Inequality, and Preferences for Redistribution1. International Studies Quarterly 54 (2): 315–334.

Dixit, A., and J. Londregan. 1998. Ideology, Tactics, and Efficiency in Redistributive Politics. The Quaterly Journal of Economics 113 (2): 497–529.

Filmer, D., and L.H. Pritchett. 2001. Estimating Wealth Effects Without Expenditure Data—Or Tears: An Application to Educational Enrollments in State of India. Demography 38 (1): 115–132.

Flores-Macías, G.A. 2014. Financing Security Through Elite Taxation: The Case of Colombia's Democratic Security Taxes. Studies in Comparative International Development 49 (4): 477–500.

Garay, C. 2016. Including Ousiders: Social Policy Expansion in Latin America. Cambridge: Cambridge University Press.

Gelman, A., and J. Hill. 2007. Data Analysis Using Regression and Mulitilevel/Hierarchical Models. Cambridge/New York: Cambridge University Press.

Gherghina, S., and C. Volintiru. 2017. A new model of clientelism: political parties, public resources, and private contributors. European Political Science Review 9 (1): 115–137.

Gibson, E.L. 1997. The Populist Road to Market Reform. Policy and Electoral Coalitions in Mexico and Argentina. World Politics 49 (3): 339–370.

Gilens, M. 2005. Inequality and Democratic Responsiveness. The Public Opinion Quarterly 69 (5): 778–796.

Gonzalez-Ocantos, E., C.K. de Jonge, C. Meléndez, J. Osorio, and D.W. Nickerson. 2012. Vote Buying and Social Desirability Bias: Experimental Evidence from Nicaragua. American Journal of Political Science 56 (1): 202–217.

Goñi, E., J. Humberto López, and L. Servén. 2011. Fiscal Redistribution and Income Inequality in Latin America. World Development 39 (9): 1558–1569.

Haggard, S., and R.R. Kaufman. 2008. Development, Democracy, and Welfare States: Latin America, East Asia, and Eastern Europe. Princeton: Princeton University Press.

Hicken, A., and E. Martinez Kuhonta. 2011. Shadows from the Past: Party System Institutionalization in Asia. Comparative Political Studies 44 (5): 572–597.

Hilgers, T. 2011. Clientelism and Conceptual Stretching: Differentiating Among Concepts and Among Analytical Levels. Theory and Society 40 (5): 567–588.

Holland, A.C. 2018. Diminished Expectations: Redistributive Preferences in Truncated Welfare States. World Politics 70 (4): 555–594.

Holland, A.C., and B.R. Schneider. 2017. Easy and Hard Redistribution: The Political Economy of Welfare States in Latin America. Perspectives on Politics 15 (4): 988–1006.

Huber, E., and J.D. Stephens. 2012. Democracy and the Left: Social Policy and Inequality in Latin America. Chichago: University of Chicago Press.

Huber, J.D., and R. Inglehart. 1995. Expert Interpretations of Party Space and Party Locations in 42 Societies. Party Politics 1 (1): 73–111.

Kitschelt, H. 2000. Linkages Between Citizens and Politicians in Democratic Polities. Comparative Political Studies 33 (6/7): 845–879.

Kitschelt, H., and M. Altamirano. 2015. Clientelism in Latin America: Effort and Effectiveness. In The Latin American Voter, ed. R.E. Carlin, M.M. Singer, and E.J. Zechmeister, 246–274. Ann Arbor, MI: University of Michigan Press.

Kitschelt, H., K. Freeze, K. Kolev, and Y.-T. Wang. 2009. Measuring Democratic Accountability: An Initial Report on an Emerging Data Set. Revista de Ciencia Política 29 (3): 741–773.

Kitschelt, H., and S.I. Wilkinson, eds. 2007. Patrons, Clients, and Policies. Patterns of Democratic Accountability and Political Competition. Cambridge: Cambridge University Press.

Lindert, K., E. Skoufias, and Shapiro, J. 2006. Redistributing Income to the Poor and the Rich: Public Transfers in Latin America and the Caribbean. Soical Safety Nets Primer Series, #0605.

Luna, J.P. 2014. Segmented Representation: Political Party Strategies in Unequal Democracies. Oxford: Oxford University Press.

Magaloni, B., A. Díaz-Cayeros, and F. Estévez. 2007. Clientelism and Portfolio Diversification: A Model of Electoral Investment with Applications to Mexico. In Patrons, Clients, and Policies Patterns of Democratic Accountability and Political Competition, ed. H. Kitschelt and S.I. Wilkinson, 182–205. Cambridge: Cambridge University Press.

Mares, I. 2005. Social Protection Around the World: External Insecurity, State Capacity, and Domestic Political Cleavages. Comparative Political Studies 38 (6): 623–650.

Mares, I., and M.E. Carnes. 2009. Social policy in Developing Countries. Annual Review of Political Science 12: 93–113.

Meltzer, A.H., and S.F. Richard. 1981. A Rational Theory of the Size of Government. Journal of Political Economy 89 (5): 914–927.

Nichter, S. 2018. Votes for Survival. Relational Clientelism in Latin America. Cambridge: Cambridge University Press.

Pribble, J. 2013. Welfare and Party Politics in Latin America. Cambridge: Cambridge University Press.

Roemer, J.E. 1998. Why the Poor Do NOT Expropriate the Rich: An Old Argument in New Garb. Journal of Public Economics 70 (3): 399–424.

Roniger, L. 2004. Political Clientelism, Democracy, and Market Economy. Comparative Politics 36 (3): 353–375.

Ross, M. 2006. Is Democracy Good for the Poor? American Journal of Political Science 50 (4): 860–874.

Rothstein, B. 2011. The Quality of Government: Corruption, Social Trust, and Inequality in International Perspective. Chicago: University of Chicago Press.

Ruth, S.P. 2016. Clientelism and the Utility of the Left-Right Dimension in Latin America. Latin American Politics and Society 58 (1): 72–97.

Scheve, K., and D. Stasavage. 2006. Religion and Preferences for Social Insurance. Quarterly Journal of Political Science 1 (3): 255–286.

Soifer, H.D. 2013. State Power and the Economic Origins of Democracy. Studies in Comparative International Development 48 (1): 1–22.

Solt, F. 2016. Standardizing the World Income Inequality Database*. Social Science Quarterly 97 (5): 1267–1281.

Steenbergen, M.R., and B.S. Jones. 2002. Modeling Multilevel Data Structures. American Journal of Political Science 46 (1): 218–237.

Stegmueller, D. 2013. How Many Countries for Multilevel Modeling? A Comparison of Frequentist and Bayesian Approaches. American Journal of Political Science 57 (3): 748–761.

Stokes, S.C. 2005. Perverse Accountability: A Formal Model of Machine Politics with Evidence from Argentina. American Political Science Review 99 (03): 315–325.

Stokes, S.C. 2007. Political Clientelism. In The Oxford Handbook of Comparative Politics, ed. C. Boix and S.C. Stokes, 604–627. Oxford: Oxford University Press.

Stokes, S.C., T. Dunning, M. Nazareno, and V. Brusco, eds. 2013. Brokers, Voters, and Clientelism. The Puzzle of Distributive Politics. Cambridge: Cambridge University Press.

The World Bank Group. 2014. World Development Indicators.

Vyas, S., and L. Kumaranayake. 2006. Constructing Socio-Economic Status Indices: How to Use Principal Components Analysis. Health Policy and Planning 21 (6): 459–468.

Weitz-Shapiro, R. 2014. Curbing Clientelism in Argentina. Politics, Poverty, and Social Policy. Cambridge: Cambridge University Press.

Weyland, K. 1996. Obstacles to Social Reform in Brazil's New Democracy. Comparative Politics 29 (1): 1–22.

Wiesehomeier, N., and D. Doyle. 2012. Attitudes, Ideological Associations and the Left-Right Divide in Latin America. Journal of Politics in Latin America 4 (1): 3–33.
Acknowledgements
Previous versions of this paper have been presented at University of Bath, University of Cologne, and University of Zurich. Our work benefited from critical comments and thoughts raised during these events. We are particularly grateful to Herbert Kitschelt, Silja Häusermann and the participants of the workshop on "Clientelism and the Quality of Public Policy" at the ECPR Joint Sessions 2014, Salamanca, for helpful comments and suggestions. We thank the Latin American Public Opinion Project (LAPOP) and its major supporters (the United States Agency for International Development, the Inter-American Development Bank, and Vanderbilt University) for making the data available.
Additional information
Publisher's Note
Springer Nature remains neutral with regard to jurisdictional claims in published maps and institutional affiliations.
Supplementary Information
Below is the link to the electronic supplementary material.
About this article
Cite this article
Berens, S., Ruth-Lovell, S.P. Does clientelism hinder progressive social policy in Latin America?. Acta Polit (2021). https://doi.org/10.1057/s41269-020-00189-x
Keywords
Clientelism

Social policy

Representation

Latin America