Abstract
Surveys reveal that there are great differences among citizens in their membership of political associations. Such differences plausibly lead to a better representation of interests of privileged citizens compared to other citizens. We examine the demographic groups (in terms of education, gender and immigration background) that tend to be members of interest groups. We also investigate the relation between the membership profile of associations and the propensity of interest groups to be routinely approached by policymakers. The results of our elite survey of Dutch interest associations indicate that relatively well-educated citizens and men are better represented in interest groups. Patterns of underrepresentation are not further exacerbated by the outreach of policy-makers, except that interest associations with a relatively large female membership are less likely to be consulted.
Access options
Buy single article
Instant access to the full article PDF.
USD 39.95
Price excludes VAT (USA)
Tax calculation will be finalised during checkout.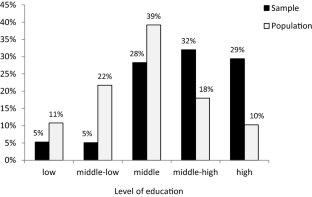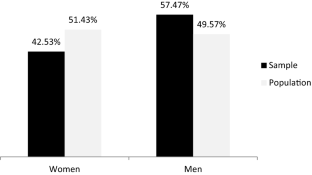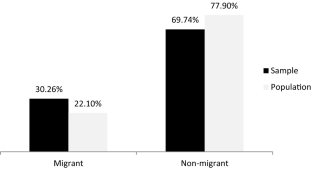 Notes
Please also note that our approach is conceptually distinct from studies of descriptive representation of elected representative of legislative bodies. We do not assess the descriptive characteristics of interest group leaders or lobbyists (e.g., Junk et al 2020) nor the similarity of these with the demographic characteristics of their members or the general population. We therefore draw on studies on differences among citizens in (electoral) political participation rather than studies of representation in public claimsmaking or parliaments.

One could think of other sources of inequality in political mobilization, such as age. Yet as we lack reliable data on this demographic related to the membership of the interest groups in our sample, we do not discuss this in this paper.

Our data give credence to some of these patterns. Appendix Table 9 shows the averages per group type (professional, union, identity, public and leisure associations) and, for instance, shows that professional associations tend to indicate to have relatively highly educated members and the public interest groups tend to be supported by a relatively female membership.

In the appendix and for illustrative purposes, we assess several broad differences among group types in terms of their membership.

The demographic characteristics identified in our RQ pertain to individuals (e.g., a company, as group member, does not have a 'gender'). At higher levels of conceptual abstraction, one could similarly speculate about relevant 'demographic' characteristics related to members of business interest associations (e.g., large / small companies, capital/labor intensive, and so on). This is not the focus of our RQ and creates conceptual incoherence. We therefore excluded non-citizen groups from our analysis even though we did collect such data for business interest associations as well.

Note that we also checked the answers and they seemed mostly intuitively correct to us: for instance, respondents choosing the maximum category in 'education' of members include learned societies such as the Royal Netherlands Academy of Arts and Sciences (KNAW) and International Society for In Vitro Methods; in the 'mostly men' category, we find representatives of male dominated professions such as the Union of Dutch Veterans (UVV) and Dutch Shipmasters' Association (NVKK); in the maximum category on ethnicity (i.e., 'mostly native Dutch' (allochtonen)), there are a number of local heritage associations such as the Committee on Skûtsjesilen (SKS) (Frisian Sailing competition) and the Foundation for Utrecht Castles.

This merits discussion of two important choices regarding our operationalization of access: (1) our focus on 'being contacted' rather than 'seeking contact' and (2) our focus on policymakers rather than other venues or means of access. As regards the first, both types of measures are available in the survey, and we think that it is more likely that the 'being contacted' indicator validly reflects the actual access received compared to questions about interest group frequency to seek contact, given that numerous contact attempts may not be reciprocated in actual policy access provided in terms of meetings, committee participation, and so on. The survey does not ask about 'having contact.' As a robustness check, we examined the 'seeking contact with policymakers' indicator in the appendix (see appendix 8). The results are largely in line with the stricter access measure we use here. Second, we focus on (self-reported) direct contact with policymakers rather than participation in parliamentary or bureaucratic commissions, or presence in other arena's such as the media, which may be measured through actual observation in relevant sources. To start, the assessment of interest group access on the basis of, for instance, agendas of parliamentary committees requires the identification and choice regarding the relevant venues to which interest groups may have access. Given the fragmented nature of the policy process, any choice in this regard has limitations related to the particular institutional locus of each venue. We therefore consider that a more general, not institution-specific formulation 'policymaker,' which can include politicians, civil servants, and other officials at any level / function of government ('beleidsmaker' in Dutch) to more validly reflect the broad policy access of groups than institution-specific indicators. The plausible superior validity of this measure outweighs the potentially somewhat lower reliability of self-reported measures compared to observational data.
References
Berkhout, J. 2013. Why interest organizations do what they do: Assessing the explanatory potential of 'exchange' approaches. Interest Groups & Advocacy 2 (2): 227–250.

Berkhout, J., J. Beyers, C. Braun, M. Hanegraaff, and D. Lowery. 2018. Making inference across mobilisation and influence research: Comparing top-down and bottom-up mapping of interest systems. Political Studies 66 (1): 43–62.

Berkhout, J., M. Hanegraaff, and P. Statsch. 2019. Explaining the patterns of contacts between interest groups and political parties: Revising the standard model for populist times. Party Politics 1354068819856608.

Berkhout, J., M. Hanegraaff, and P. Statsch. 2020. Interest groups in multi-level contexts: European integration as cross-cutting issue in party-interest group contacts. Politics and Governance 8 (1): 61–71.

Beyers, J. 2004. Voice and access: Political practices of European interest associations. European Union Politics 5 (2): 211–240.

Binderkrantz, A.S., and H.H. Pedersen. 2017. What is access? A discussion of the definition and measurement of interest group access. European Political Science 16: 306–321.

Bouwen, P. 2004. Exchanging access goods for access: A comparative study of business lobbying in the European Union institutions. European Journal of Political Research 43 (3): 337–369.

Bovens, M., and A. Wille. 2017. Diploma democracy: The rise of political meritocracy. Oxford: Oxford University Press.

Burns, N., K.L. Schlozman, and S. Verba. 2001. The private roots of public action. Cambridge: Harvard University Press.

Central Bureau for Statistics. 2015. Statistics Netherlands: Werkzame beroepsbevolking.

Central Bureau for Statistics. 2016a. Statistics Netherlands: Hoogst behaald opleidingsniveau.

Central Bureau for Statistics. 2016b. Statistics Netherlands: Population; key figures.

Cho, W.K.T. 1999. Naturalization, socialization, participation: Immigrants and (non-) voting. The Journal of Politics 61 (4): 1140–1155.

Cobb, R.W., and C.D. Elder. 1983. Participation in American politics: The dynamics of agenda-building. Baltimore: Johns Hopkins University Press.

Crepaz, M., M. Hanegraaff, and R.S. Salgado. 2019. A golden key can open any door? Public funding and interest groups' access. West European Politics 1–25.

Dahl, R.A. 2005. Who governs?: Democracy and power in an American city. New Haven: Yale University Press.

Dalton, R.J. 1994. Communists and democrats: Democratic attitudes in the two Germanies. British Journal of Political Science 24 (4): 469–493.

Dalton, R.J. 2017. The participation gap: Social status and political inequality. Oxford: Oxford University Press.

Denzau, A.T., and M.C. Munger. 1986. Legislators and interest groups: How unorganized interests get represented. The American Political Science Review 89–106.

De Bruycker, I. 2016. Pressure and expertise: Explaining the information supply of interest groups in EU legislative lobbying. JCMS: Journal of Common Market Studies 54 (3): 599–616.

Dekker, P., and A. van den Broek. 2005. Involvement in voluntary associations in North America and Western Europe: Trends and correlates 1981–2000. Journal of Civil Society 1 (1): 45–59.

Dür, A., and G. Mateo. 2013. Gaining access or going public? Interest group strategies in five European countries. European Journal of Political Research 52 (5): 660–686.

Dür, A., and G. Mateo. 2016. Insiders versus outsiders: Interest group politics in multilevel Europe. Oxford: Oxford University Press.

Eising, R. 2007. The access of business interests to EU institutions: Towards elite pluralism? Journal of European Public Policy 14 (3): 384–403.

Erzeel, S.M., and L.M. Mügge. (eds.) 2016. Special section: Intersectionality in European political science research. Politics 36 (4): 341–373.

Giger, N., J. Rosset, and J. Bernauer. 2012. The poor political representation of the poor in a comparative perspective. Representation 48 (1): 47–61.

Greenwood, J. 2007. Organized civil society and democratic legitimacy in the European Union. British Journal of Political Science 333–357.

Hakhverdian, A. 2015. Does it matter that most representatives are higher educated? Swiss Political Science Review 21 (2): 237–245.

Hakhverdian, A., and W. Schakel. 2017. Nepparlement?: een pleidooi voor politiek hokjesdenken. Amsterdam: Amsterdam University Press.

Hall, R.L., and A.V. Deardorff. 2006. Lobbying as legislative subsidy. American Political Science Review 100 (1): 69–84.

Hanegraaff, M., and A. Pritoni. 2019. United in fear: Interest group coalition formation as a weapon of the weak? European Union Politics 20 (2): 198–218.

Hanegraaff, M., J. van der Ploeg, and J. Berkhout. 2020. Standing in a crowded room: Exploring the relation between interest group system density and access to policymakers. Political Research Quarterly 73 (1): 51–64.

Janssens, J., and P. Verweel. 2014. The significance of sports clubs within multicultural society. On the accumulation of social capital by migrants in culturally "mixed" and "separate" sports clubs. European Journal for Sport and Society 11 (1): 35–58.

Jordan, G., and W. Maloney. 2006. "Letting George do it": Does Olson explain low levels of participation? Journal of Elections, Public Opinion and Parties 16 (2): 115–139.

Jordan, G., and W.A. Maloney. 1998. Manipulating membership: Supply-side influences on group size. British Journal of Political Science 28 (2): 389–409.

Junk, W.M., J. Romeijn, and A. Rasmussen. 2020. Is this a men's world? On the need to study descriptive representation of women in lobbying and policy advocacy. Journal of European Public Policy. https://doi.org/10.1080/13501763.2020.1767179.

Klüver, H. 2013. Lobbying in the European Union: Interest groups, lobbying coalitions, and policy change. Oxford: Oxford University Press.

Knoke, D., F.U. Pappi, J. Broadbent, and Y. Tsujinaka. 1996. Comparing policy networks: Labor politics in the U.S., Germany, and Japan. Cambridge: Cambridge University Press.

Leech, B.L., F.R. Baumgartner, T.M. La Pira, and N.A. Semanko. 2005. Drawing lobbyists to Washington: Government activity and the demand for advocacy. Political Research Quarterly 58 (1): 19–30.

Mahoney, C., and M.J. Beckstrand. 2011. Following the money: European Union funding of civil society organizations. JCMS: Journal of Common Market Studies 49 (6): 1339–1361.

Marsh, D. 1978. More on joining interest groups. British Journal of Political Science 8 (3): 380–384.

Marien, S., M. Hooghe, and E. Quintelier. 2010. Inequalities in non-institutionalised forms of political participation: A multi-level analysis of 25 countries. Political Studies 58 (1): 187–213.

Morales, L., and M. Giugni. 2011. Social capital, political participation and migration in Europe: Making multicultural democracy work? Basingstoke: Palgrave.

Pierson, P., and T. Skocpol. 2007. The transformation of american politics: Activist government and the rise of conservatism. Princeton: Princeton University Press.

Putnam, R.D. 2000. Bowling alone: America's declining social capital. New York: Palgrave Macmillan.

Rasmussen, A., and S. Reher. 2019. Civil society engagement and policy representation in Europe. Comparative Political Studies. https://doi.org/10.1177/0010414019830724.

Salgado, R.S. 2014. Europeanizing civil society: How the EU shapes civil society organizations. Houndmills: Palgrave Macmillan.

Salisbury, R.H. 1969. An exchange theory of interest groups. Midwest Journal of Political Science 13 (1): 1–32.

Schakel, W. 2019. Unequal policy responsiveness in the Netherlands. Socio-Economic Review. https://doi.org/10.1093/ser/mwz018.

Schakel, W., and A. Hakhverdian. 2018. Ideological congruence and socio-economic inequality. European Political Science Review 10 (3): 441–465.

Schattschneider, E. 1960. The semi-sovereign people: A realist's view of American democracy. New York: Holt, Rinehart and Winston.

Schlozman, K.L., S. Verba, and H.E. Brady. 2013. The unheavenly chorus: Unequal political voice and the broken promise of American democracy. Princeton: Princeton University Press.

Skocpol, T. 2004. Voice and inequality: The transformation of American civic democracy. Perspectives on Politics 2 (1): 3–20.

Smets, K., and C. van Ham. 2013. The embarrassment of riches? A meta-analysis of individual-level research on voter turnout. Electoral Studies 32 (2): 344–359.

Smith, R.A. 1995. Interest group influence in the US Congress. Legislative Studies Quarterly 89–139.

Schmitter, P.C., and W. Streeck. 1999. The organization of business interests: Studying the associative action of business in advanced industrial societies. MPIfG Discussion Chapter, 99(1).

Strolovitch, D.Z. 2006. Do interest groups represent the disadvantaged? Advocacy at the intersections of race, class, and gender. The Journal of Politics 68 (4): 894–910.

Truman, D.B. 1951. The governmental process. New York: Alfred A. Knopf.

Theocharis, Y., and J.W. van Deth. 2018. The continuous expansion of citizen participation: A new taxonomy. European Political Science Review 10 (1): 139–163.

Verba, S., K.L. Schlozman, and H.E. Brady. 1995. Voice and equality: Civic voluntarism in American politics. Abridged. Cambridge: Harvard University Press.

Visser, J., and A. Hemerijck. 1997. "A Dutch miracle": Job growth, welfare reform and corporatism in the Netherlands. Amsterdam: Amsterdam University Press.
Ethics declarations
Conflict of interest
On behalf of all authors, the corresponding author states that there is no conflict of interest.
Additional information
Publisher's Note
Springer Nature remains neutral with regard to jurisdictional claims in published maps and institutional affiliations.
Electronic supplementary material
Below is the link to the electronic supplementary material.
About this article
Cite this article
Hanegraaff, M., Berkhout, J. & van der Ploeg, J. Exploring the proportionality of representation in interest group mobilization and political access: the case of the Netherlands. Acta Polit 57, 254–276 (2022). https://doi.org/10.1057/s41269-020-00185-1
Accepted:

Published:

Issue Date:

DOI: https://doi.org/10.1057/s41269-020-00185-1
Keywords
Interest groups

Lobbying

Representation

Political access