Abstract
Due to its controversial nature, hate speech prosecution of anti-immigration politicians is likely to affect citizens' democratic support. Using a web experiment in which participants are exposed to a manipulated television news story about hate speech prosecution, we test these potential effects in the Dutch context. We demonstrate that effects on democratic support are driven by (dis)agreement with ideas expressed by the prosecuted politician in his alleged hate speech rather than by identification with his party. While a decision to not prosecute a politician does not seem to affect democratic support, a decision to prosecute a politician for hate speech decreases democratic support among citizens with anti-immigration attitudes, and increases democratic support among citizens with pro-immigration attitudes. Decisions to prosecute politicians for hate speech thus have important effects not just on supporters of the politician's party, but also on other groups in society.
This is a preview of subscription content,
to check access.
Access this article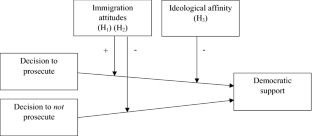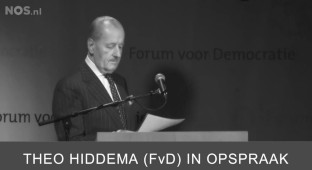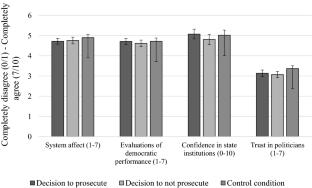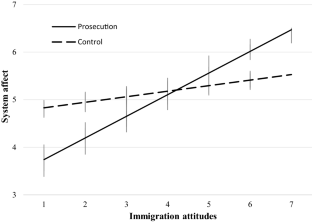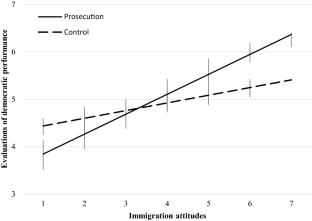 Similar content being viewed by others
Notes
Fennema (1997) defines anti-immigrant parties as a subtype of political party that has adopted the immigration issue as its core political concern, or is considered by elites of other parties to do so. We use the term anti-immigration parties, as they generally oppose immigration in an abstract sense rather than target particular immigrants (cf. Van Spanje 2011).

Hate speech is defined as "all forms of expression which spread, incite, promote or justify racial hatred, xenophobia, anti-Semitism or other forms of hatred based on intolerance, including intolerance expressed by aggressive nationalism and ethnocentrism, discrimination and hostility toward minorities, migrants and people of immigrant origin" (European Court of Human Rights 2017).

We did not formulate a hypothesis about the effects of citizens who identify with opposing parties, because we did not have a strong theoretical argument for doing this. Identification with a different party is likely an imperfect combination of the two moderating factors: someone who identifies with a different party most likely disagrees with the ideas of Hiddema/FvD, and most likely does not identify with Hiddema/FvD, but this is not straightforward and these respondents may still differ in many other aspects. Moreover, in a multi-party and highly fragmented and volatile context as the Netherlands it is difficult to determine which party or politician should be included as 'opposing' party, as either all parties could be included, or only a few that are ideologically at the left end of the political spectrum.

The perceived visibility of FvD did not significantly differ across conditions, F(2, 209) = 0.819, p = 0.442, ηp2 = 0.008.

This study is part of a larger experiment (N = 984) with 11 conditions, but with only three relevant to our study (N = 308). From this sample, 4 participants were excluded from the dataset due to speeding (finishing the survey in less than 33% of the median time) or straightlining (not differentiating between answer categories on 75% of the question blocks). According to power analyses, our experimental conditions need 48 participants per condition to conduct the multivariate tests (See Online Supplementary file 5). The sample size per condition should therefore be sufficient for the multivariate test. For the between-subjects tests, we need 64 participants per condition (= 128 participants per test). Although the initial sample sizes are sufficient, the missing values on the dependent variables and moderator variables make the final samples used for the between-subjects tests for immigration attitudes and perceived closeness to FvD (N between 119 and 123) just below the required sample sizes.

As this study solely focuses on democratic support, we use the term "evaluations of democratic performance" instead of Norris' "evaluations of the overall performance of the regime" (2011). Furthermore, "trust in politicians" is referred to as "trust in elected and appointed officeholders" in Norris' conceptualization (2011). We do not include the dimension "belonging to the national community" (e.g., national pride), as we do not expect substantial variation on this dimension in the Dutch context.

Removing participants with incorrect answers did not significantly change the findings. Because the results did not significantly differ, and removing participants may risk losing the benefits of randomization (Montgomery et al. 2018), we have decided to include all participants in the sample.

At this point, issues of multiple testing may arise. We did not apply a Bonferroni correction to the between-subjects tests, as this would imply that each p value needs to be smaller than 0.003 to be statistically significant. Because the sample is relatively small and the power of the between-subjects tests is rather low, there is arguably a higher risk for Type II errors—the non-rejection of a false null hypothesis—than for Type I errors. Rather than exclusively focusing on p values, we also include effect sizes (reported as partial eta squares). Effect sizes are more robust than p values as they are independent of sample size and are more resistant to multiple testing. We also include visual explorations of the means for significant findings.
References
Aberbach, J., and J. Walker. 1970. The attitudes of blacks and whites toward city services: implications for public policy. In Financing the metropolis, ed. J. Crecine, 519–537. Beverly Hills: Sage.

Akkerman, T., and S. De Lange. 2012. Radical right parties in office: Incumbency records and the electoral cost of governing. Government and Opposition 47 (4): 574–596.

Anderson, C., and C. Guillory. 1997. Political institutions and satisfaction with democracy: A cross-national analysis of consensus and majoritarian systems. The American Political Science Review 91 (1): 66–81.

Azrout, R., and M. Wojcieszak. Forthcoming. Overtime effects of media exposure on polarization in multi-party system.

Bankert, A., L. Huddy, and M. Rosema. 2017. Measuring partisanship as a social identity in multi-party systems. Political Behavior 39 (1): 103–132.

Berntzen, L., L. Bjånesøy, and E. Ivarsflaten. 2017. Patterns of legitimacy on the far right. University of Bergen, DIGGSCORE Working Paper (4).

Bleich, E. 2011. The rise of hate speech and hate crime laws in liberal democracies. Journal of Ethnic and Migration Studies 37 (6): 917–934. https://doi.org/10.1080/1369183X.2011.576195.

Booth, J., and M. Seligson. 2009. The legitimacy puzzle: Democracy and political support in eight Latin American nations. Cambridge: Cambridge University Press.

Bos, L., S. Kruikemeier, and C. De Vreese. 2014. Gescheiden media? Sociaal-culturele verschillen in mediaconsumptie. In Gescheiden werelden? Een verkenning van sociaal-culturele tegenstellingen in Nederland, ed. M. Bovens, P. Dekker, and W. Tiemeijer, 235–254. Sociaal en Cultureel Planbureau, Wetenschappelijke Raad voor het Regeringsbeleid: Den Haag.

Brems, E. 2002. State regulation of xenophobia versus individual freedoms: The European view. Journal of Human Rights 1 (4): 481–500. https://doi.org/10.1080/1475483021000031344.

Brewer, M., and M. Silver. 2000. Group distinctiveness, social identity, and collective mobilization. In Self, identity, and social movement, ed. S. Stryker, T. Owens, and R. White, 153–171. Minneapolis: University of Minnesota.

Butler, D., and D. Stokes. 1974. Political change in Britain: The evolution of electoral choice. London: Macmillan.

Campbell, A., P. Converse, W. Miller, and D. Stokes. 1960. The American voter. Chicago: University of Chicago Press.

Canache, D., J. Mondak, and M. Seligson. 2001. Meaning and measurement in cross-national research on satisfaction with democracy. Public Opinion Quarterly 65: 506–528.

Ceobanu, A., and X. Escandell. 2010. Comparative analyses of public attitudes toward immigrants and immigration using multinational survey data: A review of theories and research. Annual Review of Sociology 36 (1): 309–328. https://doi.org/10.1146/annurev.soc.012809.102651.

Citrin, J., and D. Elkins. 1975. Political disaffection among university students: Contents, measurements and causes. Berkeley: University of California Press.

Dalton, R. 1998. Political support in advanced industrial democracies.

Dalton, R. 2000. The decline of party identifications. In Parties without partisans: Political change in advanced industrial democracies, ed. R. Dalton and M. Wattenberg, 19–36. Oxford: Oxford University Press.

Dalton, R. 2004. Democratic challenges: Democratic choices. Oxford: Oxford University Press.

Dennison, J., and A. Geddes. 2019. A rising tide? The salience of immigration and the rise of anti-immigration political parties in Western Europe. Political Quarterly 90 (1): 107–116. https://doi.org/10.1111/1467-923X.12620.

Diamond, L. 1999. Developing democracy: Toward consolidation. Baltimore: Johns Hopkins University Press.

Easton, D. 1965. A systems analysis of political life. New York: Wiley.

Easton, D. 1975. A re-assessment of the concept of political support. British Journal of Political Science 5 (4): 435–457. https://doi.org/10.1017/S0007123400008309.

European Court of Human Rights. 2017. Factsheet—Hate Speech.

European Social Survey (ESS). 2016. Attitudes towards Immigration and their Antecedents: Topline Results from Round 7 of the European Social Survey.

Eveland, W., A. Hayes, D. Shah, and N. Kwak. 2005. Understanding the relationship between communication and political knowledge: A model comparison approach using panel data. Political Communication 22 (4): 423–446. https://doi.org/10.1080/10584600500311345.

Fennema, M. 1997. Some conceptual issues and problems in the comparison of anti immigrant parties in Western Europe. Party Politics 3 (4): 473–492.

Freeman, G., R. Hansen, and D. Leal (eds.). 2013. Immigration and public opinion in liberal democracies, vol. 52. London: Routledge.

Grant, P., and R. Brown. 1995. From ethnocentrism to collective protest: Responses to relative deprivation and threats to social identity. Social Psychology Quarterly 58 (3): 195–212.

Heath, A., and L. Richards. 2016. Attitudes towards immigration and their antecedents: Topline results from round 7 of the European Social Survey. ESS Topline Results Series 7.

Johnston, R. 2006. Party identification: Unmoved mover or sum of preferences? Annual Review of Political Science 9 (1): 329–351. https://doi.org/10.1146/annurev.polisci.9.062404.170523.

Levine, J., and M. Hogg. 2010. Encyclopedia of group processes and intergroup relations. London: SAGE Publications.

Linde, J., and J. Ekman. 2003. Satisfaction with democracy: A note on a frequently used indicator in comparative politics. European Journal of Political Research 42 (3): 391–408. https://doi.org/10.1111/1475-6765.00089.

Mael, F., and L. Tetrick. 1992. Identifying organization identification. Educational and Psychological Measurement 52 (4): 813–824. https://doi.org/10.1177/0013164492052004002.

Maliepaard, M., and M. Gijsberts. 2012. Moslim in Nederland 2012. Den Haag: Sociaal en Cultureel Planbureau.

Mayer, S., and M. Schultze. 2018. The effects of political involvement and cross-pressures on multiple party identifications in multi-party systems—evidence from Germany. Journal of Elections, Public Opinion and Parties. https://doi.org/10.1080/17457289.2018.1466785.

McConahay, J., B. Hardee, and V. Batts. 1981. Has racism declined in America? It depends on who is asking and what is asked. Journal of Conflict Resolution 25: 563–579.

Miller, W., and M. Shanks. 1996. The new American voter. Cambridge: Harvard University Press.

Montgomery, J., B. Nyhan, and M. Torres. 2018. How conditioning on posttreatment variables can ruin your experiment and what to do about it. American Journal of Political Science 62 (3): 760–775. https://doi.org/10.1111/ajps.12357.

Muller, E., and T. Jukam. 1977. On the meaning of political support. American Political Science Review 71 (4): 1561–1595.

Muller, E., and C. Williams. 1980. Dynamics of political support-alienation. Comparative Political Studies 13 (1): 33–59. https://doi.org/10.1177/001041408001300102.

Muller, E., T. Jukam, and M. Seligson. 1982. Diffuse political support and antisystem behavior: A comparative analysis. American Journal of Political Science 26 (2): 240–264.

Newman, N., R. Fletcher, A. Kalogeropoulos, D. Levy, and R. Nielsen. 2018. Reuters Institute digital news report. Oxford: University of Oxford.

Norris, P. 1999. Critical citizens: Global support for democratic government. Oxford: Oxford University Press.

Norris, P. 2011. Democratic deficit: Critical citizens revisited. Cambridge: Cambridge University Press.

Ohr, D., and M. Quandt. 2012. Parteiidentifikation in Deutschland: Eine empirische fundierung des konzeptes auf basis der theorie sozialer identität. Politische Vierteljahresschrift, Sonderheft 2011: 179–202.

Partijprogramma Forum voor Democratie. 2016. https://forumvoordemocratie.nl/standpunten/immigratie-remigratie.

Pew Research Center. 2018. Topline Questionnaire.

Schmuckler, M. 2001. What is ecological validity? A dimensional analysis. Infancy 2 (4): 419–436.

Semyonov, M., R. Raijman, and A. Gorodzeisky. 2006. The rise of anti-foreigner sentiment in European societies, 1988–2000. American Sociological Review 71 (3): 426–449. https://doi.org/10.1177/000312240607100304.

UN General Assembly. 1948. Universal declaration of human rights (217 [III] A). Paris.

Van der Eijk, C., H. Schmitt, and T. Binder. 2005. Left-right orientations and party choice. In The European voter. A comparative study of modern democracies, ed. J. Thomassen, 167–191. Oxford: Oxford University Press.

Van Donselaar, J. 1995. De staat paraat? De bestrijding van extreemrechts in West-Europa. Den Haag: Babylon-De Geus.

Van Spanje, J. 2011. The wrong and the right. A comparative analysis of 'anti-immigration' and 'far right' parties in contemporary Western Europe. Government and Opposition 46 (3): 293–320.

Van Spanje, J. 2018. Controlling the electoral marketplace: How established parties ward off competition. (Political Campaigning and Communication). Cham: Palgrave Macmillan.

Van Spanje, J., and C. De Vreese. 2014. The way democracy works: The impact of hate speech prosecution of a politician on citizens' satisfaction with democratic performance. International Journal of Public Opinion Research 26 (4): 501–516. https://doi.org/10.1093/ijpor/edt039.

Vrielink, J. 2010. Van haat gesproken? Een rechtsantropologisch onderzoek naar de bestrijding van rasgerelateerde uitingsdelicten in Belgie. Antwerpen: Maklu.

Voci, A. 2006. The link between identification and in-group favouritism: Effects of threat to social identity and trust-related emotions. British Journal of Social Psychology 45 (2): 265–284. https://doi.org/10.1348/014466605X52245.

Weber, A. 2009. Manual on hate speech. Strasbourg: Council of Europe.

Zmerli, S., and K. Newton. 2008. Social trust and attitudes towards democracy. Public Opinion Quarterly 72 (4): 706–724. https://doi.org/10.1093/poq/nfn054.
Acknowledgements
This work was supported by the Netherlands Organisation for Scientific Research (NWO) with a VIDI grant awarded to Dr. Joost van Spanje (Project Number: 452-14-002).
Ethics declarations
Conflict of interest
On behalf of all authors, the corresponding author states that there is no conflict of interest.
Additional information
Publisher's Note
Springer Nature remains neutral with regard to jurisdictional claims in published maps and institutional affiliations.
Electronic supplementary material
Below is the link to the electronic supplementary material.
About this article
Cite this article
Wichgers, L., Jacobs, L. & van Spanje, J. Trial and error: hate speech prosecution and its (unintended) effects on democratic support. Acta Polit 57, 143–166 (2022). https://doi.org/10.1057/s41269-020-00177-1
Published:

Issue Date:

DOI: https://doi.org/10.1057/s41269-020-00177-1
Keywords