Abstract
Earlier research focused extensively on political parties as promoters and users of clientelism. However, previous studies have also revealed that parties are not monolithic organizations and they can be seen through the lenses of several faces or components. As such, it is unclear which of the party features is more conducive to clientelism than others. This article analyses several party features in relation to clientelism and tests their explanatory power. Our analysis is driven by a differentiation between several features of the political parties: performance in office, public funding, territorial coverage and notoriety of local political leaders. We rely on data from an original expert survey conducted for 15 parties in Georgia, Moldova and Ukraine between February and June 2018.
Access options
Buy single article
Instant access to the full article PDF.
US$ 39.95
Tax calculation will be finalised during checkout.
Subscribe to journal
Immediate online access to all issues from 2019. Subscription will auto renew annually.
US$ 79
Tax calculation will be finalised during checkout.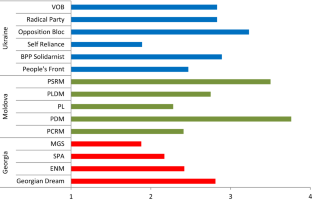 References
Auyero, J. 1999. "From the Client's Point(s) of View": How Poor People Perceive and Evaluate Political Clientelism. Theory and Society 28 (2): 297–334.

Auyero, J. 2000. The Logic of Clientelism in Argentina: An Ethnographic Account. Latin American Research Review 35 (3): 55–81.

Birch, S. 1997. Nomenklatura Democratization: Electoral Clientelism in Post-soviet Ukraine. Democratization 4 (4): 40–62.

Brun, D.A., and L. Diamond (eds.). 2014. Clientelism, Social Policy, and the Quality of Democracy. Baltimore: JHU Press.

Bolleyer, N. 2011. New Party Organization in Western Europe: Of Party Hierarchies, Stratarchies and Federations. Party Politics 18 (3): 315–336.

Calvo, E., and M.V. Murillo. 2004. Who Delivers? Partisan Clients in the Argentine Electoral Market. American Journal of Political Science 48 (4): 742–757.

Carreras, M., and Y. İrepoğlu. 2013. Trust in Elections, Vote Buying, and Turnout in Latin America. Electoral Studies 32 (4): 609–619.

Chubb, J. 1981. The Social Bases of an Urban Political Machine: The Case of Palermo. Political Science Quarterly 63: 107–125.

Chhibber, P., and K. Kollman. 2004. The Formation of National Party Systems: Federalism and Party Competition in Britain. India and the US: Canada.

D'Attoma, J. 2017. Divided Nation: The North-South Cleavage in Italian Tax Compliance. Polity 49 (1): 69–99.

Enyedi, Z., and G. Toka. 2007. The Only Game in Town. Party Politics in Hungary. In Party Politics in New Democracies, ed. P. Webb and S. White, 147–177. Oxford: Oxford University Press.

Gherghina, S. 2014. Party Organization and Electoral Volatility in Central and Eastern Europe: Enhancing Voter Loyalty. London: Routledge.

Gherghina, S., and C. Volintiru. 2017. A New Model of Clientelism: Political Parties, Public Resources, and Private Contributors. European Political Science Review 9 (1): 115–137.

González-Ocantos, E., C. Kiewiet de Jonge, and D.W. Nickerson. 2015. Legitimacy Buying. Comparative Political Studies 48 (9): 1127–1158.

Grzymala-Busse, A. 2007. Rebuilding Leviathan: Party Competition and State Exploitation in Post-communist Democracies. Cambridge: Cambridge University Press.

Harmel, R., and K. Janda. 1982. Parties and Their Environments. Limits to Reform. New York: Longman.

Hasen, R.L. 2000. Vote Buying. California Law Review 88 (5): 1323–1371.

Hopkin, J. 2002, March. The emergence and convergence of the cartel party: Parties, state and economy in Southern Europe. In panel on 'The New Political Economy of European Political Parties' at the Conference of Europeanists, Chicago.

Kawata, J. (ed.). 2006. Comparing Political Corruption and Clientelism. Burlington, VT: Ashgate Publishing Ltd.

Katz, R.S., and P. Mair. 1993. The Evolution of Party Organizations in Europe: The Three Faces of Party Organization. The American Review of Politics 14: 593–617.

Kitschelt, H. 2000. Linkages Between Citizens and Politicians in Democratic Polities. Comparative political studies 33 (6–7): 845–879.

Kitschelt, H., and S.I. Wilkinson (eds.). 2007. Patrons, Clients, and Policies: Patterns of Democratic Accountability and Political Competition. Cambridge: Cambridge University Press.

Kopecký, P., P. Mair, and M. Spirova. 2012. Party Patronage and Party Government in European Democracies. Oxford: Oxford University Press.

Manzetti, L., and C.J. Wilson. 2007. Why Do Corrupt Governments Maintain Public Support? Comparative Political Studies 40 (8): 949–970.

Mares, I., A. Muntean, and T. Petrova. 2017. Pressure, Favours, and Vote-buying: Experimental Evidence from Romania and Bulgaria. Europe-Asia Studies 69 (6): 940–960.

March, L. 2006. Power and Opposition in the Former Soviet Union: The Communist Parties of Moldova and Russia. Party Politics 12 (3): 341–365.

Martz, J.D. 1997. The Politics of Clientelism: Democracy and the State in Colombia. New Brunswick: Transaction Publishers.

Medina, L.F., and S.C. Stokes. 2002. Clientelism as Political Monopoly. Chicago: University of Chicago Press.

Meyer-Sahling, J.H., and T. Veen. 2012. Governing the Post-communist State: Government Alternation and Senior Civil Service Politicisation in Central and Eastern Europe. East European Politics 28 (1): 4–22.

Mueller, M.M. 2013. 'Public' Security and Patron-Client Exchanges in Latin America. Government and Opposition 48 (4): 548–569.

Nichter, S. 2008a. Vote Buying or Turnout Buying? Machine Politics and the Secret Ballot. American political Science Review 102 (1): 19–31.

Nichter, S. 2008b. Vote Buying or Turnout Buying? Machine Politics and the Secret Ballot. The American Political Science Review 102 (1): 19–31.

Panebianco, A. 1988. Political Parties: Organization and Power. Cambridge: Cambridge University Press.

Piattoni, S. (ed.). 2001. Clientelism, Interests, and Democratic Representation: The European Experience in Historical and Comparative Perspective. Cambridge: Cambridge University Press.

Powell, J.D. 1970. Peasant Society and Clientelist Politics. American Political Science Review 64 (2): 411–425.

Protsyk, O., and A. Wilson. 2003. Centre Politics in Russia and Ukraine: Patronage, Power and Virtuality. Party Politics 9 (6): 703–727.

Roniger, L. 2004. Political Clientelism, Democracy, and Market Economy. Comparative Politics 36: 353–375.

Saikkonen, I.A. 2017. Electoral Mobilization and Authoritarian Elections: Evidence from Post-Soviet Russia. Government and Opposition 52 (1): 51–74.

Schaffer, F.C. (ed.). 2007. Elections for Sale: The Causes and Consequences of Vote Buying. Boulder: Lynne Rienner Publishers.

Stefes, C.H. 2006. Understanding Post-Soviet Transitions: Corruption, Collusion and Clientelism. New York: Springer.

Stokes, S.C., T. Dunning, and M. Nazareno. 2013. Brokers, Voters, and Clientelism: The Puzzle of Distributive Politics. Cambridge: Cambridge University Press.

Stokes, S.C. 2005. Perverse Accountability: A Formal Model of Machine Politics with Evidence from Argentina. American Political Science Review 99 (3): 315–325.

Van Biezen, I., and P. Kopecký. 2007. The State and the Parties: Public Funding, Public Regulation and Rent-Seeking in Contemporary Democracies. Party politics 13 (2): 235–254.

Volintiru, C. 2012. Clientelism: Electoral Forms and Functions in the Romanian Case Study. Romanian Journal of Political Science 12 (1): 35.

Volintiru, C. (2016). Clientelism and Cartelization in Post-communist Europe: The Case of Romania. Doctoral dissertation, The London School of Economics and Political Science (LSE).

Wantchekon, L. 2003. Clientelism and Voting Behavior: Evidence from a Field Experiment in Benin. World Politics 55 (3): 399–422.

Wedel, J.R. 2003. Clans, Cliques and Captured States: Rethinking 'Transition' in Central and Eastern Europe and the Former Soviet Union. Journal of International Development 15 (4): 427–440.
Additional information
Publisher's Note
Springer Nature remains neutral with regard to jurisdictional claims in published maps and institutional affiliations.
Appendices
Appendix 1: Descriptive statistics for the variables included in the analysis
|   | Mean | SD | Min | Max | N |
| --- | --- | --- | --- | --- | --- |
| Clientelistic practices | 2.68 | 1.03 | 1 | 4 | 763 |
| Performance | 2.05 | 1.00 | 1 | 5 | 787 |
| Private funding | 2.32 | 0.75 | 1 | 3 | 636 |
| Territorial coverage | 2.81 | 0.97 | 1 | 4 | 561 |
| Leaders' notoriety | 2.63 | 0.88 | 1 | 4 | 578 |
Appendix 2: The confidence of experts in their assessments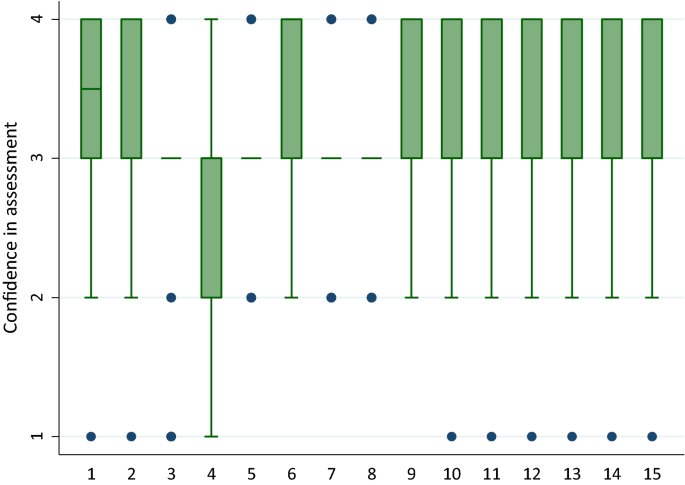 About this article
Cite this article
Gherghina, S., Volintiru, C. Political parties and clientelism in transition countries: evidence from Georgia, Moldova and Ukraine. Acta Polit (2020). https://doi.org/10.1057/s41269-020-00151-x
Keywords
Clientelism

Political parties

Funding

Organization

EaP countries