Abstract
Party youth wings are common all over the world. They are expected to play an important role in linking young people to political parties. However, empirical research on the performance of party youth wings is scarce and political youth participation is seen as problematic. To what extent have party youth wings actually succeeded in attracting members over the last decade? And how can variations in party youth wing membership levels be explained? In order to answer these questions, this article develops and tests organization-based explanations on a unique dataset that contains data for nine party youth wings and the corresponding mother parties in the Netherlands over a period from 2001 to 2016. It is found that youth wings are still a popular form of organizational linkage for parties. While the total party youth wing membership in the Netherlands is on the rise, large variations between party youth wings and their mother parties exist. Youth wing membership levels appear to be affected by the membership levels of the mother party. Other party-related characteristics, such as ideology and electoral success, do not seem to play a role.
Access options
Buy single article
Instant access to the full article PDF.
USD 39.95
Price includes VAT (USA)
Tax calculation will be finalised during checkout.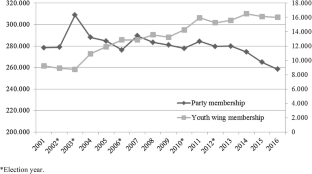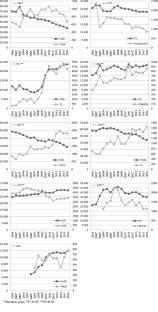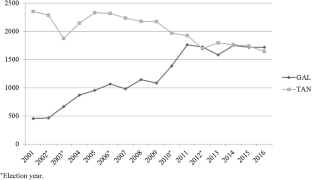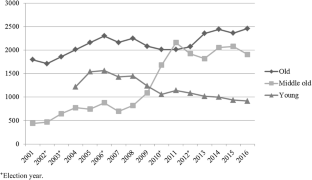 References
Arnett, J.J. 2000. Emerging adulthood: A theory of development from the late teens through the twenties. American Psychologist 55: 469–480.

Blais, A., E. Gidengil, N. Nevitte, and R. Nadeau. 2004. Where does turnout decline come from? European Journal of Political Research 43: 221–236.

Bruter, M., and S. Harrison. 2009. Tomorrow's leaders?: Understanding the involvement of young party members in six European democracies. Comparative Political Studies 42: 1259–1290.

Carty, K., W. Cross, and L. Young. 2000. Rebuilding Canadian party politics. Vancouver: UBC Press.

Cross, W., and L. Young. 2004. The contours of political party membership in Canada. Party Politics 10: 427–444.

Cross, W., and L. Young. 2008. Activism among young party members: The case of the Canadian liberal party. Journal of Elections, Public Opinion & Parties 18: 257–281.

den Ridder, J., J. Van Holsteyn, and R. Koole. 2015. Party membership in the Netherlands. In Party members and activists, ed. E. Van Haute and A. Gauja. London: Routledge.

Fieldhouse, E., M. Tranmer, and A. Russell. 2007. Something about young people or something about elections? Electoral participation of young people in Europe: Evidence from a multilevel analysis of the European Social Survey. European Journal of Political Research 46: 797–822.

Flanagan, C. 2009. Young people's civic engagement and political development. In International handbook of youth and young adulthood, ed. A. Furlong. London: Routledge.

Harmsen, G. 1971. Blauwe en rode jeugd: Ontstaan, ontwikkeling en teruggang van de nederlandse jeugdbeweging tussen 1853 en 1940. Nijmegen: Socialistische Uitgeverij Nijmegen.

Hooghe, L., G. Marks, and C.J. Wilson. 2002. Does left/right structure party positions on European integration? Comparative Political Studies 35: 965–989.

Hooghe, M., and D. Stolle. 2002. De invloed van jeugdparticipatie op sociaal kapitaal-indicatoren bij volwassenen. Ethiek & Maatschappij 5: 3–32.

Hooghe, M., D. Stolle, and P. Stouthuysen. 2004. Head start in politics—the recruitment function of youth organizations of political parties in Belgium (flanders). Party Politics 10: 193–212.

Inglehart, R. 2008. Changing values among western publics from 1970 to 2006. West European Politics 31: 130–146.

Joshi, D.K. 2013. The representation of younger age cohorts in Asian parliaments: Do electoral systems make a difference? Representation 49: 1–16.

Katz, R.S., and P. Mair. 1992. Party organizations. A data handbook. London: SAGE Publications Ltd.

Katz, R.S., and P. Mair. 1995. Changing models of party organization and party democracy: The emergence of the cartel party. Party Politics 1: 5–28.

Kiesraad. 2018. Election results database. https://www.verkiezingsuitslagen.nl/.

Kimberlee, R.H. 2002. Why don't British young people vote at general elections? Journal of Youth Studies 5: 85–98.

Kölln, A.-K. 2014. Party membership in Europe: Testing party-level explanations of decline. Party Politics 22: 465–477.

Koole, R. 2011. Partijfinanciën in nederland: Ontwikkelingen en regelgeving. In Democratie doorgelicht. Het functioneren van de nederlandse democratie doorgelicht, ed. R.B. Andeweg and J. Thomassen, 221–237. Leiden: Leiden University Press.

Mair, P., and I. van Biezen. 1999. Trends in enrolment in political parties in European polities, with particular reference to youth enrolment. In Youth and democracy, international IDEA, Stockholm, 17–19 June.

Mair, P., and I. van Biezen. 2001. Party membership in twenty European democracies, 1980–2000. Party Politics 7: 5–21.

Norris, P. 2002. Democratic phoenix: Reinventing political activism. Cambridge: Cambridge University Press.

Offe, C., and S. Fuchs. 2002. A decline of social capital? The German case. In Democracies in flux. The evolution of social capital in contemporary society, ed. D.P. Robert. New York: Oxford University Press.

Panebianco, A. 1988. Institutionalization. Political parties: Organization and power. Cambridge: Cambridge University Press.

Paulis, E., V. Sierens, and E. van Haute. 2017. Jumping on the bandwagon? Explaining fluctuations in party membership levels. In Conference of the Political Studies Association, Glasgow.

Poguntke, T. 1998. Party organisations. In Equivalence in comparative politics, ed. J.W.V. Deth. London: Routledge.

Poguntke, T. 2002. Party organizational linkage: Parties without firm social roots? In Political parties in the new Europe Political and analytical challenges, ed. K.R. Luther and F. Müller-Rommel. Oxford: Oxford University Press.

Poguntke, T. 2006. Political parties and other organizations. In Handbook of party politics, ed. R.S. Katz and W. Crotty. London: Sage.

Polk, J., J. Rovny, R. Bakker, E. Edwards, et al. 2017. Explaining the salience of anti-elitism and reducing political corruption for political parties in Europe with the 2014 Chapel Hill expert survey data. Research & Politics.. https://doi.org/10.1177/2053168016686915.

Quintelier, E. 2007. Differences in political participation between young and old people. Contemporary Politics 13: 165–180.

Randall, V., and L. Svåsand. 2002. Party institutionalization in new democracies. Party Politics 8: 5–29.

Rothstein, B. 2002. Sweden: Social capital in the social democratic state. In Democracies in flux. The evolution of social capital in contemporary society, ed. D.P. Robert. New York: Oxford University Press.

Sanders, D. 1993. Why the conservatives won—again. In Britain at the polls 1992, ed. D. Sanders, A. King, I. Crewe, D. Denver, et al. Chatham House: Chatham, NJ.

Scarrow, S.E., and B. Gezgor. 2010. Declining memberships, changing members? European political party members in a new era. Party Politics 16: 823–843.

Sloam, J. 2013. 'Voice and equality': Young people's politics in the European Union. West European Politics 36: 836–858.

United Nations Development Programme. 2013. Enhancing youth political participation throughout the electoral cycle. A good practice guide. New York: United Nations Development Programme.

van Biezen, I. 2005. On the theory and practice of party formation and adaptation in new democracies. European Journal of Political Research 44: 147–174.

van Biezen, I., P. Mair, and T. Poguntke. 2012. Going, going,…Gone? The decline of party membership in contemporary Europe. European Journal of Political Research 51: 24–56.

van Haute, E., E. Paulis, and V. Sierens. 2017. Assessing party membership figures: The mapp dataset. European Political Science 17: 366377.

van Klingeren, M., M. Orozco, J. van Spanje, and C. de Vreese. 2015. Party financing and referendum campaigns in EU Member States. Brussels: European Parliament, Policy Department Citizens' Rights and Constitutional Affairs.

Voerman, G. 2016. Gezamenlijk ledental nederlandse politieke partijen naar dieptepunt. Groningen: Documentatiecentrum Nederlandse Politieke Partijen.

Wattenberg, M.P. 2007. Is voting for young people?. New York: Pearson Longman.

Whiteley P.F. 2007. Are groups replacing parties? A multi-level analysis of party and group membership in the European democracies. In Britain after Blair, University of Chicago.

Whiteley, P.F. 2011. Is the party over? The decline of party activism and membership across the democratic world. Party Politics 17: 21–44.

Whiteley, P.F., and P. Seyd. 1998. The dynamics of party activism in Britain: A spiral of demobilization? British Journal of Political Science 28: 113–137.
Acknowledgements
The author gratefully acknowledges the advice of prof. dr. Ingrid van Biezen and the statistical support of dr. Tom Louwerse.
Additional information
Publisher's Note
Springer Nature remains neutral with regard to jurisdictional claims in published maps and institutional affiliations.
About this article
Cite this article
de Roon, C. Party youth wing membership in the Netherlands: the role of organization-level characteristics. Acta Polit 55, 629–647 (2020). https://doi.org/10.1057/s41269-019-00135-6
Keywords
Party youth wings

Membership

The Netherlands

Time series

Multilevel analysis