Abstract
A new party led by politicians of immigrant background entered Dutch parliament with three seats after the March 2017 national elections. This article investigates the success of DENK—an immigrant party promoting a clear pro-diversity agenda—and shows how this success is largely thanks to Dutch voters of Turkish and Moroccan background, using polling data by Ipsos and ScoRE. It also illustrates how these votes disproportionally increased with the number of residents of Turkish and Moroccan background in a neighborhood, using aggregate voting data from the statistical bureaus of Amsterdam and Rotterdam and the Dutch press agency ANP. That said, immigrant background does not fully explain the party's success; DENK voters' distinct ideological profile melds progressive and conservative attitudes in a combination thus far underrepresented among other parties' followers, which is illustrated by additional analyses of the polling data. Similar immigrant electorates exist elsewhere in Western Europe. Meanwhile, mainstream parties have turned sharply to the right on immigration, integration, and Islam, alienating substantial segments of this electorate. Whether these circumstances lead to the rise of more successful immigrant parties depends on how open political institutions are and how mainstream parties behave.
Access options
Buy single article
Instant access to the full article PDF.
US$ 39.95
Tax calculation will be finalised during checkout.
Subscribe to journal
Immediate online access to all issues from 2019. Subscription will auto renew annually.
US$ 79
Tax calculation will be finalised during checkout.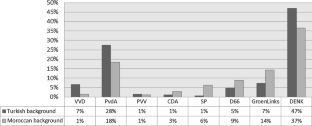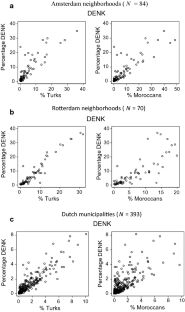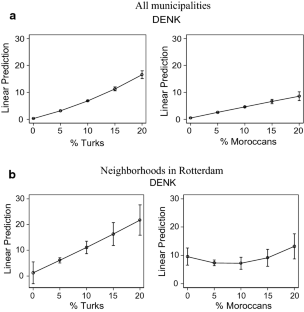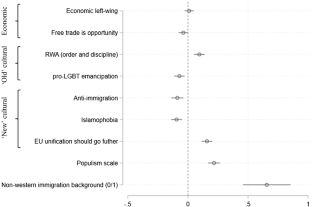 Notes
1.

2.

The Netherlands' first Turkish and Moroccan immigrants arrived in the 1970s under the "guest labor" program, but immigration continued, initially often through marriage and nowadays for myriad reasons. The Netherlands' population comprises 391,088 people of Moroccan background and 400,367 of Turkish background, including both first and second generations, with and without Dutch passports (CBS figures for 2017).

3.

4.

Standing for green/alternative/libertarian versus traditional/authoritarian/nationalist.

5.

6.

Data collection for the SCoRE survey was made possible by an NWO ORA grant (project number OND1363737). For more information, see https://www.score.uni-mainz.de.

7.

We do not discuss Artikel 1 votes. Theoretically, Artikel 1 does not present itself to be as much as an immigrant party as DENK. Empirically, our individual-level data would not allow us to make reliable statements about Artikel 1 voters. The aggregated analysis shows that Artikel 1 was electorally successful in a couple areas where a large number of residents of Surinamese background live. At the same time, the support base was generally more geographically scattered, meaning that we find support for Artikel 1 in a large number of neighborhoods in which the percentage of residents of immigrant background is low.

8.

We distinguish domestic economic items from international trade, because the latter possibly relates to the globalization dimension as well.

9.

We also explored whether some attitudes were better predictors among respondents with an immigrant background than among respondents without such background. In "Appendix 4" we show the interactions between immigrant background status and three variables, one for each dimension (economic, old cultural, and new cultural). This shows that immigration attitudes are a better predictor among respondents with an immigration background. This suggests that this topic was especially salient among this group in driving support for DENK. We conclude that the same set of variables explains DENK support regardless of immigrant background status, albeit with somewhat different relative weights.

10.

11.

The reliability of the economic scale and order and discipline scale is low. However, we decided to keep these items because they are theoretically related and common in other studies.
References
Abou-Chadi, T. 2016. Niche party success and mainstream party policy shifts–How green and radical right parties differ in their impact. British Journal of Political Science 46 (2): 417–436.

Akkerman, A., C. Mudde, and A. Zaslove. 2014. How populist are the people? Measuring populist attitudes in voters. Comparative Political Studies 47 (9): 1324–1353.

Alba, R., and N. Foner. 2009. Entering the precincts of power: Do national differences matter for immigrant minority political representation. In Bringing outsiders in: Transatlantic perspectives on immigrant political incorporation, ed. J. Hochschild and J. Mollenkopf, 277–293. Ithaca: Cornell University Press.

Azmanova, A. 2011. After the left-right (dis)continuum: Globalization and the remaking of Europe's ideological geography. International Political Sociology 5 (4): 384–407.

Bale, T., C. Green-Pedersen, A. Krouwel, K.R. Luther, and N. Sitter. 2010. If you can't beat them, join them? Explaining social democratic responses to the challenge from the populist radical right in Western Europe. Political Studies 58 (3): 410–426.

Bhatti, Y., and K.M. Hansen. 2016. The effect of residential concentration on voter turnout among ethnic minorities. International Migration Review 50 (4): 977–1004.

Bloemraad, I., and F. Vermeulen. 2014. Immigrants' political incorporation. In An introduction to immigrant incorporation studies: European perspectives, ed. M. Martiniello and J. Rath, 227–249. Amsterdam: Amsterdam University Press.

Cho, W.K.T., J.G. Gimpel, and J.J. Dyck. 2006. Residential concentration, political socialization, and voter turnout. Journal of Politics 68 (1): 156–167.

Dancygier, R.M. 2017. Dilemmas of inclusion: Muslims in European politics. Princeton: Princeton University Press.

Dancygier, R., and E.N. Saunders. 2006. A new electorate? Comparing preferences and partisanship between immigrants and natives. American Journal of Political Science 50 (4): 962–981.

DeSante, C.D., and B.N. Perry. 2016. Bridging the gap: How geographic context affects political knowledge among citizen and non-citizen Latinos. American Politics Research 44 (3): 548–577.

De Vries, C.E., A. Hakhverdian, and B. Lancee. 2013. The dynamics of voters' left/right identification: The role of economic and cultural attitudes. Political Science Research and Methods 1 (2): 223–238.

Fennema, M., and J. Tillie. 1999. Political participation and political trust in Amsterdam: Civic communities and ethnic networks. Journal of Ethnic and Migration Studies 25 (4): 703–726.

Fisher, S.D., A.F. Heath, D. Sanders, and M. Sobolewska. 2015. Candidate ethnicity and vote choice in Britain. British Journal of Political Science 45 (4): 883–905.

Heath, A.F., S.D. Fisher, G. Rosenblatt, D. Sanders, and M. Sobolewska. 2013. The political integration of ethnic minorities in Britain. Oxford: Oxford University Press.

Kitschelt, H., and P. Rehm. 2014. Occupations as a site of political preference formation. Comparative Political Studies 47 (12): 1670–1706.

Kranendonk, M., L. Michon, H. Schwarz, and F. Vermeulen. 2014. Opkomst en stemgedrag van Amsterdammers met een migratie-achtergrond tijdens de gemeenteraadsverkiezingen van 19 maart 2014. Amsterdam: OIS.

Kranendonk, M., E. Lekkerkerker, L. Michon, and F. Vermeulen. 2018. Opkomst en stemgedrag van Amsterdammers met een migratie-achtergrond tijdens de gemeenteraadsverkiezingen van 21 maart 2018. Amsterdam: OIS.

Kranendonk, M., F. Vermeulen, and A. Van Heelsum. 2017. "Unpacking" the identity-to-politics link: The effects of social identification on voting among Muslim immigrants in Western Europe. Political Psychology. https://doi.org/10.1111/pops.12397.

Kriesi, H., E. Grande, R. Lachat, M. Dolezal, S. Bornschier, and T. Frey. 2008. West European politics in the age of globalization. Cambridge: Cambridge University Press.

Krouwel, A.P.M., and P. Lucardie. 2008. Waiting in the wings: New parties in the Netherlands. Acta Politica 43 (2–3): 278–307.

Leighley, J.E. 2001. Strength in numbers? The political mobilization of racial and ethnic minorities. Princeton: Princeton University Press.

Mainwaring, S., C. Gervasoni, and A. España-Najera. 2017. Extra-and within-system electoral volatility. Party Politics 23 (6): 623–635.

Martin, N.S. 2016. 'Do ethnic minority candidates mobilise ethnic minority voters? Evidence from the 2010 UK general election. Parliamentary Affairs 69 (1): 159–180.

Michon, L., and J. Tillie. 2002. Amsterdamse Polyfonie, Opkomst en stemgedrag van allochtone Amsterdammers bij de gemeenteraads- en deelraadsverkiezingen van 6 maart 2002. Amsterdam: IMES report.

Michon, L., and F. Vermeulen. 2009. Organizing for access? The political mobilization of Turks in Amsterdam. Turkish Studies 10 (2): 255–275.

Michon, L., and F. Vermeulen. 2013. Explaining different trajectories in immigrant political integration: Moroccans and Turks in Amsterdam. West European Politics 36 (3): 597–614.

Otjes, S., and A. Krouwel. 2018. Why do newcomers vote for a newcomer? Support for an immigrant party. Journal of Ethnic and Migration Studies. https://doi.org/10.1080/1369183x.2018.1427053.

Pellikaan, H., S.L. de Lange, and T. W. van der Meer. 2016. The centre does not hold: Coalition politics and party system change in the Netherlands, 2002–12. Government and Opposition 1–25.

Pitkin, H.F. 1967. The concept of representation. Berkeley: University of California Press.

Mudde, C. 2013. Three decades of populist radical right parties in Western Europe: So what? European Journal of Political Research 52 (1): 1–19.

Robinson, W.S. 1950. Ecological correlations and the behavior of individuals. American Sociological Review 15 (3): 351–357.

Santing, F., and F. Vermeulen. 2018. Diversiteit is een kracht. Hoe DENK Amsterdam Nieuw-West verovert. De Groene Amsterdammer, 21 February 2018.

Sonenshein, R.J., and M.H. Drayse. 2006. Urban electoral coalitions in an age of immigration: Time and place in the 2001 and 2005 Los Angeles mayoral primaries. Political Geography 25 (5): 570–595.

Tillie, J. 2000. De etnische stem. Opkomst en stemgedrag van migranten tijdens de gemeenteraadsverkiezingen,1986-1998. Utrecht: FORUM.

Tillie, J. 2004. Civic community, political participation and political trust of ethnic groups'. In Multikuturelle Demokratien Im Vergleich, ed. H. Behr and W. Schmidt, 198–217. Wiesbaden: VS Verlag für Sozialwissenschaften.

Van der Heijden, T., and A.J. Van Heelsum. 2010. Opkomst en stemgedrag van migranten tijdens de gemeenteraadsverkiezingen van 3 maart 2010. Amsterdam: IMES.

Van der Valk, I. 2017. Monitor Moslimdiscriminatie. Amsterdam: IMES.

Van der Eijk, C. 2002. Design issues in electoral research: Taking care of (core) business. Electoral Studies 21 (2): 189–206.

Van Heelsum, A. 2005. Political participation and civic community of ethnic minorities in four cities in the Netherlands. Politics 25 (1): 19–30.

Van Heelsum, A., and J. Tillie. 2006. Opkomst en partijvoorkeur van migranten bij de gemeenteraadsverkiezingen van 7 maart 2006. Amsterdam: IMES.

Van Heelsum, A., L. Michon, and J. Tillie. 2016. Local political participation of immigrants in the Netherlands: A look at Amsterdam and Rotterdam. In Just ordinary citizens? Toward a comparative portrait of the political immigrant, ed. A. Bilodeau, 29–45. Toronto: University of Toronto Press.

Van Heerden, S., S.L. De Lange, W. Van der Brug, and M. Fennema. 2014. The immigration and integration debate in the Netherlands: Discursive and programmatic reactions to the rise of anti-immigration parties. Journal of Ethnic and Migration Studies 40 (1): 119–136.

Van Holsteyn, J.J. 2018. The Dutch parliamentary elections of March 2017. West European Politics. https://doi.org/10.1080/01402382.2018.1448556.

Vermeulen, F. 2006. The immigrant organising process. Turkish organisations in Amsterdam and Berlin and Surinamese organisations in Amsterdam, 1960-2000. Amsterdam: Amsterdam University Press.

Vermeulen, F. 2018. The paradox of immigrant political participation in Europe amidst crises of multiculturalism. In The Oxford handbook of migration crises, ed. C. Menjivar, M. Ruiz, and I. Ness. Oxford: Oxford University Press. https://doi.org/10.1093/oxfordhb/9780190856908.013.26.

Vermeulen, F., M. Kranendonk, and L. Michon. 2017. Ethnic voting and neighbourhoods. The case of Amsterdam. Paper presented in April 29 2017 City University New York, Graduate Center.

Vermeulen, F., L. Michon, and J. Tillie. 2014. Immigrant political engagement and incorporation in Amsterdam. In Immigration and the new urban landscape: New York and Amsterdam, ed. N. Foner, J. Rath, J.W. Duyvendak, and R. Van Reekum, 230–256. New York: New York University Press.
Appendices
Appendix 1: Indicators
Appendix 1.1: Overview of variables
Economic dimension
Economic left-wing (α = 0.50)Footnote 11
The less that government intervenes in the economy, the better it is for [country].

The government should take measures to reduce differences in income levels.

Employees need strong trade unions to protect their working conditions and wages.
Free trade
International free trade is an opportunity for economic growth in the Netherlands.
'Old' cultural dimension (morality)
RWA (right-wing authoritarianism): order and discipline (α = 0.55)
What our country really needs instead of more ''civil rights'' is a good stiff dose of law and order.

What our country needs most is disciplined citizens, following national leaders in unity.
LGBT emancipation (α = 0.67).
Homosexuals and feminists should be praised for being brave enough to defy "traditional family values."

Everyone should have their own lifestyle, religious beliefs, and sexual preferences, even if it makes them different from everyone else.

It's a good thing that same-sex marriage is equal to opposite-sex marriage in the eyes of the law.
'New' cultural dimension (globalization)
Anti-immigration (α = 0.742)
Would you say that [country]'s cultural life is generally undermined or enriched by people coming to live here from other countries?

"It is better for a country if almost everyone shares the same customs and traditions."

Would you say it is generally bad or good for [country]'s economy that people come to live here from other countries?
Islamophobia (α = 0.80)
Islam is an archaic religion, unable to adjust to the present.

Islam is compatible with our democracy.

There are violent aspects to Islam which predispose it towards terrorism.
European Unification
Now thinking about the EU, some say European unification should go further. Others say it has already gone too far. What number on the scale best describes your position?
Anti-establishment attitudes
Populism scale (α = 0.86)
"The politicians in Parliament need to follow the will of the people."

"The people, and not politicians, should make our most important policy decisions."

"The political differences between the elite and the people are larger than the differences among the people."

"I would rather be represented by a citizen than by a specialized politician."

"Elected officials talk too much and take too little action."

"What people call "compromise" in politics is really just selling out on one's principles."
Appendix 1.2: Descriptives of variables used in regression (before standardization)
| Variable | Obs | Mean | SD | Min | Max |
| --- | --- | --- | --- | --- | --- |
| Propensity to vote DENK | 8013 | 0.678273 | 1.530624 | 0 | 10 |
| Non-Western immigrant status | 8013 | 0.0842381 | 0.2777619 | 0 | 1 |
| Left-wing on economy | 7884 | 2.938134 | 1.316746 | − 6 | 7 |
| Pro-free trade | 7397 | 5.575098 | 1.335415 | 1 | 8 |
| Pro-law and order | 7740 | 4.573385 | 1.413451 | 1 | 7 |
| Pro-LGBT emancipation | 7845 | 5.601593 | 1.477609 | 1 | 7 |
| Nativism | 7897 | 5.765565 | 1.554191 | 0 | 14 |
| Islamophobia | 7675 | 2.123974 | 1.969375 | − 7 | 7 |
| Pro-EU integration | 7380 | 3.70813 | 1.730811 | 1 | 7 |
| Populism | 7846 | 3.60712 | 0.9165728 | 1 | 5 |
Appendix 2: Macro-level models
|   | Municipalities coefficient (SE) | Rotterdam n'hoods coefficient (SE) |
| --- | --- | --- |
| % Turkish | 0.491*** (0.021) | 0.950* (0.412) |
| % Turkish2 | 0.016*** (0.003) | 0.004 (0.009) |
| % Moroccans | 0.420*** (0.023) | − 0.657 (0.388) |
| % Moroccans2 | − 0.001 (0.003) | 0.042* (0.016) |
| % Surinamese | 0.032 (0.028) | 0.022 (0.518) |
| % Surinamese2 | 0.001 (0.003) | − 0.005 (0.024) |
| % non-migrant | − 0.019 (0.025) | − 0.099 (0.213) |
| % non-migrant2 | 0.000 (0.000) | 0.001 (0.002) |
| Population size | 0.000 (0.000) | − 0.013 (0.009) |
| Density of population | − 0.000** (0.000) | − 0.000 (0.000) |
| Value of houses | − 0.000 (0.000) | 0.024 (0.017) |
| Share of household on social minimum | 0.001 (0.002) | 0.000 (0.008) |
| Income | 0.003 (0.008) | − 0.203 (0.208) |
| Household size | 0.020 (0.094) | − 2.079 (2.528) |
| Intercept | 0.401 (1.005) | 13.059 (9.508) |
| R 2 | 0.977 | 0.915 |
| N | 382 | 68 |
Appendix 3: Regression on propensity to vote (PTV) DENK
|   | b (SE) |
| --- | --- |
| Economic left-wing | 0.011 (0.019) |
| Pro-free trade | − 0.038 (0.020) |
| Pro-law and order | 0.094*** (0.023) |
| Pro-LGBT emancipation | − 0.071** (0.022) |
| Anti-immigration | − 0.089*** (0.026) |
| Islamophobia | − 0.095*** (0.023) |
| Pro-EU unification | 0.158*** (0.023) |
| Populism scale | 0.217*** (0.025) |
| Non-Western immigrant background | 0.655*** (0.101) |
| Main activity (ref.: in education) |   |
|  Having a job | − 0.144 (0.197) |
|  Unemployed | − 0.124 (0.215) |
|  Cannot work | − 0.254 (0.211) |
|  Pensioner | − 0.236 (0.216) |
|  Housekeeper | − 0.089 (0.221) |
| Education (years) | − 0.012** (0.004) |
| Religiosity | 0.049*** (0.011) |
| Sex (female) | 0.043 (0.040) |
| Year of birth | 0.012*** (0.002) |
| Intercept | − 22.278*** (4.234) |
| R 2 | 0.079 |
| N | 6552 |
Appendix 4: Regression on propensity to vote Denk, including interactions
|   | b (SE) |
| --- | --- |
| Economic left-wing | 0.019 (0.019) |
| Non-western immigrant background | 0.431*** (0.094) |
| Economic left-wing × immigrant background | − 0.119 (0.104) |
| Pro-free trade | − 0.038 (0.020) |
| Pro-law and order | 0.071*** (0.021) |
| Pro-law and order × immigrant background | 0.220 (0.121) |
| pro-LGBT emancipation | − 0.069** (0.022) |
| Anti-immigration | − 0.043 (0.024) |
| Anti-immigration × immigrant background | − 0.501*** (0.122) |
| Islamophobia | − 0.091*** (0.023) |
| Pro-European unification | 0.161*** (0.023) |
| Populism scale | 0.211*** (0.025) |
| Main activity (ref.: in education) |   |
|  Having a job | − 0.049 (0.095) |
|  Unemployed | 0.112 (0.221) |
|  Cannot work | − 0.032 (0.126) |
|  Pensioner | − 0.165 (0.109) |
|  Housekeeper | − 0.139 (0.097) |
| Education (years) | − 0.012** (0.004) |
| Religiosity | 0.047*** (0.011) |
| Sex (female) | 0.045 (0.040) |
| Year of birth | 0.011*** (0.002) |
| Intercept | − 21.779*** (4.113) |
| R 2 | 0.086 |
| N | 6552 |
About this article
Cite this article
Vermeulen, F., Harteveld, E., van Heelsum, A. et al. The potential of immigrant parties: insights from the Dutch case. Acta Polit 55, 432–453 (2020). https://doi.org/10.1057/s41269-018-0123-z
Keywords
Immigrant voters

DENK

The Netherlands

2017 Dutch national elections