Abstract
Social network sites may have contributed to the global electoral success of populism in important ways. Drawing on the technological affordances of social media, politicians are enabled to directly communicate populist discourse via Twitter by constructing a pervasive societal divide between the "good" people and "corrupt" elites. Such Tweets may resonate with the reality constructions of receivers—who are also enabled to communicate populist discourse online. To understand the intersections of the supply- and demand-sides of populist discourse in the U.S. and Europe, this paper draws on extensive comparative qualitative content analyses of Trump's and Wilders' Tweets (N = 2681) and the electorates' discourse on Facebook (N = 657). The results provide important insights into the mechanisms of inclusion and exclusion at play in populist discourse and the affordances of social media in shaping populist and polarized discourse among politicians and the electorate at election times.
This is a preview of subscription content, log in to check access.
Access options
Buy single article
Instant access to the full article PDF.
US$ 39.95
Price includes VAT for USA
Subscribe to journal
Immediate online access to all issues from 2019. Subscription will auto renew annually.
US$ 124
This is the net price. Taxes to be calculated in checkout.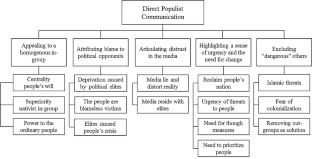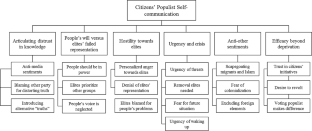 Notes
1.

The reference to "strategies" does not necessarily mean that all identified themes relate to intentional communication. Political actors may communicate their views for different reasons, and some messages may be more strategic than others.
References
Bartlett, J., J. Birdwell, and M. Littler. 2011. The new face of digital populism. London: Demos.

Bossetta, M. 2018. The digital architectures of social media: comparing political campaigning on Facebook, Twitter, Instagram, and Snapchat in the 2016 U.S. Election. Journalism & Mass Communication Quarterly 95 (3): 471–496.

Bracciale, R., and A. Martella. 2017. Define the populist political communication style: the case of Italian political leaders on Twitter. Information, Communication & Society 20 (9): 1310–1329.

Canovan, M. 1999. Trust the people! Populism and the two faces of democracy. Political Studies 47: 2–16.

Elchardus, M., and B. Spruyt. 2016. Populism, persistent republicanism and declinism: an empirical analysis of populism as a thin ideology. Government and Opposition 51 (1): 111–133. https://doi.org/10.1017/gov.2014.27.

Ellison, N.B., and D. Boyd. 2013. Sociality through social network sites. In The Oxford handbook of Internet, ed. W.H. Dutton, 151–172. Oxford: Oxford University Press.

Engesser, S., N. Fawzi, and A.O. Larsson. 2017a. Populist online communication: introduction to the special issue. Information, Communication & Society 20 (9): 1279–1292.

Engesser, S., N. Ernst, F. Esser, and F. Büchel. 2017b. Populism and social media: how politicians spread a fragmented ideology. Information, Communication & Society 20 (8): 1109–1126.

Glaser, B.G., and A.L. Strauss. 1967. The discovery of grounded theory: strategies for qualitative research. Chicago: Aldine.

Greene, S. 1999. Understanding party identification: a social identity approach. Political Psychology 20 (2): 393–403.

Hameleers, M., L. Bos, and C.H. de Vreese. 2018. Selective exposure to populist communication: how attitudinal congruence drives the effects of populist attributions of blame. Journal of Communication 68 (1): 51–74.

Hampton, K.N. 2016. Persistent and pervasive community: new communication technologies and the future of community. American Behavioral Scientist 60 (1): 101–124.

Iyengar, S., G. Sood, and Y. Lelkes. 2012. Affect, not ideology: a social identity perspective on polarization. Public Opinion Quarterly 76 (3): 405–431.

Jagers, J., and S. Walgrave. 2007. Populism as political communication style: an empirical study of political parties' discourse in Belgium. European Journal of Political Research 46 (3): 319–345.

Judis, J.B. 2016. Us versus them: the birth of populism. The Guardian. https://www.theguardian.com/politics/2016/oct/13/birth-of-populism-donald-trump. Accessed 13 Oct 2016.

Klinger, U., and J. Svensson. 2014. The emergence of network media logic in political communication: a theoretical approach. New Media & Society 17 (8): 1241–1257.

Mazzoleni, G., J. Stewart, and B. Horsfield. 2003. The media and neo-populism: a contemporary comparative analysis. Westport, CT: Praeger.

Mudde, C. 2004. The populist zeitgeist. Government and Opposition 39: 542–564.

Mudde, C., and C. Rovira Kaltwasser. 2017. Populism: a very short introduction. Oxford: Oxford University Press.

Rooduijn, M., S.L. de Lange, and W. van der Brug. 2014. A populist Zeitgeist? Programmatic contagion by populist parties in Western Europe. Party Politics 20 (4): 563–575.

Suler, J. 2004. The online disinhibition effect. Cyberpsychology & Behavior 7 (3): 321–326.

Stier, S., L. Posch, A. Bleier, and M. Strohmaier. 2017. When populists become popular: comparing Facebook use by the right-wing movement Pegida and German political parties. Information, Communication and Society 20 (9): 1365–1388.

Taggart, P. 2004. Populism and representative politics in contemporary Europe. Journal of Political Ideologies 9 (3): 269–288.

Tajfel, H. 1978. Social categorization, social identity, and social comparisons. In Differentiation between social groups, ed. H. Tajfel. London: Academic Press.

Tajfel, H., and J.C. Turner. 1986. The social identity theory of inter-group behavior. In Psychology of Intergroup Relations, ed. S. Worchel and L.W. Austin. Chicago: Nelson-Hall.

Van Kessel, S., and R. Castelein. 2006. Shifting the blame populist politicians' use of Twitter as a tool of opposition. Journal of Contemporary European Research 12 (2): 559–614.

Waisbord, S., and A. Amado. 2017. Populist communication by digital means: presidential Twitter in Latin America. Information, Communication & Society 20 (9): 1330–1346.
About this article
Cite this article
Hameleers, M. Augmenting polarization via social media? A comparative analysis of Trump's and Wilders' online populist communication and the electorate's interpretations surrounding the elections. Acta Polit 55, 331–350 (2020). https://doi.org/10.1057/s41269-018-0119-8
Keywords
Polarization

Populism

Social identity theory

Social media

Partisanship

Technological affordances