Abstract
In this study, we examined one key factor in the process of deliberation, namely, perceived procedural fairness. Another important factor, perceived disagreement, which has played a mixed role in deliberation, was used to test its interactive relationship with perceived procedural fairness. A field study utilizing cross-sectional survey data showed that perceived procedural fairness positively related to both enjoyment and perceived institutional legitimacy of deliberation. Perceived disagreement positively related to perceived institutional legitimacy. Meanwhile, perceived disagreement functioned as a moderator that conditioned the influence of perceived procedural fairness: disagreement strengthened the positive relationship between procedural fairness and enjoyment, while weakened the positive relationship between procedural fairness and perceived institutional legitimacy. Theoretical and practical implications are discussed at the end of the paper.
This is a preview of subscription content, log in to check access.
Access options
Buy single article
Instant access to the full article PDF.
US$ 39.95
Price includes VAT for USA
Subscribe to journal
Immediate online access to all issues from 2019. Subscription will auto renew annually.
US$ 124
This is the net price. Taxes to be calculated in checkout.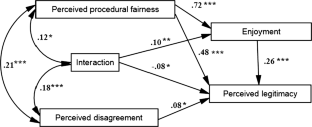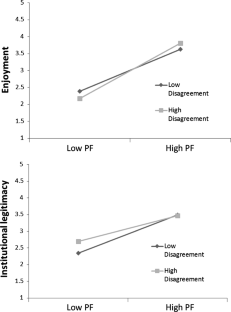 Notes
1.

We chose to include participants who logged into the platform at least once because our platform was designed as that when a participant logged in the first time, he/she had to go through a set of interactive education material, which presents diverse views on the issue. So these participants can be understood as having been exposed to some deliberation treatment. A comparison of the demographics of those who did log into the platform at least once versus the census data showed that our participants were more likely to be male, Chinese, young, highly educated, and receiving high income.

2.

Since our data were collected from a cross-sectional survey, critics may stipulate that the directions of the paths can go the opposite, i.e., enjoyment and perceived institutional legitimacy predict perceived procedural fairness and disagreement. We conducted a path analysis using an alternative model, which included perceived procedural fairness and disagreement as the endogenous variables, whereas enjoyment and perceived institutional legitimacy as exogenous variables. Same control variables and same analytical steps were followed. Our analyses show that firstly, the path leading from enjoyment to perceived disagreement was not statistically significant. Secondly, the model fit was much worse, with, for instance, RMSEA = 0.14, much higher than the minimum acceptable value of 0.06 (Hu and Bentler 1999). We thus concluded that the alternative model is less plausible than the model presented in this paper.
References
Besley, J.C., and K.A. McComas. 2005. Framing Justice: Using the Concept of Procedural Justice to Advance Political Communication Research. Communication Theory 15 (4): 414–436.

Brundidge, J. 2010. Encountering "Difference" in the Contemporary Public Sphere: The Contribution of the Internet to the Heterogeneity of Political Discussion Networks. Journal of Communication 60 (4): 680–700.

Caluwaerts, D., and M. Reuchamps. 2015. Strengthening Democracy Through Bottom-Up Deliberation: An Assessment of the Internal Legitimacy of the G1000 project. Acta Politica; Basingstoke 50 (2): 151–170.

Carman, C. 2010. The Process is the Reality: Perceptions of Procedural Fairness and Participatory Democracy. Political Studies 58 (4): 731–751.

Chang, L., and T. Jacobson. 2010. Measuring Participation as Communicative Action: A Case Study of Citizen Involvement in and Assessment of a City's Smoking Cessation Policy-Making Process. Journal of Communication 60 (4): 660–679.

Chang, L., T. Jacobson, and W. Zhang. 2013. A Communicative Action Approach to Evaluating Citizen Support for a Government's Smoking Policies. Journal of Communication 63 (6): 1153–1174.

Cohen, J. 1997. Procedure and Substance in Deliberative Democracy. In Deliberative Democracy: Essays on Reason and Politics, ed. J. Bohman and W. Rehg, 407–438. Cambridge, MA: MIT Press.

Curato, N. 2012. A Sequential Analysis of Democratic Deliberation. Acta Politica; Basingstoke 47 (4): 423–442.

Diekmann, K.A., H. Sondak, and Z.I. Barsness. 2007. Does Fairness Matter More to Some than to Others? The Moderating Role of Workplace Status on The Relationship Between Procedural Fairness Perceptions and Job Satisfaction. Social Justice Research 20 (2): 161–180.

Easton, D. 1979. A Systems Analysis of Political Life. Chicago, IL: The University of Chicago Press.

Esterling, K.M., A. Fung, and T. Lee. 2015. How Much Disagreement is Good for Democratic Deliberation? Political Communication 32 (4): 529–551.

Eveland, W.P., A.C. Morey, and M.J. Hutchens. 2011. Beyond Deliberation: New Directions for the Study of. In:formal Political Conversation from a Communication Perspective. Journal of Communication 61 (6): 1082–1103.

Farrar, C., D.P. Green, J.E. Green, D.W. Nickerson, and S. Shewfelt. 2009. Does Discussion Group Composition Affect Policy Preferences? Results from Three Randomized Experiments. Political Psychology 30 (4): 615–647.

Feldman, L., and V. Price. 2008. Confusion or Enlightenment?: How Exposure to Disagreement Moderates the Effects of Political Discussion and Media Use on Candidate Knowledge. Communication Research 35 (1): 61–87.

Gangl, A. 2003. Procedural Justice Theory and Evaluations of the Lawmaking Process. Political Behavior 25 (2): 119–149.

Gastil, J., S. Burkhalter, and L.W. Black. 2007. Do Juries Deliberate? A Study of Deliberation, Individual Difference, and Group Member Satisfaction at a Municipal Courthouse. Small Group Research 38 (3): 337–359.

Grimes, M. 2006. Organizing Consent: The Role of Procedural Fairness in Political Trust and Compliance. European Journal of Political Research 45 (2): 285–315.

Gutmann, A., and D. Thompson. 1995. Moral Disagreement in a Democracy. Social Philosophy and Policy 12 (1): 87–110.

Habermas, J. 2006. Political Communication in Media Society: Does Democracy Still Enjoy an Epistemic Dimension? The Impact of Normative Theory on Empirical Research. Communication Theory 16 (4): 411–426.

Hagen, B.J.H., and G. Burch. 1985. The Relationship of Group Process and Group Task Accomplishment To Group Member Satisfaction. Small Group Research 16 (2): 211–233.

Herian, M.N., J.A. Hamm, A.J. Tomkins, and L.M.P. Zillig. 2012. Public Participation, Procedural Fairness, and Evaluations of Local Governance: The Moderating Role of Uncertainty. Journal of Public Administration Research and Theory 22 (4): 815–840.

Hibbing, J.R., and E. Theiss-Morse. 2008. Voice, Validation, and Legitimacy. In Cooperation: The Political Psychology of Effective Human Interaction, ed. B. Sullivan, J. Sulliva, and M. Snyder, 123–142. Hoboken, NJ: Wiley-Blackwell.

Hu, L.T., and P.M. Bentler. 1999. Cutoff criteria for fit indexes in covariance structure analysis: Conventional criteria versus new alternatives. Structural Equation Modeling: A Multidisciplinary Journal 6 (1): 1–55.

Huckfeldt, R., P.E. Johnson, and J. Sprague. 2004. Political Disagreement: The Survival of Diverse Opinions Within Communication Networks. Cambridge: Cambridge University Press.

Jacobson, T.L., and J.D. Storey. 2004. Development Communication and Participation: Applying Habermas to a Case Study of Population Programs in Nepal. Communication Theory 14 (2): 99–121.

King, L.A. 2003. Deliberation, Legitimacy, and Multilateral Democracy. Governance 16 (1): 23–50.

Kramer, M.W., P.J. Benoit, M.A. Dixon, and J. Benoit-Bryan. 2007. Group Processes in a Teaching Renewal Retreat: Communication Functions and Dialectical Tensions. Southern Communication Journal 72 (2): 145–168.

Levi, M., A. Sacks, and T. Tyler. 2009. Conceptualizing Legitimacy, Measuring Legitimating Beliefs. American Behavioral Scientist 53 (3): 354–375.

Lind, E.A. 2001. Fairness Heuristic Theory: Justice Judgments as Pivotal Cognitions in Organizational Relations. In Advances in Organizational Justice, ed. J. Greenberg and R. Cropanzano, 56–88. US: Stanford University Press.

Lind, E.A., R. Kanfer, and P.C. Earley. 1990. Voice, Control, and Procedural Justice: Instrumental and Noninstrumental Concerns in Fairness Judgments. Journal of Personality and Social Psychology 59 (5): 952–959.

Lind, E.A., and T.R. Tyler. 1988. The Social Psychology of Procedural Justice. Berlin: Springer Science and Business Media.

Linde, J. 2012. Why Feed the Hand that Bites you? Perceptions of Procedural Fairness and System Support in Post-communist Democracies. European Journal of Political Research 51 (3): 410–434.

Manin, B. 1987. On Legitimacy and Political Deliberation. Political Theory 15 (3): 338–368.

Manosevitch, E., N. Steinfeld, and A. Lev-On. 2014. Promoting Online Deliberation Quality: Cognitive Cues Matter. Information, Communication and Society 17 (10): 1177–1195.

Marques, Â.C.S., and R.C.M. Maia. 2010. Everyday Conversation in the Deliberative Process: An Analysis of Communicative Exchanges in Discussion Groups and Their Contributions to Civic and Political Socialization. Journal of Communication 60 (4): 611–635.

Mendelberg, T., and J. Oleske. 2000. Race and Public Deliberation. Political Communication 17 (2): 169–191.

Mutz, D.C. 2002. Cross-cutting Social Networks: Testing Democratic Theory in Practice. American Political Science Review 96 (1): 111–126.

Mutz, D.C. 2008. Is Deliberative Democracy a Falsifiable Theory? Annual Review of Political Science 11 (1): 521–538.

Price, V., J.N. Cappella, and L. Nir. 2002. Does Disagreement Contribute to More Deliberative Opinion? Political Communication 19 (1): 95–112.

Ramirez, M.D. 2008. Procedural Perceptions and Support for the U.S. Supreme Court. Political Psychology 29 (5): 675–698.

Raphael, C., and C.F. Karpowitz. 2013. Good Publicity: The Legitimacy of Public Communication of Deliberation. Political Communication 30 (1): 17–41.

Robison, J., T.J. Leeper, and J.N. Druckman. 2016. Do Disagreeable Political Discussion Networks Undermine Attitude Strength? Political Psychology. https://doi.org/10.1111/pops.12374.

Rosenberg, S. 2005. The Empirical Study of Deliberative Democracy: Setting a Research Agenda. Acta Politica; Basingstoke 40 (2): 212–224.

Sprain, L., M. Carcasson, and A.J. Merolla. 2014. Utilizing "On-Tap" Experts in Deliberative Forums: Implications for Design. Journal of Applied Communication Research 42 (2): 150–167.

Sprain, L., and S. Ivancic. 2017. Communicating openness in deliberation. Communication Monographs 84 (2): 241–257.

Stromer-Galley, J., and P. Muhlberger. 2009. Agreement and Disagreement in Group Deliberation: Effects on Deliberation Satisfaction, Future Engagement, and Decision Legitimacy. Political Communication 26 (2): 173–192.

Sulkin, T., and A.F. Simon. 2001. Habermas in the Lab: A Study of Deliberation in an Experimental Setting. Political Psychology 22 (4): 809–826.

Sunshine, J., and T.R. Tyler. 2003. The Role of Procedural Justice and Legitimacy in Shaping Public Support for Policing. Law and Society Review 37 (3): 513–548.

Takenishi, A., and M. Takenishi. 1992. Does commitment affect the meaning of fairness?: Commonality and stability of fairness criteria in a political setting. Social Justice Research 5 (4): 415–429.

Thompson, D.F. 2008. Deliberative Democratic Theory and Empirical Political Science. Annual Review of Political Science 11 (1): 497–520.

Toepfl, F., and E. Piwoni. 2015. Public Spheres in. In:teraction: Comment Sections of News Websites as Counterpublic Spaces. Journal of Communication 65 (3): 465–488.

Tyler, T.R. 1994. Governing amid Diversity: The Effect of Fair Decisionmaking Procedures on the Legitimacy of Government. Law and Society Review 28 (4): 809–831.

Tyler, T.R. 2000. Social Justice: Outcome and Procedure. International Journal of Psychology 35 (2): 117–125.

Tyler, T.R. 2006. Why People Obey the Law. Princeton, NJ: Princeton University Press.

Ulbig, S.G. 2008. Voice is Not Enough: The Importance of Influence in Political Trust and Policy Assessments. Public Opinion Quarterly 72 (3): 523–539.

van den Bos, K., M. Maas, I.E. Waldring, and G.R. Semin. 2003. Toward Understanding the Psychology of Reactions to Perceived Fairness: The Role of Affect Intensity. Social Justice Research 16 (2): 151–168.

van den Bos, K., H.A.M. Wilke, and E.A. Lind. 1998. When Do We Need Procedural Fairness? The Role of Trust in Authority. Journal of Personality and Social Psychology 75 (6): 1449–1458.

van Dijke, M., and P. Verboon. 2010. Trust in Authorities as a Boundary Condition to Procedural Fairness Effects on Tax Compliance. Journal of Economic Psychology 31 (1): 80–91.

Webler, T. 1995. "Right" Discourse in Citizen Participation: An Evaluative Yardstick. In Fairness and Competence in Citizen Participation: Evaluating Models for Environmental Discourse. Technology, Risk, and Society, ed. O. Renn, T. Webler, and P. Wiedemann, 35–77. Dordrecht: Springer.

Wojcieszak, M. 2011. Deliberation and Attitude Polarization. Journal of Communication 61 (4): 596–617.

Wojcieszak, M.E., and D.C. Mutz. 2009. Online Groups and Political Discourse: Do Online Discussion Spaces Facilitate Exposure to Political Disagreement? Journal of Communication 59 (1): 40–56.

Wojcieszak, M.E., and V. Price. 2012. Perceived Versus Actual Disagreement: Which Influences Deliberative Experiences? Journal of Communication 62 (3): 418–436.

Wright, S., and J. Street. 2007. Democracy, Deliberation and Design: The Case of Online Discussion Forums. New Media and Society 9 (5): 849–869.

You, J.S. 2012. Social Trust: Fairness Matters More Than Homogeneity. Political Psychology 33 (5): 701–721.

Zhang, W. 2010. Technical Capital and Participatory Inequality in eDeliberation: An Actor-Network Analysis. Information, Communication & Society 13 (7): 1019–1039.

Zhang, W. 2015. Perceived Procedural Fairness in Deliberation: Predictors and Effects. Communication Research 42 (3): 345–364.

Zhang, W., and L. Chang. 2014. Perceived Speech Conditions and Disagreement of Everyday Talk: A Proceduralist Perspective of Citizen Deliberation. Communication Theory 24 (2): 124–145.
Appendix
Appendix
See Table 2.
About this article
Cite this article
Zhang, W., Yang, T. The interaction between perceived procedural fairness and perceived disagreement in deliberation. Acta Polit 55, 199–220 (2020). https://doi.org/10.1057/s41269-018-0112-2
Keywords
Deliberation

Disagreement

Enjoyment

Legitimacy

Procedural fairness

Procedural justice