This is a preview of subscription content, log in to check access.
Access options
Buy single article
Instant access to the full article PDF.
US$ 39.95
Price includes VAT for USA
Subscribe to journal
Immediate online access to all issues from 2019. Subscription will auto renew annually.
US$ 124
This is the net price. Taxes to be calculated in checkout.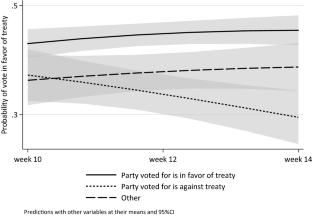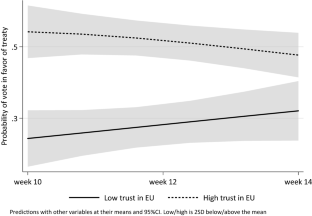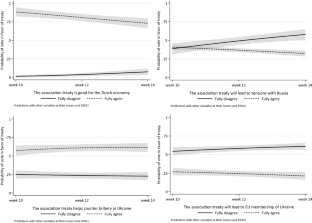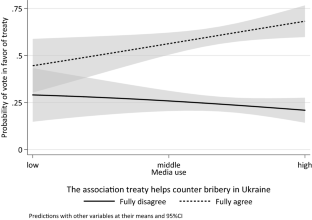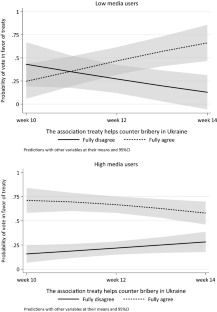 Notes
1.

While we expect to find support for H6 and H7, we realize that there are also theoretical reasons to expect another pattern. In order to use the partisan cue, one needs to be aware of the positions that parties take on the issue. Very inattentive citizens will therefore not use this 'peripheral' route, while this route is 'easy' for attentive citizens. Moreover, without a certain pre-existing body of knowledge, new information is unlikely to be remembered (Zaller 1992). So, there are reasons to expect the effects predicted by H6 and H7 to be actually reversed.

2.

Specifically, the first survey wave commenced on March 7th, 1 month before the referendum on April 6th, and closed on March 13th. 43% of the respondents took part in the first 2 days; another 11% on the third. The second wave commenced on March 21st, more than 2 weeks before the referendum, and closed on March 27th.

3.

Analyses in MLWin and via Stata's gllamm command came to similar conclusions.

4.

To assess whether the polarization in Fig. 4 was more pronounced among citizens with different levels of political sophistication, we tested a three-way interaction between the anti-bribery considerations * campaign attentiveness * education (we consider education to be the best proxy for sophistication in this data set). This three-way interaction was not significant, however (p = 0.20).
References
Aarts, K., and H. Van der Kolk. 2006. Understanding the Dutch ''No'': The Euro, the East and the Elite'. PS. Political Science and Politics 39 (2): 243–246.

Alvarez, R.M., and J. Brehm. 2002. Hard Choices. Easy Answers, Princeton, NJ: Princeton University Press.

Arceneaux, Kevin. 2008. Can Partisan Cues Diminish Democratic Accountability? Political Behavior 30: 139–160.

Bartels, L.M. 2002. Beyond the Running Tally: Partisan Bias in Political Perceptions. Political Behavior 24 (2): 117–150.

Boudreau, C., and S.A. MacKenzie. 2014. Informing the Electorate? How Party Cues and Policy Information Affect Public Opinion About Initiatives. American Journal of Political Science 58 (1): 48–62.

Bowler, S., and T. Donovan. 1998. Demanding Choices: Opinion, Voting, and Direct Democracy. Ann Arbor, MI: The University of Michigan Press.

Colombo, C., and H.P. Kriesi. 2016. Party, Policy—or Both? Partisan-Biased Processing of Policy Arguments in Direct Democracy. Journal of Elections, Public Opinion and Parties 27 (3): 235–253.

Converse, P.E. 2000. Assessing the Capacity of Mass Electorates. Annual Review of Political Science 3: 331–353.

De Vreese, C.H., and H.G. Boomgaarden. 2005. Projecting EU Referendums: Fear of Immigration and Support for European Integration. European Union Politics 6 (1): 59–82.

De Vreese, C.H., and H.A. Semetko. 2004. News Matters: Influences on the vote in the Danish 2000 euro referendum. European Journal of Political Research 43: 699–722.

De Vries, C. 2007. Sleeping giant: Fact or Fairytale? How European Integration Affects National Elections. European Union Politics 8 (3): 363–385.

Elkink, J.A., and R. Sinnott. 2015. Political Knowledge and Campaign Effects in the 2008 Irish Referendum on the Lisbon Treaty. Electoral Studies 38: 217–225.

Fiske, S.T., and S.E. Taylor. 1991. Social Cognition. New York: McGraw Hill.

Franklin, M. 2002. Learning from the Danish Case: A Comment on Palle Svensson's Critique of the 'Franklin Thesis'. European Journal of Political Research 41 (6): 751–757.

Franklin, M., C. Van der Eijk, and M. Marsh. 1995. Referendum Outcomes and Trust in Government: Public Support for Europe in the Wake of Maastricht. West European Politics 18 (3): 101–117.

Glencross, A., and A. Trechsel. 2011. First and Second Order Referendums? Understanding the Votes on the EU Constitutional Treaty in Four Member States. West European Politics 34 (4): 755–772.

Harteveld, E., T.W.G. Van der Meer, and C.E. De Vries. 2013. 'In Europe we trust? Exploring three logics of trust in the European Union. European Union Politics 14 (4): 542–565.

Hobolt, S.B. 2005. When Europe Matters: The Impact of Political Information on Voting Behaviour in EU Referendums. Journal of Elections, Public Opinion and Parties 15 (1): 85–109.

Hobolt, S.B. 2009. Europe in Question: Referendums on European Integration. Oxford: Oxford University Press.

Hobolt, S.B. 2016. The Brexit Vote: A Divided Nation, a Divided Continent. Journal of European Public Policy 23 (9): 1259–1277.

Hobolt, S.B., and S. Brouard. 2011. Contesting the European Union? Why the Dutch and the French rejected the European constitution. Political Research Quarterly 64 (2): 309–322.

Iyengar, S. 1991. Is Anyone Responsible? How Television Frames Political Issues. Chicago, IL: University of Chicago Press.

Iyengar, S., and D.R. Kinder. 1987. News that Matters. Chicago, IL: University of Chicago Press.

Kam, Cindy D. 2005. Who Toes the Party Line? Cues, Values, and Individual Differences. Political Behavior 27 (2): 163–182.

Lubbers, M. 2008. Regarding the Dutch 'Nee' to the European Constitution: A Test of the Identity, Utilitarian and Political Approaches to Voting 'No'. European Union Politics 9 (1): 59–86.

Lupia, A., and J.G. Matsusaka. 2004. Direct Democracy: New Approaches to Old Questions. Annual Review of Political Science 7: 463–482.

Lupia, A., and M.D. McCubbins. 1998. The Democratic Dilemma: Can Citizens Learn What They Need to Know?. Cambridge: Cambridge University Press.

Muñoz, J. 2017. Political trust and Multilevel Government. In Handbook on Political Trust, ed. S. Zmerli and T.W.G. Van der Meer, 69–88. London: Edward Elgar Publishing.

Nelsen, B.F., and J.L. Guth. 2000. Exploring the Gender Gap: Women, Men and Public Attitudes toward European Integration. European Union Politics 1 (3): 267–291.

Reif, K., and H. Schmitt. 1980. Nine Second-Order National Elections—A Conceptual Framework for the Analysis of European Election Results. European Journal of Political Research 8 (1): 3–44.

Schmitt, H., and I. Toygür. 2016. European Parliament Elections of May 2014: Driven by national Politics or EU Policy Making? Politics & Governance 4 (1): 167–181.

Schuck, A.R.T., and C.H. De Vreese. 2008. The Dutch no to the EU Constitution: Assessing the Role of EU Skepticism and the Campaign. Journal of Elections, Public Opinion and Parties 18 (1): 101–128.

Siune, K., and P. Svensson. 1993. The Danes and the Maastricht Treaty: The Danish EC referendum of June 1992. Electoral Studies 12 (2): 99–111.

Siune, K., P. Svensson, and O. Tonsgaard. 1994. The EU: The Danes said "No" in 1992, but "yes" in 1993: How and Why? Electoral Studies 13 (2): 251–255.

Slothuus, R., and C.H. De Vreese. 2010. Political Parties, Motivated Reasoning, and Issue Framing Effects. The Journal of Politics 72 (3): 630–645.

Smith, E.R., and J. DeCoster. 2000. Dual-Process Models in Social and Cognitive Psychology: Conceptual Integration and Links to Underlying Memory Systems. Personality and Social Psychology Review 4 (2): 108–131.

Svensson, P. 2002. Five Danish Referendums on the European Community and European Union: A Critical Assessment of the Franklin Thesis. European Journal of Political Research 41 (6): 733–750.

Taber, C.S., D. Cann, and S. Kucsova. 2009. The Motivated Processing of Political Arguments. Political Behavior 31 (2): 137–155.

Van Praag, P. 2005. De veranderende Nederlandse campagnecultuur. In Politiek en Media in verwarring: De verkiezingscampagnes in het lange jaar 2002, ed. K. Brants and P. van Praag, 21–43. Amsterdam: Het Spinhuis.

Zaller, J. 1992. The Nature and Origins of Mass Opinion. Cambridge: Cambridge University Press.
About this article
Cite this article
van der Brug, W., van der Meer, T. & van der Pas, D. Voting in the Dutch 'Ukraine-referendum': a panel study on the dynamics of party preference, EU-attitudes, and referendum-specific considerations. Acta Polit 53, 496–516 (2018). https://doi.org/10.1057/s41269-018-0107-z
Keywords
Party Preferences

Association Treaty

LISS Panel

Longitudinal Internet Studies For The Social Sciences (LISS)

Unified Patent Court