Abstract
Based on a study of three European parliaments, the article analyses parliamentary oversight on government policy towards gross human rights violations in third countries using the case of Darfur in Sudan (2003–2005). We find that parliaments with greater constitutional rights in foreign policy are more active in the scrutiny of executive action. Scrutiny is stronger in parliaments with developed and strong foreign affairs committees. Media and public awareness correlate with greater oversight activities in all the three chambers considered. In their oversight, MPs do not deter governments to consider the use of armed forces. Rather than revealing party differences, conflicts involving gross human rights violations such as Darfur are venues for the manifestation of division between the executive and legislature.
This is a preview of subscription content, log in to check access.
Access options
Buy single article
Instant access to the full article PDF.
US$ 39.95
Price includes VAT for USA
Subscribe to journal
Immediate online access to all issues from 2019. Subscription will auto renew annually.
US$ 124
This is the net price. Taxes to be calculated in checkout.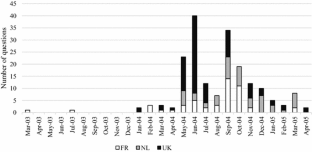 Notes
1.

Norway could be another country to study. It was a major donor to Sudan and had strong involvement in the North–South peace talks like the UK. Its constitutional system resembles most that of the Netherlands. The US Congress is a different institutional context and has been covered by Uscinski et al. (2009) and Hamilton (2011a, b).

2.

3.

Darfur resembles situations in Somalia and Bosnia (both 1992–1995), and Kosovo (1998–1999), where the basis for the deployment of armed forces were violations of human rights. The use of armed forces in Somalia, Bosnia, and Kosovo shows that the norm on the use of force for the protection of human rights has been legitimised under what is known as humanitarian intervention and the principle of the responsibility to protect. However, the genocide in Rwanda (1994) demonstrates that humanitarian intervention is not consistently applied and that it competes with the norm of sovereignty.

4.

The Dutch and British ministers for development visited Sudan in December 2003. Another Dutch ministerial visit to Sudan, including ministers in foreign affairs, development, and defence, took place in January 2004 (Tweede Kamer, 2003–2004, 29,237 and 29,234, nr. 4, 9; nr. 7, 27 February 2004). The French Foreign Minister also visited Sudan during this time, but his trip went through Chad, while the French President may have discussed the situation with his Sudanese counterpart during an Africa–France summit in February.

5.

For example, in the House of Commons debate 4 May 2004 (Hansard, Col 417WH- 423WH), two MPs debated over Sudan with the Under-Secretary of State for Foreign and Commonwealth Affairs, but did not ask any question.

6.

We searched for Darfur and the name of the respective parliamentary chamber. A time filter was applied to retrieve news articles in France, the UK, and the Netherlands between March 2003 and April 2005. We obtained 258 news articles, including 58 hits for the Assemblée Nationale, 85 for the Tweede Kamer, and 115 for the House of Commons.

7.

The foreign minister gave evidence on Darfur for the first time on 16 June 2004, while Darfur had appeared on the plenary agenda on 29 April 2004.

8.

The Dutch government must respond in 3 weeks (6 weeks maximum) (Andeweg and Irwin 2014, p. 173). There are no formal deadlines in the House of Commons.
References
Andeweg, R.B., and G.A. Irwin. 2014. Governance and politics of The Netherlands. New York: Palgrave Macmillan.

Assemblée nationale. 2015. Règlement de l'Assemblée nationale. http://www.assemblee-nationale.fr/connaissance/reglement_2015_01.pdf. Accessed 23 Sept 2016.

Auerswald, D.P. 1999. Inward bound: Domestic institutions and military conflicts. International Organization 53 (3): 469–504.

Black, D.R., and P.D. Williams (eds.). 2010. The international politics of mass atrocities: The case of Darfur. New York: Routledge.

Broz, J.L. 2008. Congressional voting on funding in the international financial institutions. Review of International Organizations 3 (4): 351–374.

Campbell, D. 2007. Geopolitics and visuality: Sighting the Darfur conflict. Political Geography 26: 357–382.

Carter, R.G., and J.M. Scott. 2010. Understanding congressional foreign policy innovators: Mapping entrepreneurs and their strategies. The Social Science Journal 47 (2): 418–438.

Choi, S.-W. 2010. Legislative constraints: A path to peace? Journal of Conflict Resolution 54 (3): 438–470.

Degomme, O., and D. Guha-Sapir. 2010. Patterns of mortality rates in Darfur conflict. The Lancet 375 (9711): 294–300.

Elman, M.F. 2000. Unpacking democracy: Presidentialism, parliamentarism, and theories of democratic peace. Security Studies 9 (4): 91–126.

Everts, PhP, and P. Isernia. 2015. Public opinion, transatlantic relations and the use of force. New York: Palgrave MacMillan.

Feliu, L., and F. Serra. 2015. The European Union as a normative power and the normative voice of the European parliament. In The European parliament and its international relations, ed. S. Stavridis, and D. Irrera, 17–34. Oxford: Taylor & Francis.

Fleck, R.K., and C. Kilby. 2006. How do political changes influence U.S. bilateral aid allocations? Evidence from panel data. Review of Development Economics 10 (2): 224–240.

Green-Pedersen, C. 2010. Bringing parties into parliament. The development of parliamentary activities in Western Europe. Party Politics 16 (3): 347–369.

Grünfeld, F., and W.N. Vermeulen. 2014a. Failure to prevent gross human rights violations in Darfur. Leiden: Brill Nijhoff.

Grünfeld, F., and W.N. Vermeulen. 2014b. The role of the Netherlands in the European framework for an international response on Darfur during its presidency in 2004–2005. Genocide Studies International 8 (2): 176–192.

Grzyb, A.F. 2010. Media coverage, activism, and creating will for intervention in Rwanda and Darfur. In The world and Darfur, ed. A.F. Grzyb, 61–91. Montreal: McGill-Queens University Press.

Hamilton, R. 2011a. Fighting for Darfur: Public action and the struggle to stop genocide. New York: Palgrave Macmillan.

Hamilton, R. 2011b. Inside Colin Powell's decision to declare genocide in Darfur. Atlantic: 17–10.

Hildebrandt, T., C. Hillebrecht, P.M. Holm, and J. Pevehouse. 2013. The domestic politics of humanitarian intervention: Public opinion, partisanship, and ideology. Foreign Policy Analysis 9 (3): 243–266.

House of Commons. 2005. Darfur, Sudan: The responsibility to protect. In Fifth Report of Session 2004–05. Volumes I and II. Published 30 March 2005. London: House of Commons.

House of Commons. 2010. Treaties. Factsheet P14 Procedure Series. London: House of Commons.

Kaarbo, J. 2012. Coalition politics and cabinet decision making: A comparative analysis of foreign policy choices. Ann Arbor: University Michigan Press.

Kaarbo, J., and J.L. Lantis. 2003. Greening of German foreign policy in the Iraq case: Conditions of junior party influence in governing coalitions. Acta Politica 38 (3): 201–230.

Kesgin, B., and J. Kaarbo. 2010. When and how parliaments influence foreign policy: The case of Turkey's Iraq decision. International Studies Perspectives 11 (1): 19–36.

Koivula, T., and J. Sipilä. 2011. Missing in action? EU crisis management and the link to the domestic political debate. Cooperation and Conflict 46 (4): 521–542.

Krehbiel, K. 1992. Information and legislative organization. Ann Arbor: University of Michigan Press.

Lagassé, P., and S. M. Saideman. 2017. Public critic or secretive monitor: Party objectives and legislative oversight of the military in Canada. West European Politics 40 (1): 119–138.

Maffio, R. 2002. Quis custodiet ipsos custodes? Il controllo parlamentare dell'attività di governo in prospettiva comparata. Quaderni di Scienza Politica 9 (2): 333–383.

Mayhew, D.R. 2004. Congress: The electoral connection. New Heaven: Yale University Press.

Mello, P. 2014. Democratic participation in armed conflict: Military involvement in Kosovo, Afghanistan, and Iraq. Basingstoke: Palgrave Macmillan.

Milner, H.V. 1997. Interests, institutions, and information. Domestic politics and international relations. Princeton: Princeton University Press.

Norton, P. 2010. House of commons. In Politics UK, eds. B. Jones and P. Norton, 303–348.

Ostermann, F. 2017. France's reluctant parliamentarisation of military deployments: The 2008 constitutional reform in practice. West European Politics 40 (1): 101–118.

Palmer, G.H., T.R. London, and P.M. Regan. 2004. What's stopping you? The source of political constraints on international conflict behavior in parliamentary democracies. International Interactions 30 (1): 1–24.

Peters, D., and W. Wagner. 2014. Executive privilege or parliamentary provision? Exploring the sources of parliamentary war powers. Armed Forces & Society 40 (2): 310–331.

Peterson, S. 1999. Crisis bargaining and the state: The domestic politics of international conflict. Ann Arbor: University of Michigan Press.

Pitkin, H.F. 1967. The concept of political representation. Berkeley: University of California Press.

Pohl, B. 2014. To what ends? Governmental interests and European Union (non-)intervention in Chad and the Democratic Republic of Congo. Cooperation and Conflict 49 (2): 191–211.

Potrafke, N. 2009. Does government ideology influence political alignment with the U.S.? An empirical analysis of voting in the UN general assembly. Review of International Organizations 4 (3): 245–268.

Prunier, G. 2005. Darfur. The ambiguous genocide. London: Hurst.

Rathbun, B.C. 2004. Partisan interventions: European party politics and peace enforcement in the Balkans. New York: Cornell University Press.

Raunio, T. 2014. Legislatures and foreign policy. In The Oxford handbook of legislative studies, ed. S. Martin, T. Saalfeld, and K. Strøm. Oxford: Oxford University Press.

Raunio, T., and W. Wagner. 2017. Towards parliamentarisation of foreign and security policy? West European Politics 40 (1): 1–19.

Reiter, D., and E. Tillman. 2002. Public, legislative, and executive constraints on the democratic initiation of conflict. Journal of Politics 64 (3): 810–826.

Ripley, R.B., and J.M. Lindsay. 1992. Foreign and defense policy in congress: A research agenda for the 1990s. Legislative Studies Quarterly 17 (3): 417–449.

Rogers, R., and R. Walters. 2015. How parliament works?. London: Routledge.

Russo, F., and M. Wiberg. 2010. Parliamentary questioning in 17 European parliaments: Some steps towards comparison. The Journal of Legislative Studies 16 (2): 215–232.

Russo, F., and M. Wiberg. 2011. Parliamentary questioning in 17 European parliaments: Some steps towards comparison. The Journal of Legislative Studies 16 (2): 215–232.

Saalfeld, T. 1995. Rational-choice theory in legislative studies: Models of politics without Romanticism. The Journal of Legislative Studies 1 (1): 32–64.

Saalfeld, T. 2000. Members of parliament and governments in Western Europe: Agency relations and problems of oversight. European Journal of Political Research 37 (3): 353–376.

Salehyan, I. 2008. The externalities of civil strife: Refugees as a source of international conflict. American Journal of Political Science 52 (4): 787–801.

Sakaki, A., and K. Lukner. 2017. Japan's uncertain security environment and changes in its legislative-executive relations. West European Politics 40 (1): 139–160.

Schneider, C.J., and J. Urpelainen. 2014. Partisan heterogeneity and international cooperation: The case of the European development fund. Journal of Conflict Resolution 58 (1): 120–142.

Seymour, L.J.M. 2014. Let's bullshit! Arguing, bargaining and dissembling over Darfur. European Journal of International Relations 20 (3): 571–595.

Simmons, B.A. 2009. Mobilizing for human rights: International law in domestic politics. New York: Cambridge University Press.

Strøm, K. 2000. Delegation and accountability in parliamentary democracies. European Journal of Political Research 37: 261–298.

Thérien, J.-P., and A. Noel. 2000. Political parties and foreign aid. The American Political Science Review 94 (1): 151–162.

Tsebelis, G. 1995. Decision making in political systems. British Journal of Political Science 25 (3): 289–325.

Uscinski, J., M.S. Rocca, G.R. Sanchez, and M. Brenden. 2009. Congress and foreign policy: Congressional action on the Darfur genocide. Political Science & Politics 42 (3): 489–496.

Vos, D. 2006. Een onderzoek naar internationale nieuwsstromen en de Nederlandse nieuws berichtgeving over de crisis in Darfur in de periode van februari 2003-2006. PhD Dissertation, Utrecht University, Netherlands.

Wagner, W., A. Herranz-Surralles, J. Kaarbo, and F. Ostermann. 2017. The party politics of legislative-executive relations in security and defence policy. West European Politics 40 (1): 20–41.

Walling, C.B. 2013. All necessary measures. Philadelphia: University of Pennsylvania Press.

Wiberg, M. 1995. Parliamentary questioning: control by communication? In Parliaments and majority rule in Western Europe, ed. H. Döring, 179–222. New York: St. Martin's Press.
About this article
Cite this article
Pegan, A., Vermeulen, W.N. Parliament in gross human rights violations: the case of Darfur. Acta Polit 53, 448–468 (2018). https://doi.org/10.1057/s41269-017-0063-z
Keywords
Parliament

Oversight

Foreign affairs

Darfur

Human rights