Abstract
Unconventional learning activities such as games and simulations have been widely used as teaching tools in international relations (IR) in the recent years. The literature on simulations and student learning has often highlighted a lack of empirical evidence in the existing research. The paper aims at providing empirical support to illustrate the ways in which simulations might influence students' levels of (factual and self-evaluated) knowledge and perceptions of IR. The study is based on extensive empirical material, collected through questionnaires submitted to 298 students who participated in the 2014 edition of the National Model United Nations in New York (NMUN·NY).
Access options
Buy single article
Instant access to the full article PDF.
US$ 39.95
Tax calculation will be finalised during checkout.
Subscribe to journal
Immediate online access to all issues from 2019. Subscription will auto renew annually.
US$ 79
Tax calculation will be finalised during checkout.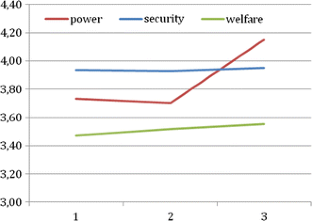 Notes
1.

2.

For a detailed list of benefits see, among others: Brunazzo and Settembri (2012).

3.

4.

5.

Depending on the committee and on the general structure of the simulation, also NGOs, IGOs, and other regional actors may be represented by students.

6.

While the Consules Research Board is formed by junior and senior researchers, the Academic Board is composed of full professors coming from the partner universities, usually one per school.

7.

About 76% of applicants passed the test and were eligible for participation.

8.

We consider seminars/courses such as: theories of international relations, geopolitics, international politics, global affairs, international law, international humanitarian law, and international organizations.

9.

Questions were prepared before the beginning of the courses and then submitted randomly from T0 to T1 and T2, in order to keep the same level of difficulty.

10.

Students gave a score from 1 (poor) to 5 (excellent).

11.

Also in this case, students gave a score from 1 to 5, with 1 indicating elements considered to be of little relevance.

12.

The so-called Dunning-Kruger effect consists in a cognitive bias, according to which relatively unskilled individuals suffer from "illusory superiority." See: Kruger and Dunning (1999).

13.

The figures represent an average of the values expressed by each student.

14.

For all the issues students with IT/IL background declared to have an higher level of self-evaluated knowledge. As an exception, about "diplomatic relations," students without IR/IL background declared at T2 a higher level of knowledge than those with background.

15.

In fact, 1 is the maximum rate ascribable to cooperation and 5 to conflict.

16.

Delta T0–T1 = 0.15, T1–T2 = 0.01 and T0–T2 = 0.16.

17.

While for neoliberalism, states seek to maximize absolute gains, "realism's identification of the relative gains problem for cooperation is based on its insight that states in anarchy fear for their survival as independent actors" (Grieco 1988, p. 487).
References
Axelrod, R., and R.O. Keohane. 1985. Achieving Cooperation Under Anarchy: Strategies and Institutions. World Politics 38 (1): 226–254.

Asal, V. 2005. Playing Games with International Relations. International Studies Perspectives 6 (3): 359–373.

Brock, K.L., and B.J. Cameron. 1999. Enlivening Political Science Courses with Kolb's Learning Preference Model. Ps. Political Science & Politics 32 (2): 251–256.

Brunazzo, M., and P. Settembri. 2012. Experiencing the European Union: Learning How EU Negotiations Work Through Simulation Games. Soveria Mannelli: Rubbettino.

Butcher, C. 2012. Teaching Foreign Policy Decision-Making Processes Using Role-Playing Simulations: The Case of US–Iranian Relations. International Studies Perspectives 13 (2): 176–194.

Coughlin, R.W. 2013. Gender and Negotiation in Model UN Role-Playing Simulations. Journal of Political Science Education 9 (3): 320–335.

De Corte, E. 2000. Marrying Theory Building and the Improvement of School Practice: A Permanent Challenge for Instructional Psychology. Leaning and Instruction 10 (3): 249–266.

Dochy, F.J., and L. Mcdowell. 1997. Introduction: Assessment as a Tool for Learning. Studies in Educational Evaluation 23 (4): 279–298.

Eckstein, H.H. 1975. Case Studies and Theory in Political Science. In Handbook of Political Science, Vol. 7. Political Science: Scope and Theory, ed. F. Greenstein, and N. Polsby. Reading, MA: Addison-Wesley.

Frederking, B. 2005. Simulations and Student Learning. Journal of Political Science Education 1 (3): 385–393.

Garard, D., L. Lippert, S.K. Hunt, and S.T. Paynton. 1998. Alternatives to Traditional Instruction: Using Games and Simulations to Increase Student Learning and Motivation. Communication Research Reports 15 (1): 36–44.

Giovanello, S., J.A. Kirk, and M.K. Kromer. 2013. Student Perceptions of a Role-Playing Simulation in an Introductory International Relations Course. Journal of Political Science Education 9 (2): 197–208.

Grieco, J. 1988. Anarchy and the Limits of Cooperation: A Realist Critique of the Newest Liberal Institutionalism. International Organization 42 (3): 485–507.

Jonassen, D.H., and S.M. Land. 2000. Theoretical Foundations of Learning Environments. Mahwah, NJ: Lawrence Erlbaum Associates.

Kenworthy, J., and A. Wong. 2005. Developing Managerial Effectiveness: Assessing and Comparing the Impact of Development Programmes Using a Management Simulation or a Management Game. Developments in Business Simulation and Experiential Learning 32: 164–175.

Krain, M., and J.S. Lantis. 2006. Building knowledge? Evaluating the Effectiveness of the Global Problems Summit Simulation. International Studies Perspectives 7 (4): 395–407.

Krathwoh, D., and R. David. 2002. A Revision of Bloom's Taxonomy: An Overview. Theory Into Practice 41 (4): 212–218.

Kruger, J., and D. Dunning. 1999. Unskilled and Unaware of It: How Difficulties in Recognizing One's Own Incompetence Lead to Inflated Self-Assessments. Journal of Personality and Social Psychology 77 (6): 1121–1134.

McIntosh, D. 2001. The Uses and Limits of the Model United Nations in an International Relations Classroom. International Studies Perspectives 2 (3): 269–280.

Obendorf, S., Randerson C. (2012) The Model United Nations Simulation and the Student as Producer Agenda. Enhancing Learning in the Social Sciences. Working paper. University of Lincoln.

Pettenger, M., W. Douglas, and N. Young. 2014. Assessing the Impact of Role Play Simulations on Learning in Canadian and US Classrooms. International Studies Perspectives 15 (4): 491–508.

Phillips, M.J., and J.P. Muldoon. 1996. The Model United Nations: A Strategy for Enhancing Global Business Education. Journal of Education for Business 71 (3): 142–146.

Pintrich, P.R. 2002. The Role of Metacognitive Knowledge in Learning, Teaching, and Assessing. Theory Into Practice 41 (4): 219–225.

Raymond, C. 2010. Do Role-Playing Simulations Generate Measurable and Meaningful Outcomes? A Simulation's Effect on Exam Scores and Teaching Evaluations. International Studies Perspectives 11 (1): 51–60.

Ripley, B.A., N.B. Carter, and A.K. Grove. 2009. League of Our Own: Creating a Model United Nations Scrimmage Conference. Journal of Political Science Education 5 (1): 55–70.

Ryan, M., C. Saunders, E. Rainsford, and E. Thompson. 2014. Improving Research Methods Teaching and Learning in Politics and International Relations: A 'Reality Show' Approach. Politics 34 (1): 85–97.

Simpson, A.W., and B. Kaussler. 2009. IR Teaching Reloaded: Using Films and Simulations in the Teaching of International Relations. International Studies Perspectives 10 (4): 413–427.

Taylor, K. 2013. Simulations Inside and Outside the IR Classroom: A Comparative Analysis. International Studies Perspectives 14 (2): 134–149.

Waltz, K. 1979. Theory of International Politics. Reading, MA: Addison-Wesley Pub. Co.

Youde, J. 2008. Crushing Their Dreams? Simulations and Student Idealism. International Studies Perspectives 9 (3): 348–356.
Acknowledgments
The authors wish to thank Lorenzo Cicchi, Graziano C. Gallitto, Francesco N. Moro and "Associazione Consules" for their suggestions and support. Enrico Calossi wrote the sections "Simulation and IR", "Factual knowledge" and "Self-evaluated knowledge"; Fabrizio Coticchia wrote "Research design", and "Perceptions". All the other sections ("Introduction", "The 2014 NMUN-NY: structures and procedures" and "Conclusions") have been written jointly by the two authors.
About this article
Cite this article
Calossi, E., Coticchia, F. Students' knowledge and perceptions of international relations and the 'Model United Nations': an empirical analysis. Acta Polit 53, 409–428 (2018). https://doi.org/10.1057/s41269-017-0058-9
Keywords
Simulation

Model United Nations

Perceptions

Knowledge

IR